Looking pretty in pink, the Chlodnik, also known as cold borscht soup is the perfect summer dish. This sour soup made from a mix of beetroots, beet greens, buttermilk, and cucumbers, is truly creamy and refreshing!
---
About Polish Cold Beetroot Soup
Almost fuschia pink in color, the Chlodnik soup is popular in most Eastern European cultures, albeit with very different recipes. Here in Poland, it's usually served with boiled eggs on top.
The Polish word chlodnik literally means cold soup.
Where did Polish chlodnik soup originate?
With most Slavic countries claiming that the cold beetroot soup was created in their country first, it's difficult to place the origins. We Poles also claim the soup as our own; but so do the Lithuanians, Estonians, Georgians, and many other neighboring cultures.
Truly though, this soup made with young beetroots is worth the contention and the time taken to make it. Tangy, salty, sweet, and spicy at the same time, it's the perfect elixir for hot summer weather.
As with most traditional dishes, the recipe for the soup varies widely. Some recipes use cucumbers, some use dill pickles, some add radishes, and others add dill, chives, garlic, parsley, and more.
Many Poles add boiled eggs to the soup, while some of our neighboring countries add lobsters/crayfish, veal, or chopped ham.
But no matter how you prepare this hearty Polish soup, Chlodnik is perfectly refreshing and delicious!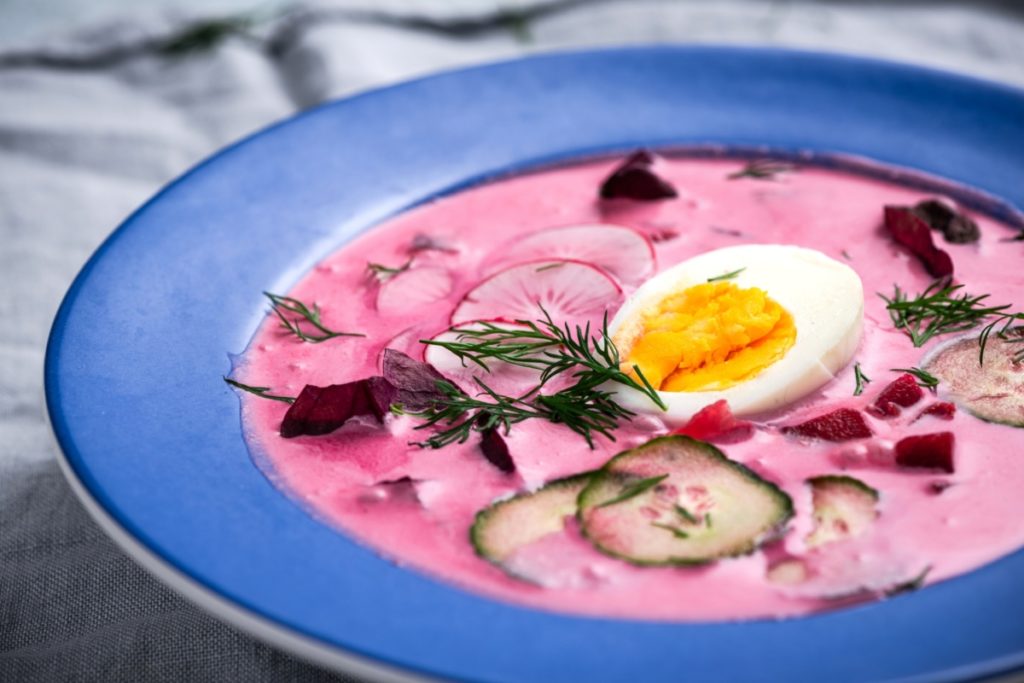 ---
Tips for making the tastiest Chlodnik Soup
Use young beets as they are more tender and sweeter than grown beets.
If you can't find young beets with greens, use regular beets but add 2 more of them.
Buttermilk in Poland is maslanka, but you can use kefir if you don't have access to it.
For yogurt, full-fat works best.
Add a few teaspoons of lemon juice or vinegar for some tanginess!
Add some chopped radish or chopped garlic for a natural zing.
Sprinkle with a topping of chopped dill and some hard-boiled eggs.
You can replace the dill with chopped parsley or chopped chives.
---
FAQs about Chlodnik Beetroot Soup
Are botwina safe to eat?
Botwina or beet greens are very safe to eat. In fact, they're a good source of calcium, potassium, and manganese.
Can I use chicken broth instead of vegetable broth?
Yes, you can use chicken broth, rosol soup, or beef broth if you like.
What are the other popular Polish cold soups?
Other Polish cold soups include the chlodnik ogorkowy made from cucumbers and the gazpacho made from tomatoes.
Zupa owocowa is a cold Polish soup made from fruits and pasta. Kids love this!
How do you pronounce the word Chlodnik?
Chlodnik is pronounced as ch-wod-nik or huh-wod-nick lit-evh-skee.
Can you make vegetarian chlodnik soup?
Yes, of course. To make vegetarian chlodnik soup simply make sure you use water or vegetarian broth. Also, replace the boiled eggs with boiled potatoes.
How to store Polish cold beetroot soup?
Store the cold chlodnik soup in the refrigerator and consume it within 3 to 4 days. Always serve chilled. It's better not to freeze it as the soup will break when thawing.
Yield: 6-8
Polish Cold Beetroot Soup (Chłodnik / Botwinka)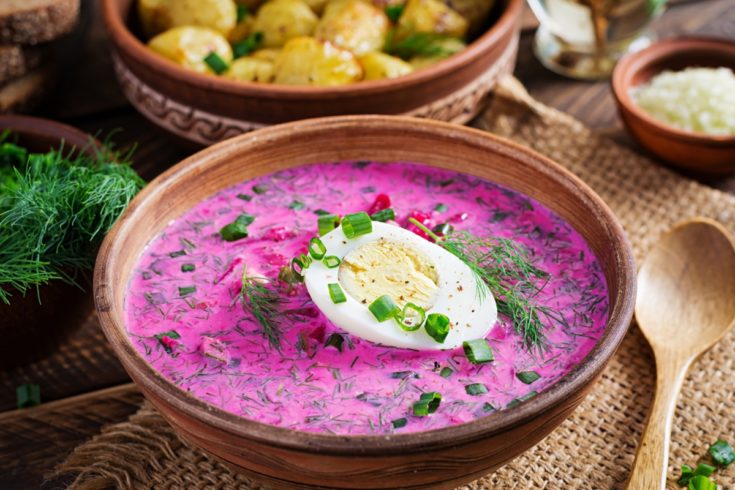 Looking pretty in pink, the Chlodnik, also known as cold borscht soup is the perfect summer dish. This mix of beetroots, buttermilk, and cucumbers, is truly creamy and refreshing!
Ingredients
2 bunches of young beets with greens (botwina)
2 cups of water or vegetable broth
3 field cucumbers
5 radishes
2 cups of buttermilk
1 cup of natural yogurt
2 tablespoons of lemon juice
4 tbsp of chopped dill
3 tspp of chives
1/2 teaspoon of salt
2 hard boiled quail eggs (or regular eggs)
Instructions
Clean your beets well. Separate the stems from bulbs, peel the bulbs and chop into slices. Chop stems into smaller chunks.
Put the beets (only bulbs) in a pot with 2 cups of water, salt, and bring to boil. Once boiling, cook for 10 minutes.
Then add greens and cook for additional 5 minutes. Then set aside to cool down entirely.
Once it's all cooled down entirely add 2 tablespoons of lemon juice to them.
Meanwhile, chop cucumbers into very thin and small chunks. Grate radishes on a medium grater. Then put it into the pot with beets.
Add buttermilk and yogurt and mix it all together.
Put it in the fridge to
Serve with chopped dill and half of a hard-boiled egg.
Notes
If you can't find young beets with greens (botwina) you can also prepare them with regular beets, just add 2 more to the recipe.