Easter is a big event in Poland and takes over an entire month's worth of events! Easter in Poland is celebrated according to the Western Roman Catholic calendar and Easter is a big event in Poland and takes over an entire month's worth of events with some unique rituals and traditions.
First, there's Lent which obviously requires no eating anything fancy. However…
Right before Lent starts you have Fat Thursday celebrated six days before Ash Wednesday. Fat Thursday marks the last Thursday before Lent and it's a big event in Poland. (*I already got some emails about it so let me explain: there's no Fat Tuesday in Poland, it's always been Thursday. Fat Tuesday is only in the US.)
Everyone eats a ton of paczki – donuts and faworki – angel wings that day. If you're not making them yourself expect bakeries to be queued out the door everywhere!
You will have bad luck for an entire year if you do not eat at least one Polish donut that day!
---
Palm Sunday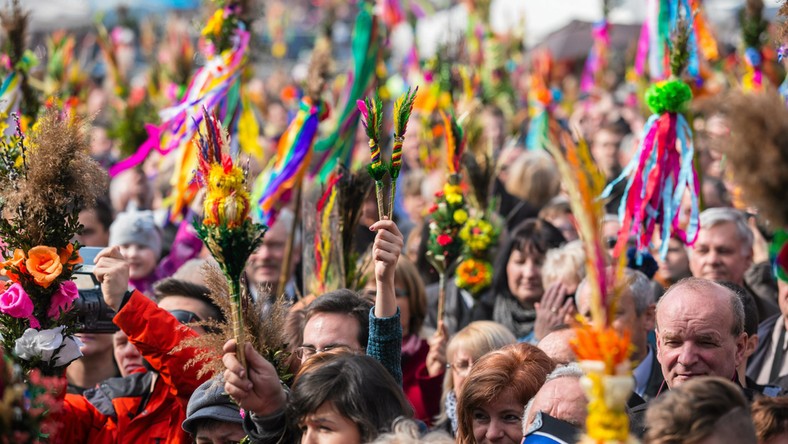 Then, there's Palm Sunday (Niedziela Palmowa) – the Sunday before Easter.
It's called Palm Sunday because branches and dried flowers are being brought to churches. It's commemorating the entrance of Jesus in Jerusalem with those palms.
Palm making is a big thing, but it's pretty common to also purchase one. My own family purchased a new one every year and put old ones on display.
You can get a tiny one for kids and big ones for adults or an absolutely gigantic one, but picking a palm and then seeing other people's ones at the church that day is always an adventure.
---
Easter Basket Preparation on Easter Saturday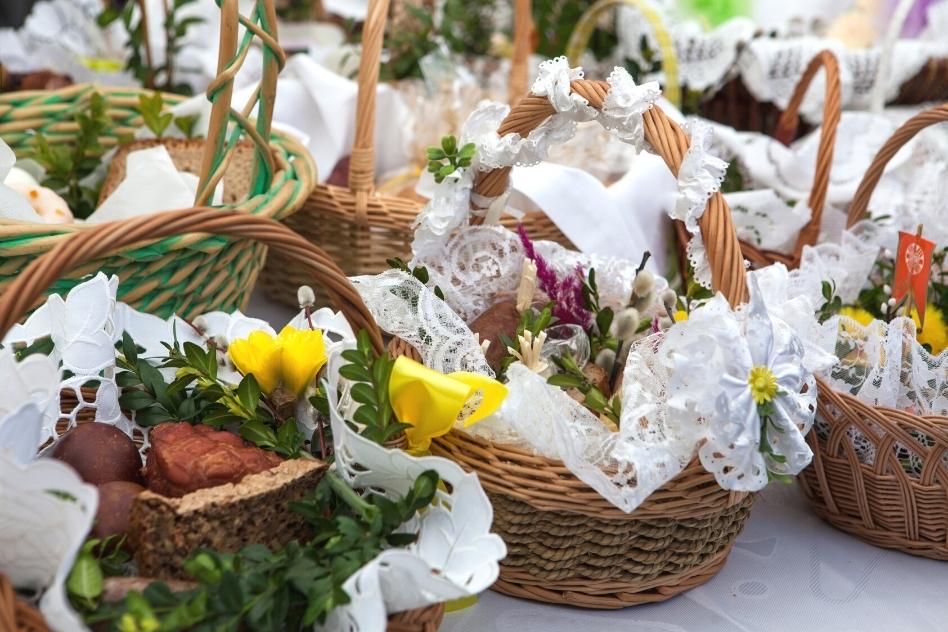 The Big Friday requires fasting and preparing the eggs – pisanki. Poles take pride in decorating their eggs in various ways possible. It's a tradition more than 500 years old.
Whether it's with warm stickers, traditional dye, painting, or more elaborate ways with vax.
That day you also prepare your Easter Basket, lined with a white linen or lace napkin and decorated with sprigs of boxwood (bukszpan). The baskets contain a sampling of Easter foods: pisanki, a piece of sausage or ham, salt and pepper, bread, a piece of cake and an Easter Lamb made of sugar, salt and pepper.
They are brought to church to be blessed with the holy water. After you bless your basket you can break the fast.
---
Easter Sunday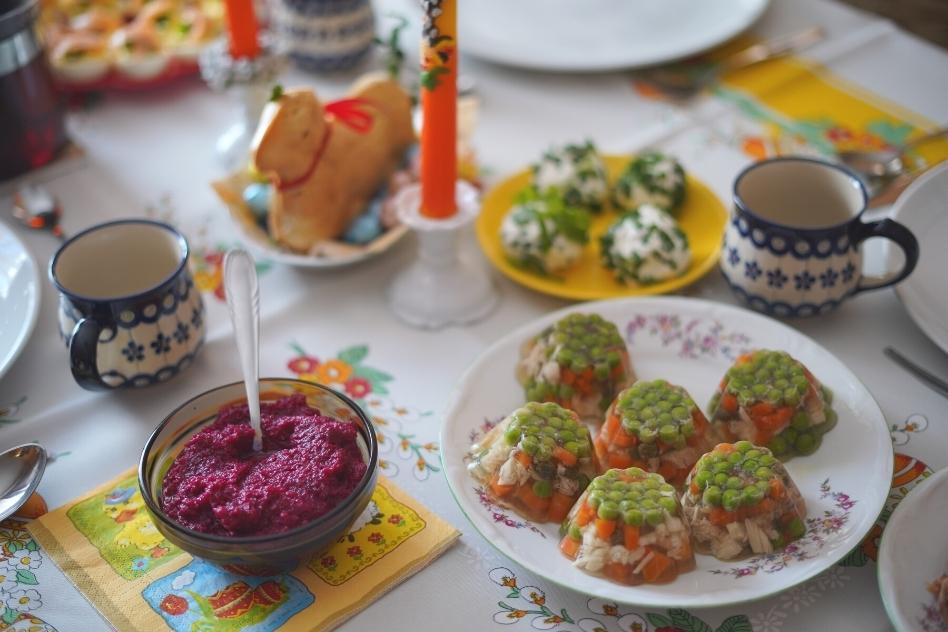 Easter Sunday starts with a Ressurection Mass early in the morning for those religious. For mildly religious families it starts with a gathering for breakfast.
Before the meal begins, similar to Polish Christmas when you share opłatek (Christmas wafer), people share wedges of the blessed Easter eggs from the basket and exchange wishes.
Egg battles are also big on that day. Each person will take a boiled egg and pair off to fight by knocking their egg against the other. Whoever's egg cracks is the loser and the one with an unbroken egg is the winner.
The breakfast is dominated by cold dishes that are similar to what you put in the Easter basket: ham, sausage, roast meats,pâtes (pasztet), eggs in all forms, horseradish relish, bread. There are plenty of ways to do Easter, but there are some Polish Easter dishes that are a must!
In my family, we waited for cakes to dinner (which is really only a few hours later – keep in mind Poles eat dinner mid-day), but we always had a few Mazurek cakes… among the other ones.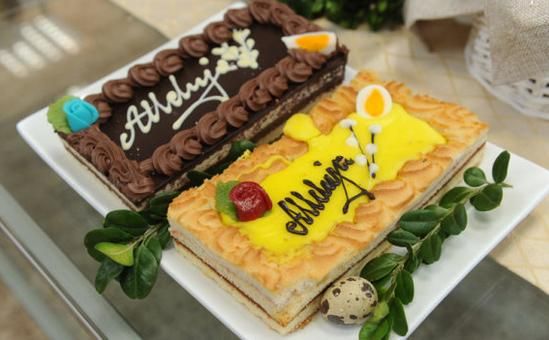 ---
Wet Monday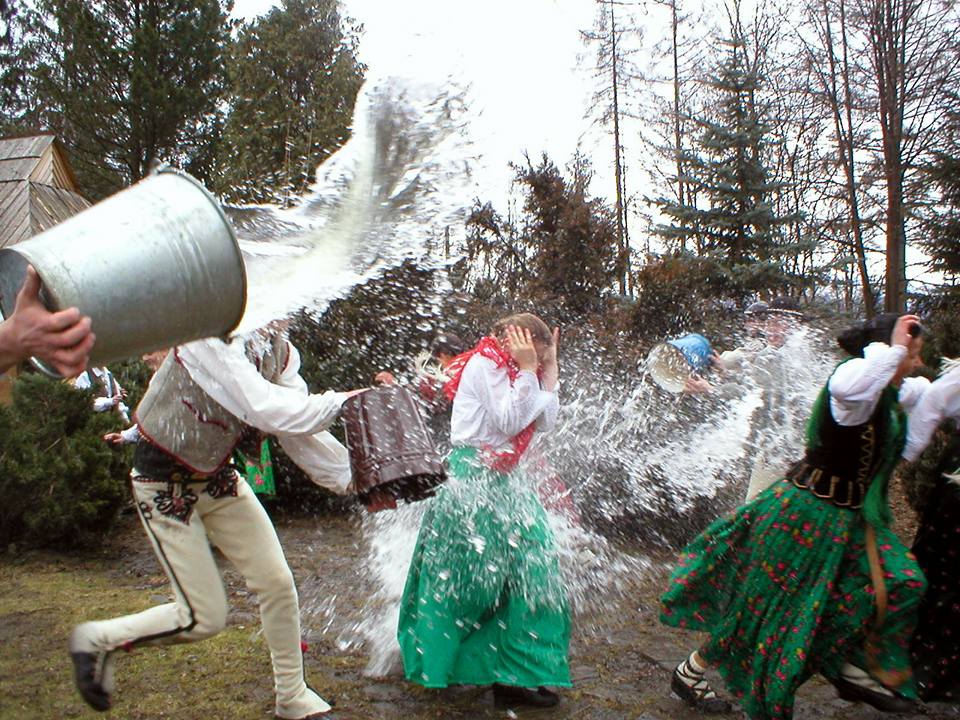 The next day is the best adventure for the kids. It's called Smigus Dyngus or Lany Poniedzialek – Wet Monday. Tradition requires that boys throw water over girls and spank them with willow branches, but these days everyone is just getting others wet with water guns, buckets, hoses.
I'd compare it to the intensity of Thai Songkran festival. Be prepared to get wet no matter what, basically.