The perfect sheet pan dish, Polish kielbasa and potatoes are a tasty and easy gluten-free meal perfect for lunch or dinner.
---
The most amazing roasted potatoes and sausage casserole, it'll leave your kitchen smelling amazing and your guests feeling full. Sometimes also called Polska Kielbasa, this kielbasa and potatoes recipe is simply perfect!
If you don't want it as your main meal, it's perfect as a side or appetizer too, and goes really well with Polish vodka.
---
Why is it sometimes called Polska Kielbasa?
The common Polish word for sausages is kielbasy and kabanosy (thinner one). The word for Polish is Polska. So quite simply, Polska Kielbasa means Polish sausage.
Polish sausages have been popular since the 1400s when Polish nobles increased the amount of pig hunting in winter to add more pork sausages to their tables.
Nowadays, kielbasa is made with other meats as well – beef, turkey, chicken, and more, but pork is still a top favorite.
Made with any type of Polish sausage, kielbasa and sausages is a favorite Polish dish for busy days where all you can do is throw some food items into the pan and oven.
Hearty, filling, warming, and very very comforting, everyone from kids to adults will love this dish.
---
Pointers For Making Polish Kielbasa and Potatoes
It's a gluten-free and wholesome meal.
Red potatoes are best, but you can use others if you don't find them. Yukon Gold and Russet potatoes are good options.
Add bell peppers for some variety.
Add a dash of paprika powder if you want it spicy.
Serve as is or with garlic sauce or horseradish sauce.
It also goes really well with fresh or fried sauerkraut or warm shredded beets.
---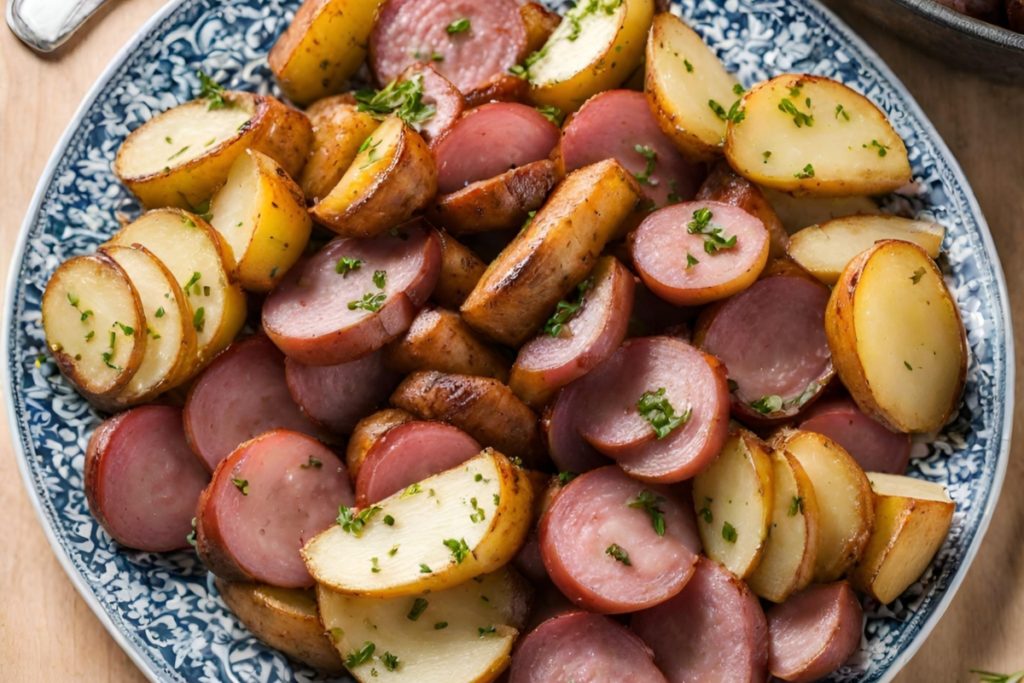 FAQs about Polish Sausage and Potatoes
You haven't mentioned skinning the potatoes. Shouldn't we skin them?
You can skin them if you want to, but it's not essential to skin the potatoes. Leaving the skin on makes them more crispy.
Do I have to use garlic?
If you're not a fan of garlic, you can skip it or use garlic powder. It depends on your tastebuds.
What if I don't want to fry the potatoes?
If you don't want to fry the potatoes, you can parboil them in water before use.
Can I store leftover kielbasa and potatoes?
Yes, leftover kielbasa and potatoes can be stored in the refrigerator in an airtight dish for 3 to 4 days. Reheat before serving.
Yield: 6 Servings
Kielbasa and Potatoes Recipe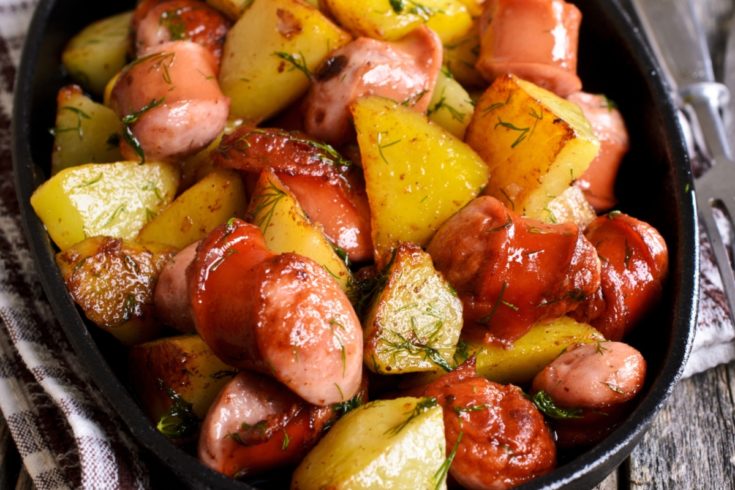 This Kielbasa and Potatoes Recipe is the perfect sheet pan dish. made with tasty Polish sausages and potatoes, it's an easy gluten-free meal.
Ingredients
1 pound of kielbasa, sliced
1 ¼ - 1 ½ pounds of red potatoes, sliced
2 Tbsp olive oil
1 white onion, chopped
2 cloves of garlic, minced
1 teaspoon of fresh parsley, finely chopped
salt to taste
Instructions
Preheat the oven to 400˚F.
Meanwhile, on a large skillet fry the kielbasa and onion for approximately 3 minutes until browned. Set aside.
In a big bowl, mix parsley with 2 garlic cloves, 2 tbsp olive oil, and salt. Throw sliced potatoes in the mix.
In the same bowl you fried kielbasa in, place your potatoes and cook for 12 minutes, mixing occasionally.
Then, spread the potatoes and kielbasa onto a baking sheet and bake at 400˚F for 30 minutes, but don't forget to stir it halfway through.
Serve the Polish sausage and potatoes as is, or with a garlic sauce.