A twist on the Hot Chocolate Bombs that have taken the internet by storm, these colorful Easter Egg Chocolate Bombs are easy to make at home in just 15 minutes!
A few months ago the homemade hot cocoa bombs were all the rage. They were really popular at Christmas too, with bombs of all flavors and colors. Add a touch of sparkle, crushed mints, and colorful marshmallow, and your hot milk turns into a creamy delight.
With Easter just around the corner, I thought of making some Easter-themed hot chocolate bombs with marshmallows. These hot cocoa bombs are a great treat for adults and kids alike that only require some white-hot cocoa, candy melts, sanding sugar, and mini marshmallows.
Simply place the hot chocolate Easter eggs in a mug and cover with hot milk. They'll burst open to let the marshmallow rise to the top and the chocolate melts into a creamy liquid you'll enjoy drinking.
Make them as gifts or serve them as after-dinner drinks for Easter. They're the perfect #easterhotcocoabombs
What Ingredients are Needed for Hot Chocolate Bombs?
Blue, yellow and white candy melts – Candy melts are easy to melt and remelt making them perfect for fun colored cocoa bombs. They melt easily in warm milk and create a creamy drink.
White-hot cocoa – White hot cocoa makes for a sweet twist for all the white chocolate lovers. This can be found in some local grocery stores but if it is not readily available to you, it can be purchased on Amazon.
Blue sanding sugar – Sanding sugar adds to the sparkle of these pretty cocoa bombs and makes them a little more festive. Any sanding sugar color can be added and may be found at a local grocery store. If you do not like sanding sugar or have an allergy or aversion to it, simply leave it out.
Multi-colored mini marshmallows – The multi-colored marshmallows again add to the festive feel of these cocoa bombs, however, regular mini marshmallows would work just as well.
Supplies you will need to make this recipe:
Three small, microwave proof bowls
Silicone egg-shaped mold -> click here for the exact link (or if you're feeling extra creative you could try those)
Small, microwave-safe plate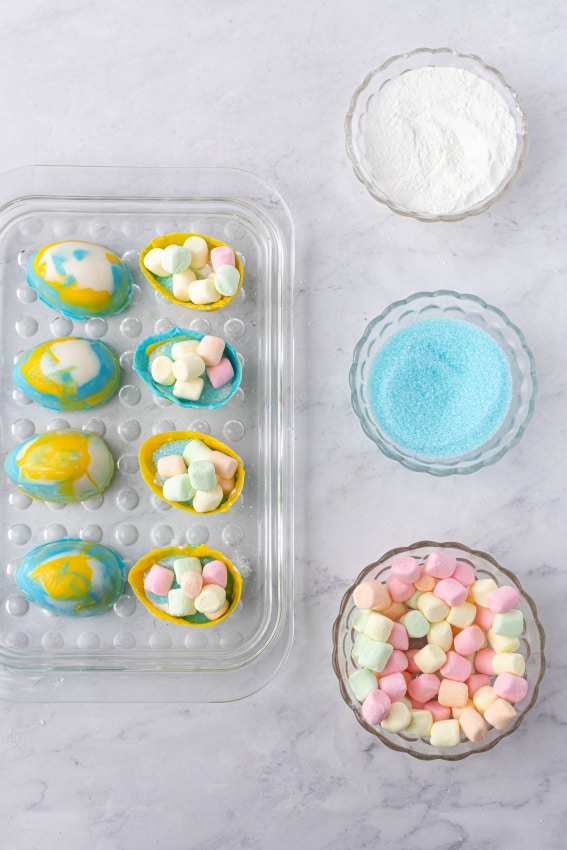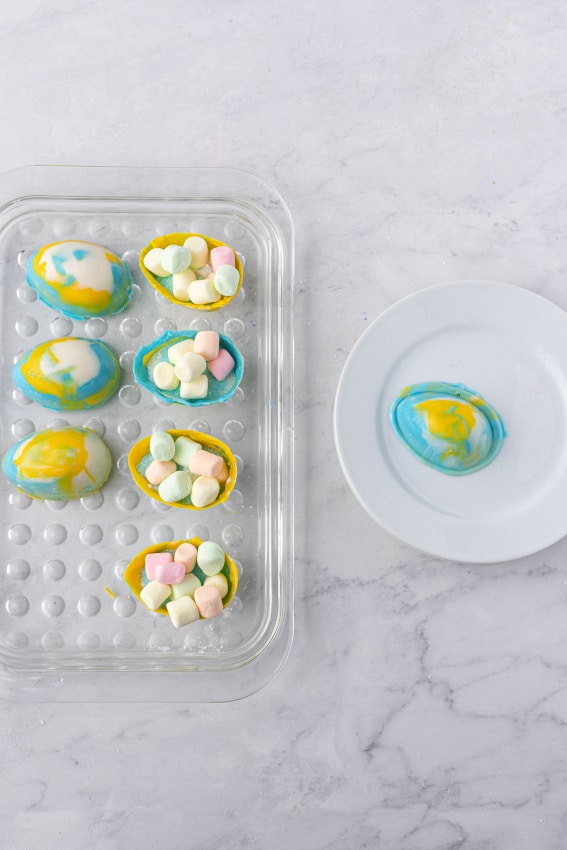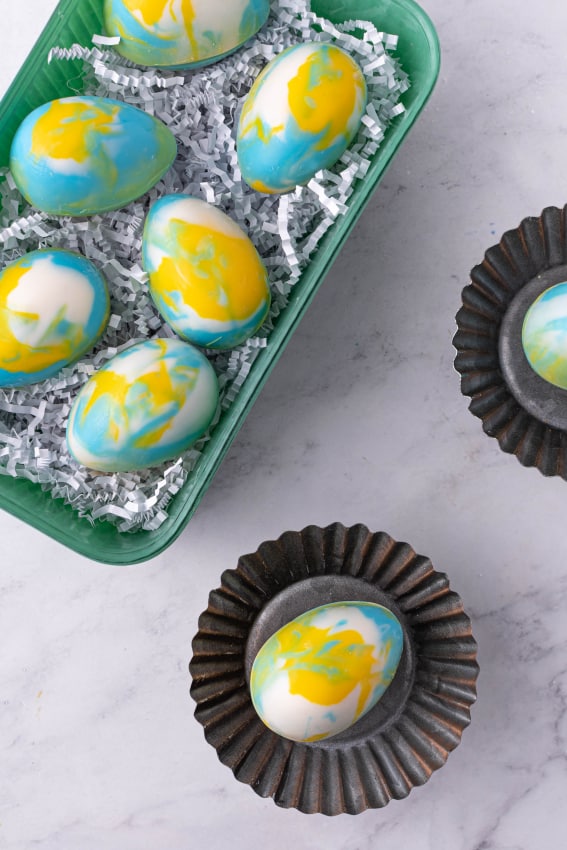 ---
Recipe Pointers For Easter Hot Chocolate Bombs
You can add sprinkles on the seams of the hot chocolate bombs.
You can use single-colored or multi-colored marshallow.
If the Easter eggs crack while handling, it means they're too thin. But don't make them too thick or they will take time to melt.
The blue sanding sugar is optional. But if you do find it, it adds sparkle to the white hot cocoa drink.
You can use any combination of candy melt colors for the Easter egg bombs:
red, white, and green
blue, white, and yellow
pink, purple, and white
green, blue, and white
blue, white, and yellow
If serving adults, these decadent chocolate Easter eggs can be filled with some of your favorite liqueurs too! Just mix the liqueur with the white hot cocoa to form a paste before adding it to the Easter eggs.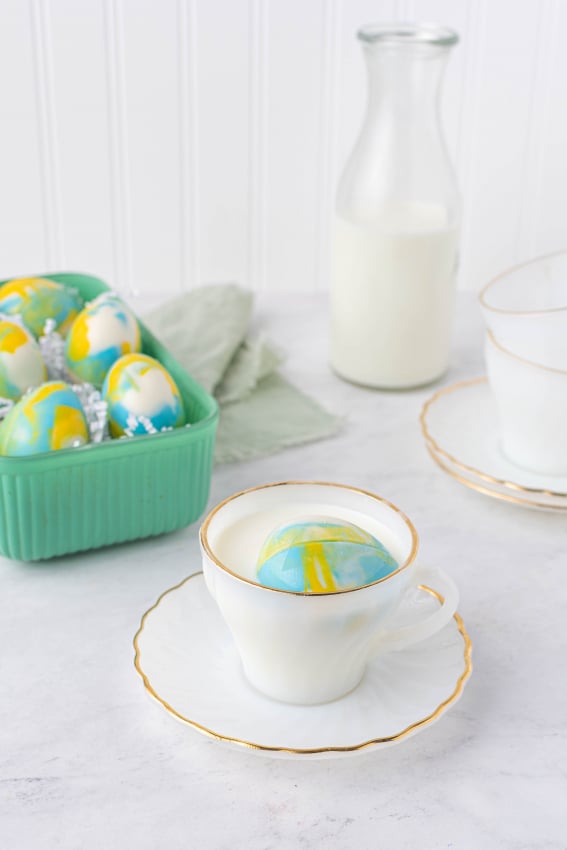 ---
FAQs about Easter Hot Chocolate Bombs
What is the texture of these hot cocoa bombs?
The candy melts to create a smooth, sweet drink. Once the shell melts, the white hot cocoa, sanding sugar and mini marshmallows all release into the milk and mix to make a delicious cocoa concoction.
How long can we store the Easter cocoa bombs?
If stored well in the refrigerator, these Easter cocoa bombs will last for 3 to 4 months. If stored at room temperature, the hot chocolate Easter bombs will last for a few weeks.
Are these Easter hot chocolate bombs vegetarian?
Yes, these Easter Egg chocolate bombs are vegetarian, and gluten free too!
What are the seven colors that represent Easter?
The 7 colors that traditionally represent Easter include.
Purple – royalty or penitence,
Red – Jesus blood, sacrifice, and love,
Pink – hope and new beginnings,
White – grace and purity,
Green – eternal life and rebirth,
Black – penance and fasting,
Gold – Jesus triumph over death and resurrection.
Use any combination of these colors in your Easter Egg chocolate bombs.
How do I stop the edges of the chocolate eggs from becoming bumpy?
For a smoother edge when joining the two chocolate egg halves, take a heated spoon and run it around the seam to smooth it out.
I want to give these hot chocolate Easter Eggs as gifts. How do I wrap them?
To give the hot chocolate eggs as Easter gifts, wrap a few of the chocolate eggs together in a cello bag and tie with a ribbon.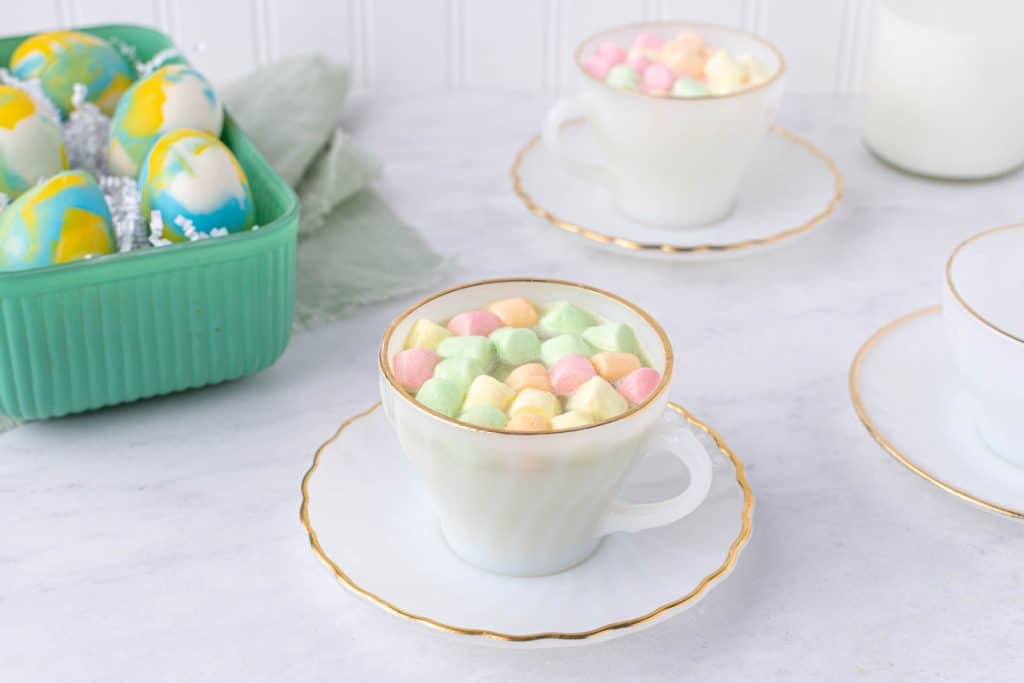 Yield: 6 Cocoa Bombs
Easter Egg Hot Chocolate Bombs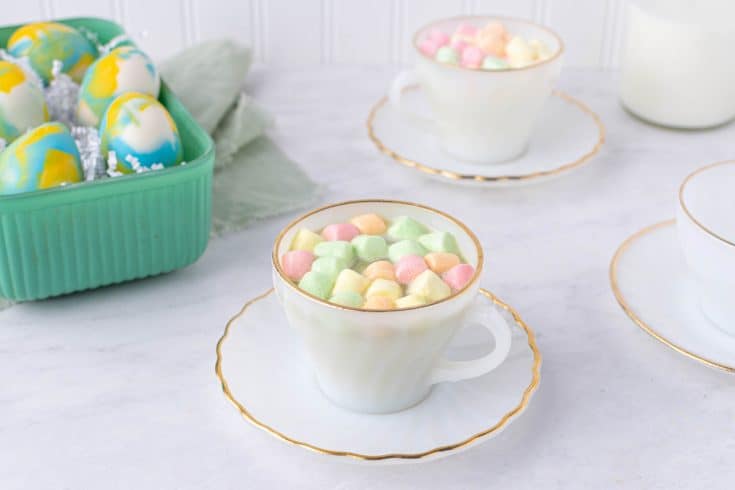 A twist on the Hot Chocolate Bombs that have taken the internet by storm, these colorful Easter Egg Chocolate Bombs are easy to make at home in just 15 minutes!
Ingredients
½ c blue candy melts
½ c yellow candy melts
½ c white candy melts
6 Tbs white hot cocoa mix
Blue sanding sugar, optional*
Multi-colored mini marshmallows
Silicone egg-shaped mold
Instructions
In three separate, small-sized, microwave-safe bowls, melt each of the candy melts in 30-second increments, stirring occasionally, until melted. It should only take 60-90 seconds.
Once melted, alternately spoon a little dollop of each color into each egg mold.
Using the back of a spoon, lightly swirl the colors together to create a marbled effect and spread around to coat the sides of the mold.
Leave on the counter to set or in the fridge for 10 minutes or until they are set and hardened. The top edge of each mold may be fragile.
Using the leftover melt in your preferred color, spread just a little on the top edges of each mold to strengthen them and let set again for 2-3 minutes until hardened.
Carefully remove each egg from the mold.
In half of the empty shells, spoon 1 Tbs of the white-hot cocoa mix.
Top with some blue sanding sugar and several mini marshmallows.
Warm a small, microwave-safe plate for 45 seconds.
Place corresponding empty half on the warm plate and allow to melt slightly to take off the uneven edge and create a "glue".
Connect empty half to filled half, matching the edges to create a whole egg. Run a clean finger over the seam to smooth it out.
Once all of the hot cocoa bombs are sealed together, serve and enjoy or package and give away!
To make hot cocoa, simply warm 6 oz of milk and place a hot cocoa bomb in it. Let melt, stir, and serve!