These hot cocoa bombs took the TikTok world by storm! The bombs explode to release marshmallows and delicious chocolate making even adults feel gleeful like a child.
Why are Hot Chocolate Bombs so Popular?
The joy of watching the hot chocolate bombs melt when covered with hot milk to showcase a hidden treasure of marshmallow and chocolate is simply delightful.
No wonder these bombs have taken over TikTok and some of Instagram too. Look for videos tagged #hotchocolatebombs or #hotcocoabombs and you'll find they're as popular as Dalgona Coffee and sourdough bread.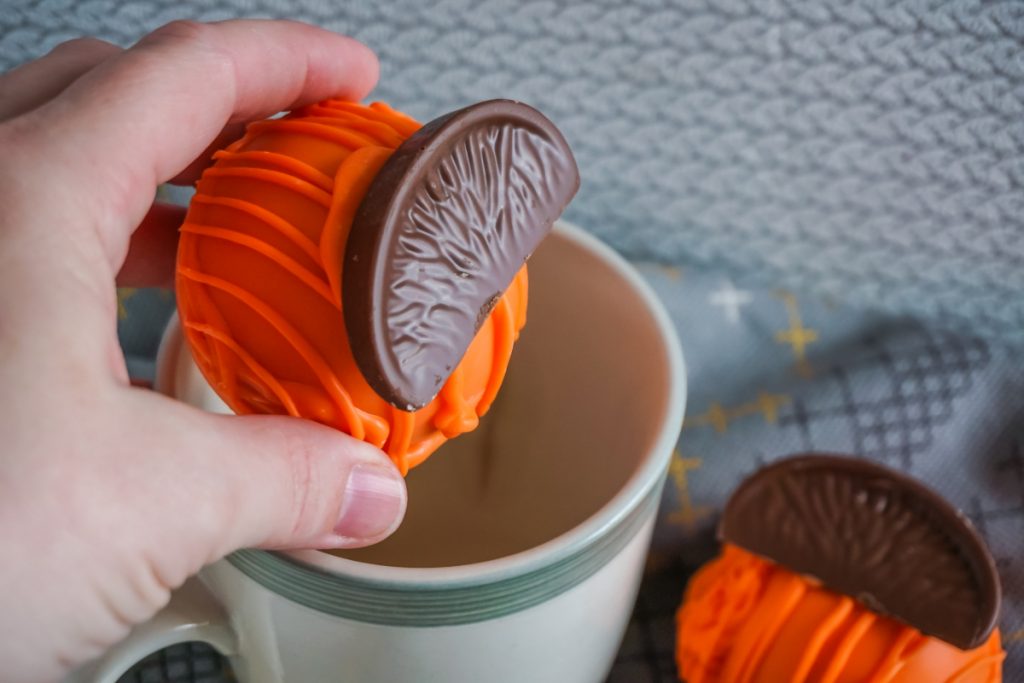 Who invented cocoa bombs? The original bombs were created in 2019 by Eric Torres Garcia in Boise, Idaho. Eric used three basic ingredients – luster dust, chocolate, and marshmallow – and the bombs went viral. From there, a number of variations have been created.
Peppermint flavored hot cocoa bombs, liqueur filled bombs, fruity bombs, cookie and cream bombs, caramel-filled bombs, smores bombs, and more.
Disney even created an Olaf shaped hot chocolate bomb. Maybe what Olaf said in Frozen was true! "Some people are worth melting for!"
In the season of comfort food, these orange chocolate flavored hot cocoa bombs, are the perfect dessert-drink. Everyone is out buying hot cocoa bombs at $3 to $5 each or more, but you can easily make your own at home! And enlist your kids to help; they'll love it!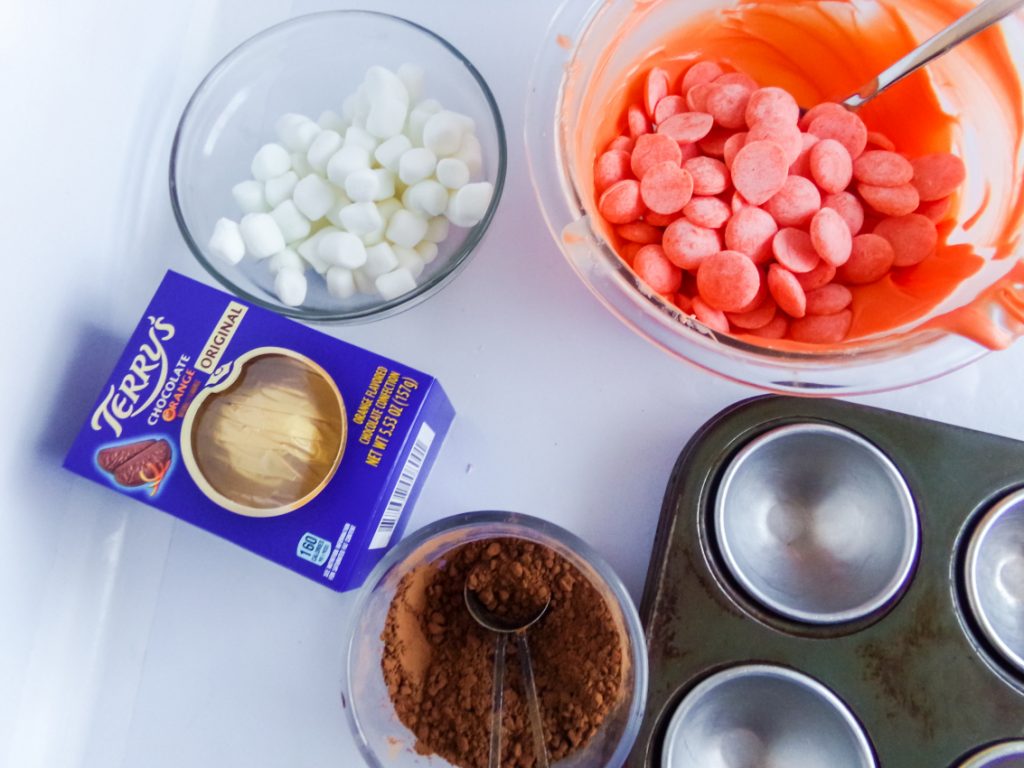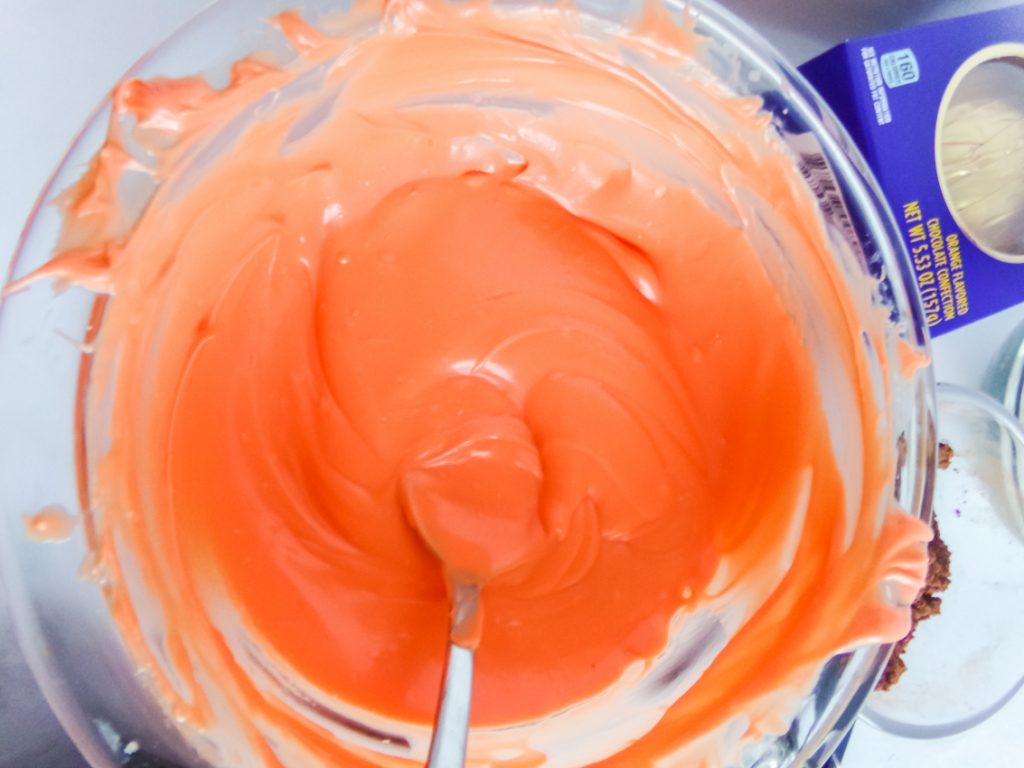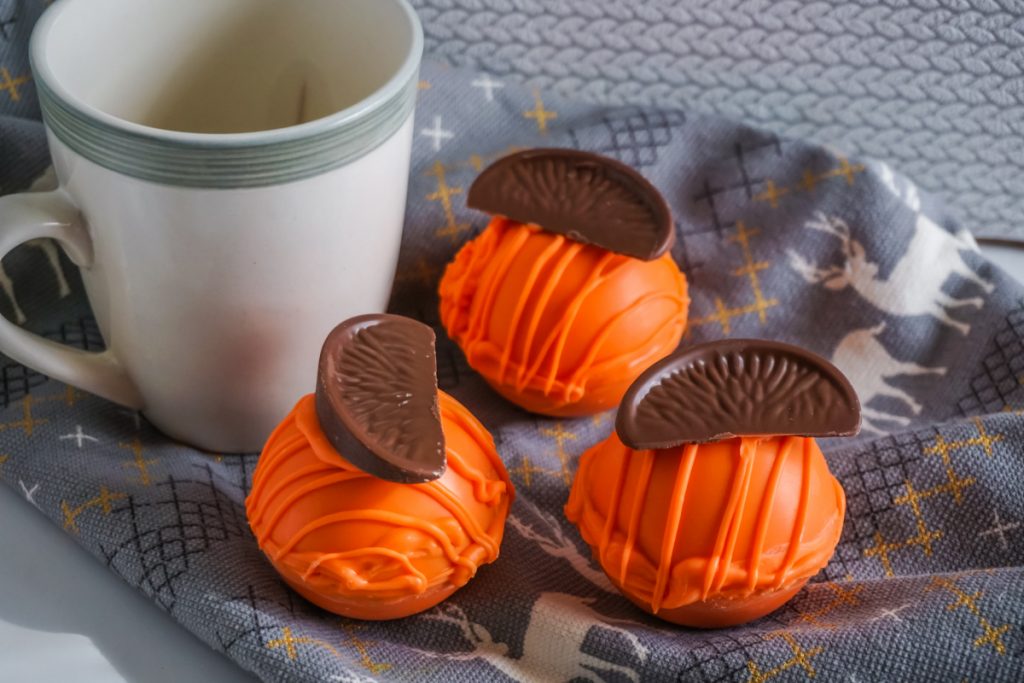 ---
Recipe Pointers For Making Hot Chocolate Bombs
If using bath bomb molds instead of cake pop molds, use a cupcake tin to hold them steady.
Also, make sure you buy molds that are the right size. The cocoa balls need to fit into your mug.
If the spheres tend to crack while handling, it means they're too thin. But don't make the chocolate spheres too thick or they will take time to melt.
For a more Christmassy effect, add some gold luster dust to the cocoa bomb molds.
For a mix of flavors, add crushed peppermint candies to the cocoa bombs.
For something different, you can replace the orange slice on top with half an Oreo, Ferrero Rocher, or another decorative thing.
You can drizzle the bomb with a mix of orange and plain chocolate for a different design.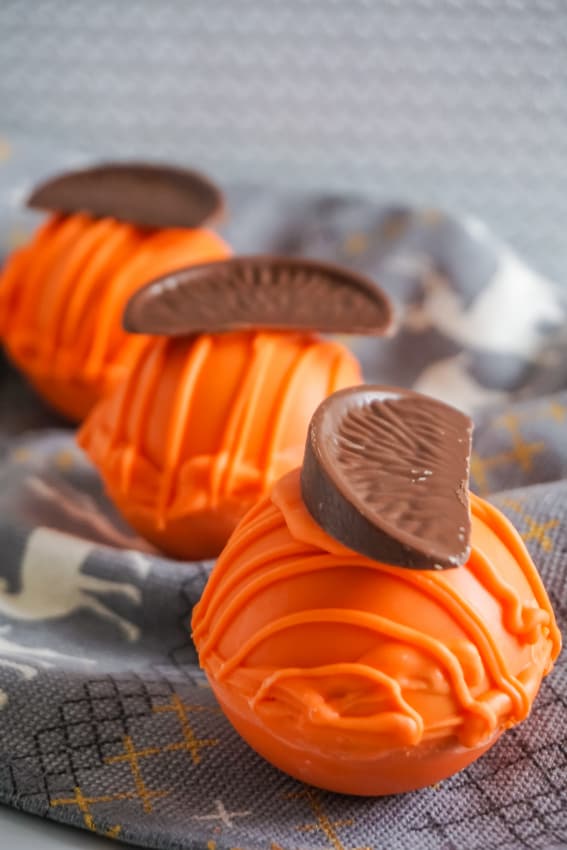 ---
FAQs about Orange Hot Cocoa Bombs
How long can cocoa bombs be stored?
If stored well in the refrigerator, cocoa bombs will last for 3 to 4 months.
If stored at room temperature, the hot cocoa bombs will last for a few weeks.
What are the main ingredients in cocoa bombs or hot chocolate bombs?
The main ingredients in hot chocolate bombs are marshmallow, and chocolate. We also add a spoon of hot chocolate mix.
Where can I get the Olaf shaped hot cocoa bombs?
You'll find them at The Ganachery in Disney Springs.
Are these hot cocoa bombs gluten free?
Yes, these hot cocoa bombs are gluten free and vegetarian.
How do I get the edges of the chocolate spheres to not be bumpy?
For a smoother edge when joining the two chocolate spheres, take a warm spoon and run it around the joined circle.

I want to gift some hot chocolate bombs. How do I wrap them?
If giving as gifts, wrap the hot chocolate bombs separately in decorative foil, or together in a cello bag and tie with a ribbon.
Yield: 6 Cocoa Bombs
Hot Cocoa Bombs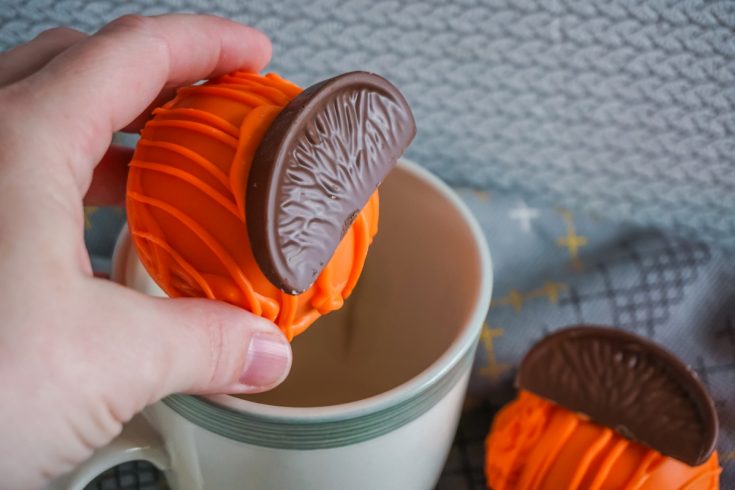 These hot cocoa bombs took the TikTok world by storm! The bombs explode to release marshmallows and delicious chocolate making even adults feel gleeful like a child.
Ingredients
2 cups Orange Candy Melts
2 cups Hot Chocolate Mix
2 cups Mini Marshmallows
24 Slices Orange Chocolate Ball (a little more than one whole ball)
Instructions
Place orange candy melts in a microwave-safe bowl and melt in the microwave per the directions on the package.
Place 1 tbsp melted candy melt into one half of a bomb mold and, using the bottom of your tablespoon or measuring spoon, press the chocolate up the sides of the mold, keeping it thick but even. Repeat with 12 bomb mold halves.
Place the chocolate-filled bomb molds into the freezer for 5 minutes.
Remove molds from the freezer and gently tap the sides of the mold, pressing on one side of the chocolate to make the chocolate slide out of the mold.
Fill 6 of the molds with 1 tbsp hot chocolate mix, 1 orange candy slice, and 6-8 mini marshmallows.
Heat a plate or a flat-bottom bowl in the microwave until the surface of the plate is warm to the touch.
Press one of the empty chocolate bomb halves open-side-down onto the flat portion of the warm plate for about 10 seconds. This will gently melt the rim of the chocolate cup.
Immediately press this warmed edge chocolate cup to the top of one of the filled cups. This will join the two halves of the hot cocoa bomb.
Using a piping bag or a fork, drizzle the remaining candy melts over the assembled hot cocoa bombs. Then immediately follow by pressing an orange chocolate slice on top of them.
Place the hot cocoa bombs into the freezer for 5 minutes to get them to set, then remove and store in an airtight container until you're ready to use them.
To use the hot cocoa bombs, place them in a mug and pour 2 cups of hot milk over the top. Stir until the hot cocoa bombs are completely melted and enjoy!
Notes
You will also need bath bomb molds or cake pop molds and, if using
bath bomb molds, I found it best to hold them steady in a cupcake
tin.
Recommended Products
As an Amazon Associate and member of other affiliate programs, I earn from qualifying purchases.
Nutrition Information:
Yield:
6
Serving Size:
1
Amount Per Serving:
Calories:

718
Total Fat:

7g
Saturated Fat:

4g
Trans Fat:

0g
Unsaturated Fat:

2g
Cholesterol:

0mg
Sodium:

769mg
Carbohydrates:

156g
Fiber:

8g
Sugar:

119g
Protein:

11g