Leniwe Dumplings or lazy pierogi as they're often called are delicious and easy to make. Easy to combine with different flavors, these cheesy dumplings can be eaten as a sweet or savory dish!
---
What Are Pierogi Leniwe?
Pierogi Leniwe are Polish dumplings made with flour, eggs, and twarog (a type of quark cheese). You'll often find them topped with fried breadcrumbs, sugar, cinnamon, or simply melted butter.
This popular Polish dish is one of many pierogi dishes that reached Poland via Saint Hyacinth, a monk who brought them over from Kyiv in Ukraine. Of course, those were the traditional pierogi. Who was lazy enough to turn their kluski into lazy dumplings is anyone's guess.
Kids love them and it's a popular lunch dish in school cafeterias and milk bars, especially during the summer.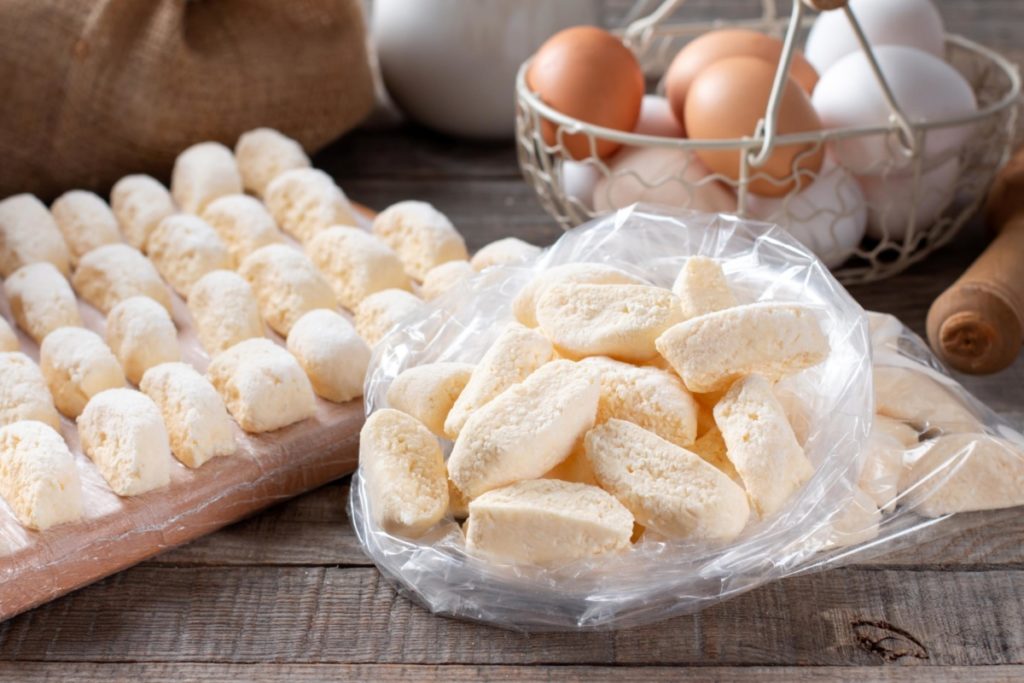 ---
What is Twarog?
Twarog is the Polish version of farmer's cheese that is similar to quark. Creamy in texture and slightly sour and salty to taste, twarog is not your regular farmer's cheese.
Twarog has a higher fat content that quark or regular farmer's cheese and is firmer in texture and can be easily sliced into pieces.
Twarog is used to make pierogi leniwe, pierogi ruskie, cheesecakes such as sernik, Easter pascha, or as an addition to salads and breadspreads. It's also often served raw topped with chopped fresh chives and sprinkled with salt. A healthy guilt-free snack!
Also called ser bialy which means white cheese, twarog can be found in Polish delis, but it's easy to make at home too!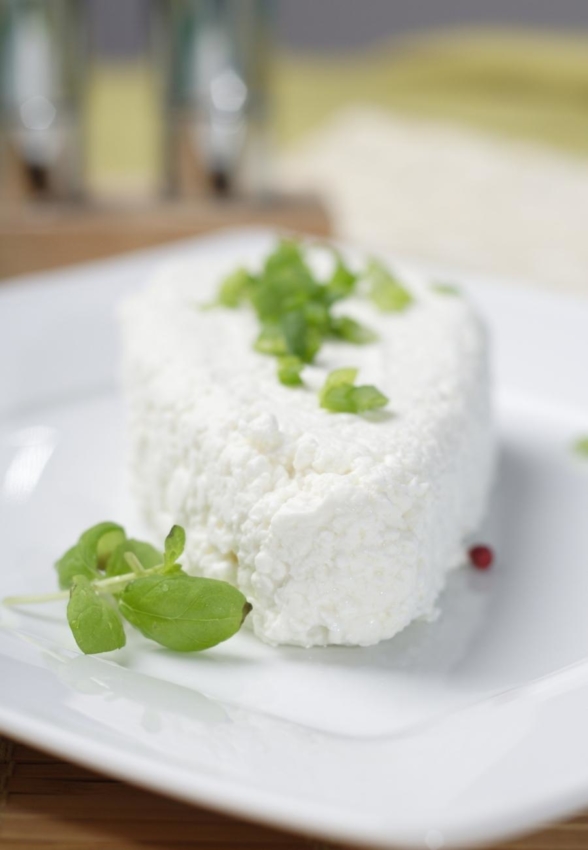 ---
What to serve with Pierogi Leniwe?
Pierogi leniwe can be served with any of the following:
Brown sugar
Vanilla sugar
Melted butter
Breadcrumbs fried in melted butter
Powdered cinnamon
---
Recipe Pointers For Pierogi Leniwe
If the twarog seems too dry, add a few spoons of sour cream to the dough.
Cut the pierogi leniwe in diamond shapes like the kopytka dumplings.
It's important to boil the pierogi in batches. If you boil them all at a time, they'll stick to each other!
When the dumplings rise to the surface, you'll know they're ready to be removed from the water in another minute.
Use a slotted spoon to drain the pierogi from the water.
Top the pierogi leniwe with melted butter immediately after plating so that they don't stick to each other.
---
FAQs about Polish Lazy Pierogi
What Does Leniwe Mean?
Leniwe means lazy in Polish. These dumplings are named lazy because the pierogi are simply cut into pieces instead of being shaped like other pierogi. They're also not stuffed with cheese. Instead, the cheese is incorporated into the dough.
What's the difference between Kopytka and Leniwe?
Both Polish dumplings are similar in shape. But while kopytka are made from cooked potatoes, a bit of flour, and eggs, leniwe are made from flour, cottage cheese, eggs, and butter.
What can I use instead of Twarog?
You should find twarog in the nearest Polish deli or in the gourmet section of grocery stores. If there's no Polish deli nearby, you can substitute with queso blanco or any other soft cottage cheese.
What's the difference between Pierogi Leniwe and Gnocchi?
Italian gnocchi are dumplings made of cottage cheese and semolina dough shaped like cylinders with ridges. Pierogi Leniwe are diamond-shaped dumplings made of cottage cheese and flour that are cut to resemble animal hooves.
Can I reheat pierogi leniwe?
Yes, you can reheat lazy pierogi by boiling them in water for 2-3 minutes. Or you could fry them with butter or oil.
Can I freeze pierogi?
Yes, you can freeze cooked pierogi for up to 6 months. Coat them with melted butter before transferring them to an airtight container. Do not freeze uncooked pierogi!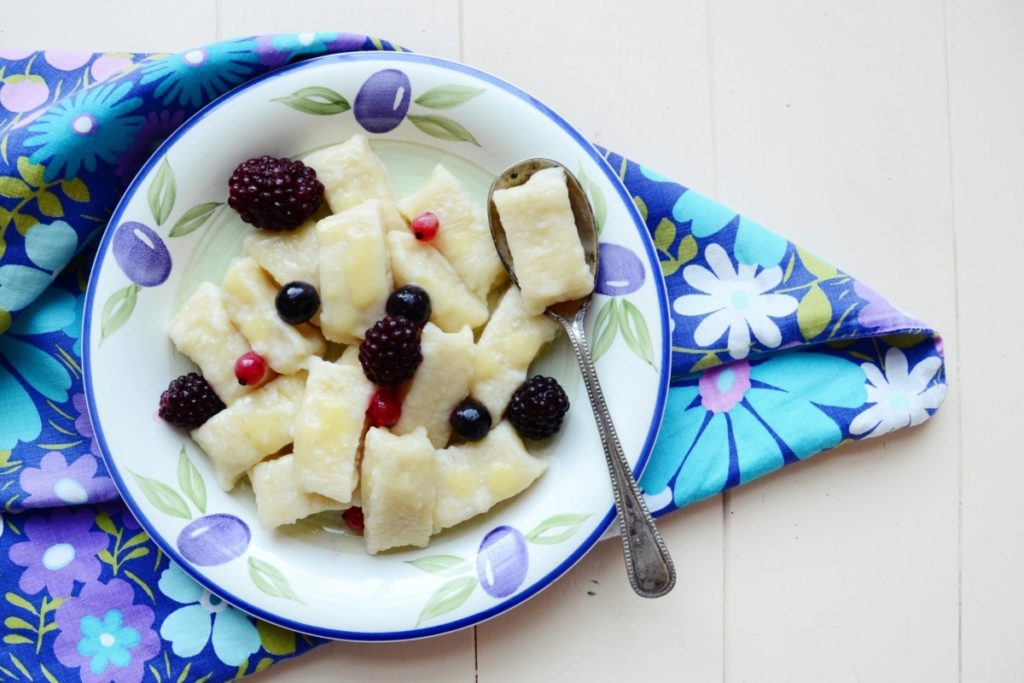 Polish Lazy Dumplings: Pierogi Leniwe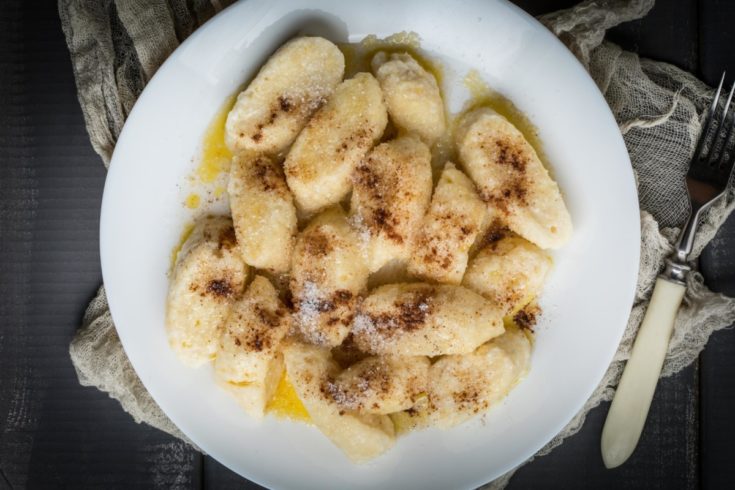 Leniwe Dumplings or lazy pierogi are delicious and easy to make at home. Easy to combine with different flavors, these cheesy dumplings can be eaten as a sweet or savory dish!
Ingredients
16 oz of farmer's or cottage cheese (ideally twarog)
1 cup of all-purpose flour
2 tablespoons of melted butter
2 eggs
1 teaspoon of salt
Instructions
Start by grinding the farmer's cheese if you're using Twarog. If using cottage or soft cheese you can mush it with a fork or use a hand press.
Add two tablespoons of melted and cooled butter and egg yolks to the bowl with cheese. Mix together with a fork.
Add half a cup of flour and mix together again until there are no lumps left.
Beat the egg whites with a mixer in a separate bowl. Then add to the cheese bowl and mix all together.
Sprinkle flour on a clean table top. Sprinkle a portion of the cheese mass lightly from the top with flour as well.
With dry hands (may be sprinkled with flour), start rolling a roll with a diameter of about 0.75" cm. Use a knife to cut the pierogi noodles of similar size diagonally (just like kopytka).
Boil in a big pot for 1 minute from the time the dumplings come to the top of the water. Using the slotted spoon, take out your lazy pierogi.