Typically served for Christmas Eve dinner in Poland, Zupa Grzybowa is a traditional Polish wild mushroom soup that can be made with fresh or dried mushrooms.
---
What's Different About Zupa Grzybowa?
Zupa Grzybowa is a hearty vegetarian Polish dish that was supposed to have been popularized by the people from Masovia but is eaten all over Poland.
Traditionally made with mushrooms that have been collected fresh off the forest floor, it can be eaten year-round, but is more popular as a winter or autumn soup.
One of the twelve dishes served for Wigilia Bożego Narodzenia or Christmas Eve Dinner, this soup is meatless. Eaten for centuries in Poland, the soup can be made with borowik (boletus), kurki (chanterelle), or agaricus mushrooms.
A recipe for the characteristically sour grzybowa mushroom soup has been listed by Lucyna Ćwierczakiewiczowa in her book 365 obiadów za pięć złotych (365 dinners for 5 zlotys) that was published in 1860.
You'll find many variations of zupa grzybowa recipes passed down from parents and grandparents. But one thing they have in common is the earthy taste of mushrooms and the aromatic smell of allspice and garlic!
In my family we always ate grzybowa for Christmas instead of Borscht. We made half of the soup with the cream to make it optional so you could either have the straight-up bouillon or creamed version. Most people don't add any pasta to the soup, but we always make it with łazanki – flat squares, sort of like wider tagliatelle if you chopped it into squares.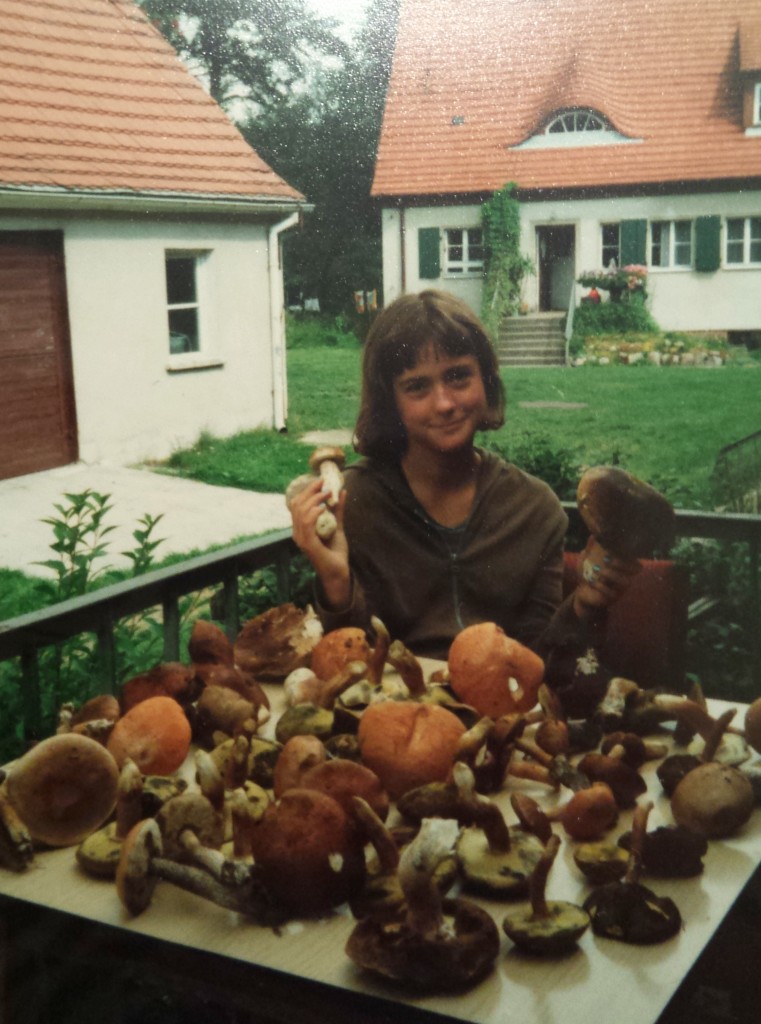 ---
Recipe Pointers For Polish Wild Mushroom Recipe
If using fresh mushrooms, there is no need to soak them overnight.
If using frozen mushrooms, thaw before cooking.
You can find dried Polish bay bolete mushrooms at your local deli or online. (Anna – link here and next line)
If you want to save time, you can use a mushroom broth base (it's my to-go often!) and par-boiled veggies.
You can added chopped boiled potatoes to the soup.
Any water leftover from cooking the mushrooms can be used as a base for sauces.
Add more onions if you want a sweeter soup.
For a tangier soup, replace the heavy cream with sour cream.
Do not let the soup boil after adding the cream or it will split.
Garnish with sour cream, chopped dill, or parsley and serve!
Serve with toasted bread or flat noodles!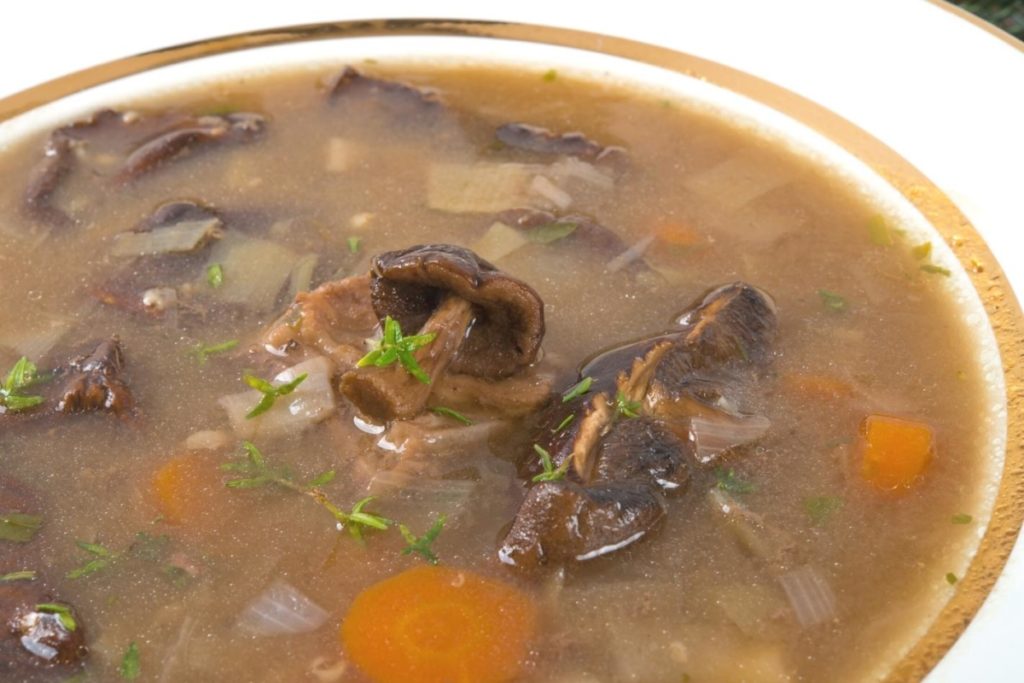 ---
FAQs about Cooking Zupa Grzybowa
What if I cannot find borowki mushrooms?
Borowki mushrooms might be available under different names in Western countries. Look for boletus, porcini, bay boletes, or king bolete mushrooms. If you don't find those, you can also use other dried mushrooms that you prefer.
Do I have to soak the mushroom in hot or cold water?
Soak the mushrooms in cold water. You should not use hot water to soak the mushrooms as that will toughen them up.
What to serve with Polish wild mushroom soup?
Serve the Polish wild mushroom soup with kluski noodles, flat noodles, lazanki, pasta, toasted bread, croutons, or diced boiled potatoes.
Is it possible to make the Zupa Grzybowa vegan?
Yes, you can make the Zupa Grzybowa vegan by replacing the butter with vegan butter and the heavy cream with coconut cream.
(Anna – 2 links above)
Do I have to add lemon juice to the soup?
The lemon juice is required to give the soup its characteristic sour taste. If you cannot add lemon juice, add a bit of vinegar.
Can I make the soup any richer?
Yes, you can add more cream to the soup to make it richer. Another trick my babcia would do is remove a cupful of mushrooms with the broth and puree it. Add this back to the soup to give it more texture and flavor.
How long can I store mushroom soup?
Mushroom soup can be stored in the refrigerator for 3 to 4 days. Reheat before serving. Since it's a cream-based soup, it's best not to freeze as it will lose its texture.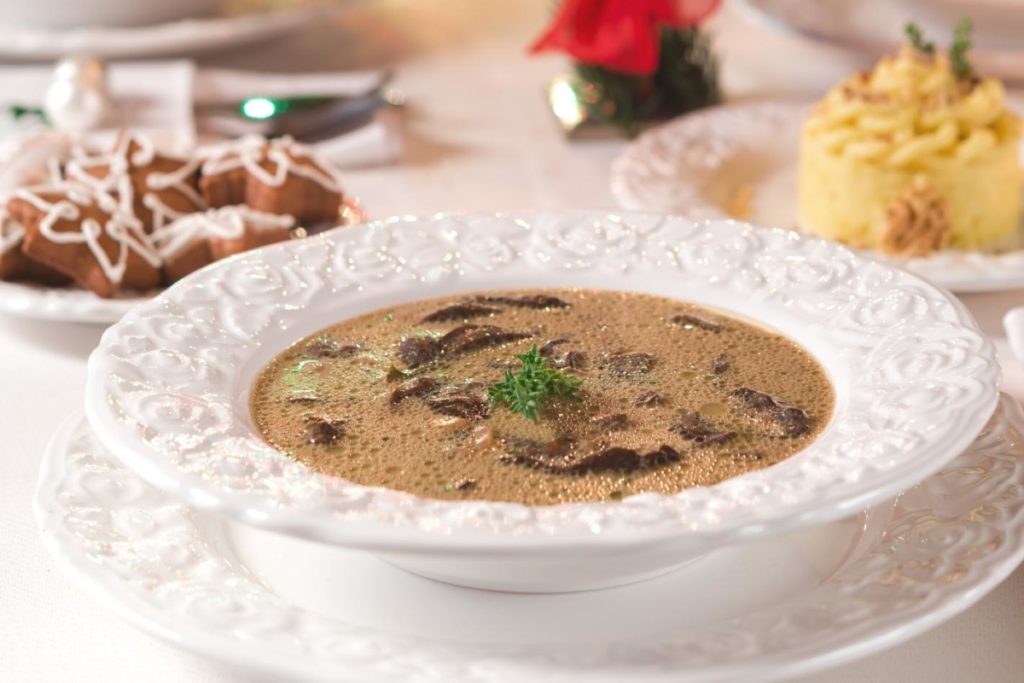 Yield: 6
Polish Mushroom Soup: Zupa Grzybowa Recipe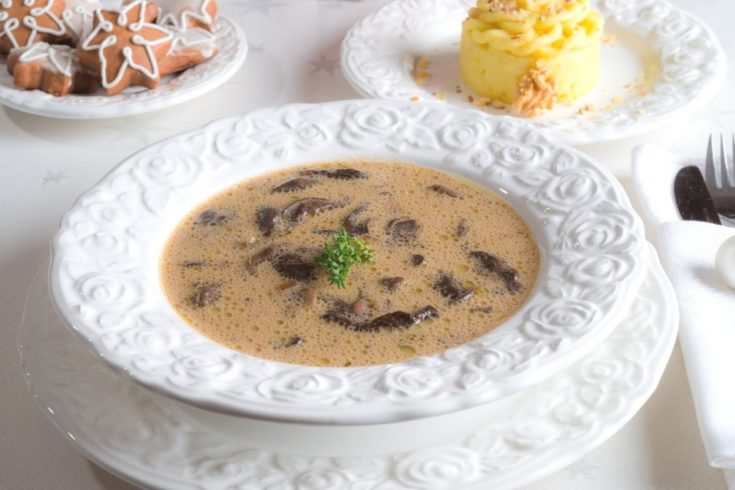 Typically served for Christmas Eve dinner in Poland, Zupa Grzybowa is a traditional Polish wild mushroom soup that can be made with fresh or dried mushrooms.
Ingredients
1/2 cup of dried mushrooms, e.g. porcini and bay boletes
1 small onion
1 small carrot
3 tbsp of heavy cream
1 tablespoon of butter (or oil)
1 flat tablespoon of wheat flour
1 clove of garlic
2 grains of allspice
1 bay leaf
salt and pepper to taste
5 tbsp of lemon juice
Instructions
Put dried mushrooms in a bowl and pour 2 glasses of water over them. Cover and leave to soak overnight. Drain the mushrooms but don't get rid of the water (you'll need it for the soup later).
Chop onion and grind garlic. Melt a tablespoon of butter or oil and fry the onion with garlic until it's all slightly brown. Add the mushrooms and cook everything for about 10 minutes.
Peel and slice the carrot and put it in the pot along with 3 cups of water. Add the bay leaf, allspice, salt and pepper, and bring it all to boil. Then add everything from your frying pan to it, along with the glass of water that the mushrooms were soaking in.
Cook on low heat for about 25 minutes (but read point. 5).
After about 15 minutes of cooking, pour half a cup of the pot broth into a small bowl. When the stock cools down a little, add heavy cream and a tablespoon of plain wheat flour to it and mix it all together. Pour it back into the soup after about 20 minutes and cook for additional 5 minutes (25 in total for the main pot).
Christmas Eve wild mushroom soup tastes best when served with flat noodles or any other of your favorite pasta.
Notes
If you don't like creamy soups you can skip the cream.