Topped with a marinara sauce and filled with goat cheese and spinach, these roasted and stuffed portobello mushrooms are amazing!
Did you know that some of the most popular edible mushrooms include the common mushroom or the button mushroom that's also called the portobello mushroom? It's also called a portabella mushroom or a portobello mushroom and measures anywhere between 10 to 15 cm in diameter.
Those large, flat, and rounded brown caps lend themselves to a variety of culinary ideas.
There are so many tasty dishes that can be made with portobello mushrooms; they're almost a staple food in our home. These stuffed mushrooms with cheese look really fancy, you'd almost think they were healthy open-topped burger buns. They're also really useful if you're on a low carb diet!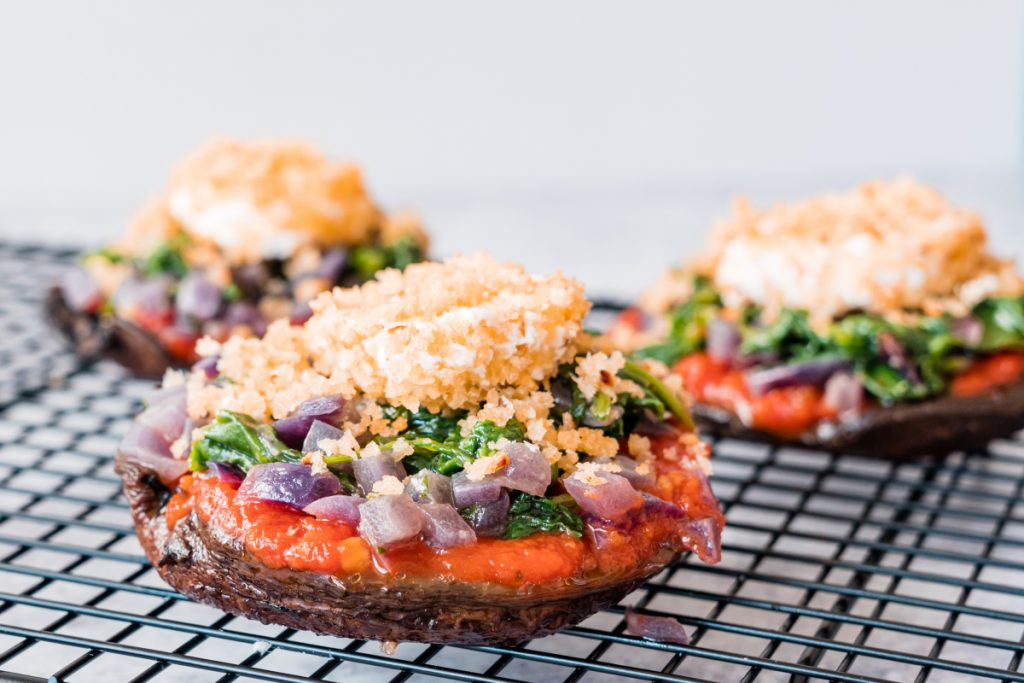 ---
What is the Difference Between Baby Bellas and Portabello Mushrooms?
The real question is, is there a difference? The baby bellas and the portabellas may seem to be different. But in essence, they aren't. They both are agaricus bisporus mushrooms, are brown in color, and a lot firmer than the white button mushrooms.
Baby bellas, also known as Cremini, baby portabella, or chestnut mushrooms are mushrooms that have been harvested at around 40 days of age, while portabello mushrooms are baby bellas that have been allowed to grow to full maturity.
But why use portabello mushrooms in recipes?
Well, because the portabella mushrooms have grown fully, and they don't retain as much moisture as baby bellas. Portobello mushrooms have threadlike roots and cap that are often called gills.
These gills allow moisture to evaporate from the mushrooms giving them a hearty texture that's almost meaty in nature, and very filling.
Also, the bigger cavity that the portobello or common mushrooms give us is just perfect for stuffing with different fillings and condiments.
---
Recipe Pointers For Stuffed Mushrooms with Cheese Recipe
Make this vegetarian recipe gluten-free by substituting the panko crumbs with almond meal.
Avoid using water to wash the mushrooms as mushrooms are porous; they absorb water and it reduces the flavor. Instead, wipe dry with a cloth or remove grit with a brush.
The mushrooms are roasted before stuffing so that the water evaporates, they don't become mushy, and they retain more flavor.
Mozarella or ricotta cheese are also a good stuffing choice too!
You can also add sliced cherry tomatoes.
Optionally sprinkle with chopped parsley before serving!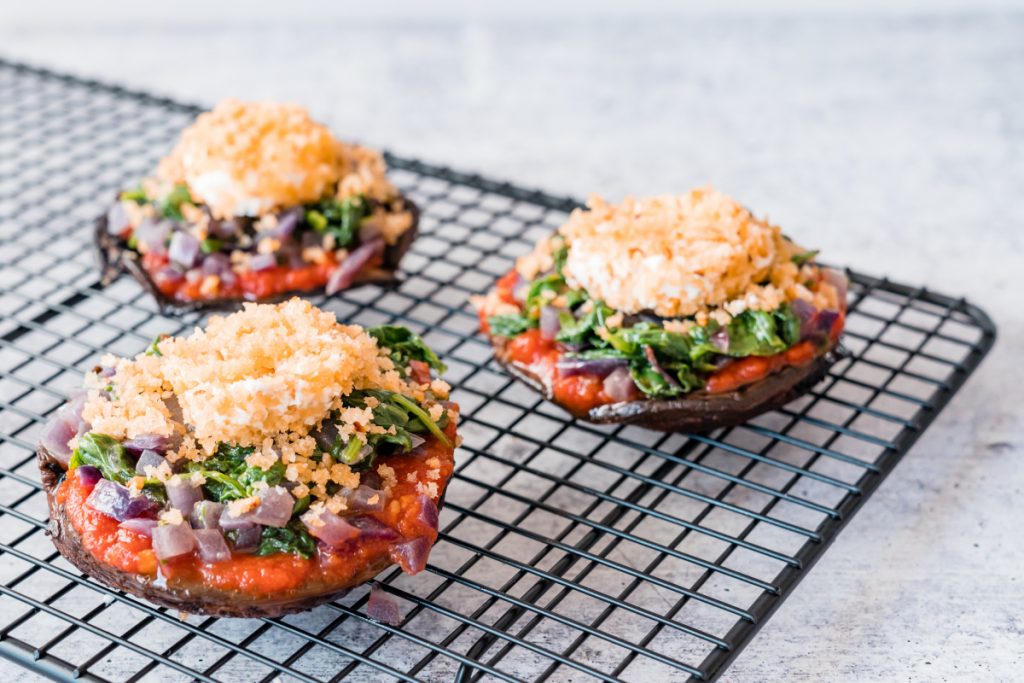 FAQs about Stuffed Portobello Mushrooms
How to chose between baby bella and portabello mushrooms?
Use portabella mushrooms when you want something that's larger and almost burger-sized. Use baby bella when you want bite-sized pieces.
How do you know if the mushrooms are fresh while buying them?
Check the gills of the mushrooms. If they are closed, they're fresh.
Should I remove the gills before cooking?
The gills of the portabella mushrooms are edible. So there's no need to remove them before cooking.
Can I store the portabella mushrooms in the fridge?
These mushrooms can be stored in the fridge for 7 to 10 days before cooking. After cooking, it's best to consume them within 1 to 2 days.
Can I make the stuffed portabella mushrooms ahead of time?
Yes, you can prepare part of this mushroom recipe up to 2 days before. Clean the mushrooms, roast them, and refrigerate till you want to use them. You can also prepare the onion mixture and refrigerate in an airtight container. But only assemble the mushrooms with all the ingredients and bake them on the day you are serving them, right before serving!
---
For a different stuffed mushroom recipe check out Stuffed Mushrooms with Spinach & Potato Recipe.
---
Yield: 4 Mushrooms
Stuffed Portobello Mushroom Recipe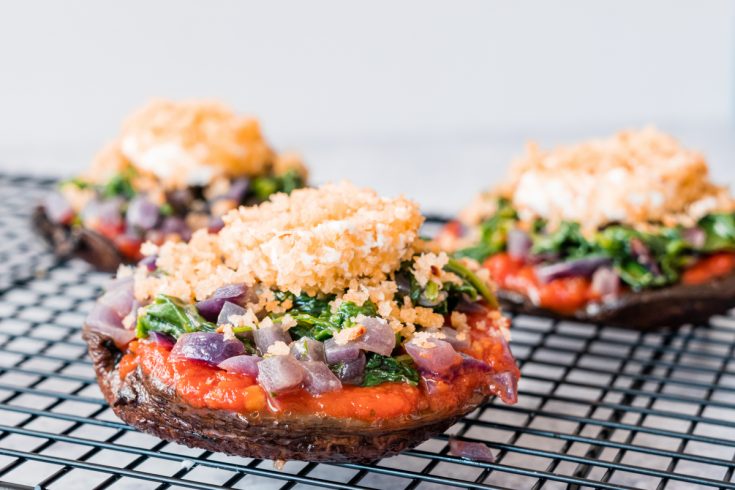 Topped with a marinara sauce and filled with goat cheese and spinach, these roasted and stuffed portobello mushrooms are amazing!
Ingredients
4 portobello mushrooms
½ cup of spinach
Half an onion, chopped
2 garlic cloves, crushed
¼ cup of sunflower seeds (or other seeds you might have)
6 tablespoons of crushed tomato sauce or any sauce you have
6 oz spinach (fresh or frozen)
4 slices of round goat cheese (garlic ones is the best)
1/3 cup of panko or similar breadcrumbs
Oil to spray & for the panko
Salt
Pepper
Oregano
Sweet pepper
Instructions
Spray your portobellos with oil, then roast them for 15 min at 450 degrees.
During roasting prepare spinach with onion, seeds and garlic on the frying pan. Season with spices and set aside.
In a small cup put one tablespoon of oil and mix panko. If you don't make the panko moist it will burn.
Cover the goat cheese slices in panko breadcrumbs.
Once mushrooms are done cooking, put 1-1/5 spoon of sauce on each portobello (depending on the size), cover with sautéed spinach and goat cheese slice. Put back in the oven for 8 more minutes.
Eat warm.

Nutrition Information:
Yield:
4
Serving Size:
1
Amount Per Serving:
Calories:

271
Total Fat:

12g
Saturated Fat:

2g
Trans Fat:

0g
Unsaturated Fat:

9g
Cholesterol:

5mg
Sodium:

1208mg
Carbohydrates:

33g
Fiber:

7g
Sugar:

9g
Protein:

11g