Not just magical, mushrooms stuffed with cheese, bacon, and mashed potatoes are the perfect crowd-pleasing appetizer for your dinner parties.
Garnished with pepper, garlic, and fresh herbs, there won't be one left behind!
The day you need a quick side dish or an impressive appetizer that you can prepare just like that, think mushrooms!
Not just the magical variety, mushrooms have been cultivated across the world for centuries. Think as far back as 13,000 years ago in Chile.
The mummy named Otzi who lived circa 3400 to 3100 BC was also found with mushrooms in the Austrian-Italian Otztal Alps in Europe.
Since then, the ancient Greeks, Romans and Chinese cultivated mushrooms for edible reasons.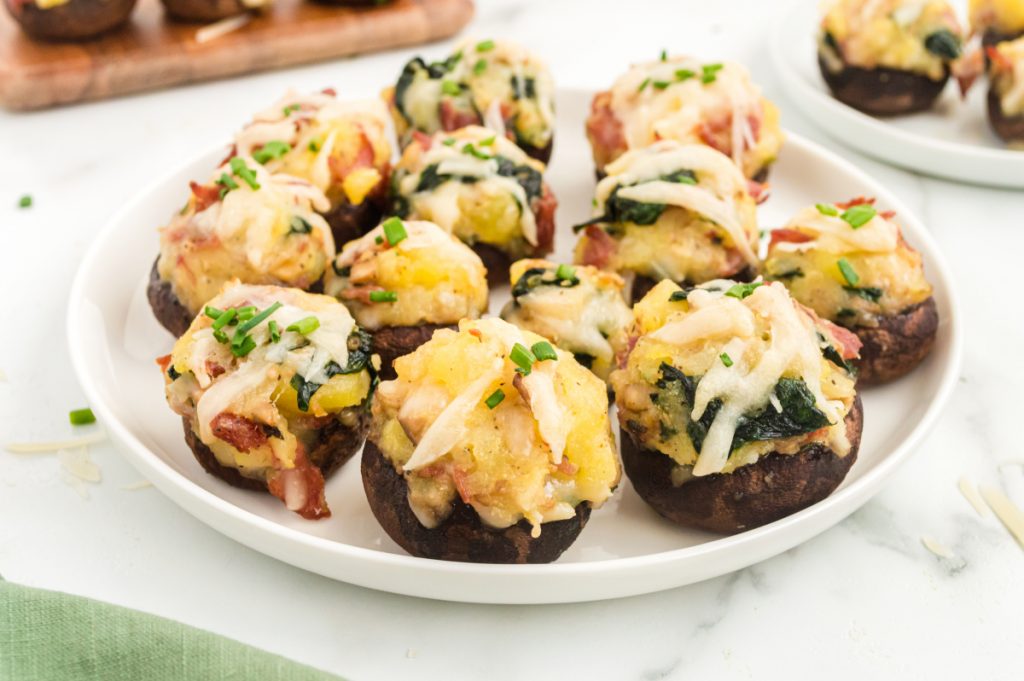 ---
Cut to modern times and over 60 countries produce edible mushrooms. Some of them include the baby bella mushrooms which are a part of the agaricus bisporus family that portabella mushrooms (link to portabella here) are also part of.
Other popularly grown varieties of mushrooms include the shiitake, straw mushrooms, wood ear mushrooms, snow fungus mushrooms, monkey head mushrooms, poplar mushrooms, and more.
Mushrooms have become such an important part of our diet. Did you know that Feb 4th is Stuffed Mushrooms Day?
Here's a stuffed baby bella mushroom recipe to celebrate that day! Why baby bellas? Because when they're stuffed with mashed potatoes, cheese, and bacon they're just delish!
What are baby bellas?
Baby bellas, not to be mistaken for the famous Babybel cheese, are a common mushroom from the agaricus bisporus family.
The brown mushrooms that are harvested at an intermediate stage of maturity at about 40 days are called baby bellas. They have an earthy meaty flavor and are perfect for baking and roasting.
What Equipment Will I Need for This Grilled Stuffed Mushrooms Recipe?
And you will need the following supplies:
i. Rimmed baking sheet
ii. Non-stick cooking spray
iii. Small skillet
iv. Knife
v. Cutting board
vi. Small mixing bowl
vii. Wooden spoons
viii. Box grater or another cheese grater
ix. Measuring cups and spoons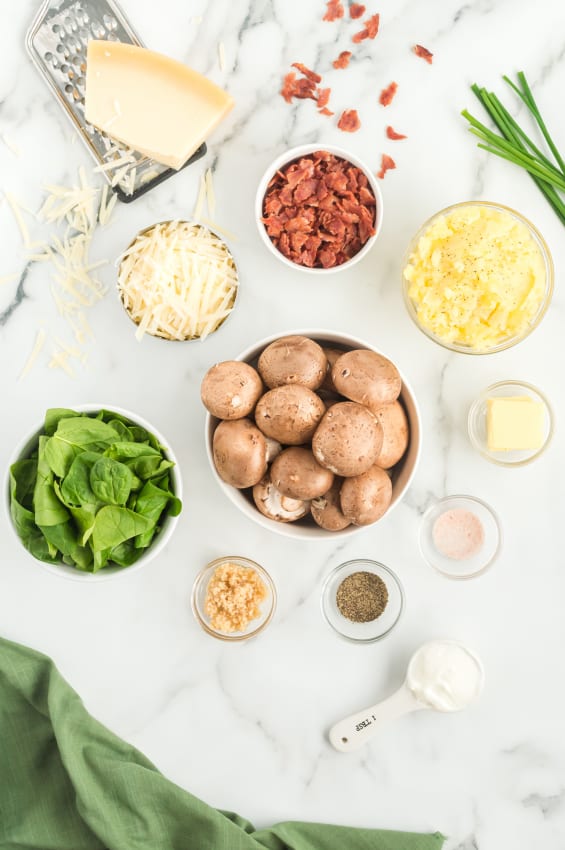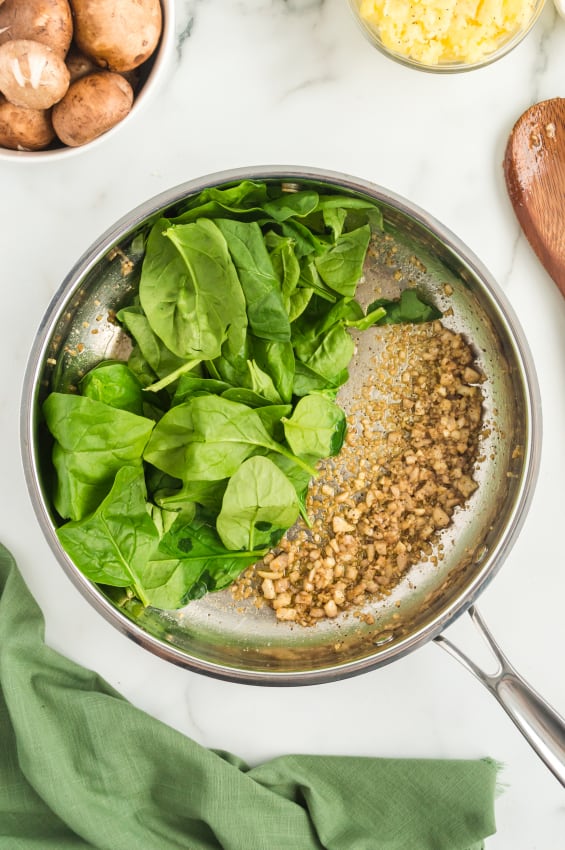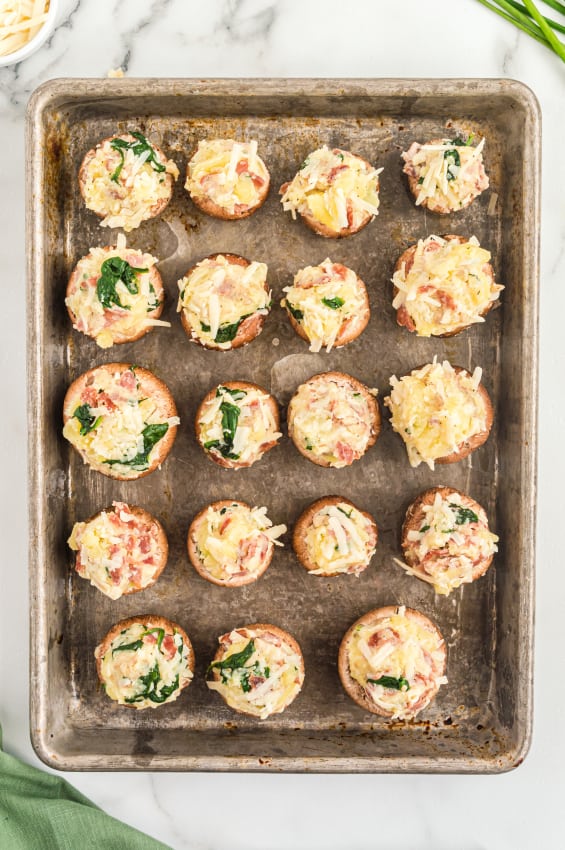 ---
Recipe Pointers For Spinach Stuffed Mushrooms
This recipe is gluten-free!
You can make this recipe vegetarian by using boiled sweet corn or boiled peas instead of the bacon.
If you want regular meat instead of processed meat, used chicken cubes or ground beef instead of bacon.
While removing the stem, leave at least half an inch of the cap to fill, so that the mushroom doesn't collapse when you stuff it.
Although popular as sides or appetizers, these spinach stuffed baby bella mushrooms are meaty enough to enjoy as the main course.
For something more finger-licking that kids will love, use mozzarella cheese instead of parmesan.
Red peppers or sun-dried tomatoes are a good alternative to spinach.
Serve the stuffed baby bella mushrooms with slices of toasted mozzarella or feta cheese!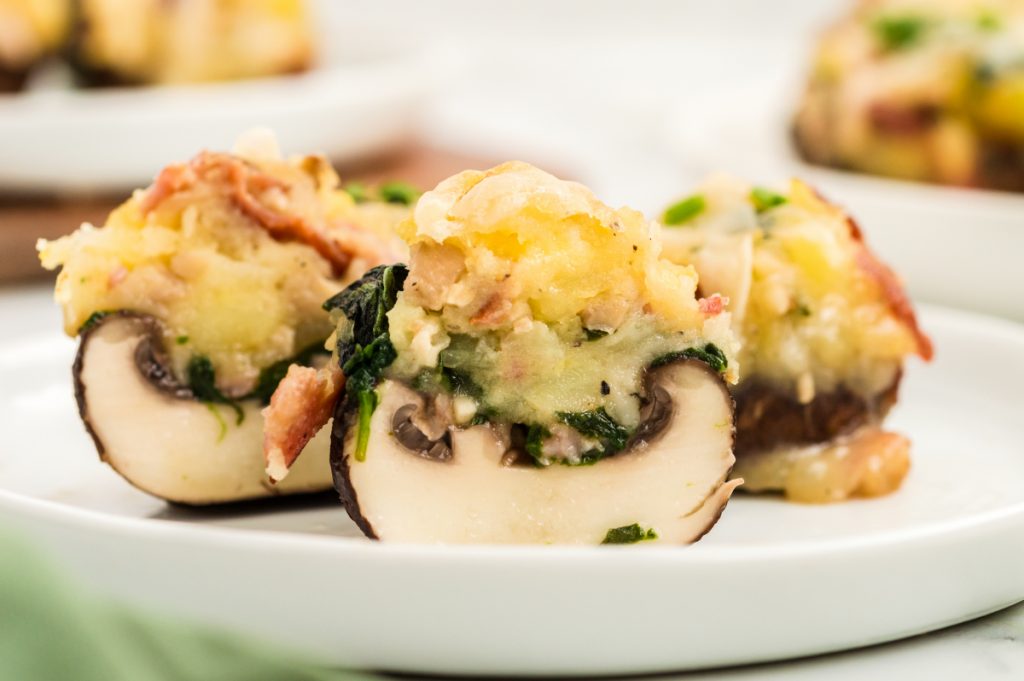 ---
FAQs about Spinach Stuffed Mushrooms
What are the other names for baby bella mushrooms?
Baby bellas are also called crimini mushrooms or cremini mushrooms, Italian brown mushrooms, Swiss brown mushrooms, Roman brown mushrooms, baby portabella, portabellini, or chestnut mushrooms.
Can I eat these stuffed mushrooms warm or cold?
These mushrooms are best eaten warm straight out of the oven or at room temperature.
What are the substitutions that I can make?
You can substitute ground sausage for the bacon or your favorite cheese for the Parmesan.
Do I have to use leftover mashed potatoes or can I use another kind of potato?
Leftover potatoes make this recipe a breeze! Mashed are the easiest to use but you can substitute it with leftover roasted or baked potatoes as well.
Simply mash them up with a bit of milk or cream, salt, and pepper! You can also make fresh mashed potatoes if you don't have leftovers although that will significantly add to the time it takes to make the dish.
Can I soak my mushrooms to wash them?
I do not recommend soaking your mushrooms. Mushrooms are porous and act like a sponge in water.
Soaking them will result in soggy mushrooms. Wiping with a damp paper towel is adequate to clean them.
Can I make this ahead of time and reheat it?
I do not recommend baking these ahead of time. Reheated mushrooms can cause a stomach upset.
If you want to make them ahead of time, I would suggest putting together the filling and storing it in an air-tight container in the refrigerator for up to 4 days.
Then, when you want to eat the mushrooms, wash them, stuff them, and bake them.
Can I make this recipe vegetarian?
Yes, if you leave out the bacon, this recipe will be vegetarian.
Can I make this recipe vegan?
Yes, to make this recipe vegan use nut cheese instead of parmesan, sour cream, and butter, and use veggies instead of bacon.
---
For a different stuffed mushroom recipe check out Stuffed Portobello Recipe.
---
Yield: 21 Mushrooms
Stuffed Baby Bella Mushrooms Recipe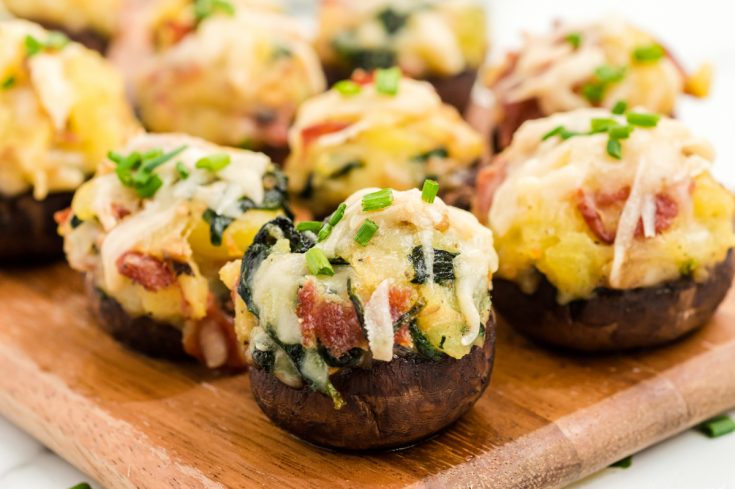 Baby bella mushrooms stuffed with cheese, bacon, and mashed potatoes are the perfect crowd-pleasing appetizer for your dinner parties. Garnished with pepper, garlic, and fresh herbs, there won't be one left behind!
Ingredients
16 ounces baby bella mushrooms (about 21 mushrooms)
1 Tablespoon unsalted butter
2 teaspoons minced garlic
1/4 teaspoon finely ground salt
1/4 teaspoon ground black pepper
2 cups fresh spinach leaves, loosely packed
1 cup prepared mashed potatoes
1 Tablespoon sour cream
4 pieces bacon, cooked and crumbled
1 cup freshly grated Parmesan cheese, divided
Fresh chives for garnish (optional)
Instructions
Preheat oven to 350° F. Lightly spray a rimmed baking pan with non-stick cooking spray.
Gently clean each baby bella mushroom by wiping it with a damp paper towel. Carefully remove the stems and chop them into small pieces. Set the stems and mushrooms aside while you prepare the filling.
In a small skillet, melt the butter over medium-low heat.
When the butter has melted, add minced garlic and sauté 1 minute or until fragrant.
Add in the chopped mushroom stems and sprinkle with salt and pepper. Sauté until mushrooms are tender and beginning to brown, about 3-4 minutes.
Push the mushroom stems to one side of the pan and add spinach leaves. Sauté for 2-3 minutes or until wilted and dark green. Remove from heat and allow to cool slightly.
In a medium bowl, combine the mashed potatoes, sour cream, bacon pieces, and spinach mixture. Fold in 3/4 cup Parmesan cheese.
Place the baby bella mushrooms cavity side up on the prepared baking sheet. Spoon filling into each mushroom cavity. (*Depending on the size of your mushrooms, you may have a little bit of filling leftover. It's also delicious straight out of the bowl.)
Sprinkle stuffed mushrooms with remaining 1/4 cup Parmesan cheese and bake for 20 minutes or until golden brown.
Slice chives and sprinkle on top of mushrooms if desired. Serve immediately.
Notes
I used pink Himalayan salt but you can use your favorite salt.
I used leftover mashed potatoes. Season with a little salt and pepper if yours aren't already seasoned.
I used turkey bacon but any bacon will work.
Nutrition Information:
Yield:
7
Serving Size:
1
Amount Per Serving:
Calories:

174
Total Fat:

10g
Saturated Fat:

4g
Trans Fat:

0g
Unsaturated Fat:

4g
Cholesterol:

25mg
Sodium:

582mg
Carbohydrates:

13g
Fiber:

3g
Sugar:

2g
Protein:

10g