Crunchy Polish potato pancakes made in a shallow frying pan remind you of grandma's cooking.
Soft on the inside, these latkes or placki ziemniaczane taste perfect with sour cream or wild mushroom sauce (chanterelle mushrooms in the summer). Or even just sugar.
There's also a version of one giant potato pancakes stuffed with goulash, known as Hungarian Style Pancake. In Ukraine, potato pancakes are called deruni.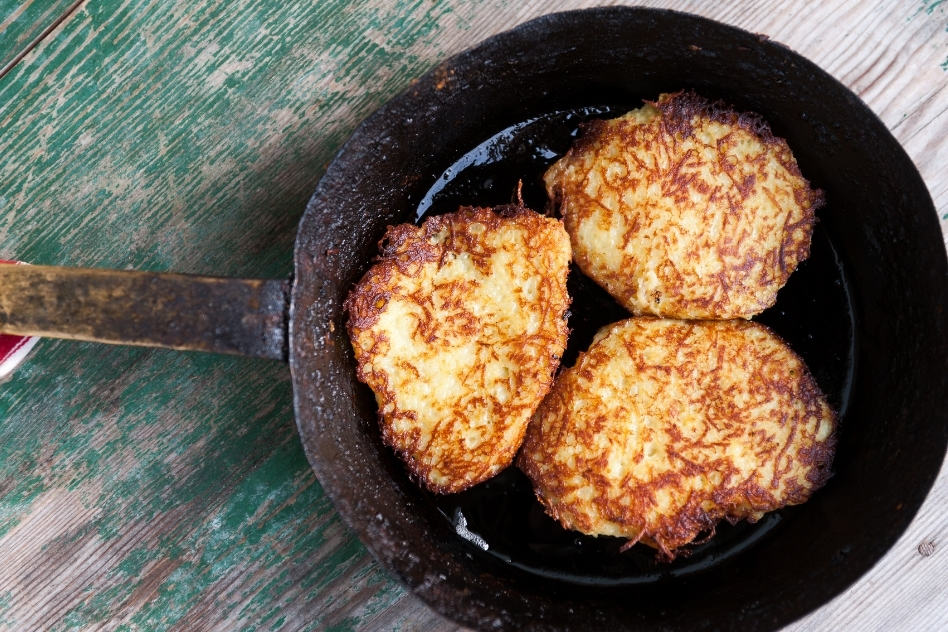 History of Potato
13th of November is celebrated as the Potato Pancake Day in Poland. But, potato pancakes are only one of a few examples of how important the role of potato is in Poland – to the extend there's even a monument.
Potatoes came to Europe in the 16th century. However, they did not make a dizzying career right away. It was believed that the tubers of these plants caused numerous diseases.
For this reason, and also because of their beautiful flowers, they have been classified as an ornamental plant at first. According to old stories, even dignitaries from the papal court adorned themselves with potato flowers.
Apparently, the first to get acquainted with potatoes in Poland were Wrocław pharmacists at the end of the 16th century.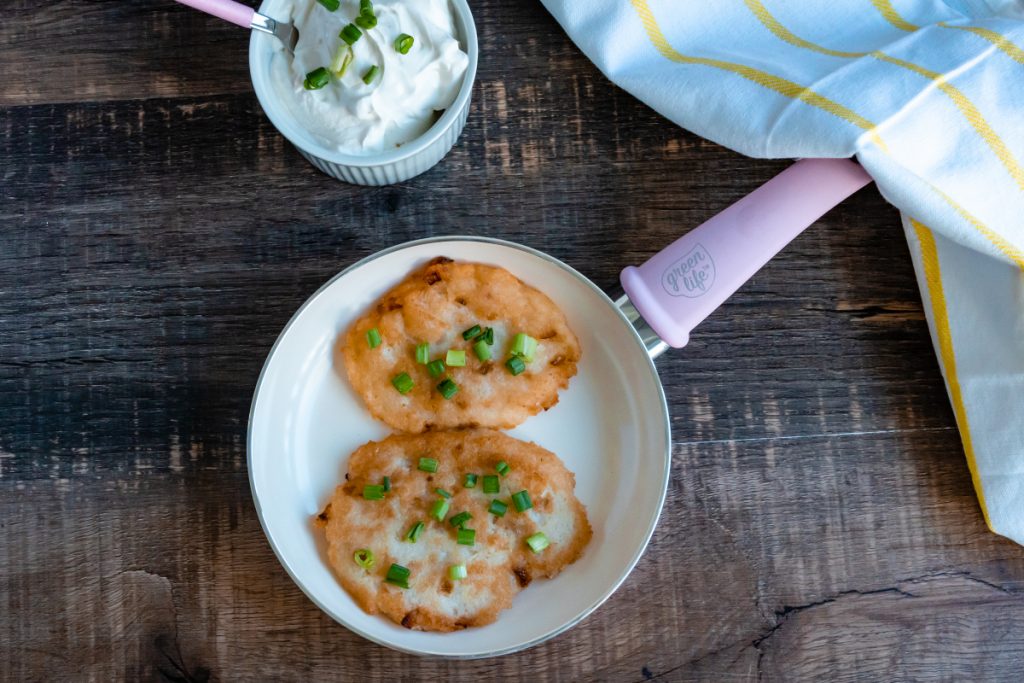 ---
What are potato pancakes and latkes?
Potato Pancakes were extremely popular during communism and PRL, along with other simple dishes like egg cutlets, but more recently have been experiencing a second bloom due to the popularity of newly reopened Milk Bars.
Technically speaking, potato pancakes and latkes are used interchangeably. But, upon further research, I discovered that traditional Jewish latkes are slightly different.
Latkes (photo on the left) are grated slightly bigger vs potato pancakes – placki (photo on the right) are grated on the smallest possible option.
If I had to compare it to something American I'd say think of latkes are more hash brown lookalike.
---
Recipe Pointers For Polish Potato Pancakes
Use the smallest grating option for more delicate potato pancakes.
You can use a food processor to grate the potatoes faster.
You can grate the potatoes up to a day earlier and store them in an airtight container in the refrigerator till you use them.
For crunchy pancakes, ensure that the potatoes have been drained well after grating.
Use a heavy-bottomed frying pan so that the latkes cook evenly.
These potato pancakes are perfect for meal prep. Cook them in large batches on Sunday, and reheat and enjoy them all week.
Serve the potato pancakes with apple sauce, sour cream, goulash, or mushroom sauce.
For a more filling meal, serve the Polish potato pancakes with these roasted cauliflower wings, jarzynowa salad, or some delicious hummus.
You can also turn these potato pancakes into a dessert by sprinkling them with icing sugar.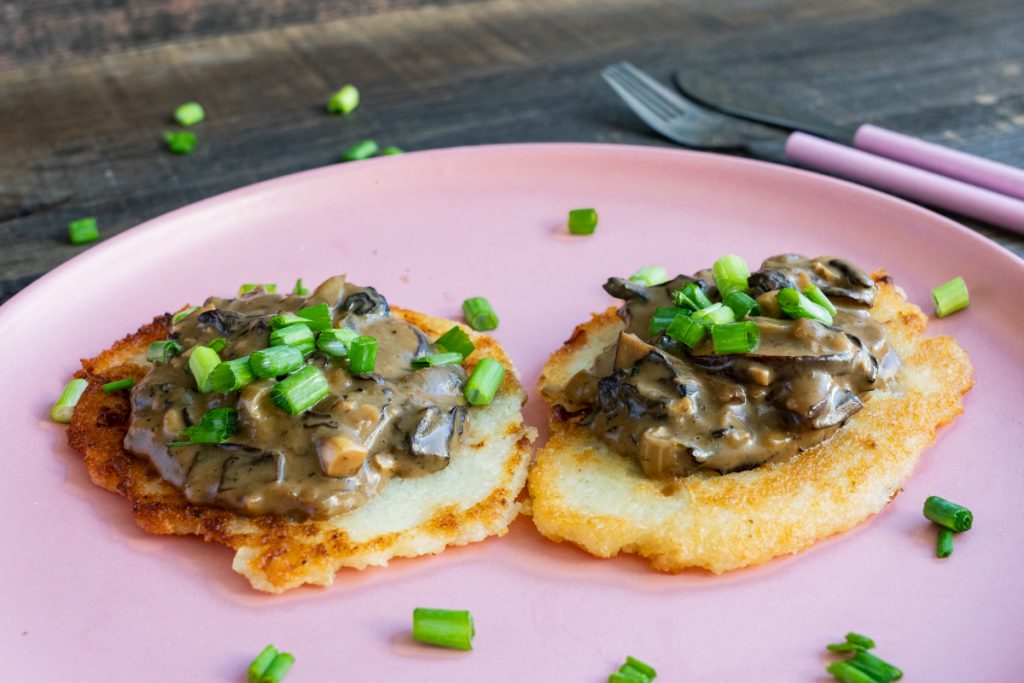 ---
FAQs about Latkes (Potato Pancakes)
What are the other names for Polish potato pancakes?
Polish potato pancakes or placki ziemniaczane have many different cultural names.
They are called zemiakové placky in Slovakian, tocini in Romanian, reifkoeken or reifjes in Dutch, драники draniki in Russian, Gromperekichelcher in Luxemborg, tócsni in Hungarian, latkes in Yiddish, Kartoffelpuffer in German, patatnik in Bulgarian, and cmunda or bramborák in Czech.
Can I use any potatoes for the pancakes?
Although you can use any potatoes for the pancakes, potatoes that have more starch are the best choice.
For example, Russet potatoes, King Edward, Maris Piper, or Yukon Gold potatoes.
What is the difference between potato pancakes and hash browns?
Hash browns are made by deep-frying only grated potatoes with a bit of seasoning.
Potato pancakes on the other hand are held together by adding flour and eggs, and they are shallow fried.
How do I prevent the potato mixture from getting dark?
Add a teaspoon of lemon juice to the potato mixture. This will prevent it from getting dark after oxidation.
How do I make potato pancakes vegan?
To make this recipe vegan, replace the eggs with 4 tablespoons of corn starch and 6 tablespoons of non-dairy milk or water.
Can I make latkes gluten free?
Yes, to make potato pancakes gluten-free, use corn starch or rice flour instead of regular flour.
Can I store the extra potato pancakes in fridge?
Yes, you can store the extra potato pancakes in an airtight container with baking sheets between each layer of them. The potato pancakes will last for a week in the fridge and 3 months in the freezer.
Yield: 23 pancakes
Polish Potato Pancakes - Placki Ziemniaczane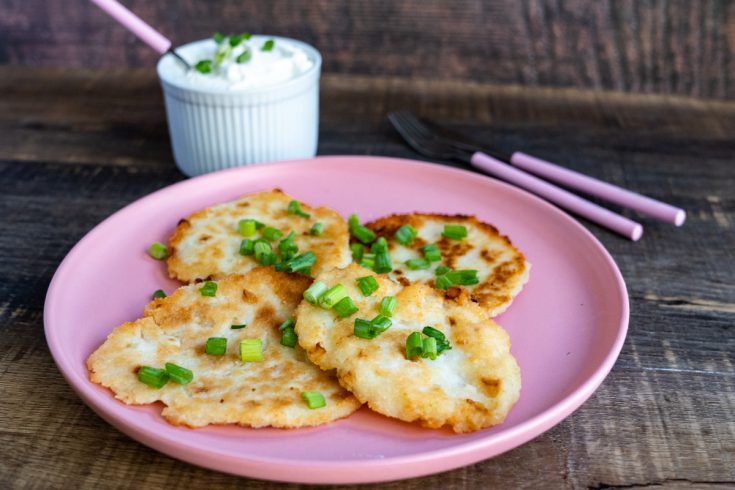 Crunchy Polish potato pancakes made in a shallow frying pan remind you of grandma's cooking. Soft on the inside, these latkes or placki ziemniaczane taste perfect with sour cream or mushroom sauce.
Ingredients
3 lbs of peeled potatoes
2 eggs
1 onion
2 tablespoons of flour
2 tablespoons of salt
2 green onions (optional)
oil to fry
Instructions
Grate peeled potatoes on the smallest grating option, then remove the water excess (you can use the cloth to press your potato mass).
Grate onion and green onion. Then add it to the potato mass, along with eggs and flour and salt. Mix it well.
Heat up oil on a big frying pan and using a big spoon place portions of your mass.
Fry them on each side until slightly brown (about 3-4 minutes on each side).
You can place your pancakes on a paper towel to remove the oil excess.
Serve with sour cream, mushroom sauce, or goulash. Alternatively, alone with some vegetables.
Notes
For a fun twist, you can add some minced garlic to your mass.
Nutrition Information:
Yield:
5
Serving Size:
1
Amount Per Serving:
Calories:

401
Total Fat:

9g
Saturated Fat:

1g
Trans Fat:

0g
Unsaturated Fat:

6g
Cholesterol:

74mg
Sodium:

2644mg
Carbohydrates:

72g
Fiber:

7g
Sugar:

4g
Protein:

11g