Soups play a big part in the Polish diet. Paired with some kopytka, mashed potatoes, or crusty bread, they're the perfect side dish. While "borsch" is the most famous, there are many more delicious soups from Poland!
As a native Pole I can introduce you to the best soups from the region.
Most Polish soups are hearty enough to be eaten for lunch or dinner (Poles eat dinners mid-day) on their own, Polish soups are comforting, tasty, appetizing, and oh-so-scrumptious!
1. Zurek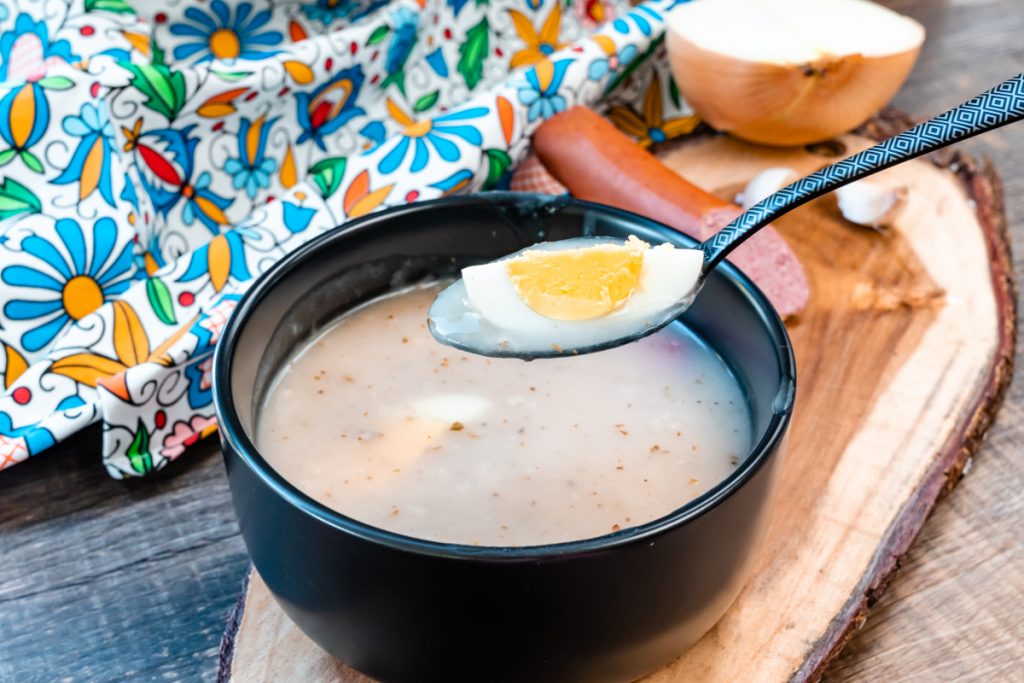 A popular soup made from fermented rye flour, the Zurek is a clear Polish soup made with Zakwas culture. You'll often find it served with kielbasa sausages, bacon, potatoes, and boiled eggs.
Traditionally eaten for Easter lunch, Zurek is often served in hollow bread bowls.
Main Ingredients
Fermented Rye Flour
Bacon
Kielbasa Sausages
Potatoes
Eggs
---
2. White Borscht (Barszcz Bialy)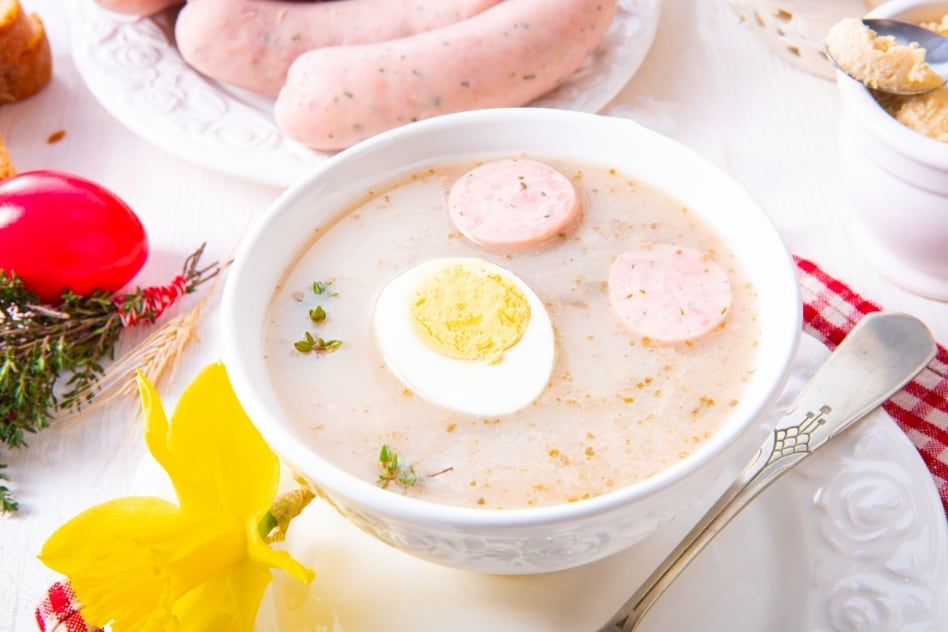 Often mistaken for the Zurek, the white Borscht or Bialy Borscht is another traditional Easter soup. Most of the ingredients of the soup are significant to Polish Christians, with each one reminding them of a different part of Christ's life and crucifixion.
Borscht is delicious and hearty! You'll love it!
Main Ingredients for White Borsch Soup
Bacon
Kielbasa Sausages
Potatoes
Boiled Eggs
Horseradish
---
3. Red Borsch (Barszcz Czerwony)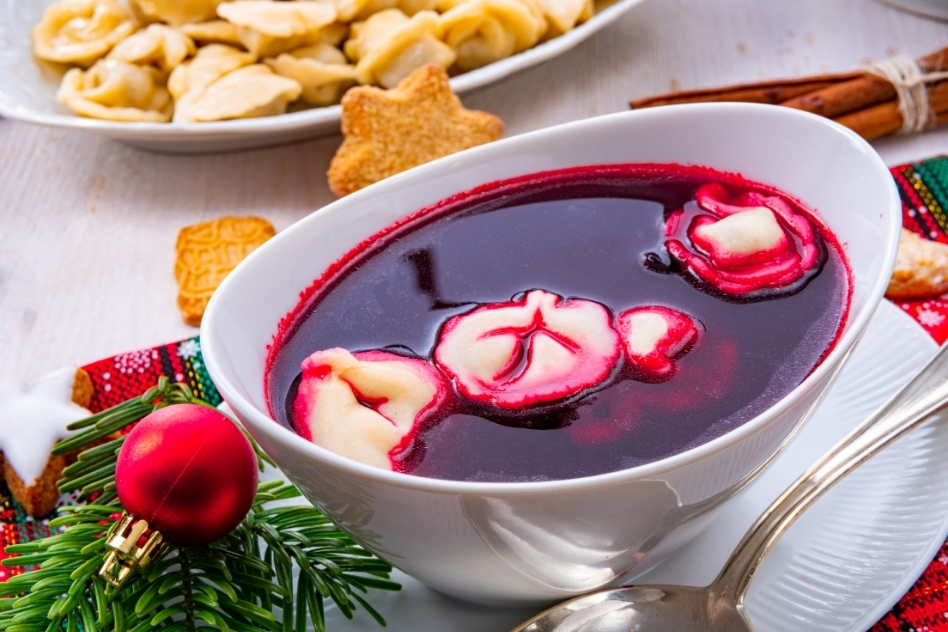 The Red Borsch is as popular for Christmas dinners, as the Bialy Borscht is for Easter (although ironically in my family we always made wild mushroom soup for Christmas dinner). It's the most popular Polish Christmas soups.
Made with beetroots that give it the quintessential bright red color, barszcz czerwony is earthy and full of flavor.
Since it's a meatless soup, you'll often find the red borscht served with mushroom pierogi called uszka.
Main Ingredients for Red Borscht
Beetroot
Carrots
Celery
Bay Leaves
Onions
---
4. Chicken noodle soup (Rosol)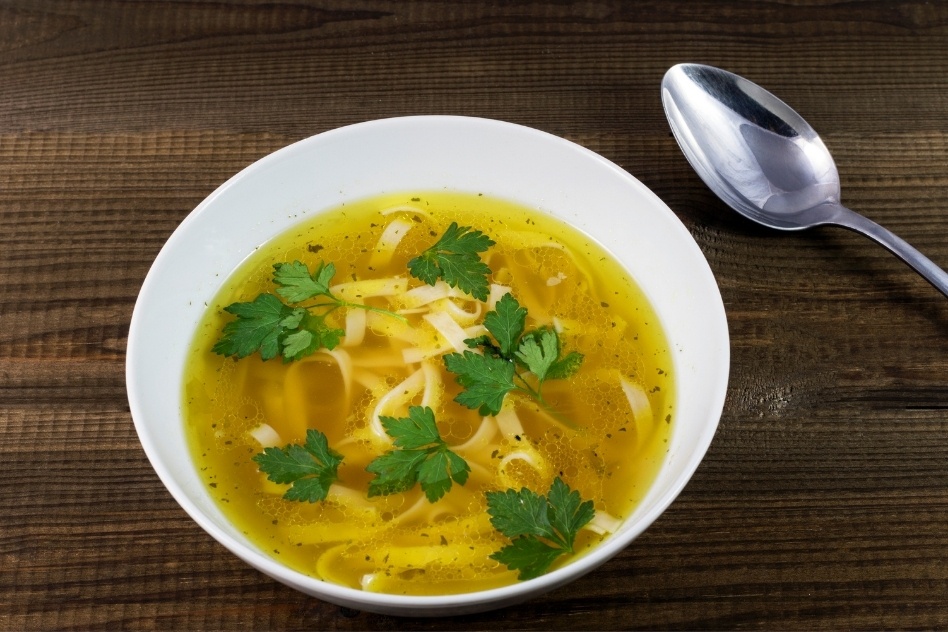 Rosol is a clear Polish chicken and noodle soup that is perfect for winter and cold nights. It's also considered a traditional home remedy for colds and touches of flu.
Tasty and heartwarming, the Rosol z Kurczaka is made by simmering all the ingredients together for a few hours. The soup is never boiled. Poultry bones are an important part of rosol soup and adds a lot to the flavor.
Main Ingredients
Chicken
Noodles
Carrots
Onions
Parsley
5. Vegetable Soup (Jarzynowa)
Jarzynowa is a veggie version of Rosol. It takes less than 15 minutes to make, so it appears on Polish tables quite often.
---
6. Tomato Soup (Pomidorowa)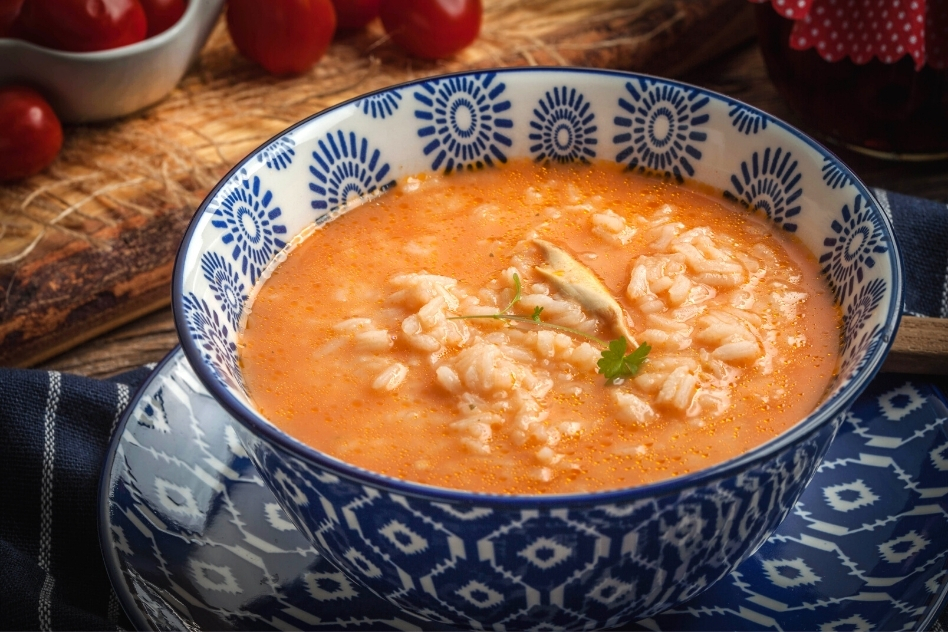 The Pomidorowa is a flavorful tomato soup made with chicken broth or leftover rosol, grated vegetables, sour cream, and herbs such as parsley.
Some foreign blogs about Polish cuisine claim it's made with alcohol such as brandy or sherry, but it's absolutely not true. No sane Pole would eat pomidorowa with alcohol. The vodka version has been thought of as a joke to cure hangovers, but it's not really a common thing.
Some versions of the soup include egg pasta or rice. Most Poles prefer the rice version.
Main Ingredients
Tomatoes
Cream
Onions
Celeriac
Pasta or rice
---
7. Barley Soup (Krupnik)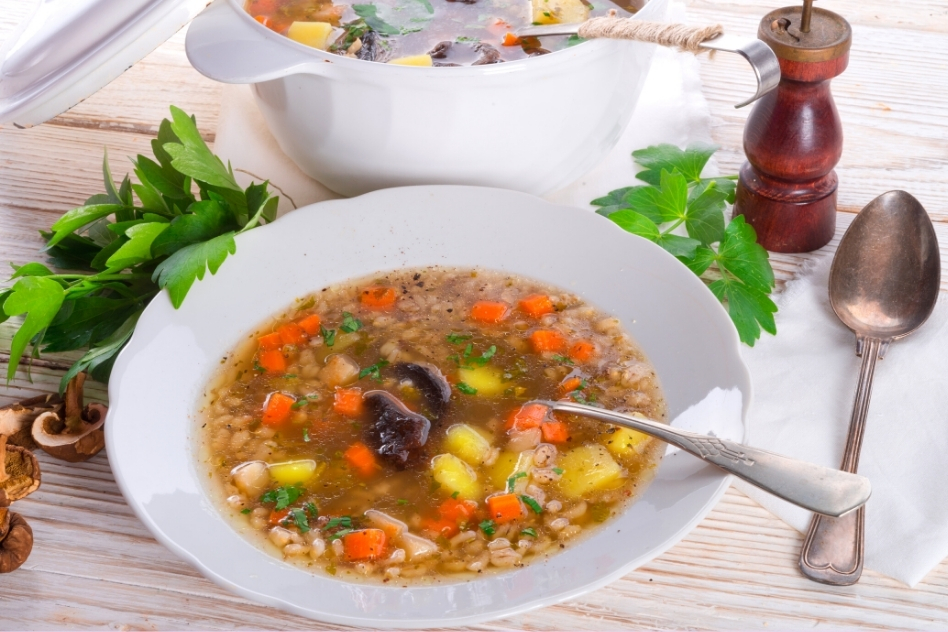 Krupnik is a thick Polish Soup made with pearl barley or kasza jeczmienna perlowa. Wholesome and satisfying, the thick soup is can be made with pork or chicken.
The distinctive taste of the Krupnik comes from the onions that are charred before being added to the soup.
Main Ingredients
Pearl Barley or Barley Grits
Chicken Broth
Porcini mushrooms
Potatoes
Veggies (Carrots, Parsnips, Celeriac, Onions)
---
8. Dill Pickle Soup (Ogorkowa)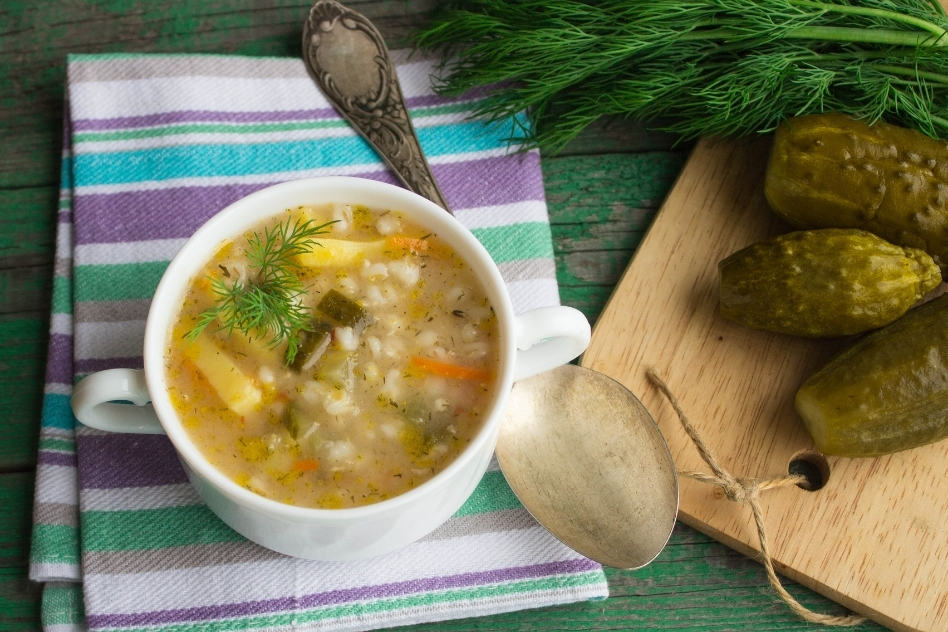 Made with brined or pickled cucumber and potatoes, the Zupa Ogorkowa or Dill Pickle Soup is also well-known as a hangover cure.
The soup is made with meat or chicken broth to which grated veggies are added and cooked. The final topping is sour cream, and the zupa ogorkowa is served with crunchy bread or mashed potatoes.
Main Ingredients
Brined Dill Pickles
Celery
Carrots
Sour Cream
Potatoes
---
9. Potato Soup (Zupa Ziemniaczana or Zupa Kartoflanka)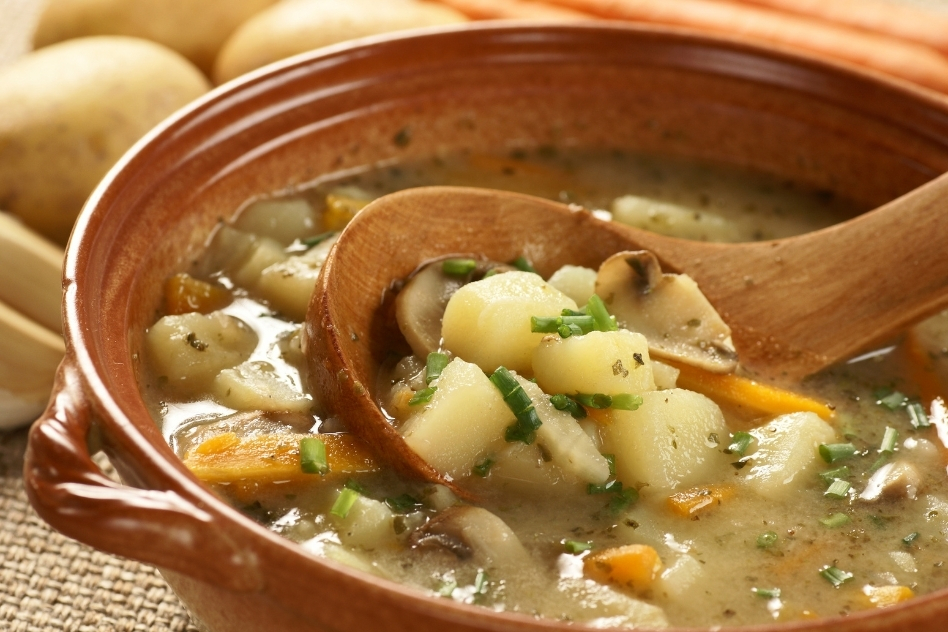 Called Zupa Ziemniaczana or Zupa Kartoflanka depending on the region or differences in ingredients, the Polish Potato Soup is a rich creamy winter soup made with smoked meat of bacon bits.
Now eaten all year round, this winter soup can be pureed or enjoyed chunky. Made with chicken stock and heavy cream, the soup is very filling but can be topped with cheese or more bacon bits.
Main Ingredients
Potatoes
Chopped Bacon
Cream
Garlic
Chicken Broth
---
10. Split Pea Soup (Grochowka)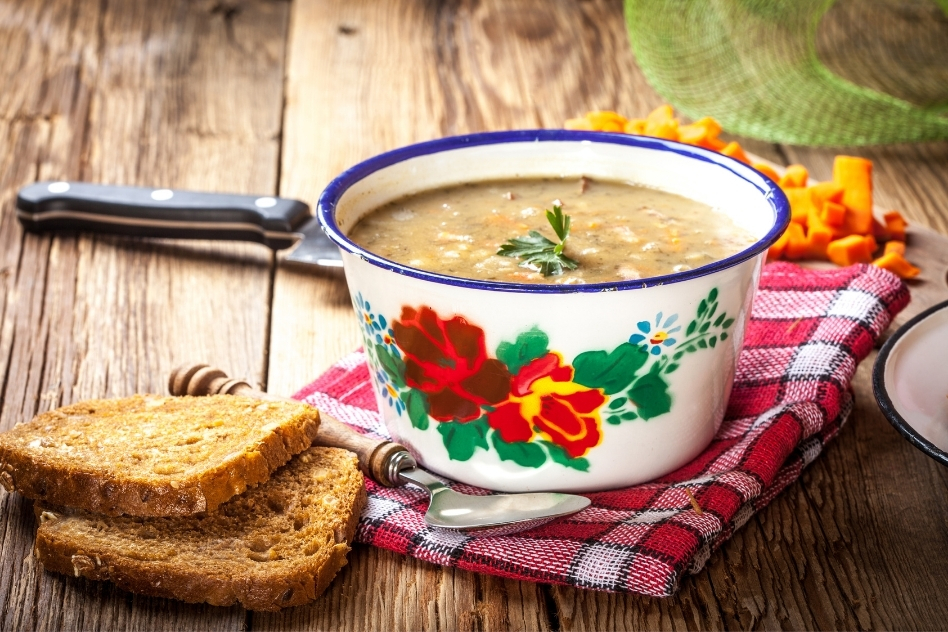 In Poland, pea soup is often called Grochówka Wojskowa or military pea soup instead of just grochowka.
Why? Because the Polish pea soup is supposed to be so healthy and affordable that it's used as a staple diet for the military.
The traditional way to identify this soup is this – stick a spoon perpendicular in the grochowka – if it stands up straight, it's good enough to be called a pea soup.
Main Ingredients
Peas
Potatoes
Smoked Pork Ribs or Bacon
Carrots
Parsley Root
---
11. Tripe Soup (Flaki or Flaczki)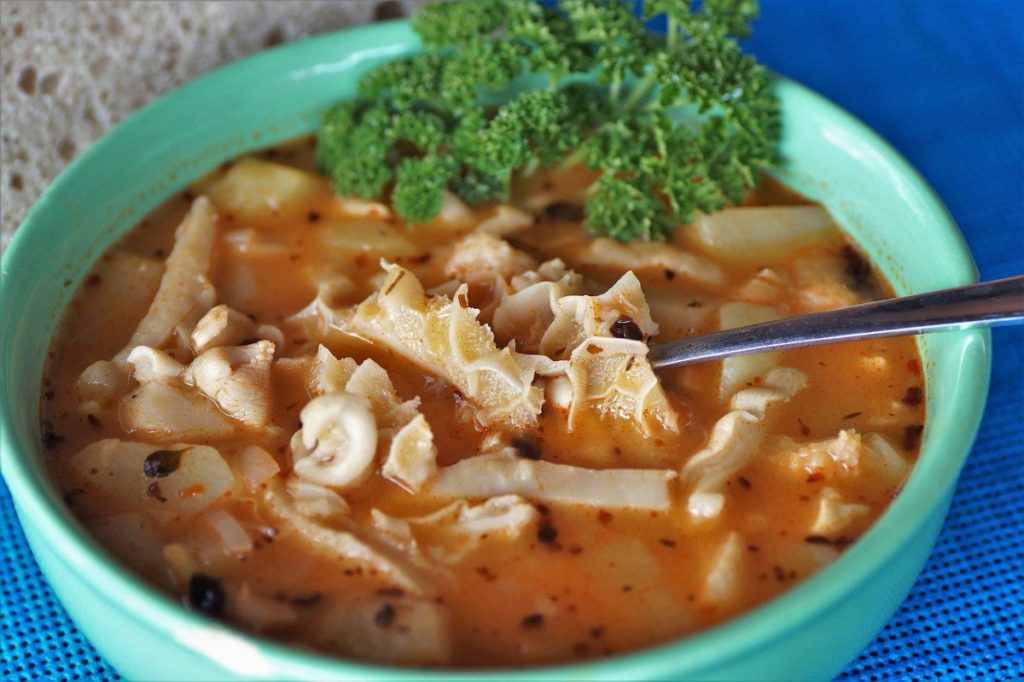 Pronounced flah-kee, the flaczki is made with veggies, herbs, beef broth and the star of the show, beef tripe.
Eaten in Poland as far back as the 14th century, legend has it that flaki was a favorite dish of King Władysław II Jagiełło of Poland who was also the Grand Duke of Lithuania.
Usually made very spicy, flaki is served during Polish weddings (they go all night and flaki is served around 4 AM), but is also a great hangover cure.
Main Ingredients
Beef Tripe
Tomato Paste
Carrot
Parsley
Marjoram
---
12. Sauerkraut Soup (Kapusniak)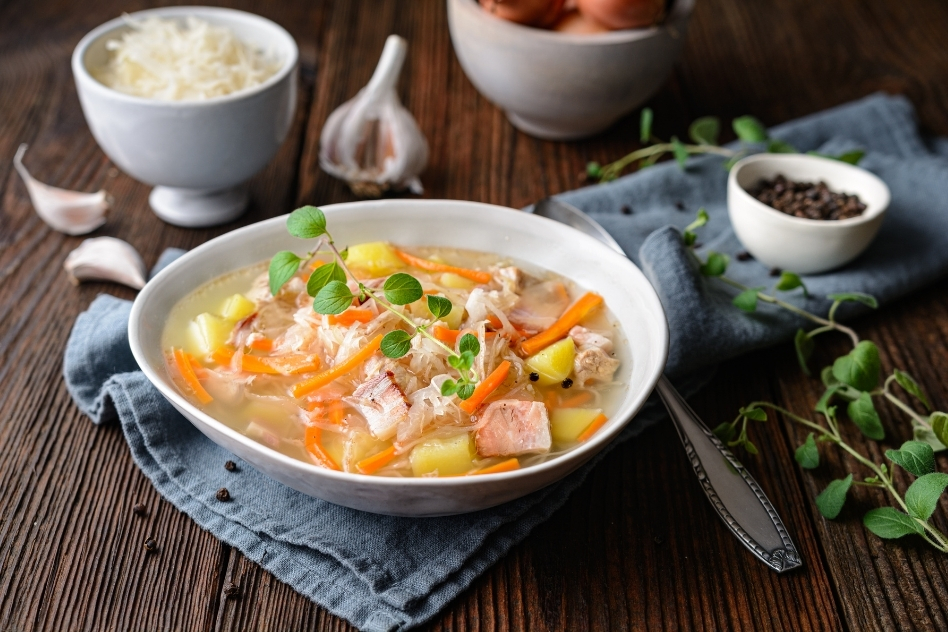 Kapusniak is a classic Polish soup made with sauerkraut and veggies or meat, popular during the Lenten season. Sometimes, the sauerkraut can be replaced with fresh cabbage.
Meaty kielbasa, kabanosy, krakowska, or kiszka sausages are often added to the Kapusniak soup for a nice smoky flavor.
Main Ingredients
Sauerkraut
Potatoes
Pork Bones (or Chicken Bones) for broth
Onions
Veggies (Carrots, Celery, Parsley, etc)
---
13. Wild Mushroom (Grzybowa)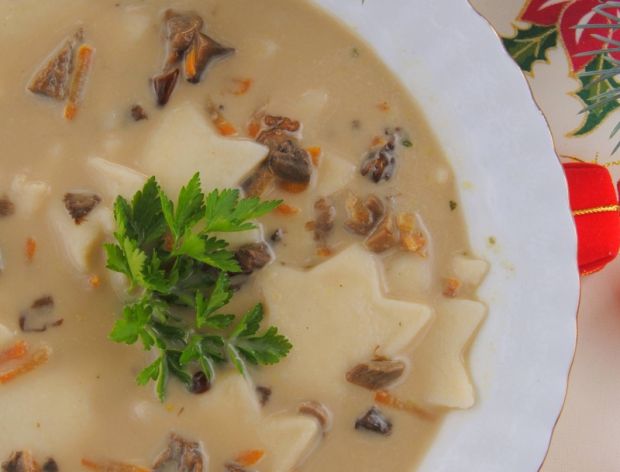 The wild mushroom soup is one of the 12 Polish dishes made for Christmas every year. This mushroom soup is called Zupa Grzybowa Wigilijna and is traditionally made without meat.
As wild mushrooms show up in the autumn, after you go mushrooming with your family (we always did, but if you don't there are also some in stores) you need to dry the mushrooms and then right before you cook them soak them overnight for the soup.
The rich and often lightly creamy Grzybowa can be served with noodles or even sometimes uszka dumplings (like barszcz).
Main Ingredients
Wild mushrooms
Veggie stock
Onions
Carrots
Pasta (optional)
Cream (optional)
14. Cold Beetroot Soup (Chłodnik)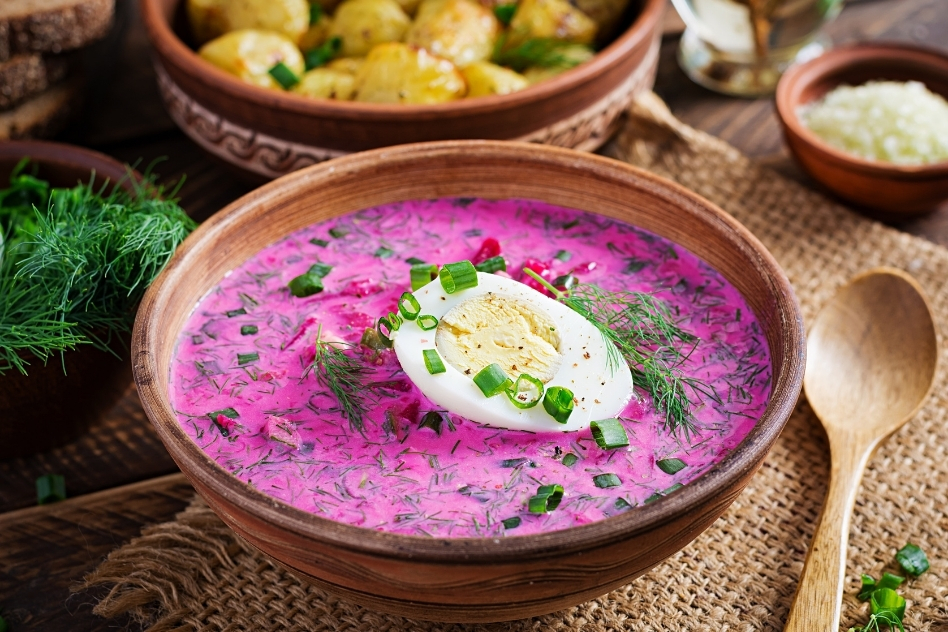 A cooler version of the red borscht, the Chlodnik is a beetroot soup that's served cold. Tangy and fresh, the cold beetroot soup is inviting and appetizing.
In order to make chlodnik best, you must use young beets along with the roots and leaves. Traditionally, it's made with a mixture of buttermilk and yogurt, but you can also make it with sour cream, kefir, or just one those ingredients.
The vibrant color of the beetroot contrasts perfectly with the boiled egg and chopped dill sprinkled on top. Sour cream, radishes, and cucumbers add to that refreshing coolness.
Reminiscent of a cool breeze on a hot summer's day, this Polish cold beetroot soup is perfect for warm weather.
Main Ingredients
Young beets
Boiled Eggs
Radishes
Cucumbers
Dill
Buttermilk or Kefir or Sour Cream or Yogurt (or both)
---
15. Sorrel Soup (Szczawiowa)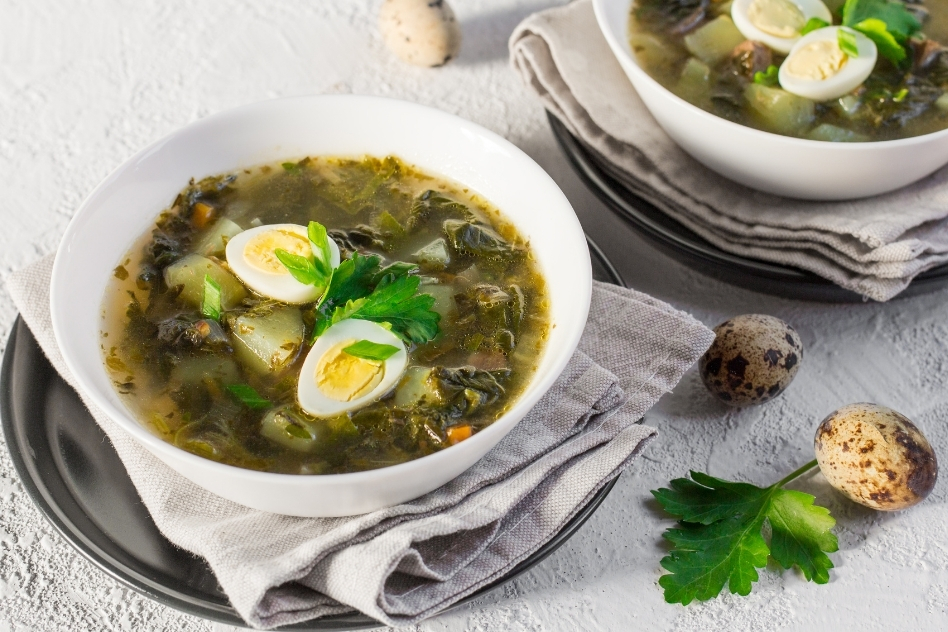 Szczawiowa is another Polish summer soup as sorrel only grows then. It's sour, filling and can either be creamy or clear depending on preferences and chef.
Similar to Chlodnik it's usually topped with a boiled egg. If you want a twist, use a quail egg.
Main Ingredients
Sorrel
Boiled Eggs
Sour Cream (optional)
Onion
Meat stock
Selery
---
How many of these popular Polish soups have you tried? Which is your favorite? And what's on your list to try next? Comment and let me know!