A rich winter dish that's now popular year-round, Kartoflanka is a creamy Polish potato soup that's quick and easy to make!
---
Potatoes were cheap and filling, especially in the winter, so Poles quickly adopted them and turned them into many dishes – pancakes, pierogi filling, noodles, simply as a side dish, or Polish soups.
---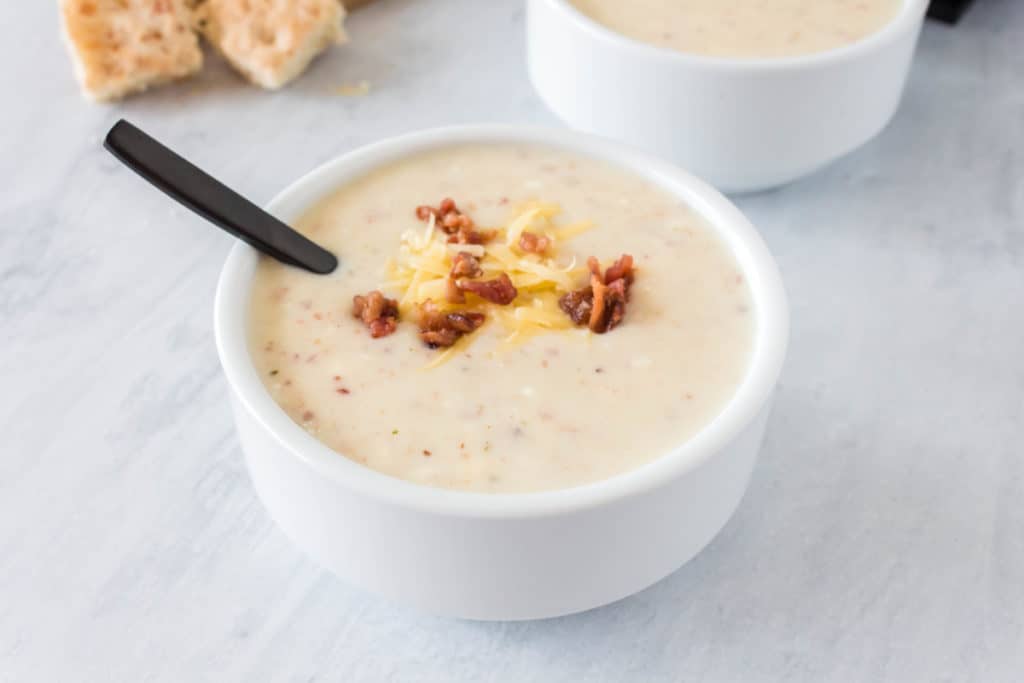 Potato Soup Variations:
Traditional potato soup is of course cooked with potatoes. However, there are also such potato soups to which other specific ingredients are added. They are, of course, distinguished depending on the regions.
Among the recipes for potato soup, we can come across a potato soup with golce from Kociewie in Western Pomerania. The so-called golce, or poured dumplings, are made by dropping pieces of dough directly into boiling water. This type of soup is also known as Kashubian potato soup.
In Lublin, bacon and onion are often added to potato soup. In some homes in this region, sauerkraut is added to traditional potato soup. This is called zarzucajka, a soup with sauerkraut and potatoes, which is closer to potato soup than to traditional cabbage soup.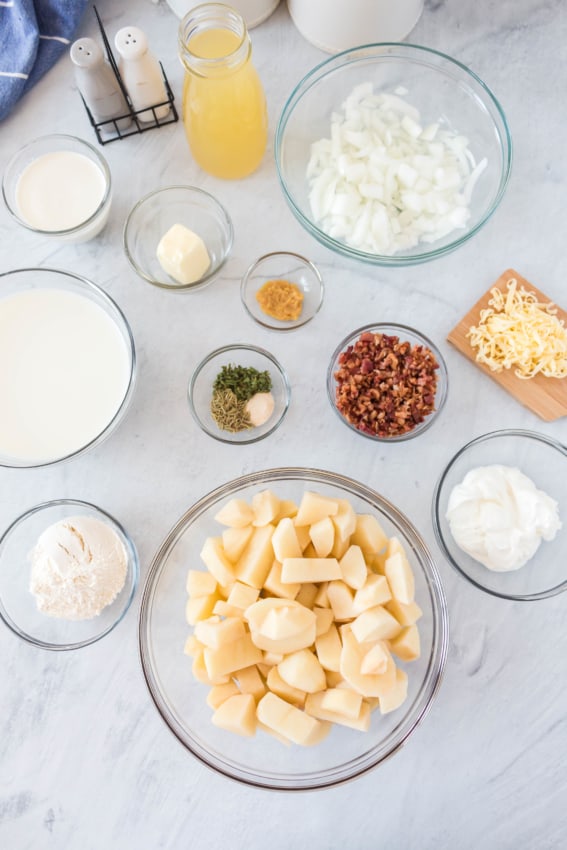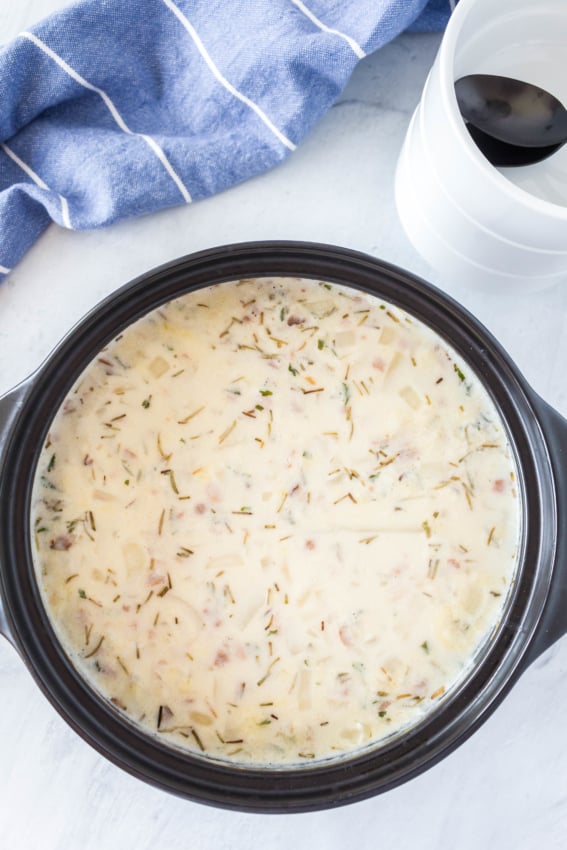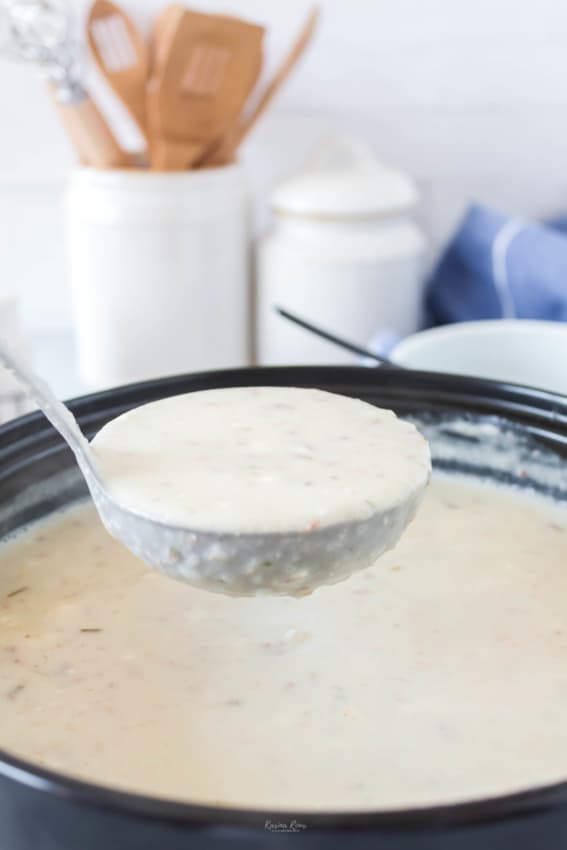 Recipe Pointers For Polish Potato soup
Parsley and Rosemary can be replaced by Italian seasonings.
Alternatively, they can be replaced by marjoram and bay leaves.
The bacon bits, sour cream, or cheese toppings can either be added on top or mixed in with the soup.
You can replace the bacon bits with a diced smoked sausage.
Serve with some soft focaccia bread or crusty toasted bread!
Other potato soups you might like to try are this Polish Zurek made with fermented rye flour or the Irish Colcannon soup.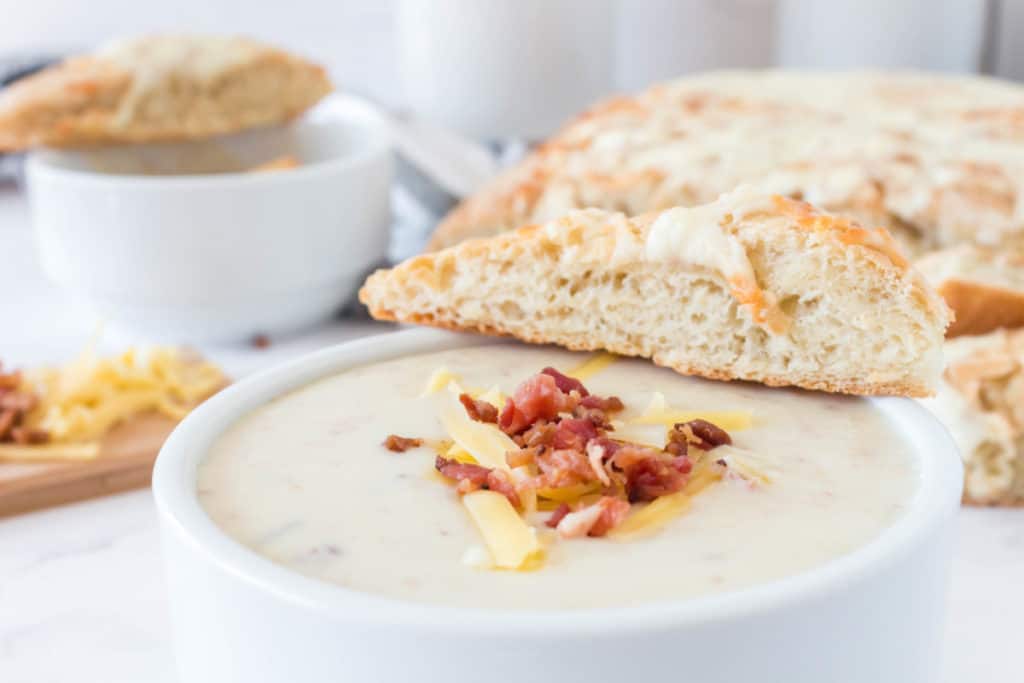 FAQs about Polish Potato soup (Kartoflanka)
What are the other names of this Polish creamy potato soup?
The creamy Polish potato soup is also called Zupa Kartoflanka or Zupa Ziemniaczana.
How do you pronounce kartoflanka?
Kartoflanka is pronounced car-toph-lan-cah and Ziemniaczana is pronounced zhem-nyah-chan-ah.
Can I make this soup without an immersion blender?
Yes, if you do not have an immersion blender, you can use a standup blender. Just be careful that it doesn't splatter. If you do not have that as well, use a potato masher to puree the soup. It might be a little chunky, but it will still taste great!
Which potatoes should I use?
I use Yukon Gold potatoes, but Russet potatoes or red potatoes also work well.
Can kartoflanka be made vegetarian?
Kartoflanka potato soup can be made vegetarian by replacing the bacon with chopped celery or carrots and the chicken broth with veggie stock.
How do I make the soup thicker?
The creamy potato soup should be thick on its own, but if you need to make it thicker, do this. In a bowl, stir 2 tbsp of cornflour with about 50 ml of milk. Add this mixture to the soup, stir well, and let cook for a few more minutes before serving.
How long can I store Polish potato soup?
You can keep Polish potato soup in the refrigerator for up to 5 days. Reheat before serving.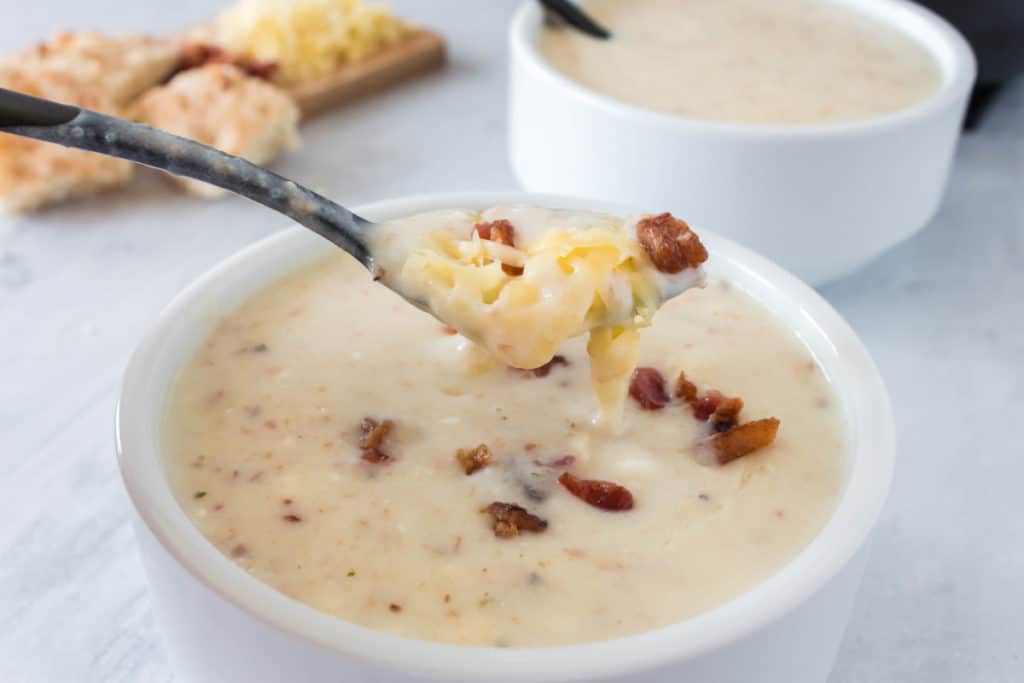 Yield: 6
Quick Polish Potato soup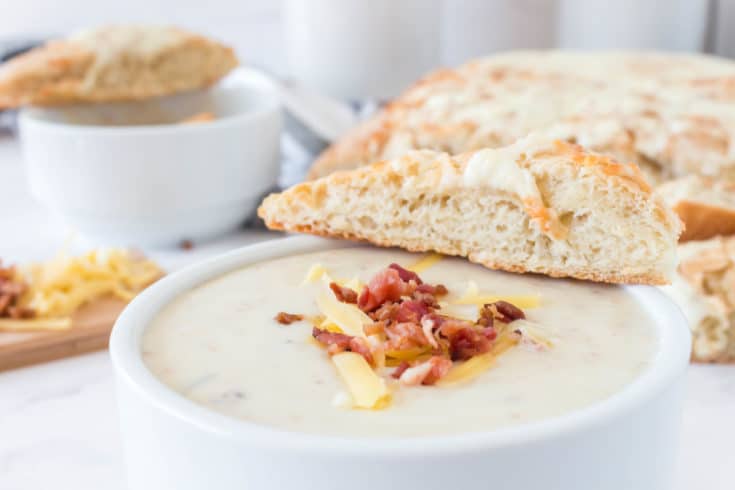 Once a rich winter dish that's now popular year round, Kartoflanka is a creamy Polish potato soup that's quick and easy to make!
Ingredients
1 cup diced (medium) onion
2 tablespoons butter
1/3 cup bacon bits
1 tablespoon fresh minced garlic
1/3 cup flour
4 cups peeled and diced potatoes (I used Gold Potatoes)
1 tablespoon parsley
1 tablespoon rosemary
1 teaspoon garlic Powder
1 cup milk
5 cups chicken broth
2/3 cup heavy cream
Toppings
Sour Cream
Gouda Cheese
Bacon bits
Instructions
In a Dutch oven, over medium heat, melt butter and add the onions. Cook until onions are translucent, soft (4-5 minutes)
Add bacon bits and fresh minced garlic. Cook for 1 minute.
Sprinkle the flour and mix until all smooth.
Add the diced potatoes, parsley, rosemary and garlic powder. Mix well until all potatoes are coated.
Add milk, heavy cream, chicken broth. Stir well.
Increase the heat to medium, high and cook cover until all potatoes are tender (12-15 minutes). Stir occasionally.
Once the potatoes are tender, turn the heat off.
With an immersion blender, puree the soup to the desired consistency.
Add salt and pepper to taste.
Add sour cream, cheese, or bacon bits as a topping if desired.
Serve and Enjoy!
Notes
Fresh minced garlic can be replaced by 2 cloves of garlic.
Nutrition Information:
Yield:
6
Serving Size:
1
Amount Per Serving:
Calories:

347
Total Fat:

19g
Saturated Fat:

10g
Trans Fat:

1g
Unsaturated Fat:

6g
Cholesterol:

54mg
Sodium:

1010mg
Carbohydrates:

36g
Fiber:

4g
Sugar:

3g
Protein:

11g