Pierogi appeared in Poland around the 13th century when Saint Jacek Odrowąż returned from Kviv and talked about a wonderful dish. They were brought from the Far East by Kievan Rus, hence the name.
Potatoes weren't known yet, so the first pierogi were made with buckwheat and cheese.
Ruskie translates to Ruthenian, not Russian as it's often mistranslated into English as they come from the territory of present Ukraine. Hence why quite often in the US they're referred to as Ukrainian perogies.
When the territory of present-day Ukraine belonged to Poland – dumplings with cheese and potatoes were Polish dumplings. And so today, when looking for "Ruthenian" in Ukraine – we have to order "Polish" pierogi.
The oldest recipe for this dish can be found in Compendium Ferculorum from 1682, the first Polish cookbook.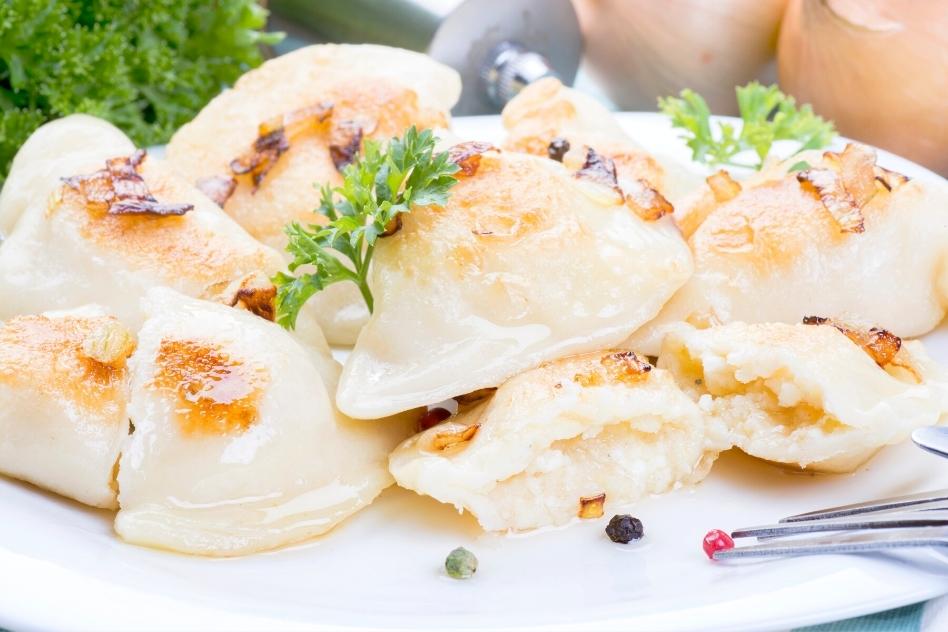 Recipe Pointers For Pierogi Ruskie
This potato and cheese pierogi is usually made with Twarog (Polish farmer's cheese.) But if you can't find it, use any good cottage cheese.
The filling can be made a day ahead and refrigerated.
This recipe is vegetarian if you only top with fried onions or serve with sour cream.
It's best to cook the pierogi in batches so that they don't dry out. So cook them every time you've got 10 to 15 ready.
You can replace the olive oil with butter.
Placed the cooked pierogi on a plate apart from each other so that they don't stick. Sprinkle with olive oil.
You can serve fried with butter and topped with bacon!
Alternative fillings for the pierogi include mushrooms and cream, sauerkraut, and bacon.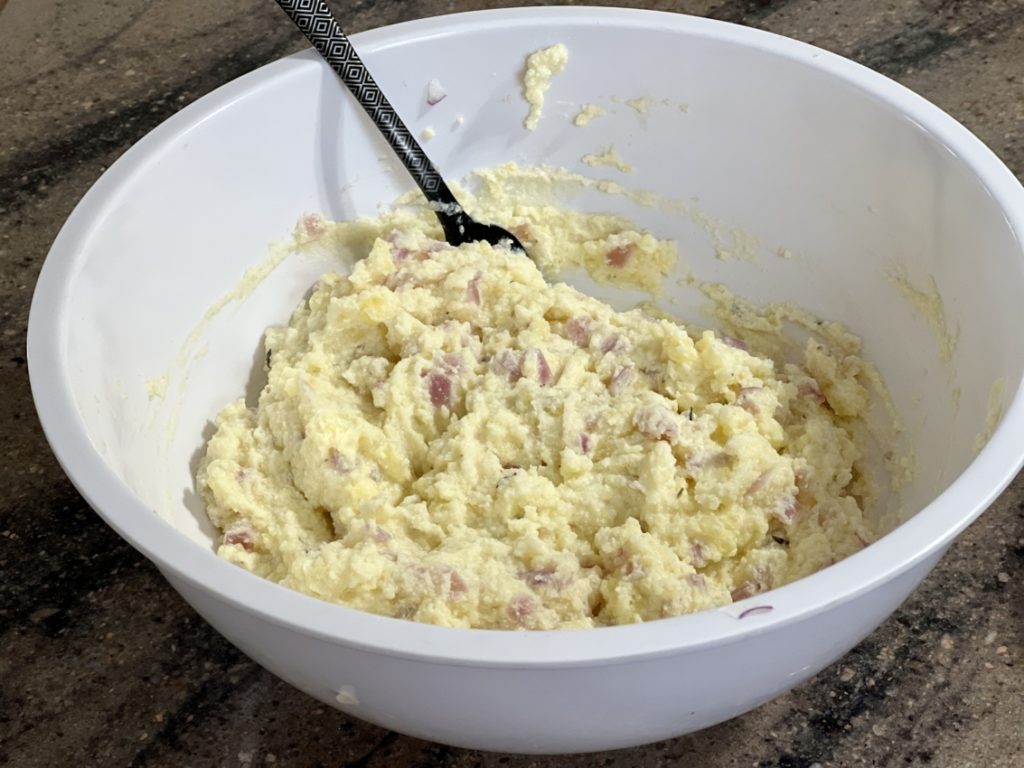 ---
FAQs about Pierogi Ruskie
What potatoes should I use for Pierogi Ruskie?
Russets, Yukon gold, and Maris piper potatoes make the best pierogi.
What is Twarog cheese?
Twarog cheese is a farmer's cheese from Poland that is sometimes called white cheese. Made from sour milk, the cheese is slightly sour and eaten fresh. It's similar to cottage cheese, but not the same.
What to serve with potato and cheese pierogi?
Serve the pierogi topped with sour cream and caramelized onions. If you prefer meat, you can also add chopped bacon or ham on top.
Can I make the pierogi taste richer?
The pierogi taste great as they are, but if you want, you can fry them in butter and top with chopped chives.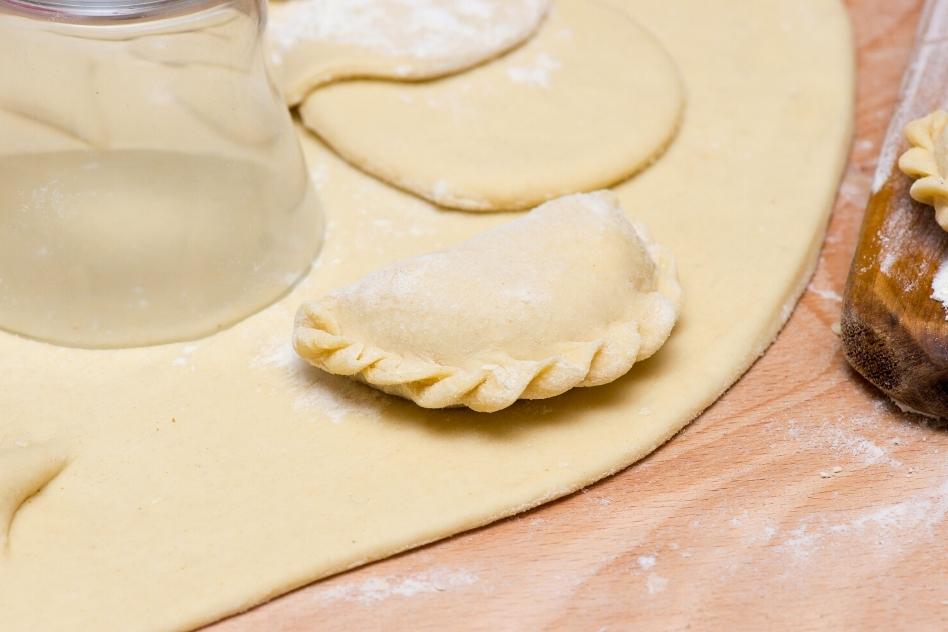 How long will pierogi ruskie last in the refrigerator?
Pierogi ruskie can be stored in the refrigerator for 4 to 5 days.
How to freeze pierogi?
Once you have prepared, stuffed, and sealed the pierogi, you can freeze them.
Place a sheet of plastic wrap on the bottom of your container and layer the pierogi in it. Cover it with another layer of plastic wrap and then more pierogi. Keep repeating these steps till the container is full.
Freeze for up to 3 months. Thaw and boil or bake before serving.
How to reheat frozen pierogi?
Frozen pierogi can be reheated in a microwave or oven for a few minutes. Alternatively, you can fry them in a frying pan or boil in water for 5 to 7 minutes.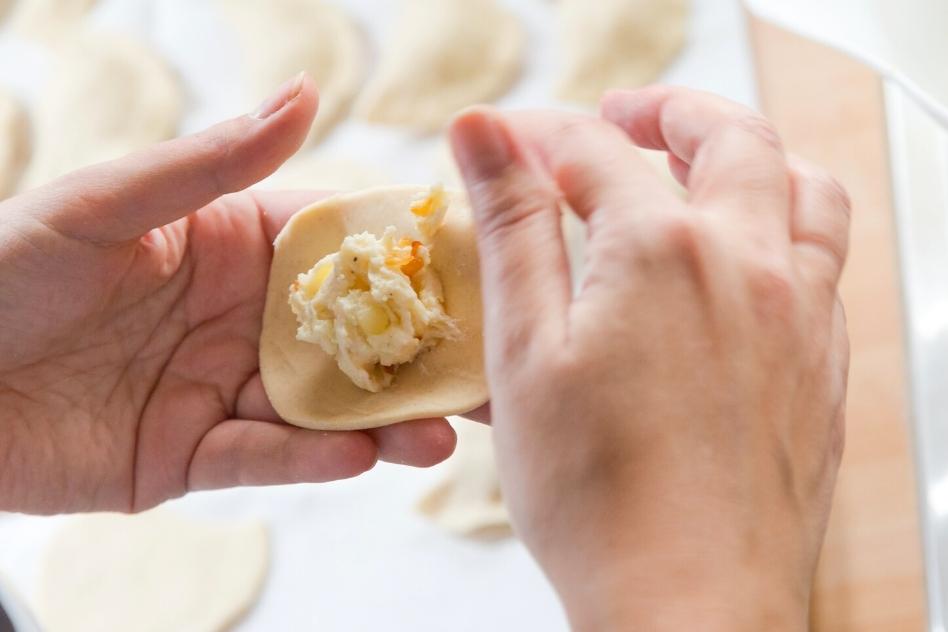 Yield: 50 pierogi
Pierogi Ruskie: Potato and Cheese Pierogi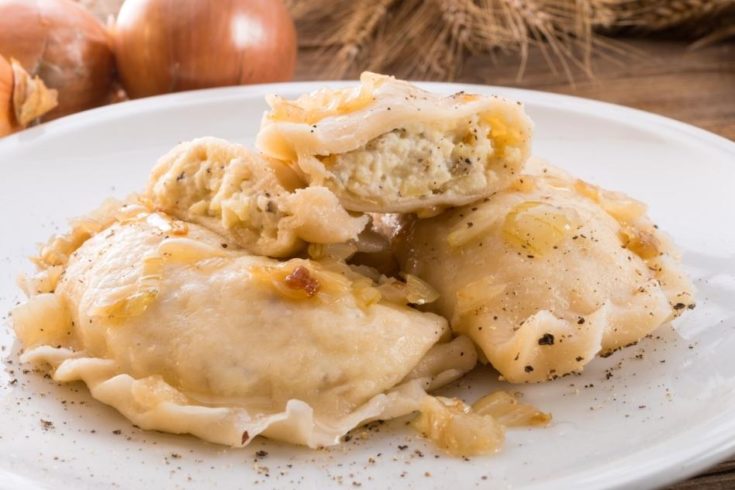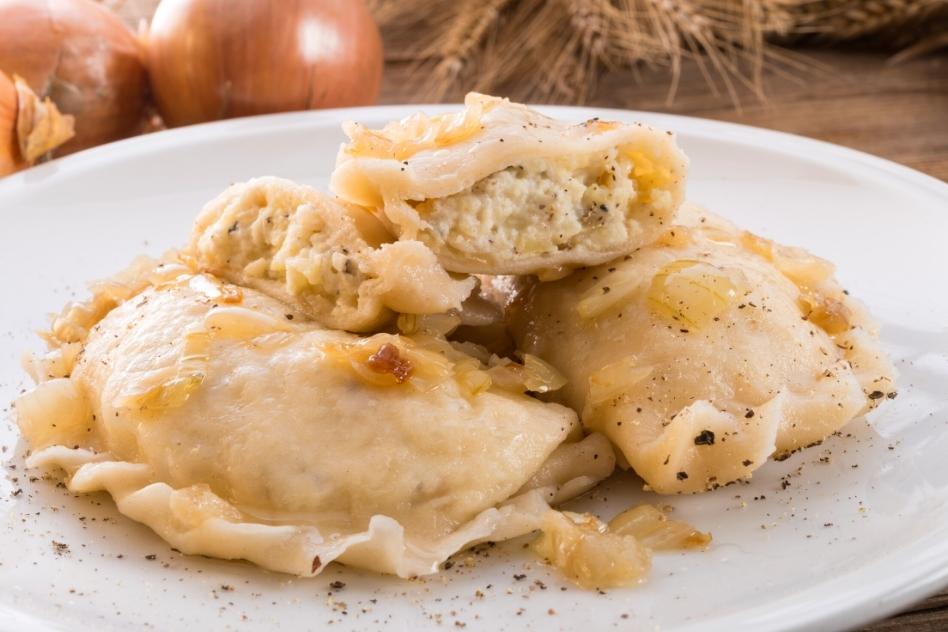 Total Time
1 hour
10 minutes
Ingredients
Stuffing
1 lbs of boiled potatoes
2 tablespoons of butter
0.5 lbs of semi-skimmed cottage cheese
salt & pepper
1 onion, finely chopped
Dough
1 lbs of flour
4 tablespoons of olive oil
1 cup of hot water
1 tablespoon of salt
Instructions
Prepare your dough. Mix all dough ingredients in a giant bowl using a wooden spoon (you can use hands, but it will be hot because of the hot water).
Once it's all mixed, then use hands to knead the dough. The dough should be soft and elastic.
Wrap your dough in aluminum foil and let it sit for about 30 minutes.
Split the dough into 3 pieces to make things easier, then roll it out thinly on the board and cut out circles (either with a pierogi maker or simply a glass)
Mash your boiled potatoes immediately after cooking (when still warm) to a puree consistency and wait for them to cool down a bit.
While your potatoes are cooling sautee your chopped onion with butter on a frying pan for about 5-10 minutes, until golden brown. Set aside to cool down.
Use potato ricer to mash your cottage cheese.
Mix potatoes, onion, cottage cheese along with salt & pepper together.
Stuff your pierogi with it and fold them in half gluing the sides together with your fingers. If it doesn't stick properly you can use some water.
Boil your pierogi for about 3/4 minutes since they surface to the top of your water level.
Recommended Products
As an Amazon Associate and member of other affiliate programs, I earn from qualifying purchases.