Bigos is a rich stew that's sometimes translated into 'hunter's stew' is made with various types of chopped meats, sauerkraut and shredded fresh cabbage.
The recipe generally changes from house to house but it's very hearty and sometimes described as the Polish version of chili, but it takes 3-4 days to make the REAL Polish bigos.
Short History of Polish Bigos
Nowadays Poles eat bigos traditionally for Christmas, but also whenever they feel like cooking it.
Mentions of bigos and bigoski can be found in one of the oldest Polish cookbooks called Compendium Ferculorum by Stanisław Czerniecki from the XVIIth century. However, Czerniecki's bigos was far from the one we know today – it was simply chopped meat jelly.
The Hunter's Stew we know today came to life around the XVIIIth century when people started preparing it with sauerkraut.
In the 19th century, bigos was eaten for breakfast but frankly, I cannot imagine eating anything so heavy so early in the day.
There are a few types of bigos:
Lithuanian bigos – characterized by the addition of wine and sour apples
Hultajski bigos – mainly consisted of a huge amount of chopped meat and pork fat known as the most favorite dish of Polish cuisine of the times of the First Republic
Hungarian bigos – a variety of the dish related to our nephews – of course with hot pepper and lots of sour cream
Hunters' bigos – of course with venison, specifically venison or hare and juniper berries.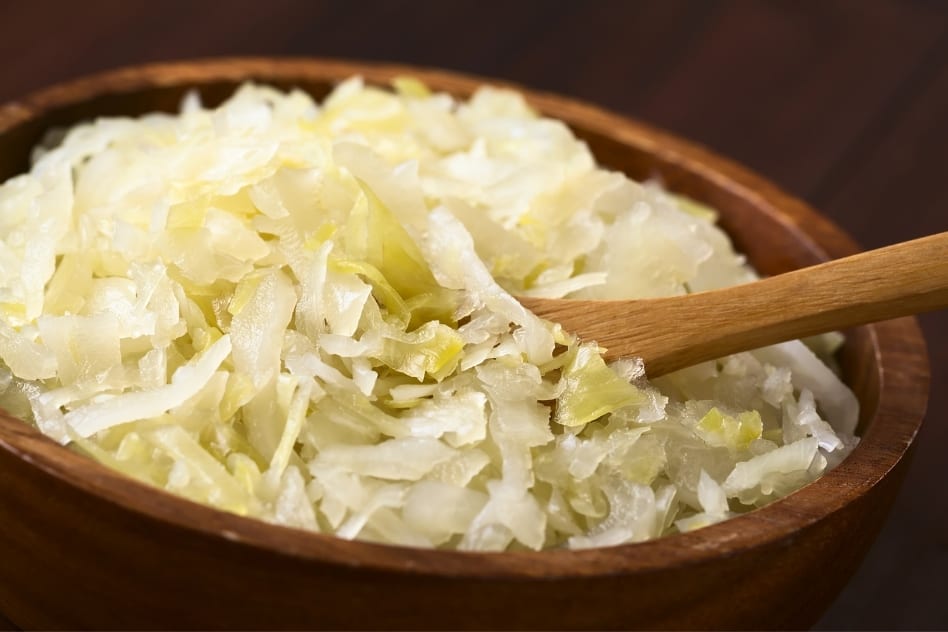 ---
Recipe Pointers For Bigos – Polish Hunter's Stew
You can buy the sauerkraut in a Polish deli, supermarket or make your own at home.
I use dried porcini mushrooms, but any other type (apart from white mushrooms) will do if you can't find any wild ones.
Serve with warm crusty bread, kopytka dumplings, or mashed potatoes, and a glass of beer or vodka.
For a more rustic feel for this Polish National dish, you can serve hunter's stew in a bread bowl, just like you would serve Zurek soup.
Reheat the stew as many times as needed over the next few days. It always tastes better with time.
If serving at a dinner party, make the stew a few days before so that it tastes perfect!
If you do not serve it with bread, this Polish Hunter's stew is gluten-free.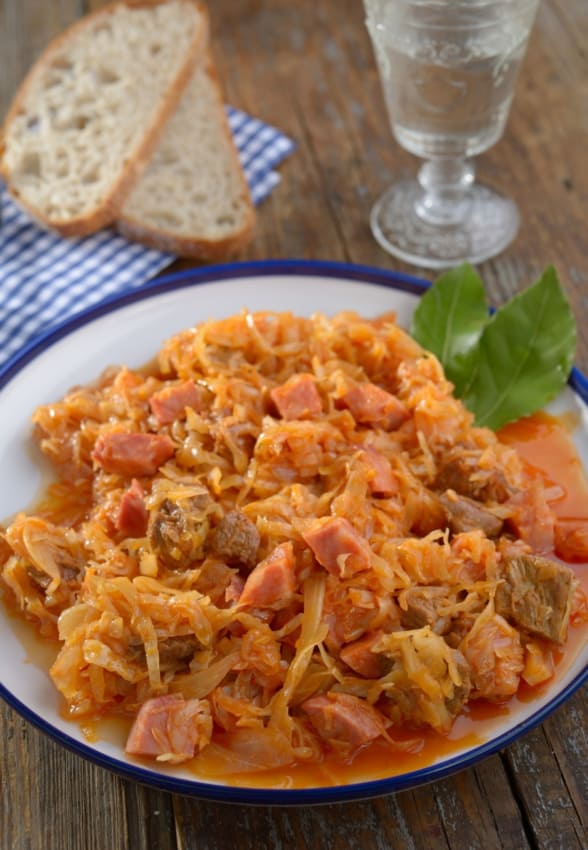 ---
FAQs about Bigos – Polish Hunter's Stew
What is venison?
Venison traditionally refers to the meat of any wild / game animals that have been killed by hunting. The word venison is derived from the latin word venari which means to pursue or to hunt. Depending on the country and their hunting laws, these can include deer, elk, antelope, boar, hare, and some species of goats.
Can I use any other meat instead of venison?
It's important that you only use dark gamey meat in this Hunter's stew. So if you don't find venison, you can use pork, lamb, duck, or beef instead.
What can I use instead of Polish sausage?
If you can't find Polish sausage, any other good smoked sausage will work.
Is it possible to make vegetarian Polish Hunter's stew?
To make vegetarian bigos, substitute the venison with boiled carrots, potatoes and smoked tofu; and substitute the Polish sausages with spicy vegan sausages.
In Polish cuisine there's a version of bigos with just wild mushrooms as well – it's traditionally eaten for Christmas Eve, because Poles don't eat meat that day, just fish.
Can you freeze this Polish Hunter's Stew?
Yes, leftover Bigos can be cooled down, stored in an airtight container, and frozen for up to 3 or 4 months. Thaw in the refrigerator and reheat before cooking.
Is juniper a must for this recipe?
Yes and no. You can totally make bigos without it, but it would make the dish taste more authentic.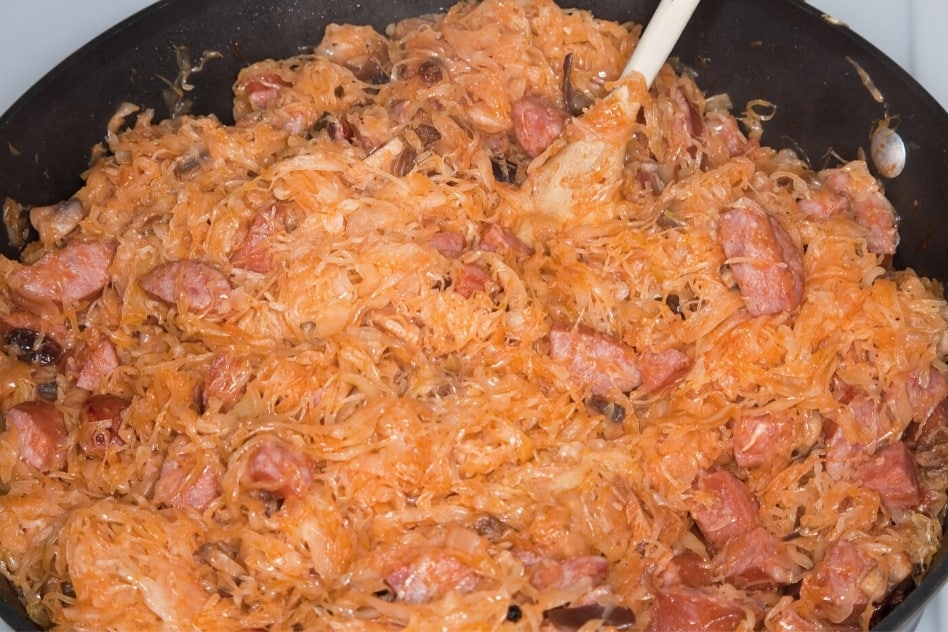 Yield: 6/7 portions
Bigos: Polish Hunter's Stew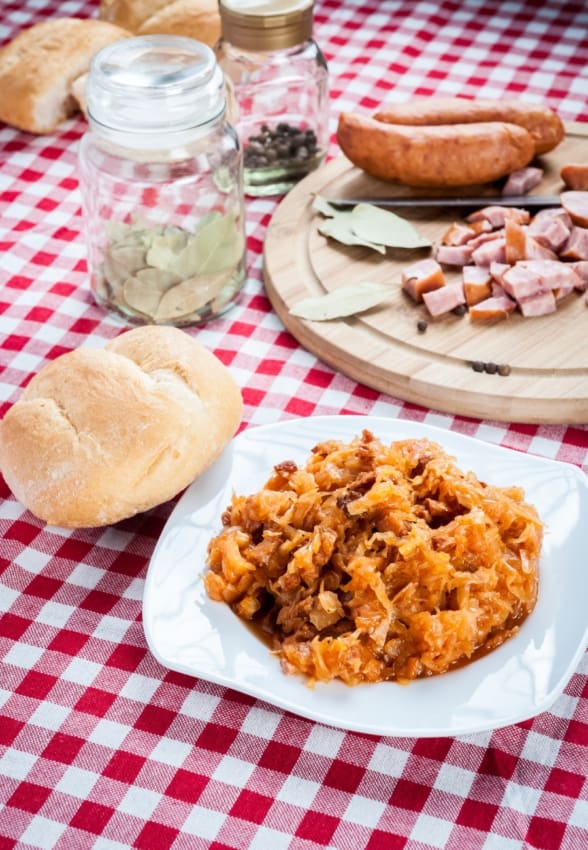 Total Time
2 days
2 hours
Ingredients
2 lbs of sauerkraut
0.5 lbs white cabbage (fresh)
2 onions
1 lbs of dry wild mushrooms (or fresh, if you have some)
1 lbs of bacon
1 lbs of venison
0.5 lbs of Polish sausage
1 cup fo red wine
1/4 cup of dry plums
spices (2 tablespoons each): salt, pepper, cumin, paprika
3 bay leaves
2 seed of juniper
Instructions
Soak wild mushrooms in a bowl overnight. Once soft, remove from the water but keep the water in a separate bowl.
Squeeze thoroughly your sauerkraut from the water, chop it and put it in a pot. Cover it with water.
Finely chop the fresh cabbage and scald the cabbage with boiling water from the kettle. Add it to your pot with sauerkraut and cook it all under the cover for about an hour.
Chop your venison into small pieces and fry on a low setting for about 30 minutes, mixing occasionally.
Add your meats and soaked mushrooms to the giant pot with the cabbage. Then add all the spices and red wine, mix it all together and cook at the lowest setting under the cover for about 2 hours. Mix it once every 30-40 minutes.
Leave it for a day. Repeat the process with frying the Polish sausage with bacon this time. Once cooked, add it to your pot along with mushrooms and finely chopped dry plums and water from mushrooms. Cook under the cover for additional 2 hours.
Serve warmed up with bread. You can heat up your bigos as many times as you need over the course of a few days. It can only get better 😉