Pulpety in Dill Sauce or Klopsy w Sosie Koperkowym is a traditional Polish dish that can be ready in no time. Easy to make for lunch or dinner, the kids will love this creamy dish too!
---
What Is Pulpety?
Pulpety are the Polish word for meatballs. The plural of pulpet, pulpety are made of minced meat, eggs, onions, breadcrumbs, and other ingredients. Also called klopsy, the pulpety are small golf-ball-sized discs that are topped with gravy.
We would have loved to say that pulpety originated in Poland, but they didn't! Meatballs have been around in many cultures for centuries.
Many believe that meatballs originated in Persia. It's quite possible that most of the European meatballs maybe some version of the Turkish meatballs or kofte or kofta traveled to Europe during the spice trade in the 18th century.
As they spread across Europe, each culture assimilated them differently. In Poland, we have both the pulpety or klopsy meatballs and the kotlety mielone.
There's even a version of the pulpety from Królewiec that was listed as a traditional product by the Ministry of Agricultural and Rural Development. Of course, those pulpety or klopsy krolewieckie are sour to taste and called 'sauerklops'.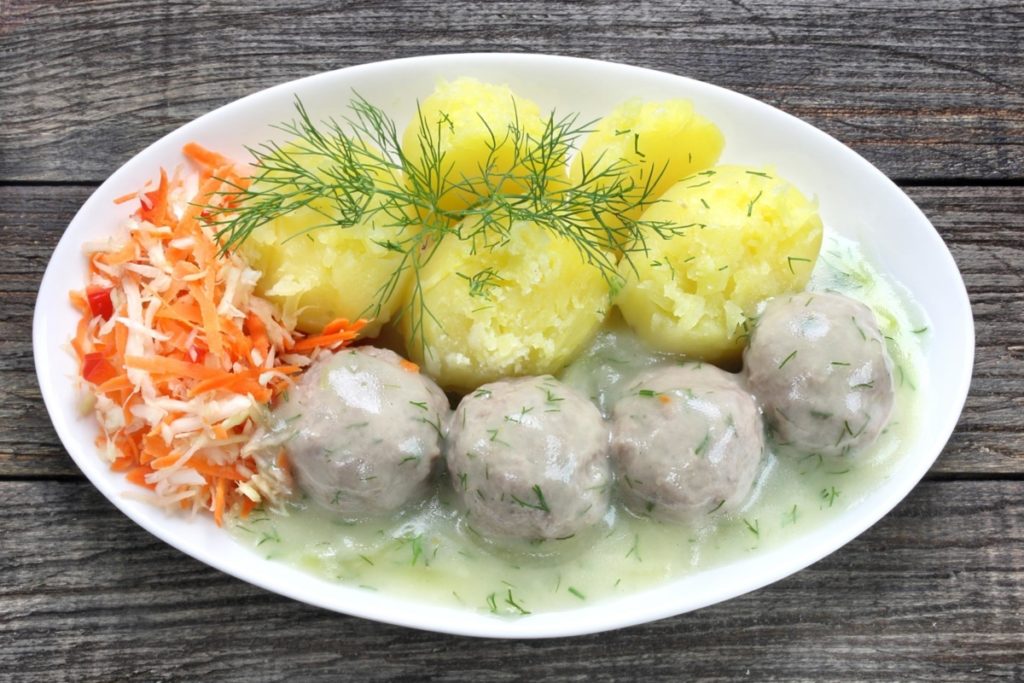 ---
What's The Difference Between Pulpety And Kotlety Mielone?
Kotlety Mielone are Polish meatballs that are about three times the size of pulpety. These meatballs are usually made of the same meat as pulpety, i.e. pork, chicken, beef, or game meat.
Apart from the size, there is this main difference – the kotlety mielone are breaded and fried, while the pulpety are cooked in broth or stock before being enrobed in a creamy sauce.
Both these popular Polish dishes can be served with a variety of sides, from boiled potatoes, groats or kasza, to rice, pasta, or noodles.
What's the difference between Pulpety and Klopsy?
There isn't any difference actually. Klops or klopsy are just a different name for pulpet or pulpety meatballs. Pulpety or klopsy are smaller in size than the kotlety mielone, and are often served with a rich creamy gravy.
And although they can be eaten throughout the year, pulpety are the perfect winter or autumn dish!
---
Recipe Pointers For Traditional Pulpety With Dill Sauce
For a thicker sauce, double the amount of cream or wheat flour.

Do not squeeze the kaiser roll too much – allow it to retain some moisture so that the meatballs are more tender.
You can replace the vegetable broth with beef broth or chicken rosol.
Serve with rice, pasta, kopytka dumplings, or boiled potatoes!
Serve will dill pickles or mizeria salad.
Sprinkle the sauce with chopped fresh dill over the dish before serving!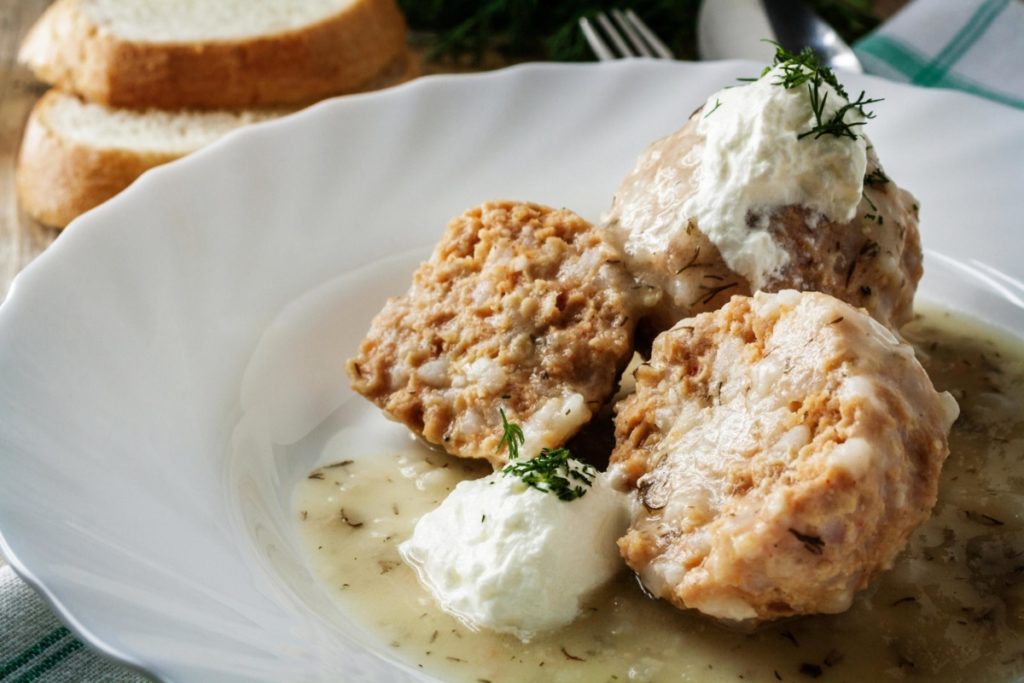 ---
FAQs About Making Polish Pulpety
What does pulpety mean?
The word pulpety is a derivative of the Latin word polpette which means something that has been made into a pulp. So pulpety would translate to pulped meat but refers to minced meat.
What if I can't find a kaiser roll?
If you can't find a kaiser roll, use any other stale rolls. Alternatively, even a milk roll.
Do Pulpety have to be made with meat only?
Pulpety are usually made with pork or beef meat. But your pulpety meatballs can be made of turkey, chicken, venison, game meat, or fish meat too. When meatballs are made of fish meat, they are called pulpety rybne.
Can I replace the dill sauce with anything else?
To make sos koperkowy or dill sauce, it's essential to use dill, either fresh, frozen or dried. There's no other way to make it!
But if you want a totally different sauce, you can serve pulpety with a mushroom sauce (called pulpety w sosie grzybowym), with tomato sauce, (pulpety w sosie pomidorowym), or with a mustard sauce (called pulpety w sosie musztardowym).
How to store Polish dill meatballs?
Polish meatballs in dill sauce can be stored in a covered dish in the refrigerator for 3 to 4 days. Reheat before serving!
Since the sauce contains cream, it's best not to freeze the dish. If you want to freeze pulpety for meal prep, cook them in the broth, cool them, and transfer them to an airtight without adding them to the sauce. These meatballs can be stored for 3 to 4 months in the freezer. You can thaw the meatballs and prepare the sauce on the day you want to serve them.
Yield: 12 pulpety
Pulpety Koperkowe: Polish Meatballs in Dill Sauce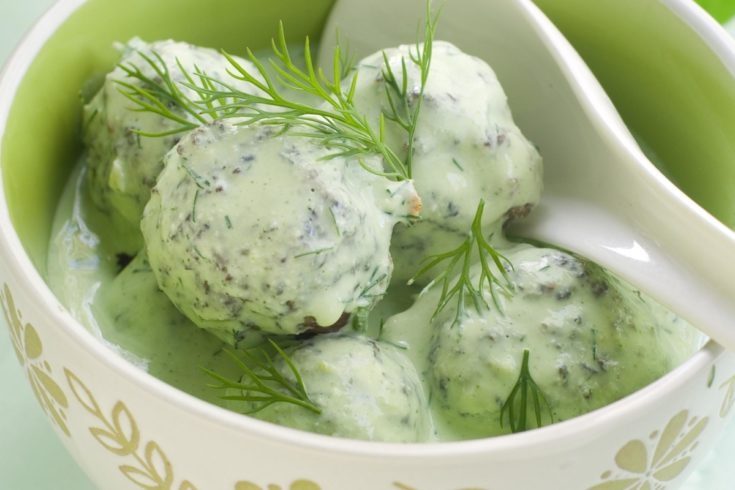 Pulpety in Dill Sauce or Klopsy w Sosie Koperkowym is a traditional Polish dish that can be ready in no time. Easy to make for lunch or dinner, the kids will love this creamy dish too!
Ingredients
Ingredients for meatballs:
1 lbs of ground pork or turkey
1 hard kaiser roll
1 medium egg
1 onion
1/2 cup of milk
1 tablespoon of breadcrumbs
1 teaspoon of salt
1/2 teaspoon of pepper
Ingredients for the dill sauce:
2 cups of vegetable broth
1/3 cup of chopped dill (fresh or dry)
3 carrots
1/3 cup of heavy cream 30%
1 tablespoon of wheat flour
Instructions
Peel and dice the onion. Fry on a pan until golden.
Soak the hard kaiser roll in milk for a few minutes. Drain the roll from an excess liquid by squeezing it out by hand.
Fill a big bowl with meat, spices, egg, kaiser roll, onion and spices. Mix all together by hand or spoon.
Form small balls about a spoon size from the meat mass. If the consistency is too loose and doesn't stick together you can add a spoon of breadcrumbs or flour.
Now prepare the sauce. Peel and chop the carrots into slices and put them into the bullion.
Put the bullion into a big pot, bring to boil and cook on medium heat for 10 minutes.
Place pulpety on the bottom of the pot and boil on medium heat for 15 minutes uncovered.
Meanwhile, put cream into a small bowl and add a tablespoon of flour. Mix together until there are no lumps. Then add a few spoons of bullion and re-mix together again.
Add the cream mix to the main bullion along with dill and bring to boil.
Serve warm!