We, Poles, love beer! We've brewed it for hundreds of years. You may not think of Poland as a beer-producing country, but Poland has been producing beer for over a thousand years.
Beer to Date: A Short History Of Beer in Poland
Even King Boleslaw The Brave or Boleslaw I was a beer drinker! Born in Poznan almost a thousand years ago, this famous statesman, strategist, and politician became the first Polish king in 1025 AD. But other than establishing the first Kingdom of Poland, what he also remembered for is his beer brewing!
The first official beer brewing in Poland happened in 1321 when Konrad, the Duke of Olesnica gave beer brewing rights to the city of Namyslow. And beer has never left Poland since then! In fact, that same brewery called Browar Namyslow still produces its Zamkowe beer in a Gothic Castle.
In the late 18th century, Poland was partitioned by the Habsburg Austrian Monarch, the Russian Empire, and the Kingdom of Prussia. These brought about the existence of pale lager beers.
By the time the 19th century came around, the industrialization of beer production had started. Most of these initial European breweries followed the British method and produced porter beers.
Later, during the Second World War, the Nazis took over Polish breweries and used them to produce session beers or low-gravity beers for their troops in Russia. But beer production in Poland had declined as a result of the war.
It took Poland almost 50 years to reach pre-war production levels of 14.2 million hectolitres. That was in 1992. But by 2020, we crossed 39 million hectolitres of production.
At the same time, the 20th century has seen an increase in the production of craft beers by smaller breweries.
Now, the beer market in Poland is filled with both domestic and craft beer. And while the craft beer market is on the rise, the cheaper industrially produced beers still have a very strong hold on the people. And why wouldn't they? Affordable enough to drink as often as possible, they're not as bad as some people think they are.
In fact, some of my friends consider the beer in Poland at par with or comparable to the German and English beers. I guess it's just a matter of taste or affiliations.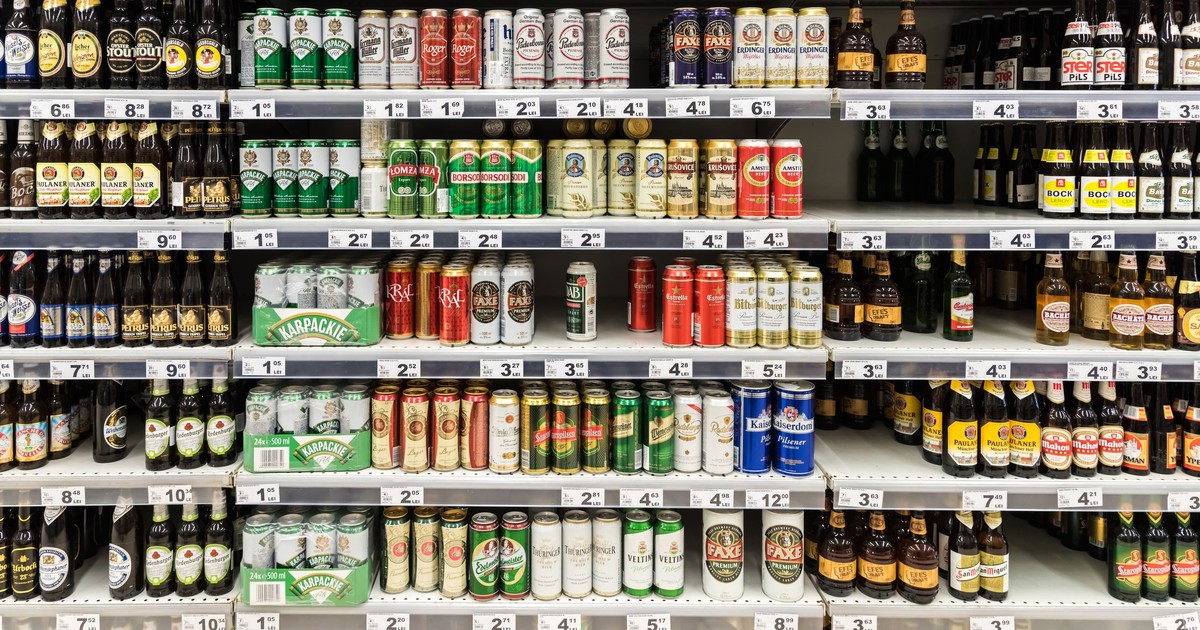 What Beer do they Drink in Poland?
According to a study researching alcohol consumption in Poland, the most popular type of alcohol consumed in Poland was beer. While wines were about 10% of the alcohol consumed, and spirits contributed to 20% of consumption, beer contributed to a whopping 70%.
Right off the bat, the most popular beers in Poland are the Zyweic, Piwowarska, Ciechan Pszeniczne, Amber Koźlak, Brok, Lech Premium, Tyskie Gronie and a host of other beer. Craft beers, pilsners, lagers – these seem to be the most popular!
But all of this brings you back to the type of beer or the method of production. Before we go in-depth with the many varieties of Polish beer, let's look at a brief history of how the beer brewing industry developed in Poland.
Famous Polish Beer: What is the most popular beer in Poland?
The most popular Polish beers are Żywiec, Okocim, Tyskie, and Żubr.
As the second-largest producer of beer in European Unions after Germany (in 2020), Poland produced 39 million hectolitres of beer after Germany's 87 million hectolitres. That's almost 12% of the total 341 million hectolitres produced.
Often, especially in the southern parts of the country or during the winter months beer is often consumed with juice. Piwo z sokiem is a beer with juice, usually concentrated raspberry or ginger.
Piwo grzane or grzaniec is a version of beer with juice, but warmed up and flavored with honey, cinnamon, and other spices. It's very similar to mulled wine, but it's mulled beer. Both are meant to be drunk with a straw.
It's best to make your own decision by trying various, but here are a few top choices of Polish beer to choose from.
1. Grupa Zywiec
Zywiec Browar was the first Polish brewery to be privatized in the 1990s, with foreign investments putting the beer in the hands of the Dutch Heineken group as Grupa Zywiec. Other breweries in Grupa Żywiec are Elbrewery, Warka Brewery, Leżajsk, and Browar Namysłów.
1.1 Browar Zywiec (Zywiec Brewery)
One of the largest breweries in Poland, Zywiec was founded under the name Arcyksiazecy Browar w Zywcu (Archducal Brewery of Zywiec) in 1853 by Karl Albrecht, the Archduke of Hapsburg when Zywiec was a part of the Austro-Hungarian empire.
Originally producing a pale lager since 1856, Zywiec Browar started producing porter in 1881 for export purposes.
During the First World War, beer production in the Zywiec Brewery rose from 130,000 hl annually to 200,000 hl. But it suffered many losses during the Second World War.
1945 saw the brewery being nationalized and modernized for exports, and it soon became Poland's largest beer exporter by 1980.
Must Try Zywiec Beers: Żywiec Jasne Pełne (5.6%) and Żywiec Porter (9.5%)
1.2 Browar Warka (Warka Brewery)
Warka beer with its lovely color and clarity was popular all over Poland. In fact, in 1483, Bolesław V, the Duke of Mazovia only accepted Warka beer at his court. It's said Warka beer was also a favorite of Pope Clement VIII.
Built later in 1968, the current Warka brewery was once focused on producing Warka Strong light pilsner beer. Now as part of the Grupa Zywiec, it's also famous for its Warka, Królewskie, and Królewskie Strong beers.
Must Try Warka Beers: Warka Strong (5.7%) and Królewskie Strong (7.8%)
1.3 Lezajsk Brewery
Producing over 17% of Grupa Zywiec's beer, the Leżajsk brewery makes Leżajsk Pełne that reflects the reminiscent calm of the sub-Carpathian mountains.
In addition to this, it also produces Tatra Jasne Pełne and Tatra Mocne like Browar Warka does, as well as Leżajsk Chmielowe Pils, and the award wining Leżajsk Niepasteryzowane.
Must Try Leżajsk Beers: Leżajsk Pełne (5.5%), Tatra Jasne Pełne (6%) and Tatra Mocne (7%)
1.4 Elblag Brewery (Elbrewery)
With a rich beer-producing history, the town of Elbing was granted brewing privileges by Teutonic Master Siegfried von Leuchtwangen in 1309.
The modern-day brewery was established in 1872 as the Elbinger Aktien-Brauerei, and once exclusively supplied Pilsner beer to German Emperor Wilhelm II's courts.
Must Try Elblag Beers: Specjal Jasny Pełny (6%) and EB (5.2%)
1.5 Browar Zamkowy Cieszyn (Cieszyn Castle Brewery)
Established in 1846 by the Archduke Albrecht Friedrich Habsburg in an old castle, this brewery is in one of Silesia's oldest towns. Nationalised in 1920, it was incorporated into the Bielskie Zakłady Piwowarsko-Słodniczych.
Popular beers made here include Cieszyński Koźlak Double, Zamkowy Cieszyn Brown Porter, Mandziak Sour, Stout Cieszyński, Juicy IPa Cieszyńskie, Pszeniczne Cieszyńskie, Ciemna Strona Cieszyna and more.
Must Try Cieszyn Zamokvy Beers: Cieszyński Koźlak Double (7%), Zamkowy Cieszyn Brown Porter (4.5%) and Mandziak Sour (5%)
---
2. Kompania Piwowarska
Based in Poznan since 1999, Kompania Piwowarska owns three different breweries – Tyskie Browary Książęce in Tychy, Lech Browary Wielkopolski in Poznań, and Browar Dojlidy in Białystok. The Tyskie Browary Książęce (Princely Brewery Tychy) was founded in 1629, making it one of the oldest in Europe.
Kompania Piwowarska in turn is owned by Asahi Breweries and controls around 45% of the Polish beer market.
2.1 Tyskie Browary Książęce (Princely Brewery Tychy)
The original Tyskie Browary Książęce (Princely Brewery Tychy) was founded in 1629 and is one of the oldest breweries in Europe. The modern brewery was founded by Prince Jan Henryk XI Hochberg at the turn of the 19th century.
The Tyskie Browarium Musuem is a great place to learn about it's flagship beers – Tyskie Gronie (Jasne Pełne) and Książęce IPA.
Must Try Tyskie Beers: Tyskie Gronie (Jasne Pełne) (5.2%), Książęce IPA (5.4%), Prince's Cherry Ale (4.8%)
2.2 Lech Browary Wielkopolski
Established by the Hugger brothers in 1895, the brewery was earlier on Półwiejska Street and moved to Szwajcarska Street in 1980. The main drink at the time was the Czarna Perła malt drink, apart from light and dark malts.
Over time the flagship beers Lech and Lech Pils were developed and took on a green avatar. They say Lech Pils is the favorite beer or Wielkopolanie or Greater Poland!
Must Try Lech Beers: Lech (5%) and Lech Pils (5.5%)
2.3 Browar Dojlidy
Established in Białystok in 1768, the Dojlidy Brewery changed owners more than any other Polish browar. But no matter the owner, the beer was always loved!
Its flagship beer, the Zubr is named after the European bison, while other beers include Dojlidy Magnat, Dojlidy Classic, Dojlidy Herbowe, Dojlidy Jakt, Dojlidy Karmel, Dojlidy Mocne, Dojlidy Porter, and more.
Must Try Dojlidy Beers: Zubr (6%)
---
3. Carlsberg Polska
Carlsberg Polska is the Polish subsidiary of the Danish beer giant Carlsberg. Carlsberg beer used to be imported to Poland from other countries up until 1997 when Carlsberg bought a share in the Okocim.
Since then Carlsberg has expanded and is the third-largest group of beer manufacturing companies in Poland.
3.1 Okocim Brewery
Johann Evangelist Götz, a German beer maker, established the Okocim Brewery in 1845 in partnership with an Austrian and a Polish noble. By the start of the 20th century, it was the largest brewery in the lands of the former Polish–Lithuanian Commonwealth.
The Okocim brewery was nationalized in 1945 and then reprivatized in the 1990s. Over time Carlsberg acquired part and then full ownership of the brewery.
Okocim produces pale lagers of varying strengths as well as some non-alcoholic lagers such as Okocim Radler Jablko from Czeresń.
Must Try Okocim Beers: Okocim Jasne (5.2%), Okocim Mistrzowski Porter (9.6%)
3.2 Kasztelan Brewery (Castellan Brewery)
Established in Sierpc in 1972, Kasztelan Brewery was modernized in 1972 and has been part of Carlsberg Polska since 2004. The four main beers produced here are Pils, Jubilee, Castellan, and Sierpecki.
Must Try Kasztelan Beers: Kasztelan Jasne Pełne (5.7%), Kasztelan Mocne (6.8%)
3.3 Bosman Brewery (Bosun Brewery)
Bosman Full and Bosman Specjal are the most loved beers from the Bosman brewery in Szczecin. Established in 1840, they also brew Bright Full Castellan, Castellan Unpasteurized, and Castellan Strong.
Must Try Bosman Beers: Bosman Full (5.7%)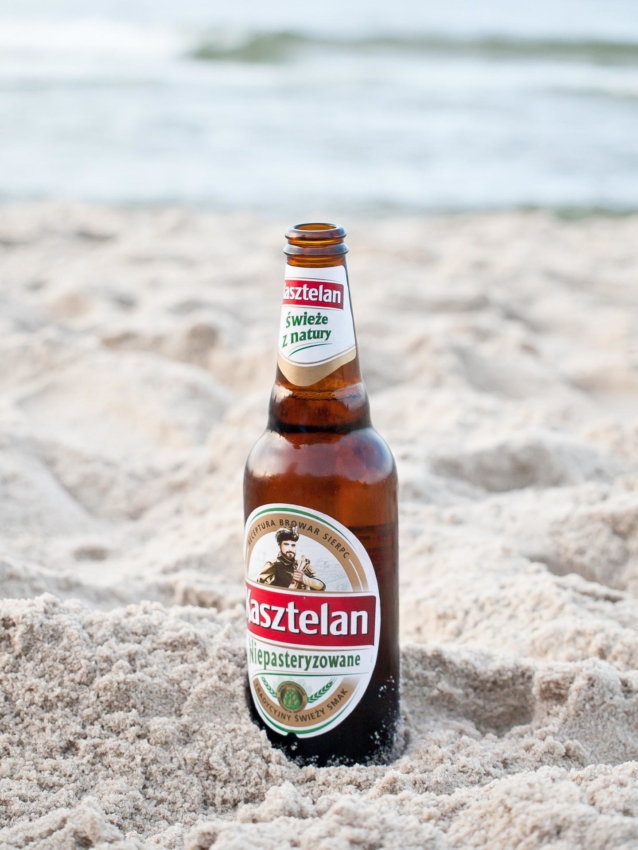 ---
4. Van Pur (Browar Van Pur)
Established at the fall of Communism, Van Pur breweries produces 6 million hectolitres a year in 6 breweries. The fourth-largest beer producer in Poland, Van Pur has a sizeable share of the market.
Other Van Pur Breweries include the Jędrzejów Brewery which brews Strzelec (Sagittarius), the Upper Silesia Brewery in Zabrze brews Śląskie and the Browar Braniewie that brews beer using Oligocene water.
4.1 Van Pur Brewery in Rakszawa
Rakszawa had been a center of beer brewing since the 17th century with many small breweries. However, the brewery by the Van Pur was established in 1992 and focuses on the flavor of hops in their beers.
Must Try Van Pur Beers: Karpackie Strong (9%)
4.2 BROK Brewery in Koszalin
Founded in 1868 to brew craft beers, the brewery was used as a warehouse by the Soviet Union from 1945 to 1960. Browar Brok was integrated into the state-owned Koszalin Zakłady Piwowarsko-Słodniczych in 1960 and later privatized in 1990.
Producing over 630,000 hectoliters annually, it's said that the sea breeze can be tasted in the amber-colored Brok beer.
Must Try Koszalin Beers: Brok (5%) and Brok Sambor (6%)
4.3 Lomza Brewery
Started as part of the Przedsiębiorstwo Przemysłu Spożywczego (PPS), the state-owned Lomza brewery specializes in the production of bottom-fermented light beers. One of the most popular beers in the Podlasie and Masovian region, the Lomza beer from the Narww valley must be tasted.
Must Try Lomza Beers: Lomza Export (5.7%), Łomza Mocne (7.8%)
---
5. Perła – Browary Lubelskie
Browar Libelskie was founded in 1844 in the ruins of a monastery of the Reforming Fathers. In 1914 he opened a second brewery in Zwierzyniec. After the breweries were privatized in 1992, they were named Perła – Browary Lubelskie S.A.
Some of the popular beer brands are Perła Chmielowa, Perła Niepasteryzowana, Perła Export, Perła Mocna, Perła Porter Bałtycki, Zwierzyniecm, Goolman, Goolman Strong, Goolman Gold, and Carmèll.
Must Try Perla Beers: Perla (Pils 5%), Perła Chmielowa (6%)
---
6. Browary Regionalne Jakubiak
One of the most recently established groups, the BRJ group is one of the truly Polish breweries. The CEO, Marek Jakubiak, has some popular historical breweries in his hands. These include the Ciechan Brewery, Lwówek Brewery, and Biskupiec Brewery. Other breweries in the BRJ Group include the Bojanowo Brewery and Tenczynek Brewery.
The flagship Ciechan brewery dates back to 1209, and produces the highest volume of beer in the BRJ Group. Some of its beers are on the Polish List of Traditional Products. Other popular beers include Maciejowe, Dortmund Lager, Milk Stout, and Imperial Stout.
Must Try BRJ Beers: Ciechan Pszeniczne (4.8%)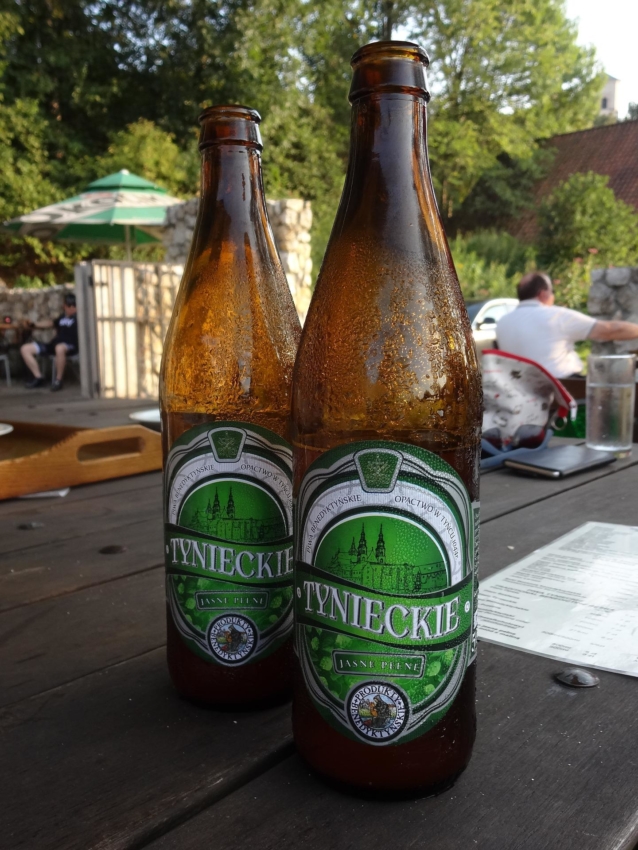 ---
Other Info About Polish Beer
Avoid the cheaper beers at all costs! They're literally bland.

Remember that craft beer

s

are more local in flavor, while standard beers are produced by the larger internationally owned breweries.

Cymbopogon by Artezan, American Pale Ale by Podgorz, Rowing Jack- American IPA by AleBrowar, or Golden Ale by Ursa Maior

are some craft beers that you must try.

Some Polish breweries that you must visit include the 150-year old Zywiec Brewery, the Lech Brewery and the Tychy brewery.

Popular Polish beer festivals include the Warsaw beer festival, Good Beer Festival, Beer Geek Madness and the Birofilia Festival.