Polish Warm Shredded Beets, also known as Ciepła Sałatka z Buraków or simply Buraczki in Polish, is a delicious and traditional dish in Polish cuisine. It's a simple and easy-to-prepare salad made of shredded boiled beets mixed with chopped onions, garlic, and vinegar, and served warm.
The dish is a popular side dish in Poland, often eaten along with potato dishes such as kopytka dumplings especially during the winter months, as it's both hearty and comforting.
The vibrant red color of the beets and the combination of flavors make it a popular dish to serve at gatherings and celebrations. Additionally, the dish is known for its health benefits as beets are low in calories, high in fiber, and packed with essential nutrients.
---
History of Buraczki
The history of Polish Warm Shredded Beets can be traced back to the early days of Polish cuisine. Beets have been cultivated in Poland since the 16th century, and it's believed that the dish may have originated in the rural areas of the country. As the preparation of the dish is simple, and the ingredients are readily available it made it a popular choice for farmers and rural communities.
Traditionally, the beets were boiled in their skins, then peeled and shredded before being mixed with the other ingredients. The addition of vinegar and chopped onions added flavor and helped to balance the sweetness of the beets. The dish was often served warm or at room temperature, making it a perfect side dish for cold winter days.
Today, Buraczki remain a staple in Polish cuisine and are enjoyed by people of all ages. The dish has also gained popularity in other parts of the world, and variations of the recipe can be found in many different cultures.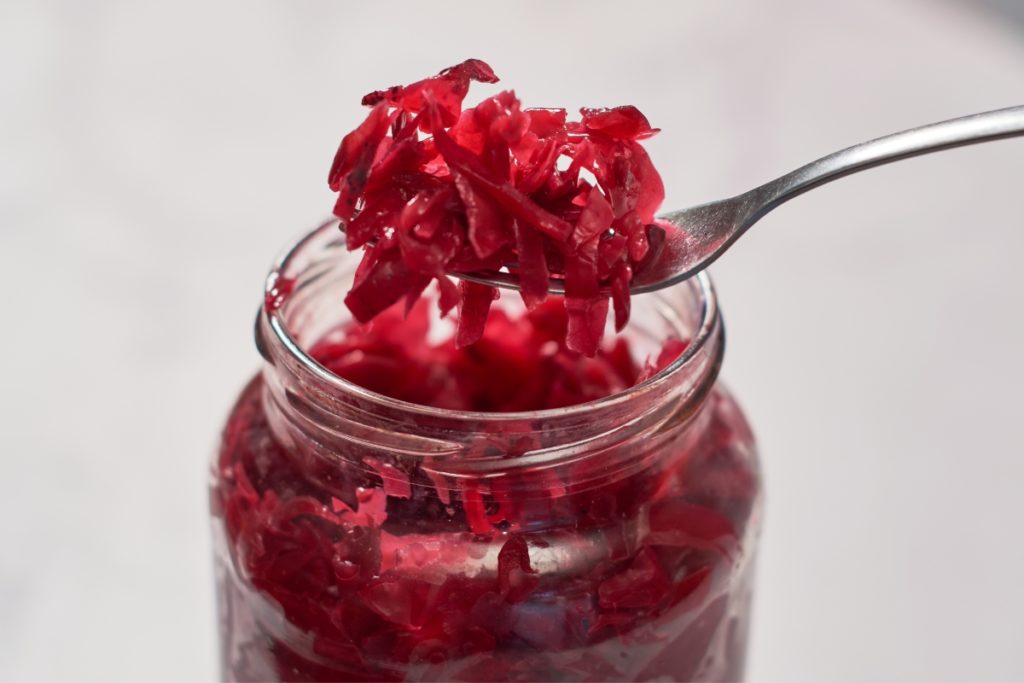 ---
Recipe Pointers For Polish Buraczki
To save time, you can boil the beetroots and store them in the refrigerator a few days in advance. Simply grate and fry on the day you want to eat the buraczki.
It's better to use gloves for peeling and handling the beets as they will stain your hands.
A new quicker way to do this is to roast the beets in an oven for 30 minutes instead of boiling them.
If you don't have time to shred the beetroot, you can chop them really fine.
Add more or less lemon juice to suit your taste.
If you want the dish to have zing, add some horseradish sauce.
Eat plain as a warm snack or as a meal with potato or meat-based dishes.
---
FAQs about Making Buraczki – Polish Beetroot Salad
What does buraczki mean?
Buraczki is the Polish word for beetroots. In this case, buraczki also refers to the salad made from beetroots.
Sometimes called buraczki na ciepło, it can be enjoyed warm or cold. When it's eaten warm or fried it is called buraczki zasmażane (fried beets).
What to serve the buraczki with?
Buraczki is usually served with kopytka dumplings or boiled or mashed potatoes. It also goes well as a side for meaty dishes such as fried kielbasa, kotlety mielone or krokiety.
What other Polish dishes are made with beetroot?
Other Polish dishes made with beetroot include the famous red borscht, barszcz czerwony, and barszcz z krokietem.
Why don't you peel the beets before boiling them?
You can peel the beets before boiling them if you want to. It's just quicker to peel them after boiling as the skin slides off easily.
What else can I add to the Polish beetroot side dish?
You can add half of a grated apple and a few spoons of sour cream to the warm buraczki salad. If you do this, the dish is sometimes called Buraczki z Jablkiem.
How to store buraczki zasmażane?
Buraczki can be stored in the refrigerator for a week. Eat cold or hot. If you add sour cream, it's better to consume it within 2 to 3 days.
If the beetroot buraczki is made without sour cream or flour, it can be pasteurized and stored in mason jars for up to 6 months.
Warm Shredded Beets: Polish Buraczki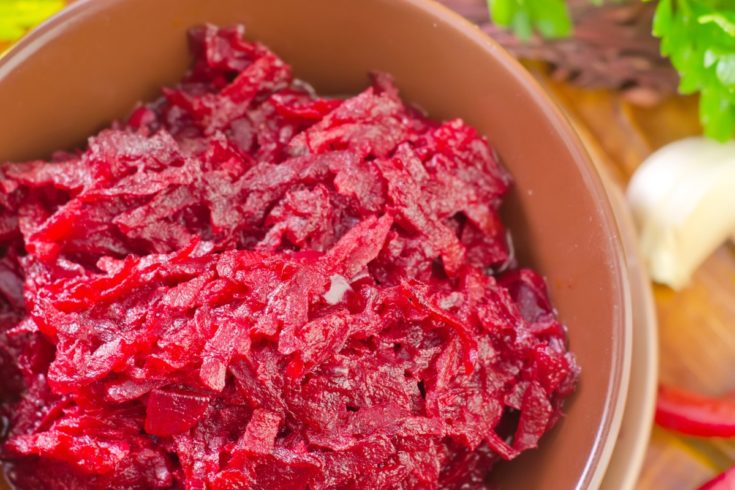 Polish Buraczki is a popular Polish side dish made of fried shredded beetroots and onions. You'll often find it eaten along with potato dishes such as kopytka dumplings.
Cook Time
1 hour
5 minutes
Total Time
1 hour
10 minutes
Ingredients
Ingredients:
5 medium beetroots (or 7 smaller)
1 small onion
3 tbsp butter or oil
1 tbsp of flour
1 tbsp of sugar
1/2 teaspoon of salt
2 tbsp of squeezed lemon
1/2 shredded apple (optional)
3 tbsp sour cream (optional)
pepper to taste
Instructions
Wash the beets and put them in the pot, cover with water, and cook until soft - about 50 minutes.
Once cooked, peel the skins off them when they're still warm, it's easier that way. Then shred them.
While the beets are cooking chop the onion and throw it in the pan with butter. Cook until golden brown for about 5 minutes.
Lower the burner heat to low. Put the flour into a pan and mix until it starts bubbling a tiny bit.
Add shredded beets to the pan with the onion and mix them together. Add sugar and salt and cook for about 5 minutes more.
If you want to have them sweeter and according to a recipe from before WWII you can add half of a shredded apple and 3 tablespoons of sour cream. Then stew them on low burner power for at least 20 minutes.
Notes
You might want to use gloves for peeling and handling the beets as they will stain your hands.