You'll love this fork-tender beef shank that's been slow-cooked with white wine and broth. The Osso Buco takes just 15 minutes to prep, a few hours to cook, and pairs perfectly with polenta!
---
What is Osso Buco?
Osso Buco is a dish that consists of veal shanks that are browned in butter and then slow-cooked in a broth with white wine and veggies for hours.
Osso Buco originated in the Lombardi region of Italy somewhere in the 19th century, although some locals believe it has been around for centuries before.
The Osso Buco received the Denominazione Comunale status in 2007. This status makes sure the world knows the recipe originated in the Lombardi region of Milan and is a symbol of Milanese culture.
In his book 1891 book La scienza in cucina e l'arte di mangier bene (Science in the Kitchen and the Art of Eating Well), Pellegrino Artusi said that only the Milanese knew how to make this dish perfectly. His book, originally in Italian is quite popular to this day. The translated book in English is a treasure house of Italian recipes. Grab a copy here if you can!
---
Why is it called Osso Buco?
Locally called òss bus, the osso buco got its name from the cut of meat used to make the dish. Osso means bone and buco means hole, so osso buco means 'bone with a hole'.
You're wondering, where the hole is in this cut of meat? The hole here refers to the bone at the center that you can dig the delicious marrow out of. A delicacy worth waiting for!
Of course, the modern version of osso buco has undergone a few changes. The 19th-century version of course did not contain tomatoes. In fact, tomatoes were often considered just an ornamental fruit.
Some even thought tomatoes were poisonous. Even when the rest of the Italian world started using tomatoes, the Milanese stayed away from it. While eating osso buco in Italy, you'll find purists don't add tomatoes, while more modern versions include them. Whichever way you eat it though, it's a dish to be treated with pomp and circumstance.
---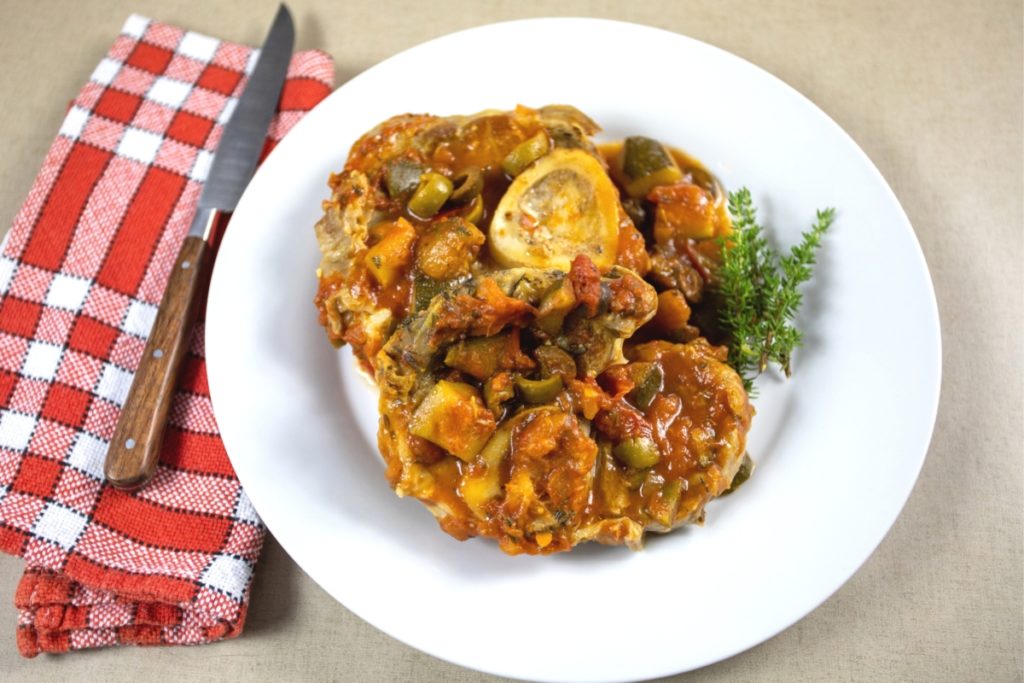 ---
Recipe Pointers For Beef Shanks – Milanese Style
If you want the meat to look darker in color, coat it with flour before searing.
Diced tomatoes can be replaced with tomato paste, but the taste will change slightly.
You can use veal shank or beef shank. If you don't want to eat the marrow, brisket will work too.
You can also put the braising pan into the oven for 4.5 hours at 300 F.
If using the oven, make sure you have a good oven-safe skillet.
Serve with polenta, or a side of mashed potatoes and baked veggies.
---
FAQs about Osso Buco
What is the best cut of beef for Osso Buco?
Osso Bucco is usually made from a thick cross-cut of veal shank. Beef shank works too, but veal shank is more tender. The shank is usually around 1 to 1.5 inches thick.
Which part of the meat is the shank?
The beef shank or veal shank is the piece of meat above the knee of the animal and below the hip. This cut of meat is usually preferred because of its tenderness.
How do I stop the beef shanks from curling?
The beef shanks curl when the sinews of the animal get braised. To prevent further curling, place the meat on the curled side facing the bottom of the pan.
Can you eat the marrow in the osso buco beef shank?
Yes, the slow-cooked marrow is delicious and tasty and considered a delicacy. As one of the highlights of the osso buco, many people love eating the marrow in the shank. You'll often find the dish served with the popular esattore spoon or bone marrow spoon to make things easier.
What is traditionally served with Osso Buco?
In the Lombardi region where it originates, Osso Buco is usually served with polenta or risotto alla milanese. You'll sometimes find it served with pasta or mashed potatoes. It's accompanied by a side of chopped green parsley sauce called gremolada (gremolata).
How long can I store leftover Osso Buco?
Leftover osso buco can be stored in the refrigerator for 5 to 7 days. Reheat before serving.
Yield: 5
Osso Buco Braised Beef Shanks Recipe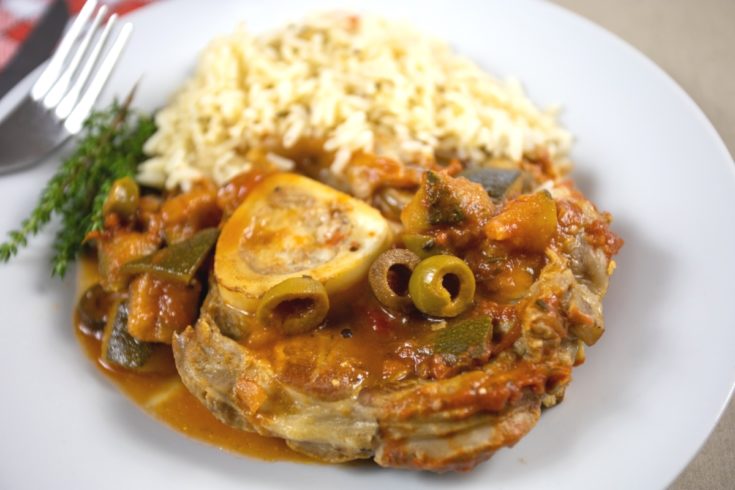 You'll love this fork-tender beef shank that's been slow-cooked with white wine and broth. The Osso Buco takes just 15 minutes to prep, a few hours to cook, and pairs perfectly with polenta!
Total Time
4 hours
15 minutes
Ingredients
4 lbs beef shanks cut into 4 inch pieces
1/2 cup butter
1 large white onion, chopped
2 medium carrots, chopped
3/4 cup dry white wine
1 can of diced tomatoes
1.5 cups beef stock
1/4 cup parsley, chopped
2 tablespoons minced garlic
oil to cook
salt and pepper to taste
Instructions
Pat the meat dry and season with salt and pepper.
Melt the butter in a large oven-safe braising pan over medium to medium-high heat. If the pan is small, cook it in batches - about 3 minutes on each side until browned. Set aside to rest.
On the same skillet throw some oil and fry onion, carrots and garlic. Cook until softened about 5 minutes.
Put the meat back in the dish and add wine. Let it cook for 2 minutes.
Add the beef stock along with tomatoes and bring to a boil. Then cover the pan and simmer for an additional 4 hours until the meat gets so soft that it can be separated with a fork.
Serve osso buco over polenta.
Notes
You can also put the braising pan into the oven for 4.5 hours at 300 F.
Nutrition Information:
Yield:
5
Serving Size:
1
Amount Per Serving:
Calories:

985
Total Fat:

45g
Saturated Fat:

20g
Trans Fat:

1g
Unsaturated Fat:

19g
Cholesterol:

332mg
Sodium:

639mg
Carbohydrates:

9g
Fiber:

2g
Sugar:

4g
Protein:

125g