This vegetarian version of the Beef Stroganoff is made with mushrooms and fettucini noodles. Hearty, savory, and comforting, the whole family will love this dish!
---
Who Invented the Mushroom Stroganov?
No one really knows the answer to this question. Mushroom Stroganoff, Mushroom Strogonoff, or Mushroom Stroganov started off as a vegetarian variant of the Beef Stroganoff.
Using either cultivated or wild mushroom recipes, this Mushroom Stroganoff gives vegetarians the same heartiness that the Beef Stroganoff gives non-vegetarians.
The Beef Stroganoff is a 19th-century Russian invention that sautées beef in a sauce of sour cream with or without mustard.
The recipe was the creation of a French chef working for the Russian Stroganovs family. After some time the recipe was also published in Elena Molokhovets's 1871 book called A Gift to Young Housewives.
And once the Stroganoff recipe was introduced to the world, it took on many forms, the Chicken Stroganoff, Mushroom Stroganoff, and more!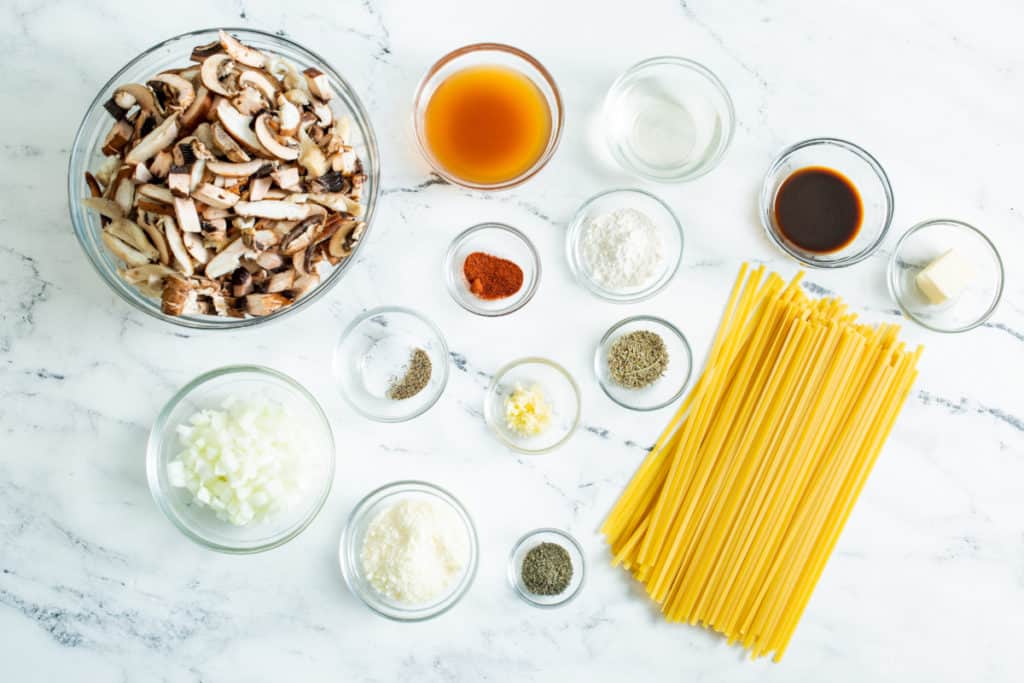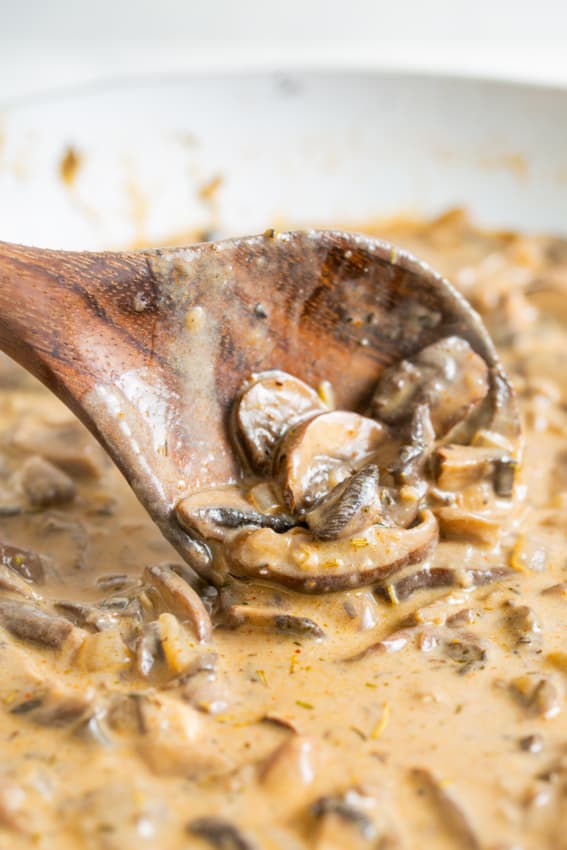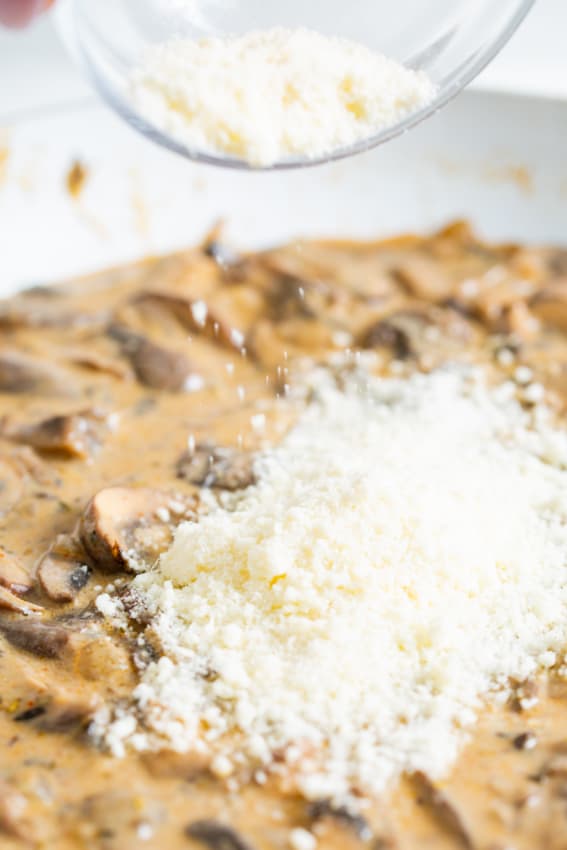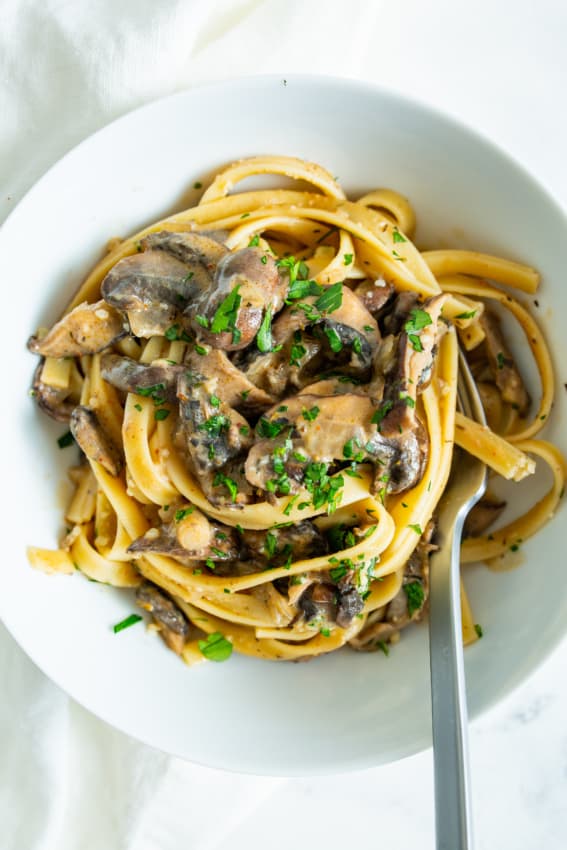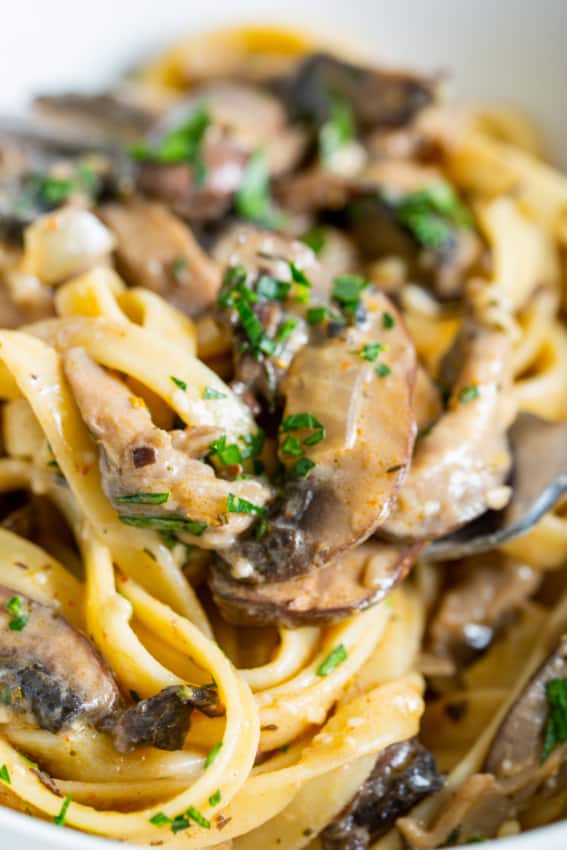 ---
Recipe Pointers For Stroganoff Recipe
This recipe is perfect for Meatless Mondays!
Use any wild mushrooms or mix of mushrooms you prefer. If you can't find wild mushrooms, button mushrooms, portobello, or baby bella mushrooms will also work.
If you want, you can add more veggies such as carrots or spinach to the mushroom stroganoff. Just fry them with the mushrooms before adding the sauce.
The same recipe works with beef stroganoff or chicken stroganoff. Only make sure you fry or saute the meat first.
You can add sherry instead of white wine!
Add more sweet peppers or chili peppers to make it spicier.
Although fettucine and fusili go perfectly with Mushroom Stroganoff, you can also use any other pasta or noodles.
If you like, you can use egg noodles that will keep you feeling fuller!
---
Common Questions About Mushroom Stroganoff?
What is Stronganoff Sauce made with?
Stroganoff Sauce is a roux based sauce made of butter, flour, garlic, onion, tomatoes puree, mustard paste, and sour cream!
Can I thicken the sauce more?
To thicken the sauce more, add 1 or 2 more spoons of corn starch or flour to the mushroom or vegetable broth.

What can I use instead of cream and cheese in the Mushroom Stroganoff?
You can use Greek yogurt instead of cheese and cream for this sauce.
Can I make the Stroganoff gluten free?
To make the Stroganoff recipe gluten-free, use gluten-free flour and gluten-free pasta or noodles.
Can I make this a vegan Mushroom Stroganoff recipe?
To make this dish vegan, use vegan butter instead of butter, almond milk or coconut milk instead of cream, and vegan cheese instead of parmesan.
Can I refrigerate or freeze Mushroom Stroganoff?
You can refrigerate the Mushroom Stroganoff in the refrigerator for a few days. It's better not to freeze it as it will split.
Yield: 4/5 portions
Mushroom Stroganoff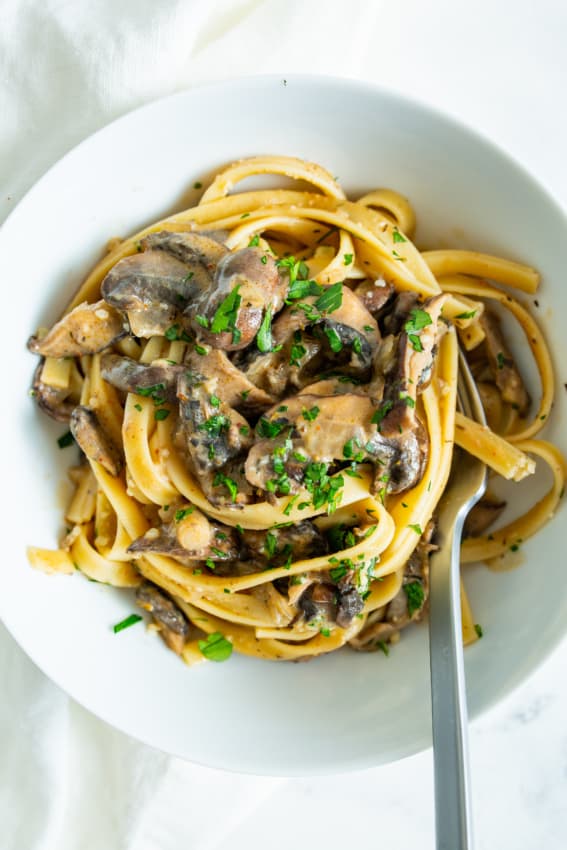 This vegetarian version of the beef stroganoff is made with mushrooms and fettucini noodles.
Hearty, savory, and comforting, the whole family will love this dish!
Ingredients
8 oz noodles (fettuccine ideally)
5 cups of mushrooms (2-3 types you can mix in)
1 onion
3 cloves of garlic
1 spoon of thyme
1 spoon of sweet pepper
1 spoon of rosemary
1/2 cup of white wine
3/4 cup of mushroom or veggie bouillon (broth)
1 spoon of Worcestershire sauce
2 spoons of flour
1/2 cup of parmesan cheese
2 spoons of butter for frying
salt & pepper to taste
Instructions
If using any dry mushrooms, soak them overnight.
Cook noodles according to instructions. Set aside when cooked.
While noodles are cooking, chop mushrooms (slices or quarters), onion, and press garlic, salt, and pepper. Fry them with butter until soft.
Sprinkle the flour over the pan to create a base for the sauce. Once thickened add the broth, wine, Worcestershire sauce, thyme, sweet pepper, and rosemary.
Once boiling stir in sour cream (It's better to first mix the sour cream with a bit of broth in a separate cup, so the cream doesn't curdle).
Add the noodles and cook for an additional 5 minutes.
Sprinkle with parmesan and serve.
Notes
You can adjust the amount of cream used in case you want to eat it more or less creamy.