Roasted poblanos sauteed with onions and corn, and topped with Mexican cream and cheese are simply delicious. Some consider it a dish on its own and fill it with some tortillas, topped with cilantro for a perfect meal, but others consider it a poblano cream sauce as an addition to other dishes.
---
What are Rajas con Queso?
What is rajas con crema y elote? What is this Mexican dish?
The rajas poblanas con crema or rajas con queso is a popular Mexican dish that originated in Central Mexico.
Although domesticated cattle arrived on earth 10,500 years ago, it was in 1521 that cows reached the New World. The Mesoamerican diet did not include milk, cheese, or dairy products before the arrival of the Spanish conquistadors.
But cattle was brought to Mexico in 1521 by Gregorio de Villalobos and Mexicans soon incorporated milk and cheese into their diet.
The mixing of the chile poblano with cream or cheese resulted in the creation of the rajas con crema or rajas con queso, in the area around Puebla where chiles were normally cultivated.
Made of chile poblano with onions, corn, cream, and cheese, this mildly spicy dish involved roasting the peppers, sauteing them with onions, and cooking in a creamy sauce.
You'll often find the chile poblano rajas con queso served at the taco stalls called taquizas. Believe me, the homemade sauce is incomparably better than a jarred store-bought version.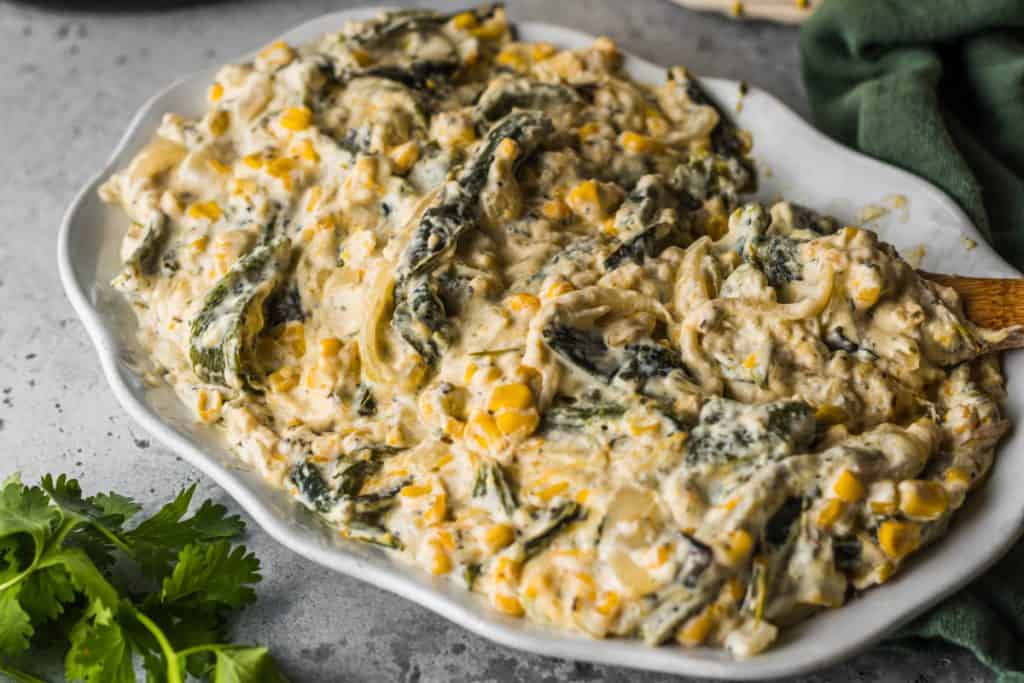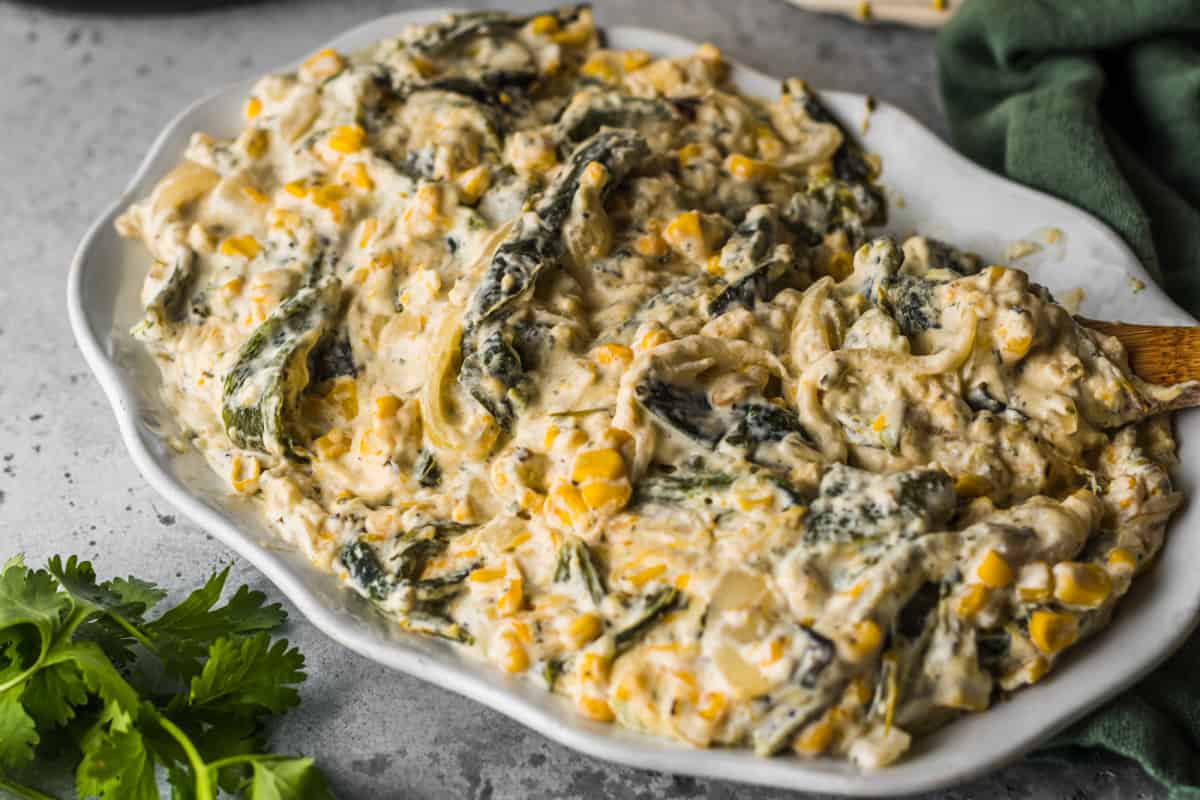 What are Poblano Peppers?
Poblano peppers are mild green peppers from the state of Puebla, Mexico. When ripe, the peppers turn red and become more flavorful and significantly hotter. The dried poblano peppers are heart-like in shape and called anchos or chile anchos.
Poblano peppers are used in cooking in both forms – fresh or dried – and are used to make sauces, canned, stuffed, or included in other dishes.
The poblano cream sauce is so delicious, you'll definitely go back for seconds!
---
What Ingredients Do I Need to Prepare Salsa Poblano?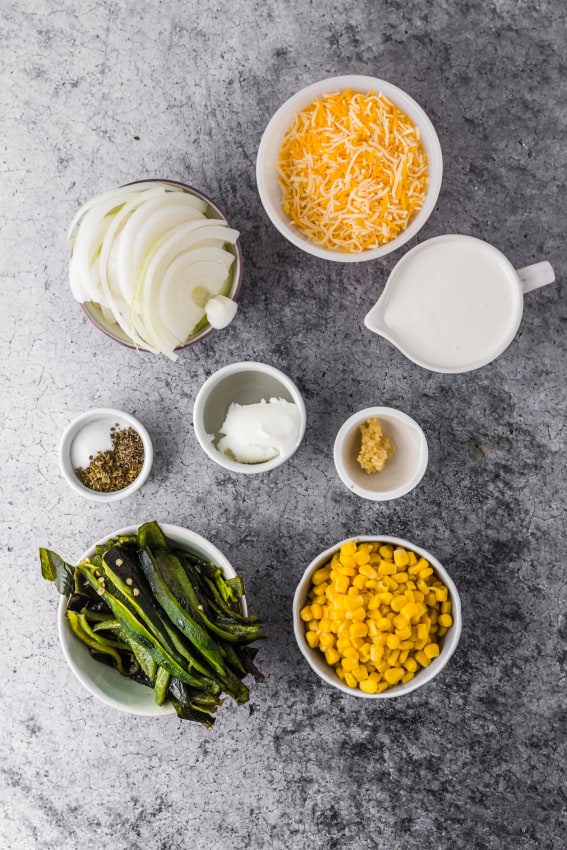 Poblano peppers – these are large green chilis.
Onion – white or yellow onions cut into 1/4th inch strips are sauteed with the peppers.
Garlic – this is important for the flavor.
Lard – pig's fat.
Corn – you can use frozen, canned, or fresh corn off the cob.
Salt
Pepper
Cream – I highly recommend Mexican crema like the Cacique brand, but if it's not available, you can use heavy cream or sour cream.
Cheese – use a good melting cheese. Oaxaca cheese, Mozzarella, Monterrey Jack, or Colby Jack are perfect choices.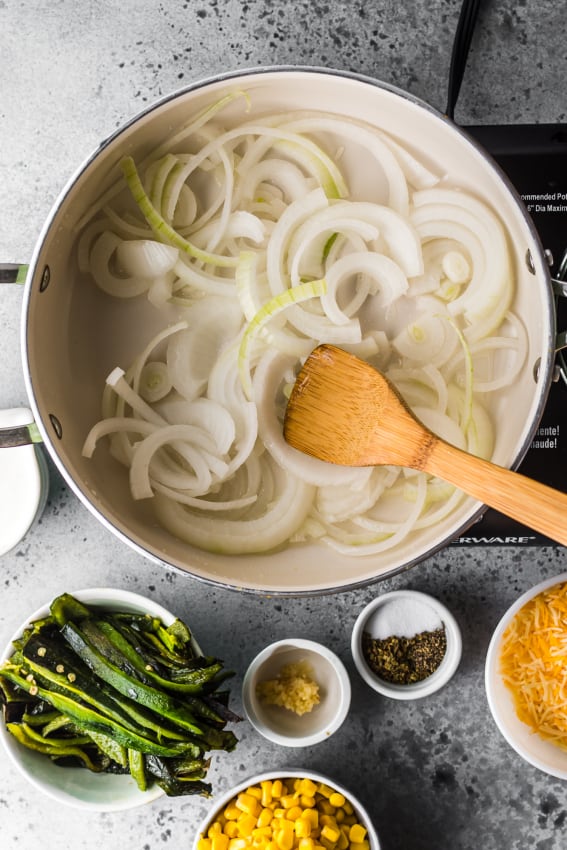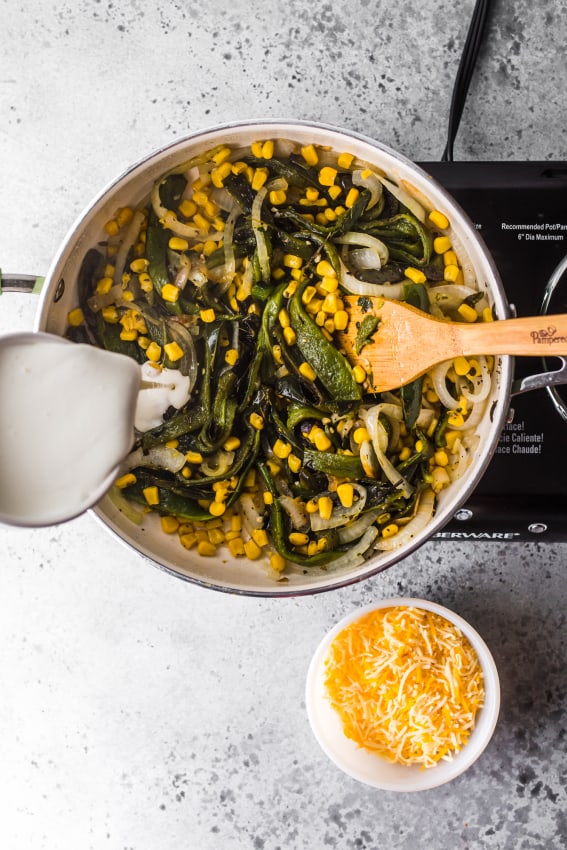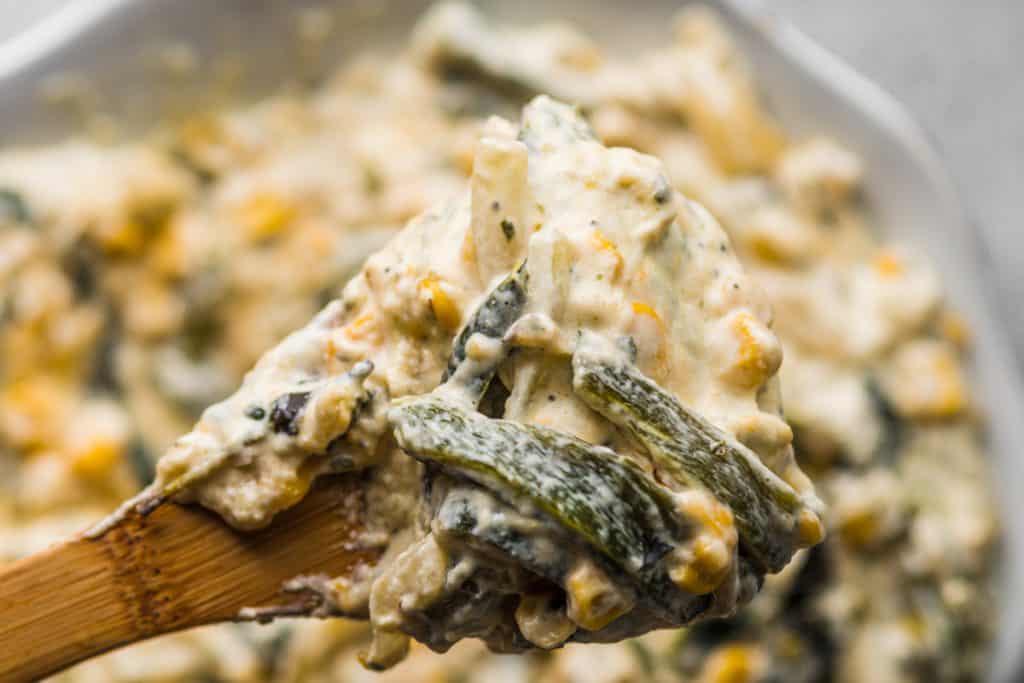 ---
Recipe Pointers For Rajas con Queso Recipe
This is the perfect meatless wholesome meal for weeknight dinners!
You could also add a cup of chopped mushrooms or diced boiled potatoes.
Make sure the Mexican crema, heavy cream, or sour cream is at room temperature before adding to the dish.
If you cannot find chile poblano, use any good local mildy spicy peppers.
Serve the poblano crema with rice, tacos, or tortillas! Similar to carnitas, it's really up to you!
You can also stuff the rajas con queso into a tamale to create a completely different dish!
Or serve as an appetizer with nachos!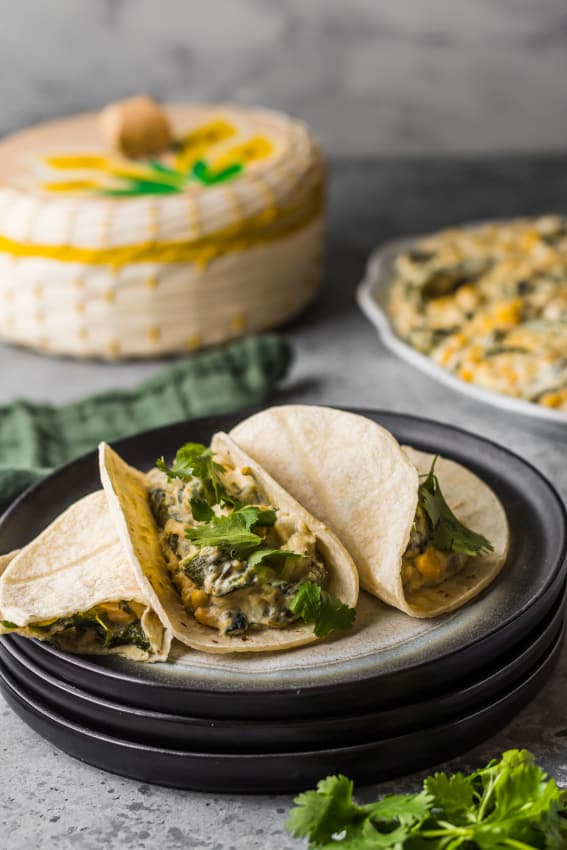 ---
FAQs about Salsa Poblano
How do I roast the poblano peppers?
To roast these peppers, place them on a tinfoil-lined cookie sheet. Place under the broiler till one side is blackened and bubbled, turn them over, and blacken the other side.
Remove and cut off the top, and remove the seeds. You can pull off the skin if you want, but do not wash it. Cut roasted chilis into strips and use.
What does rajas mean?
Rajas is a Spanish word meaning strips or slices. In this recipe, it refers to the chile poblano that are cut into strips after roasting.
Do I have to use lard? Can I use anything else?
You can use olive oil or other oils if you don't want to use lard. I like to make things as authentic as I can, and lard gives it a delicious flavor. If you can get some from a local meat market, it's even better.
Can I make the dish without cream?
If you made it without cream it would be a totally different dish, not rajas con crema. The cream is an essential ingredient as it balances the heat of the poblano peppers and adds to the creaminess of the dish.
What are the other names for rajas con queso?
Mexican rajas con queso is also called rajas con crema, rajas con crema y elote, rajas con crema y queso, rajas poblano, rajas poblano con queso, rajas poblano con crema, rajas de chile poblano, salsa poblano, or poblano cream sauce.
How do I store the poblano cream sauce?
Leftover rajas con crema can be stored in an airtight container in the refrigerator for up to a week. Heat before serving.
Yield: 6 Servings
Mexican Rajas con Queso Recipe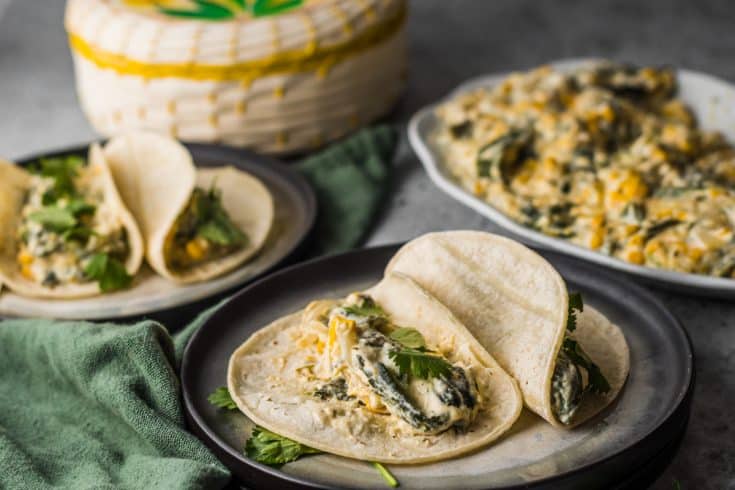 Roasted poblanos sauteed with onions and corn, and topped with cream and cheese are simply delicious. Fill some tortillas, and top with cilantro for a perfect meal!
Ingredients
2 Tablespoons lard, olive oil, or vegetable oil
1 white onion, sliced into ¼ inch slices
6 Poblano peppers, roasted and cut into strips
4 cloves garlic, minced
1 ½ cups corn
1 teaspoon salt
1 teaspoon pepper
1 ½ cup cream, (Mexican crema, heavy cream or sour cream)
1 cup shredded cheese, (good melting cheese such as oaxaca, Mozzarella, Monterey Jack or Colby jack)
Instructions
Heat the lard in a large saute pan, then add the onions and cook till translucent, about 10 minutes.
Add the poblano peppers, garlic, corn, salt and pepper, then cook for 5 minutes.
Add the cream and cheese and stir until melted.
Remove from the stove.
Serve in tortillas or as a side to your favorite meat dish.
Nutrition Information:
Yield:
6
Serving Size:
1
Amount Per Serving:
Calories:

411
Total Fat:

37g
Saturated Fat:

20g
Trans Fat:

1g
Unsaturated Fat:

15g
Cholesterol:

90mg
Sodium:

494mg
Carbohydrates:

14g
Fiber:

2g
Sugar:

5g
Protein:

8g