A staple of Polish cuisine, kielbasa sausages are eaten fried, grilled, baked, boiled, and in many more ways. You'll find these meaty delights added to rice, pasta, soups, and even salads. Here's everything you need to know about the origins of sausages, how Polish sausages are made, and how to cook kiełbasa.
---
What Is Kielbasa?
In Western culture, most people think kiełbasa refers to a U-shaped pork sausage that's available under that name. But kiełbasa is really the generic name for Polish sausages of all types.
Kielbasa, pronounced kiel-bas-uh or keel-baah-sah is derived from the Turkish word kol basa (hand pressed) or kul basa (ash pressed) which refers to the method used while making these sausages. Of course, there are many ways of making sausages and many different spices added as well.
The meats used to make kielbasa include turkey, chicken, lamb, pork, beef, veal, and venison. The kabanos type of kielbasa sausages are sometimes made of horse meat too!
Since the term kielbasa can refer to any Polish sausage, a modifying word is added to distinguish between different types of kielbasa. For example, kiełbasa krakowska or kielbasa myśliwska.
---
The History Of Polish Sausages
Humans have been preserving meat for centuries. Ancient Mesopotamian tablets from 2500 BC give details on preserving meat in intestine casings. Chinese lup cheong sausages have preserved lamb or goat meat since circa 580 BC.
Even the ancient Greeks made sausages. Homer wrote about blood sausages in the Odyssey, and Aristophanes wrote The Knights, a play about a sausage vendor named Agoracritus who becomes the leader of the people.
Ancient Roman smoked lucanica sausages were documented in the 1st century AD by Pliny the Elder in his book Apicius.
Poland too has been producing sausages as far back as we can remember. Production of Polish sausages increased in the 14th century as the royals organized more hunting expeditions and game meat was often gifted to others.
Traditionally however, Polish sausages were smoked instead of dried, as detailed by the historian Jan Długosz in his Annales seu cronici incliti regni Poloniae The Annales. Stanisław Czerniecki, in his 17th-century Polish cookbook, records a number of recipes for Polish sausages.
With 19th-century industrialization, sausages production began commercially too. And there's not a home in Poland that doesn't have a plate of sausages at least once a week.
You'll find kielbasa in the Easter basket too, as a symbol of abundance, just like eggs and bread symbolize life. The entire church smells like sausages while the faithful wait for the priest to bless the basket!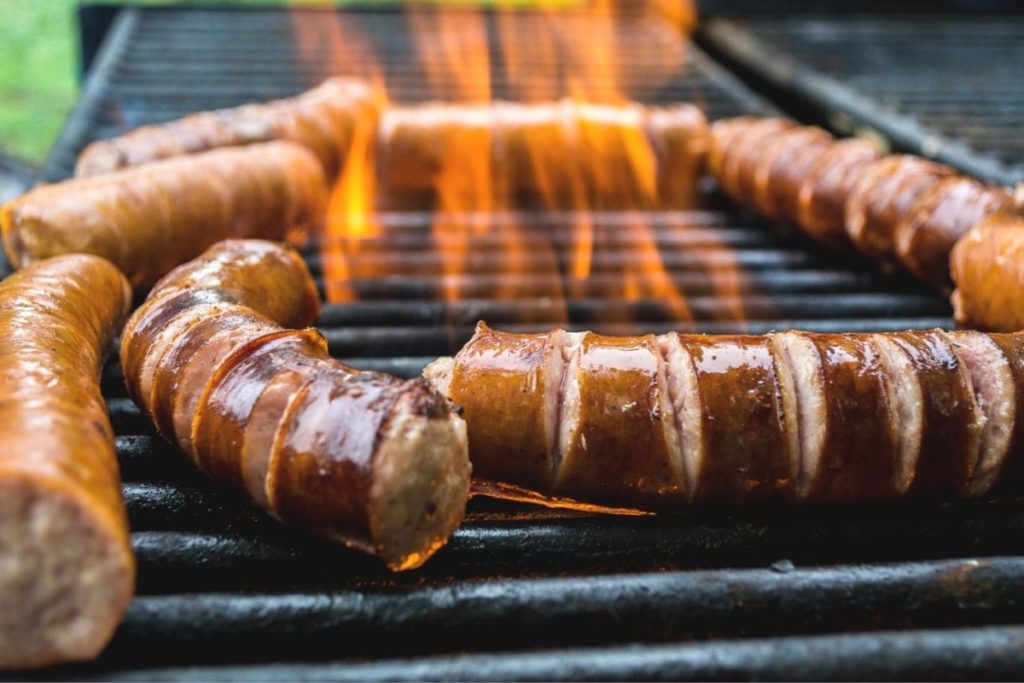 ---
How Is Kielbasa Made?
Kielbasa sausages are made by first grinding the meat with a mixture of fat. Some sausages require the meat to be ground really fine, while some need them coarse.
Depending on the type of sausage, now comes the curing of the meat with salt. Cured or uncured, the sausage mixture is blended with spices or other flavorings before they are stuffed into casings made of pork intestines.
Yes, you get casings that aren't made from intestines in modern times, but if you want the traditional casings, head over to an artisanal store or local Polish shop. If you're trying this yourself, make sure the casings aren't filled too tight or they'll burst.
You can use manual stuffers or automated sausage stuffers for this. Once the sausages are made, they're hung out to dry or smoked or left raw.
How Are Sausages Named?
Polish sausages follow a few different naming conventions. They can either be named after:
the method that's used to make them, or
the meat or spice used in the sausage, or
the part of Poland where they originate.
Sausages that are left raw and must be cooked before eating are classified as surowa. Steamed and dried sausages can be parzona or suzona, while sausages that are smoked to higher temperatures are called pieczona.
Salceson pomorski is Pomerian sausage made with head cheese, kielbasa boczkowa is made with bacon, kielbasa jalowcowa is made with juniper, kiszka watrobiana is made with pork liver, and so on.
Kiełbasa krakowska were first made in Krakow, Kiełbasa bydgoska originated in the city of Bydgoska, Kiełbasa litewska were adopted from Lithuania.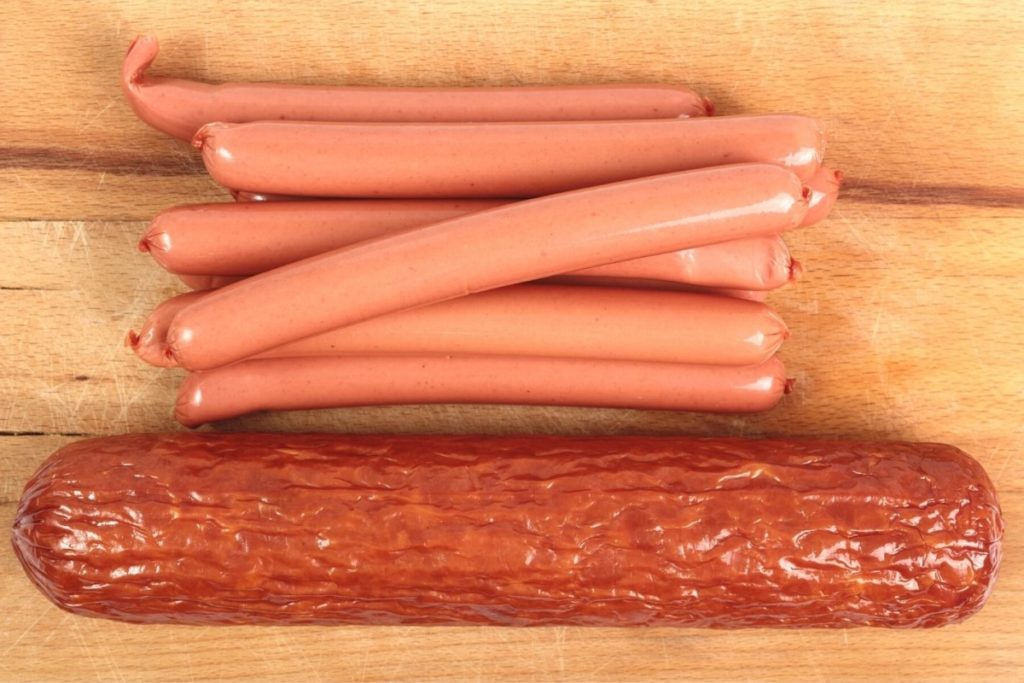 ---
What Are The Different Types Of Kielbasa Sausages?
Kiełbasa Polska (Polish Sausage) or Kiełbasa Starowiejska (Old Countryside Sausage)
Wiejska means rural or country. Kiełbasa Wiejska or Farmer's Sausage is one of the most traditional Polish sausages. Also called Polska Kielbasa or Starowiejska, Wiejska are lightly smoked sausages that can be eaten raw. This very garlicky pork sausage is flavored with mustard seeds, pepper, marjoram, and thyme. Polska sausages are the perfect reminder of an outing in the rural countryside.
Grillowa
Plump and juicy sausages that are perfect for grilling! Tender and fatty too!
Kabanos
Looking like thin long sticks, these all-spice-flavored sausages are smoke-dried and chewy. When made with chicken they're called kabanosy z kury. When made extra spicy they're called kabanosy pikantne.
Kielbasa Pyszne (Barbecue Sausage)
Another set of thin sausages, these hot dog-shaped sausages are perfect for grilling or BBQs. What sometimes makes them preferential to the thick grillowa is the collagen casing that prevents bursting.
Kiełbasa Jałowcowa
Juniper berries and nutmeg give this sausage flavor. No wonder the name, jalowcowa or juniper. These firm mixed beef and pork smoked sausages also contain mustard and allspice; and are smoked with juniper wood.
Kiełbasa Myśliwska (Hunter's Sausage)
A short and thick sausage that's about an inch in diameter, the hunter's style kielbasa mysliwska is dark in color and smoky. The extensive drying this sausage undergoes makes it perfect for outdoor activities such as camping, hiking, or fishing.
Kiełbasa Lisiecka (Sausage from Liszki)
Originally from Czernichów and Liszki and popular across the world, it's said that the lisiecka was a favorite of Pope John Paul II. This smoked sausage made with white pepper and garlic was added to the register of protected designations of origin and protected geographical indications in October 2010.
Kiełbasa Żywiecka (Beer Sauasge)
It's said Kiełbasa żywiecka originated in the beer region of Żywiec, but it's easily available all over the country. Beer sausage is made with diced pork, garlic, and pepper.
Weselna (Wedding)
This double-smoked sausage is often served at weddings, and hence the name weselna. It's said it's perfect for sobering up wedding guests who've had too much to drink!
Kiełbasa Krakowska
These thick smoked sausages seasoned with pepper, garlic, and nutmeg are perfect for steaming. Krakowska can be either dry (sucha), steamed (parzona), or semi-dry (obsuszana).
Krakowska Parzona (Steamed Krakow Sausages)
Named after the erstwhile capital of Poland, the krakowka parzona consists of coarsely ground lean meat that's seasoned with pepper, allspice, allspice, garlic, and coriander. These sausages are first steamed, then smoked, and feel like ham.
Metka (Derived from the Mettwurst)
Classified as a fermented spreadable sausage, metka is a derivative of the German Mettwurst Sausage. The cold-smoked sausage is not cooked, but perfect for use as a spread.
Torunska (Sausages from Torun)
Originally from the city of Torun, this sausage contains medium ground pork, marjoram, garlic, and pepper that has been smoked and steamed.
Lesna (Forest Sausages)
The ground meat is seasoned with marjoram and garlic before being smoked with cherry wood. The casing turns a dark caramel color reminding you of the woods.
Parowki Wieprzowe Pork Sausages)
Different from the coarse lesna or wiejska, the parowki are made of pureed pork meat that are moderately smoked. When made from veal meat, they're called parówki cielęce. The parowki are perfect for grilling, frying or steaming.
Biała Kiełbasa (White Sausage)
These are the sausages you'll eat for the Christmas meal or Easter brunch with the Zurek. Biała kiełbasa are white Polish sausages that are perfect for soups, or simply for grilling.
Salceson Pomorski (Pomerian Head Cheese)
A regional delicacy, salceson is made with meat from the head of the pigs – usually skin, ears, tongue, and other offal meat. There are different varieties of salceson that may include some offal ingredients and not others, while some also include reasonable quantities of pork meat.
Kaszanka (Blood sausage – Also called Kiszka)
The name says it all! Reminding you of the haggis, these beef sausages are usually made with offal parts such as kidneys, livers, and hearts. The sausages are heavily seasoned and also include buckwheat in the mix, to which a good amount of blood is also added. These sausages are perfect for frying or grilling.
Krupniok (Blood Sausage)
This Silesian blood sausage contains a lot more blood than kaszanka or kiszka. Also made with barley or buckwheat, the sausage contains more offal than meat.
Domowa Sausages
These nitrate-free sausages are flavored with marjoram and coarsely ground. Dryish in texture, these sausages are firm and dark on the outside.
Kiełbasa Odessa (Ukranian Sausage)
These sausages are made with beef to which corn syrup or brown sugar are added for sweetening.
Kielbasa Czosnkowa (Garlic Sausage)
As the name suggests, the main taste you'll get from the Kielbasa Czosnkowa is garlic. This pork sausage also includes paprika, pepper, marjoram and coriander in varying amounts.
Szyszkowa / Podhalanska Sausage
This sausage from the Podhale highland region of Poland is made of coarsely ground meat that's molded into a flower-shaped casing.
Kielbasa Bydgoska (Bydgoska Sausage)
Really meaty, these sausages come from the city of Bydgoszcz. Made with pork butt, pepper, and marjoram, they retain over 87% of their original weight and contain over 98% meat. These lightly flavored meaty sausages taste best grilled!
There are a lot more Polish sausages that deserve a mention. Some of them include the krajowa, wedzona, kabanosy staropolskie, swojska, cygańska, zwyczajna, slaska, surowo wedzona, and more.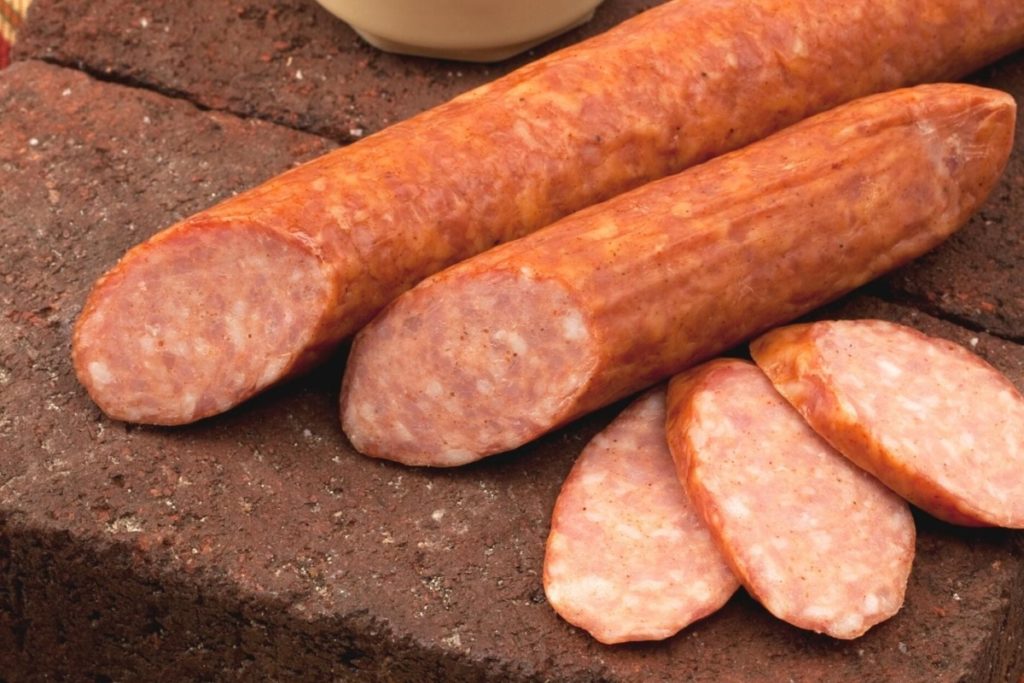 ---
How To Cook Kielbasa?
Kielbasa can be cooked in many different ways. Depending on the dish you're planning to use them in, you can do either of the following with kielbasa.
Sautée
Boil
Broil
Fry
Bake
Grill
Steam
Roast
Some varieties of kielbasa can also be eaten without cooking.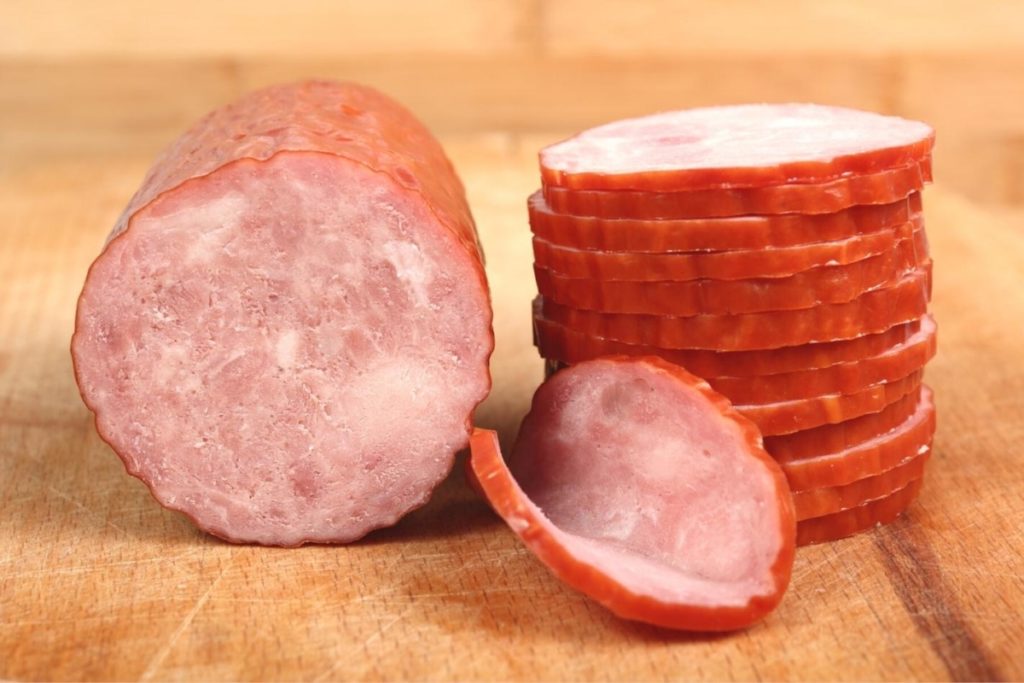 ---
What Does Kielbasa Taste Like?
Kielbasa sausages don't have a specific taste. The taste of the sausage will vary depending on the meat ingredients used to make the kielbasa and the spices used to season it.
Sausage taste will also vary based on the method used to make the sausages. For example, cured sausages will be salty, smoked sausages will have a nice smoky flavor.
---
What To Serve With Kielbasa?
Kielbasa sausages are such a versatile dish, they go well with everything! Here are just a few of the foods you can serve with kielbasa!
Fried Onions
Boiled, mashed or fried potatoes
Horseradish
Mustard
Toasted rye bread
Fried rice
Vodka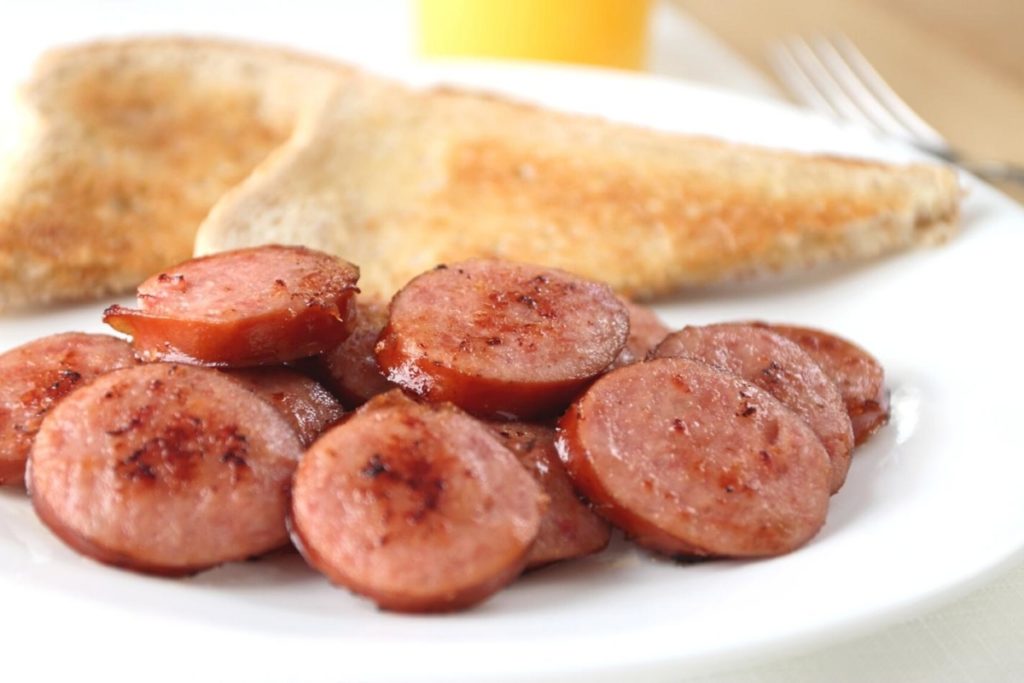 ---
Popular Polish Dishes Using Kielbasa Sausages
Kielbasa always has a place at the Polish table, be it for breakfast, lunch, or dinner. You'll find it added to some of these popular Polish dishes.
Fried kielbasa with pierogi
Kielbasa and pasta or fried rice
Sauerkraut and kielbasa
Kopytka and kielbasa
Grilled kielbasa with burger buns
So that's everything you need to know about Polish sausages! Any questions? Comment and let me know!