Zapiekanka, also known as Polish pizza is popular Polish street food. You'll love this Polish open sandwich is topped with mushrooms, mozzarella cheese, and more!
What Exactly Is Zapiekanka?
Often served at street stalls in Poland, zapiekanka is a toasted open-topped or open-faced sandwich that was invented in the 1970s.
It's said that Edward Gierek, secretary of the Polish United Workers' Party brought French baguette production to Poland at the time. With poverty, communism, lack, and the need for better things all taking center stage, the Polish locals found a way to replicate baguettes.
These rolls, usually veka, bułka francuska or bułka paryska would find their way to street corners where vendors topped them with cheap and easily available ingredients. A steaming mass of ketchup, cheese, mushrooms, fried onions, and butter on an open-faced Polish roll soon became a sought-for dish.
Made in microwave ovens, some versions of the dish went as far as adding ham or kielbasa on top. The easy-to-obtain street food was popular for locals visiting bars or for friends sharing a cheap meal.
To this day in Poland, you'll find street corners selling traditional and more modern versions of this iconic Polish food from 5 to 15 Zloty (less than 4 USD).
If you do visit Poland, you absolutely must visit the popular zapiekanka stand Bar Pod Okraglakiem in the Plac Nowy in Kraków. But until then, here's how to make the Polish open-topped baguette at home!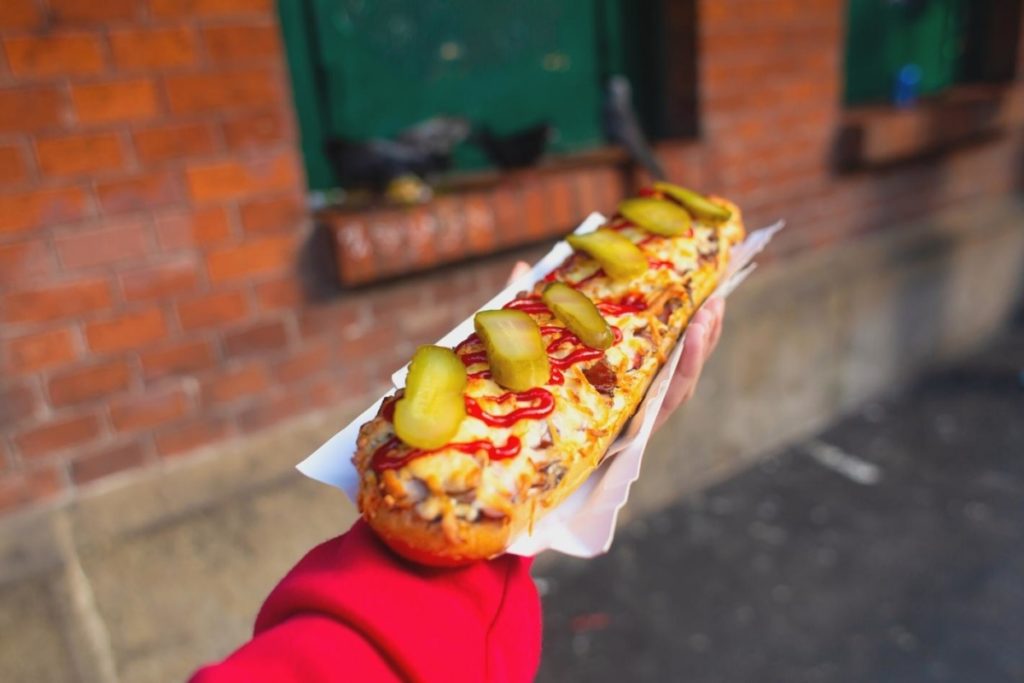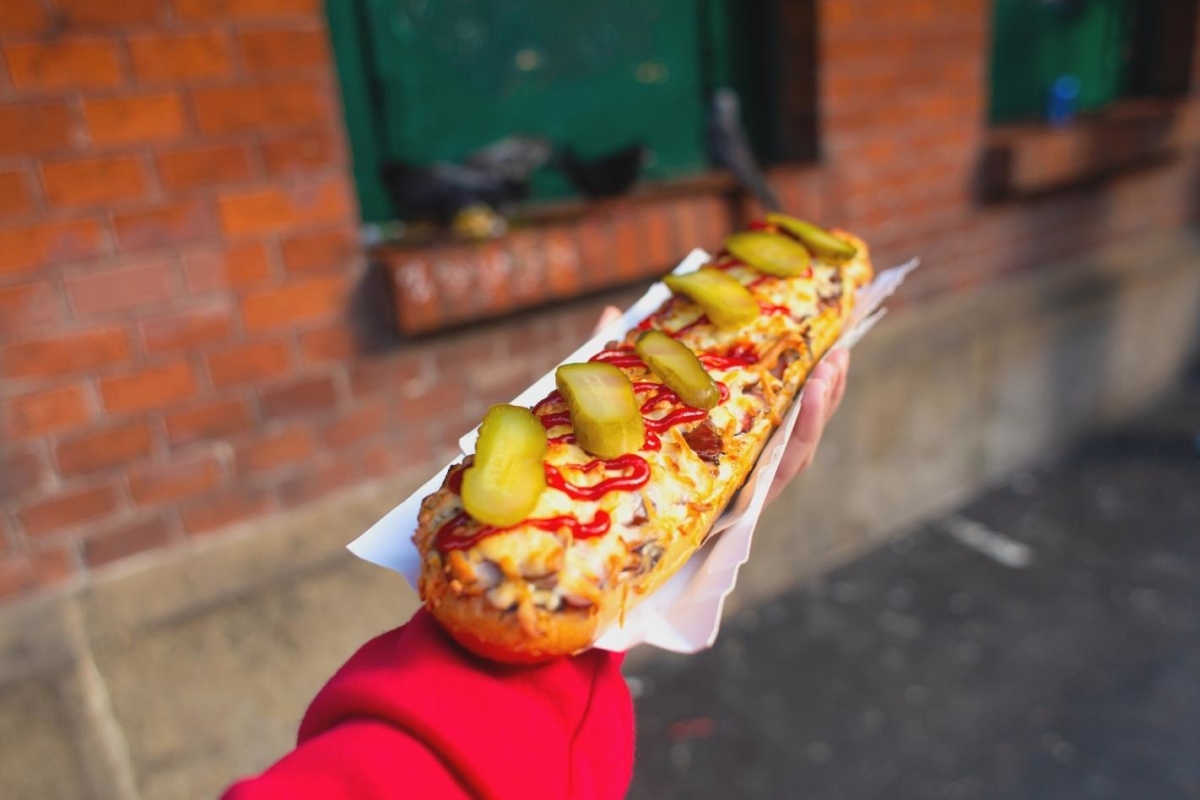 ---
How Is The Open-Faced Baguette Made? What ingredients do you need to make Zapiekanka?
You don't need to gather many ingredients to make a tasty Polish zapiekanka. The most important ingredient is bread, preferably baguettes, sliced in half.
These baguettes take the place of the Polish bread roll called bułka francuska or bułka paryska which are used to make the zapiekanka. Most people call it bagietka.
You will add a good amount of mozzarella cheese, sliced button mushrooms, onions, garlic butter, ketchup, and salt and pepper to taste. Some add bell peppers too. That's really all you need for a good zapiekanka!
If you want a meaty zapiekanka, you can add any of the following toppings:
Modern versions of the Polish pizza may also include olives, feta cheese, pickled cucumbers, pineapples, or barbecue sauce.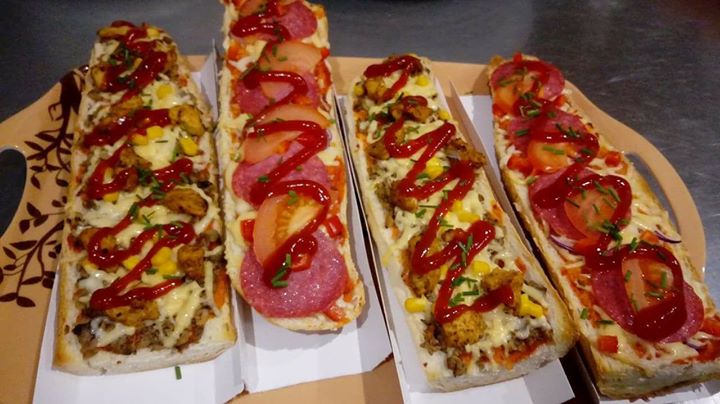 ---
Recipe Pointers For Polish Pizza – Zapiekanka Recipe
You can replace the baguette with any other long bread rolls.

You can make it veg with mushrooms, sauce, and cheese, or you can make it non-veg by adding ham, bacon, and more.
Add any other toppings that you like! Pickled cucumbers are perfect
You can replace the onions with scallions or leeks, alternatively with fried dried onions
You can add chives or fresh herbs on top of the cheese
The plural word for Zapiekanka is Zapiekanki!
It's best to finish the zapiekanka on the same day
Serve hot topped with a lot of crusty cheese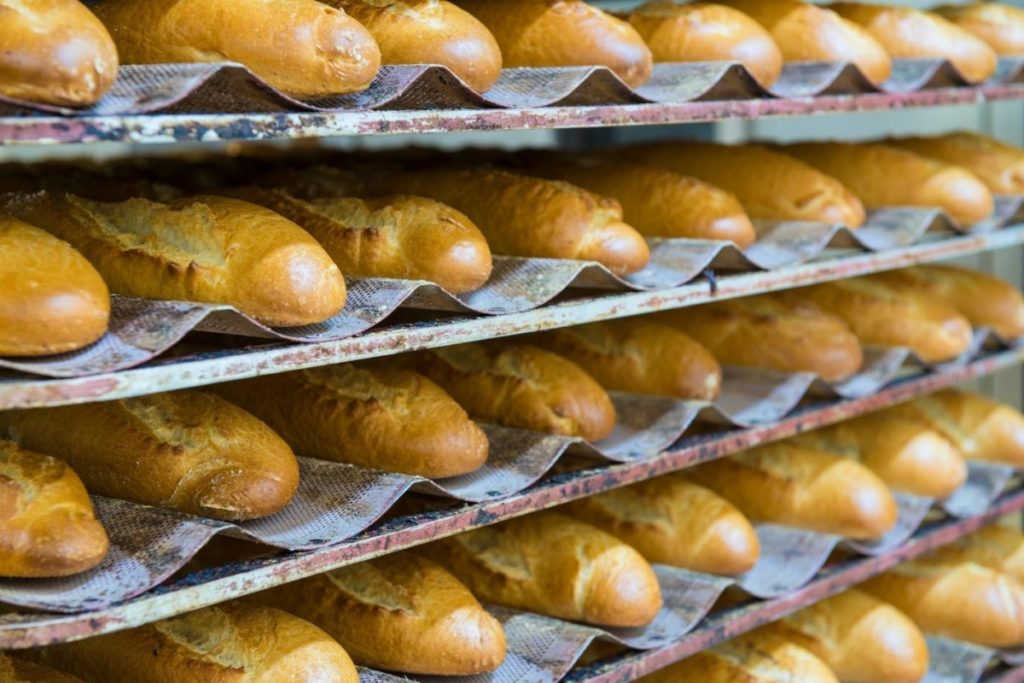 ---
FAQs about Zapiekana
What does Zapiekanka mean?
Zapiekana is derived from the Polish word zapiekac which means to toast or to bake. Zapeikanka implies a sandwich that has been baked till the ingredients combine to almost feel like one item with many flavors, and the cheese topping is perfectly crusty.
What are the other names of the bułka paryska bread rolls?
The bułka paryska have many regional names in Poland. They're called weka in Kraków, angielka in Łódź, linga in Częstochowa, lynga in the Upper Silesian region, gryzka in Central Poland, bułka wyborowa in Kujawy, bina in Podkarpacie Province, or kawiorka in Poznań
In neighboring Slovakia and Czechia they're called veka.
What other cheese can I use to make Zapiekanka?
You can replace the mozzarella in zapiekanka with sheep cheese, cheddar, oscypek cheese, or smoked gouda.
How should I store leftover Zapiekanka?
Zapiekanka is a dish that's best finished on the spot. But if you have leftover zapiekanka, you can store it in the refrigerator for up to 3 days. Reheat in the oven or microwave before serving!
Yield: 2
Zapiekanka: Polish Toasted Baguette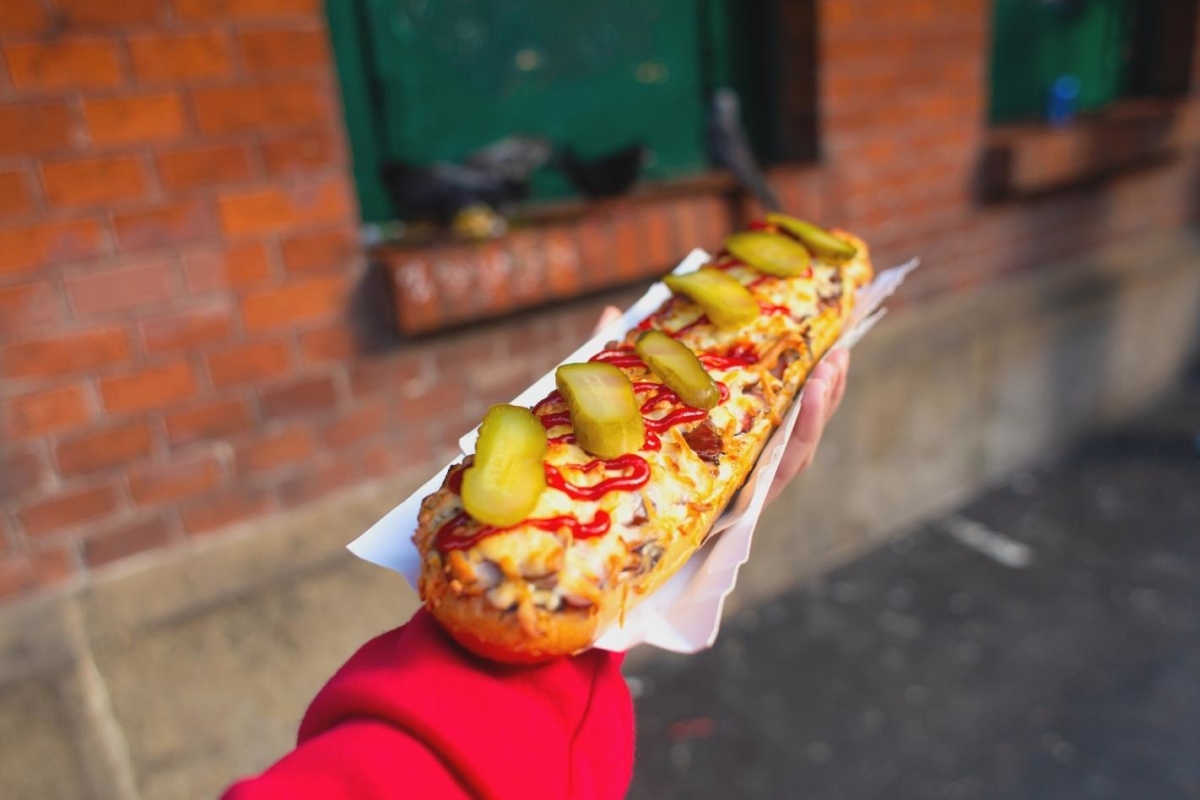 Zapiekanka, also known as Polish pizza is a popular Polish street food. You'll love this Polish open-faced sandwich topped with mushrooms, mozzarella cheese, ketchup, and more!
Ingredients
Main Zapiekanka Ingredients
1 long baguette
1 cup of of sliced mushrooms
2 cups of mozzarella cheese, shredded
1/2 cup of onion, chopped
garlic butter
Add Ons
1/2 cup of corn (optional)
1/2 cup of sliced ham (optional)
1/4 cup of bell pepper (optional)
Extras
ketchup
chives
salt
pepper
Instructions
Slice the baguette into half sideways and smear with garlic butter.
Set the over to 380 F.
Mix mushrooms with mozzarella cheese in a bowl. Sprinkle with some salt and pepper.
Optionally, you can also add some corn, as well as sliced ham and peppers (both thinly sliced) as well.
Put your cheese-mushroom mix on top of the baguettes and bake on a medium rack for about 3 minutes. You can put it all on a foil in case the cheese melts.
Take out, sprinkle with chives, and lots of ketchup! Serve hot!