These Polish yeast-based doughnuts are made to celebrate Fat Thursday before Lent begins, along with faworki. Filled with sweet cream or jam and rolled in powdered sugar, paczki a treat for everyone!
---
Unlike American donuts that are based on Dutch oliebolen Polish paczki don't have any "donut holes". They're big, round and filled with something. The Polish donut is one of the fattest and largest European donuts.
Originally paczki weren't meant to be sweet at all according to their earliest history. In Ancient Rome they were stuffed with fatback, until the Arabs arrived and made them sweet.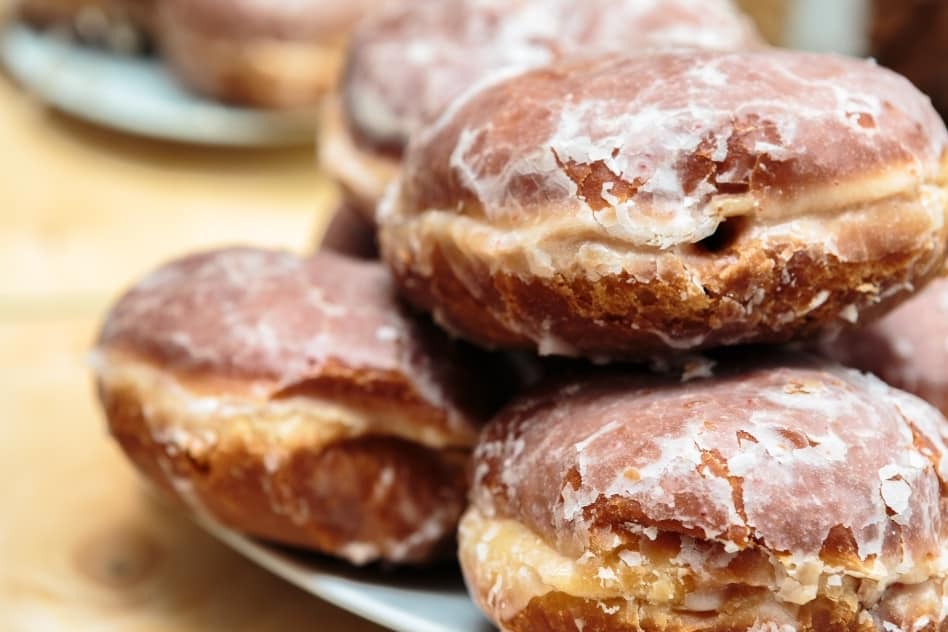 One of the old Polish customs related to donuts was to put a nut or an almond in some of them. The one who came across such a "surprise" was to be guaranteed happiness and prosperity throughout the year.
---
---
Recipe Pointers For Polish Paczki Doughnuts
Although paczki were traditionally made with lard, we use oil now. But feel free to use lard for frying if you want to make it more traditional.
If you want a better rise, you can follow the traditional method of preparing the batter with the yeast a day earlier and leave it to rest.
Use a flavorless oil for deep frying the paczki.
Sprinkle powdered sugar on the paczki or roll them in powdered sugar.
You can glaze the pączki with a glaze of candied orange and sugar.
If you do not have rum, you can use another grain alcohol such as vodka in the batter. This prevents the doughnuts from becoming oily.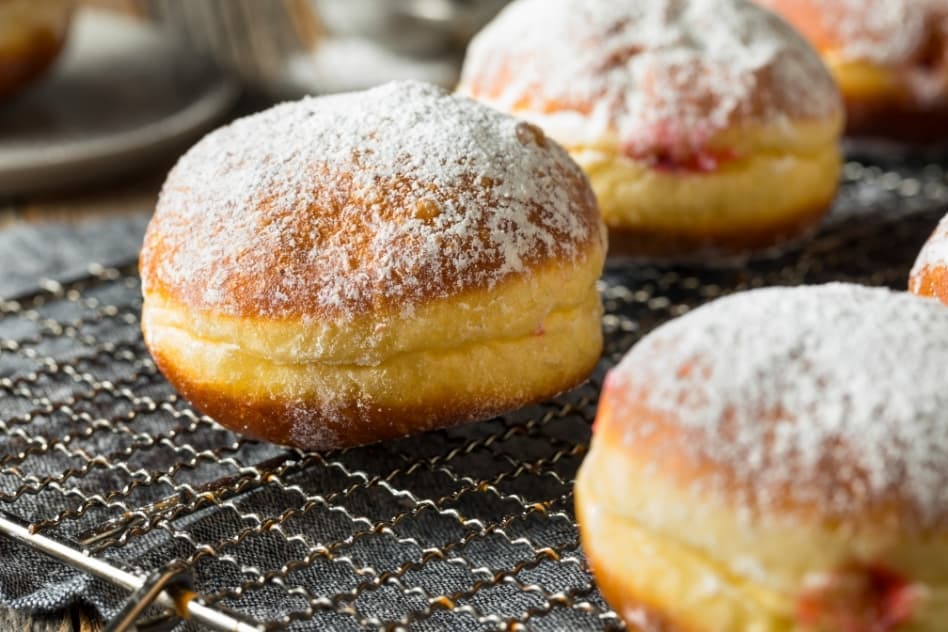 FAQs about Polish Paczki
How do you pronounce pączki?
Paczki is pronounced ponch-kee or pownch-ki.
What is the difference between a donut and a Polish pączki
Normal doughnuts are made of flour, with or without eggs and milk, and importantly have holes in them. Paczki are Polish donuts made without holes and a fruit filling. They are also made with yeast and contain more butter and eggs that make them richer than regular donuts.
When are paczki eaten?
Paczki are traditionally eaten in Poland on Tłusty Czwartek or Fat Thursday, which is the last Thursday before Lent begins.
In Michigan, USA, paczki are eaten on Fat Tuesday and it's called Paczki Day. In Illinois, USA, paczki are eaten to celebrate Casimir Pulaski Day. Paczki are also eaten by Polish folk around the world as a dessert treat.
Why are paczki made on Fat Thursday (before Ash Wednesday)?
Paczki are made before Ash Wednesday as a means to finish up all the lard, butter, sugar and other household ingredients that can't be eaten during the Lenten period.
What filling should I use for the Polish pączki?
You can fill the Polish doughnut with a sweet cream, apple filling, custard, lemon curd, rose hip jam, plum jam, blueberry jam, strawberry jam, or raspberry jam.
Is it possible to bake pączki?
Paczki taste best fried, but if you want to bake them, put them in the oven at 350 degrees Fahrenheit for 10 to 12 minutes.
Why do Poles eat more than one faworki or paczki on Fat Thursday?
Tradition says that if you eat only one doughnut, you'll experience poverty. So Polish folk eat at least 2 or more faworki or paczki on Fat Thursday to ensure they don't experience poverty. Did you know that at last count Poles ate over 100 million paczki on Fat Thursday every year?
Can you freeze pączki?
Paczki are best eaten on the day they're made. But if you must freeze them, store them in an airtight container with a sheet of baking paper between each layer. This will ensure they don't stick to each other, and they can last for up to 3 months in the freezer. Reheat before serving.
Yield: 15 paczki
Paczki: Polish Donuts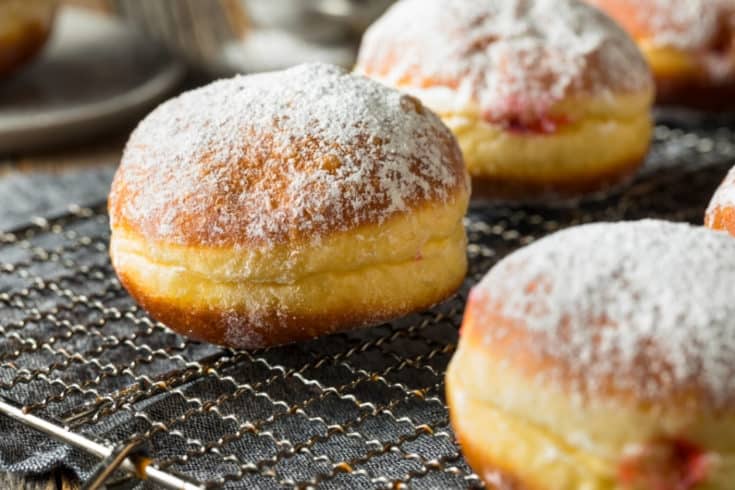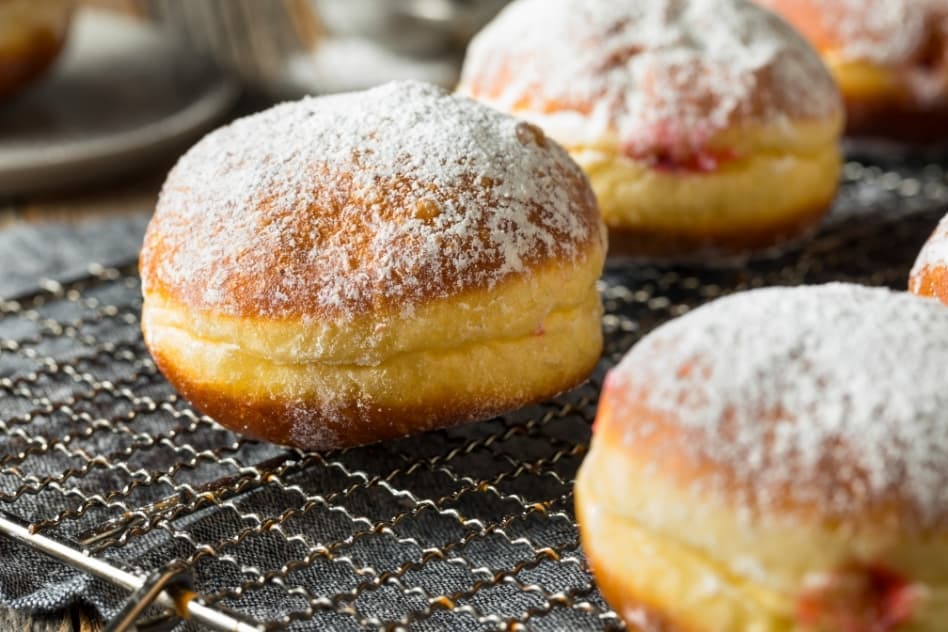 These Polish yeast-based doughnuts are made to celebrate Fat Thursday in Poland and Fat Tuesday in the US. Filled with sweet cream or jam and rolled in powdered sugar, paczki is a treat for everyone!
Total Time
1 hour
30 minutes
Ingredients
3 cups of flour
1 cup of milk
4 egg yolks
3 tablespoons of butter, melted
1 packet of dry yeasts
1/3 cup of sugar
2 tablespoons of rum
plenty of oil to fry (at least 4 cups)
For the filling & topping
1 cup of powdered sugar
Candied orange peel (optional)
Jam, cream, anything you want to fill your paczki with
Instructions
In a bowl put a tablespoon of flour, 3 tablespoons of warm milk, sugar, and yeast. Mix it all well, cover with a rag and set aside for 20 minutes. It should become all fluffy and foamy.
Mix the rest of the flour with egg yolks and melted butter. Then add the rest of your milk (not warm this time) and rum. The rum will make your paczki absorb less oil when frying later.
Knead the dough with hands for about 5 minutes. Cover with a rag and set to grow in a warm place for about 45 mins to an hour - you can use an oven shelf for that.
Once the dough is grown, set some flour on the dough board. Roll out the fluffy dough gently to a thickness of about 1" and cut out round paczki (you can use a bigger cup or glass to do it).
Form your cut out paczki round, but slightly flatter on top and bottom.
Fry them in oil heated to 345 F for about 2/3 minutes on each side, then place on paper towels to remove the excess oil.
Once cooled down, stuff them with a filling of your choice. You can sprinkle powdered sugar on top or prepare frosting with melted sugar and candied orange peels.
Recommended Products
As an Amazon Associate and member of other affiliate programs, I earn from qualifying purchases.