This earthy Mexican Red Pozole is made of tender pork cooked in a delicious chili broth with white hominy and topped with sliced veggies. A hearty comforting dinner for the entire family!
What is Pozole?
Pozole is a traditional Mexican stew or soup made with pork and hominy. Quite often the pork is replaced with chicken.
It is can usually seasoned with chili peppers, onions, shredded cabbage or lettuce, sliced radish, salsa, avocados, and lime.
Depending on the chilis used pozole can be red or green in color, but it's usually red and hence called pozole Rojo or red pozole.
Pozole is a popular wedding dish. I swear – every single wedding I went to in Mexico (and I've attended a decent number) served pozole, simply because it's hard to find a Mexican who doesn't like pozole.
---
The History of Pozole Rojo
The Instituto Nacional de Antropología e Historia in Mexico found that hominy or maize was sacred to the Aztecs. As a result, it was used in ritual sacrifices to the corn gods and for special occasions.
At this time, the meat used for pozole came from human flesh. Yes, you read that correctly.
After their hearts had been taken out and offered to the Gods as a sacrifice, the rest of the human bodies were chopped into bits and added to the pozole.
After the Spanish conquered Mexico, they put an end to the cannibalism and replaced the human flesh in pozole with pork meat.
The Franciscan missionary Bernardino de Sahagún who studied the Aztecs in the early 1500s said that it's quite possible that the Aztecs opted for pork meat to replace human flesh because it tasted the same.
Anyways, in modern times, pozole is often served at New Years', Christmas, birthdays, events, and popular holidays.
There are three types of pozole – pozole rojo (red pozole), pozole verde (green pozole), and pozole blanco (white pozole).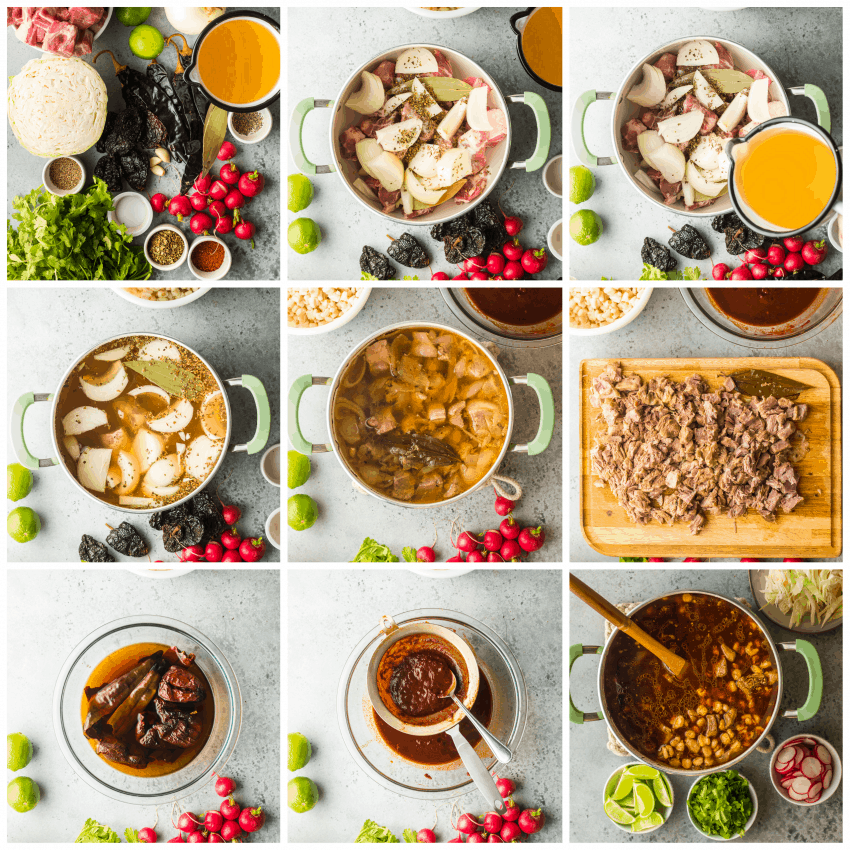 What ingredients do you need to make Pozole Rojo or Red Pozole?
You'll need to gather together these Pozole ingredients to make the best pozole recipe.
Pork meat – You can use pork shoulder or pork shank, or a mix of both
Onions – you will use an onion when cooking the pork meat, then you will also use a diced onion as a condiment for the Pozole.
Mexican Oregano – This can be found in most Mexican aisles at the grocery store, or Mexican stores. It is milder than Italian oregano, but if you can't find it, the Italian oregano can be used in its place.
Cumin seeds
Bay leaves
Sea salt or kosher salt
Chicken or Vegetable Broth – If you don't have any broth, you can add bouillon cubes to water and use them.
Guajillo chilis – These dried chilis are long and skinny and are the most commonly used chili for Pozole Rojo.
Ancho chilis – These are fatter dried chilis, that add to the richness of the dish, but you can omit them and just use all guajillo chilis if you prefer.
Hominy – You will need to drain and rinse the hominy before using.
Limes
Radishes (Optional)
Cabbage
Cilantro (Optional)
---
Recipe Pointers For Red Pozole Recipe
Pozole, also called posole is one of the heartiest Mexican dishes.
This pozole rojo is the perfect warming dinner for cold weather!
If using dried hominy, soak it overnight in cold water before cooking.
If you don't eat pork, replace it with chicken meat or shrimp.
The extra fat from the pork will rise to the surface of the dish. You can skim it off if you don't like it.
You can skip any of the veggies that you don't like.
Pozole rojo can be served with tostadas, tortillas, or nachos.
---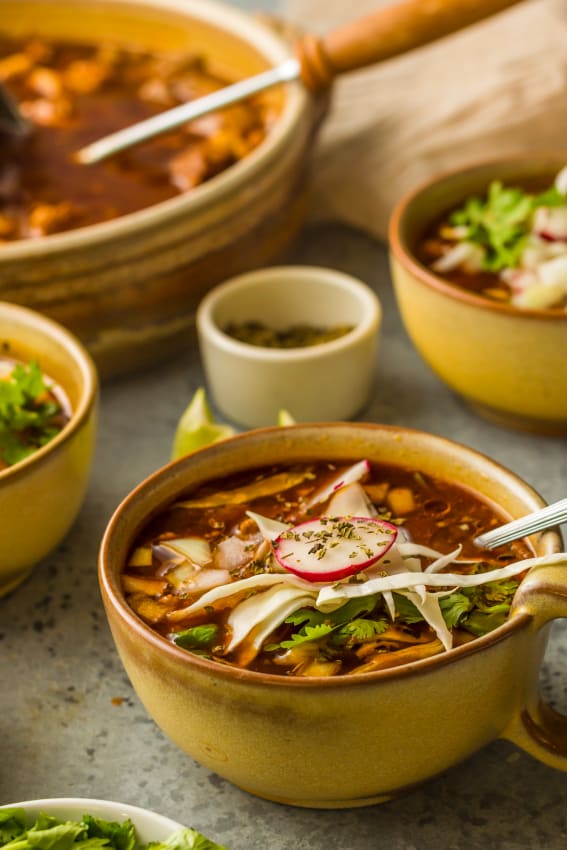 Troubleshooting for Making Easy Red Pozole
What is hominy?
Hominy is a dish made of dried corn that has been soaked in water and lime or lye to soften the outer hull and allow it to puff up. It tastes quite similar to a tortilla and has a chewy texture. Why? Because tortillas are made from masa which is made from dried hominy.
What does Pozole mean?
Pozole or posole is derived from a Nahauatl word Cacahuazintle that means 'corn'. It was named by the Nahuatl after the foam that was produced when cooking white corn.
Can I thicken the pozole?
Pozole is traditionally had as a thin gravy because you add vegetable garnishes to it. But if you want to thicken the pozole, make a mixture of 2 tablespoons of cornstarch with water. Add this mixture to the broth while it is simmering and stir well.
What kind of pork meat should I use?
Use either pork shoulder or pork shank for this pozole recipe. You can use meat with the bones as they add flavor to the pozole.
There is grease on the top of the pozole. What do I do?
You can skim off the grease with a spoon, or let it cool down. Once it cools, it will harden and you can remove it then.
How should I store Pozole?
Red Pozole can also be stored in an airtight container in the refrigerator for up to five days. Pozole can be frozen for two to three months before the condiments have been added. Just thaw, heat, and serve with a plate of condiments.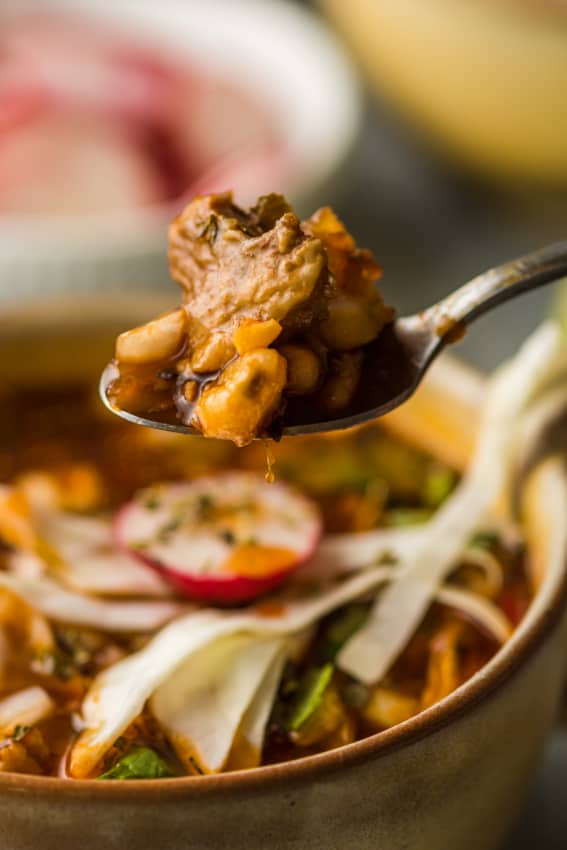 Red Pozole (Pozole Rojo)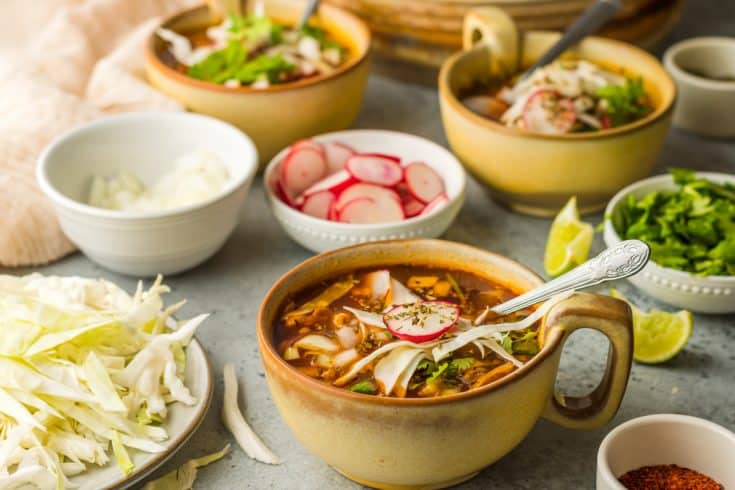 Garnished with radish slices, onions, cabbage and herbs, the tender pork for this Mexican Red Pozole is cooked in a delicious chili broth with white hominy.
Total Time
3 hours
10 minutes
Ingredients
3 pounds pork shoulder, pork flank. (A mix of both and you can also ask the butcher for some pork feet for added flavor.)
1 white or yellow onion, cut into wedges
3 whole cloves garlic
1 tablespoon oregano, divided
1 teaspoon cumin seeds
2 bay leaves
2 teaspoons sea salt or kosher salt
6 cups vegetable or chicken broth
7 dried guajillo chilis, washed, seeded, and destemmed
3 dried ancho chilis, washed, seeded, and destemmed ( You can use all guajillo if you prefer.)
2 cans (25 ounces each) hominy, drained and rinsed
2 limes, cut into wedges
4-5 radishes, thinly sliced
1 cup sliced cabbage
½ cup cilantro, chopped
½ cup onion, diced
Instructions
Wash and cut the pork meat into large cubes about 2-inch squares. Add the meat to a dutch oven.
Cut the onion into slices like orange slices. Add these to the pan.
Add half the oregano, the bay leaves, the cumin seeds, and the salt to the pan.
Pour the broth over the meat, making sure to cover the meat.
Cook the meat for an hour and a half till tender and falling apart.
While the meat is cooking, boil 3 cups of water.
Deseed and remove stems from the chilis, rinse with cold water to remove any dust or dirt.
Place them in a bowl and cover with boiling water. Place a bowl or plate on top of them to keep them under the water. The chilis need to soften and rehydrate by soaking for 30 minutes.
After 30 minutes, remove chilis and place them in a blender with half the water and blend for 3 to 5 minutes, until chilis are well blended.
Pour the blended chilis into a fine sieve and using the back of a spoon or a spatula, mash them through, leaving the pulp behind. Throw the pulp away. Repeat until all the chili mixture has been put through the sieve. This may take a little
while, but will be worth it.
When the meat has simmered for an hour and a half, remove with a slotted spoon and place on a plate.
Using two forks, pull the meat apart into bite-sized pieces.
Drain the hominy and rinse well, then add to the broth.
Add the meat and chili paste to the broth and stir.
Let this simmer for another hour to an hour and a half.
Slice two to three radishes into thin rounds. Shred a cup of cabbage, slice a lime into wedges, dice a slice or two of onion, chop some cilantro.
Place a tablespoon of Mexican oregano and chili flakes as well as all the vegetables onto a platter to serve with the pozole.
Serve each bowl of pozole with a bit of all the condiments.