The vegetable salad is a flagship dish of Polish cuisine and everyone has their own proven way of preparing it. This mouth-watering version of the Russian Salad or Polish potato salad called Jarzynowa Salad is Pyszne! That means Yum!
Who Invented the Vegetable Salad?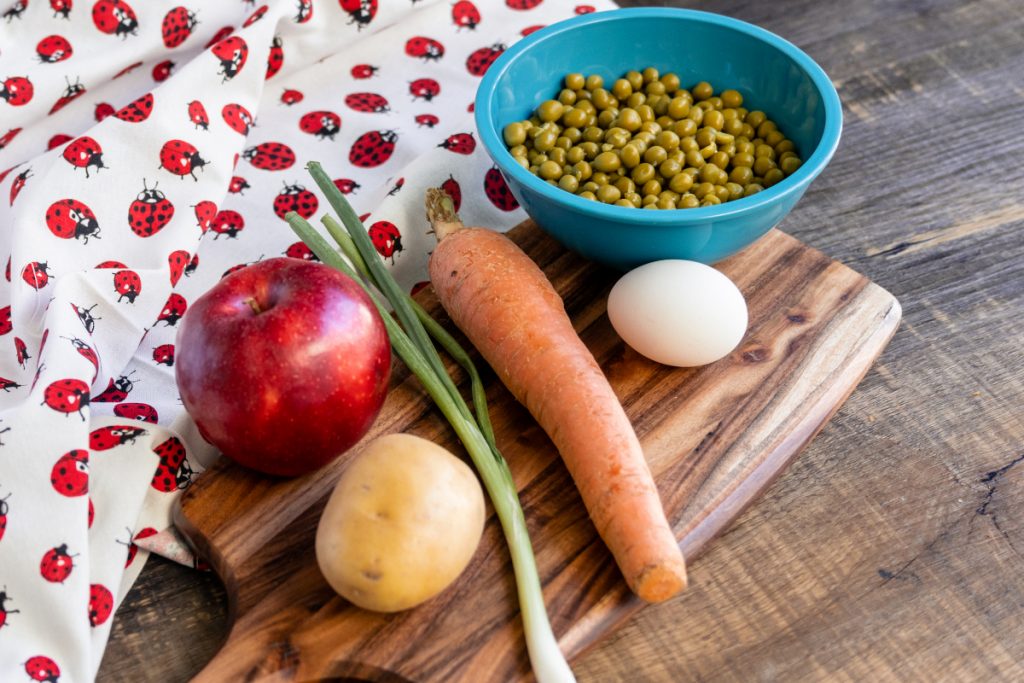 Lucien Olivier, a Russian chef of Belgian origin, made this salad a showpiece in his Moscow restaurant Hermitage in the 19th century but refused to give the recipe to anyone. It's said that his assistant Ivan Ivanov entered the room to see how it's prepared, then sold the recipe around.
The original composition of the "Olivier Salad" included hazel grouses, smoked duck, fish, tongues, crayfish, caviar, capers, pickles, and a Provencal-style sauce.
The oldest vegetable salad recipe from 1894 gives completely different ingredients than today.
According to the oldest found, the recipe for a vegetable salad was published in the journal "Our Food" (Наша пища), but the most common was the recipe published three years later in the book "Guide to learning the basics of culinary arts" (Руководство к изучению основ кулинаванкулинана.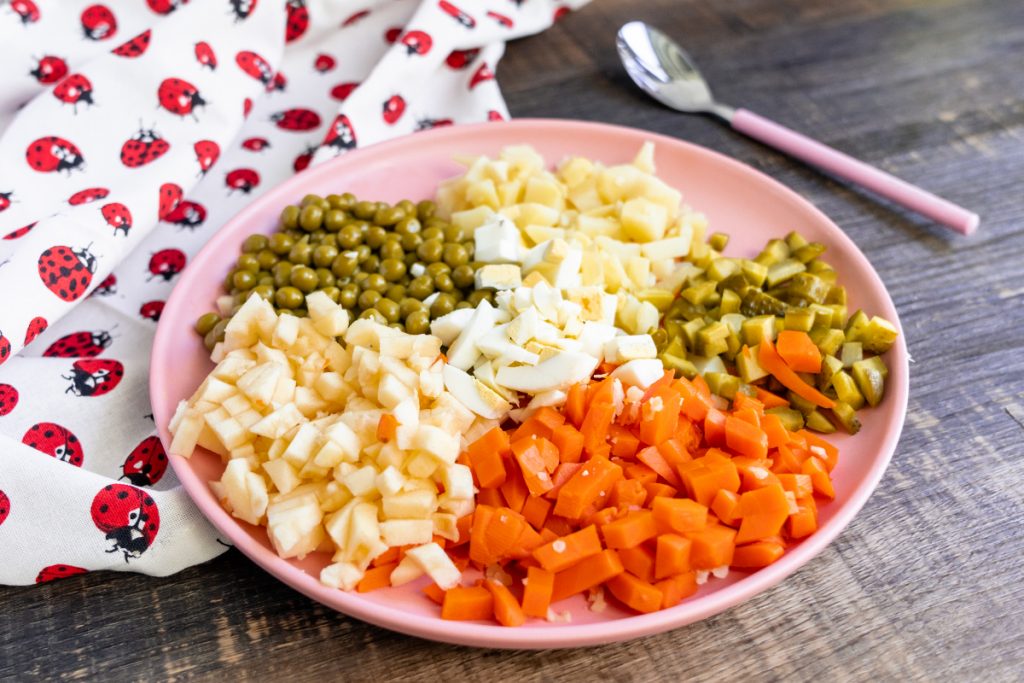 ---
In Poland, the vegetable salad became extremely popular in the times of the Polish People's Republic. In the '60s, '70s or '80s it was served in all places.
These days it's called a Potato Salad, Vegetable Salad, Russian Salad, or Trash Salad.
The Salatka Jarzynowa is served for a number of occasions or even without occasions, but I mostly associate it with Easter.
IMPORTANT: You can totally make the salad vegan by using a vegan mayonnaise and removing eggs 🙂
Recipe Pointers For Salatka Jarzynowa Recipe
Use low-starch potatoes for best results.
You can use the potatoes without peeling the skins. They add flavor to any dish and also contain more nutrients.
Dice the potatoes, eggs, and veggies into very small cubes.
Serve with slices of crispy buttered toast.
Although salatka jarzynowa is traditionally vegetarian, you can make a meatier potato salad by adding bits of chopped ham or salami. Or better yet, serve with fried kielbasa sausages.
Add salt and pepper as needed.
You can serve this creamy Polish potato salad with some potato pancakes, koptyka, or Polish City Chicken.
FAQs about the Polish Vegetable Salad
Can I make this salad vegan?
Yes, to make this salad vegan skip the eggs and replace the mayonnaise with soy-milk-based vegan mayo. Soy milk acts as an emulsifier and produces really rich mayo.
Can I make this salad vegetarian?
Yes, to make this salad vegetarian, skip the eggs and replace the mayonnaise with eggless soy-milk mayo.
Can I make the Polish vegetable salad ahead of time?
Yes, you can make the Polish veggie salad up to 24 hours in advance. Store it in an airtight container in the refrigerator till ready to serve.
Can I store leftover Salatka Jarzynowa in the refrigerator?
Yes, you can store leftover Polish vegetable salad in the refrigerator for up to 2 days. Transfer it to an airtight container before storing.
Can I make the Jarzynowa salad less fattening?
To make this Jarzynowa salad less fattening, replace half the mayo with a flavorless yogurt.
What is the difference between Russian salad and Stolichny salad?
The Stolichny Salad is Ivan Ivanov's version of the Olivier salad or Russian salad. His version, the Stolichny salad uses smoked or boiled chicken instead of the other meats used in the Russian salad.
Polish Vegetable Salad: Salatka Jarzynowa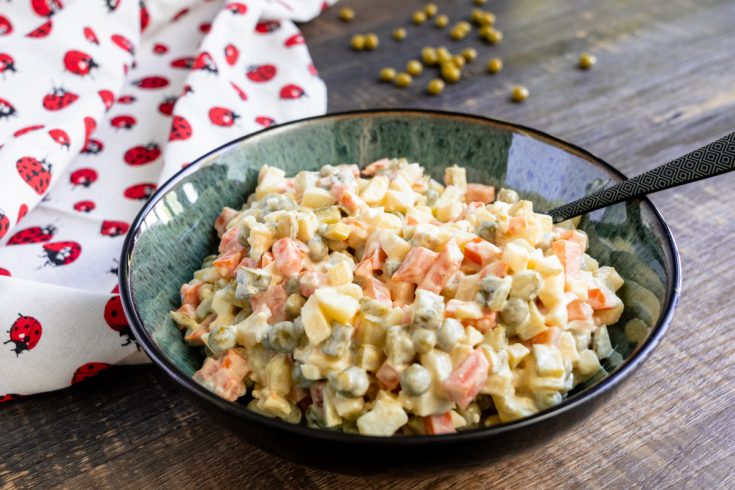 This mouth-watering version of the Russian Salad or Polish potato salad called Jarzynowa Salad is Pyszne! That means Yum!
Additional Time
20 minutes
Ingredients
3 potatoes
1 apple
2 carrots
3 pickles
2 eggs
1/2 can of peas
2 tablespoons of mayonnaise
Instructions
Peel and boil potatoes and carrots. Boil eggs at the same time.
Once it all cools down, chop all ingredients (apart from peas) into small cubes.
Mix everything together and add salt and mayonnaise.
Let it stand in a fridge for a bit before consuming.
Notes
You can add a few drops of apple vinegar or lemon juice. If you're looking for a lighter version you could replace half of the mayonnaise with thick plain yogurt.