Dense inside and crusty on the outside, bagels are the perfect breakfast or snack! But these almond flour bagels are gluten free too!
---
A round doughnut-shaped yeast bread, the dense bagel is a Jewish specialty that's eaten usually eaten for breakfast or lunch.
But long before the early 1900s when the bagel became popular in New York for the "bagel brunch", the bagel has roots in countries across the sea.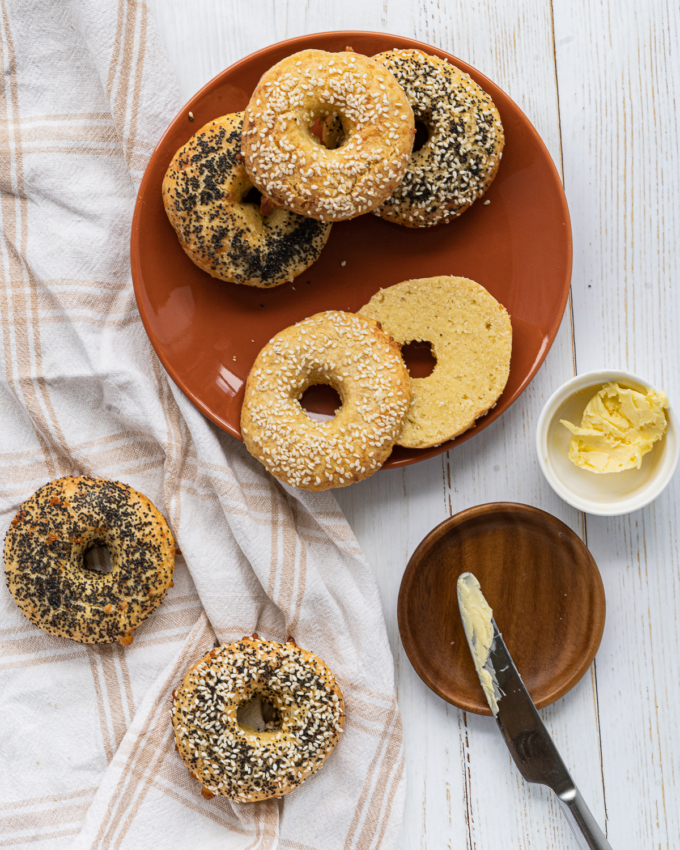 Where did the Bagel come from?
There's a famous Polish story that says that bagels were invented by a Viennese baker in honor of King Jan Sobieski in 1683.
After the King fought off the invading Turkish armies, the baker invented the round bread shaped like the stirrups of a horse, and called them beugel or bagel.
Of course, the bagel existed a long time before that.
The bagel may have been brought there from Germany as obwarzanek in the 14th-century.
In the 1380s or 90s, the pious Queen Jadwiga, the first female monarch started eating them for Lent in place of regular bread. And the bagel or obwarzanek gained popularity in Poland.
In 1610, the "Community Regulations" of Krakow, Poland stated that bagels were to be given as gifts to new mothers. In Jewish tradition, bagels symbolized new life and brought good luck.
By the latter half of the 17th century, the bagel or bajgiel had established it's place of importance in the Polish diet.
By the middle of the 19th century, bagels had reached the bakeries of England where they were called beigels.
And when Jewish immigrants moved to the United States in the 1900s, they brought the bagels with them. And of course, the bagel morphed into a number of styles.
Bagels are traditionally made with wheat flour, salt, sugar or malt, water, and leavened with yeast.
But there is hope for gluten-intolerant people. Almond flour bagels are the perfect gluten-free soft alternative to traditional bagels!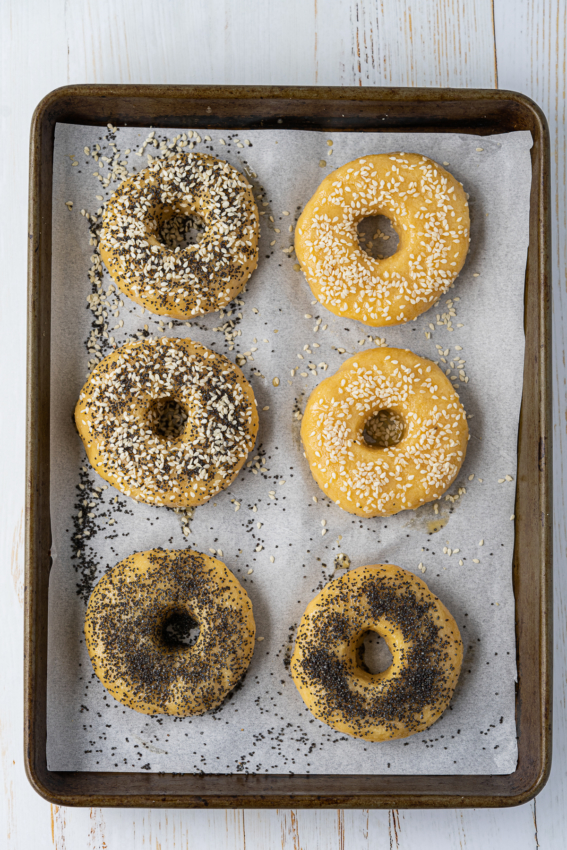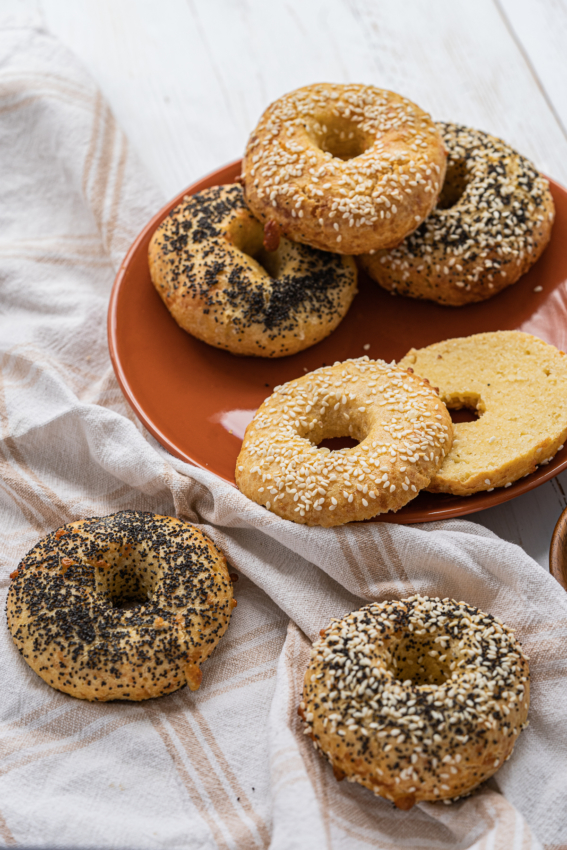 ---
Recipe Pointers For Gluten-Free Bagels
You can add raisins or currants to the bagel dough for a sweeter taste.
For a healthier option, add chopped garlic to the dough or as a topping.
The most popular way to eat bagels is with cream cheese and cured salmon.
Or serve the bagels with a fried egg!
Other fillings for the bagels include corned beef, crispy bacon, peanut butter, or simply with tomatoes and mozzarella!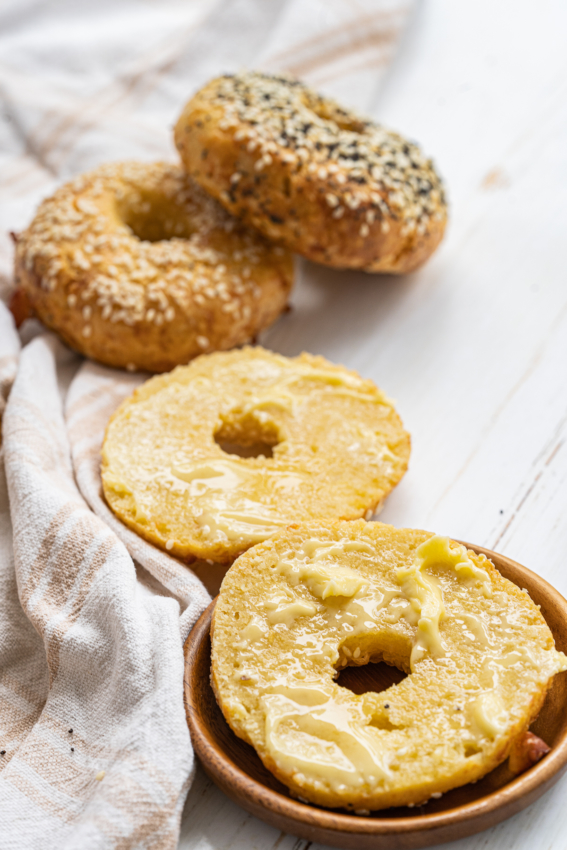 ---
FAQs about Homemade Almond Flour Bagels
Why don't you boil the bagel before baking?
Although traditionally, bagels are boiled to give it that crusty exterior, there is no need to boil them. Brushing the bagels with an egg wash produces the same result.
Do bagels exist in other cultures?
Yes, foods similar to bagels exist in many countries.
In Germany, they're obwarzanek. In Poland, they're obwarzanek krakowski.
In Turkey, the simit and acma look are very similar to bagels. In China, there's the girde nan.
In Belarus, Russia and Ukraine, there's the bublik. And in Finland, there's Vesirinkeli.
What do bagels weigh?
There isn't any fixed weight for bagels, but you'll find them ranging from just 2 ounces to over 6 ounces in weight. They've only gotten bigger over the years.
Can I use any other flour to make gluten free bagels?
Yes, you can use any store-bought gluten free bread flour to make the bagels. Or you can use a mix of rice flour and almond flour.
How long can I store the almond flour bagels?
Gluten-free almond flour bagels can be stored in the refrigerator for a week. Reheat well before serving.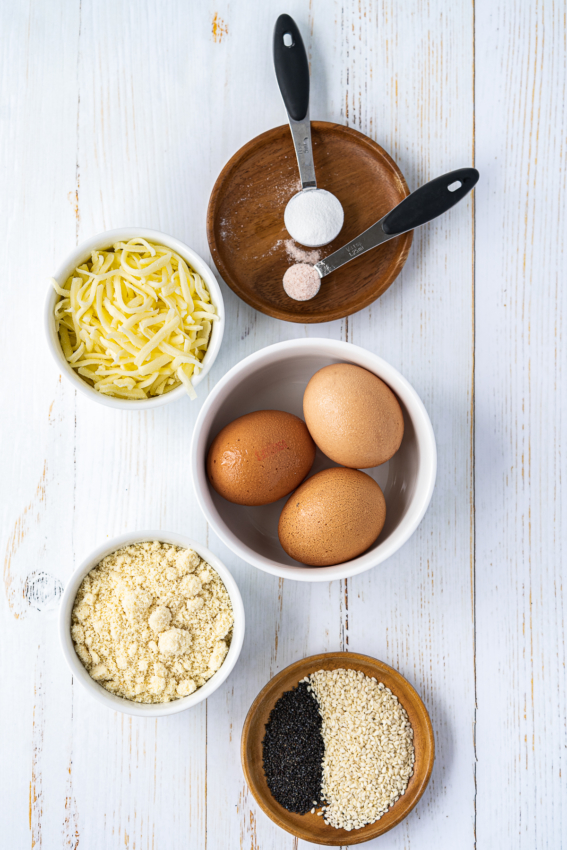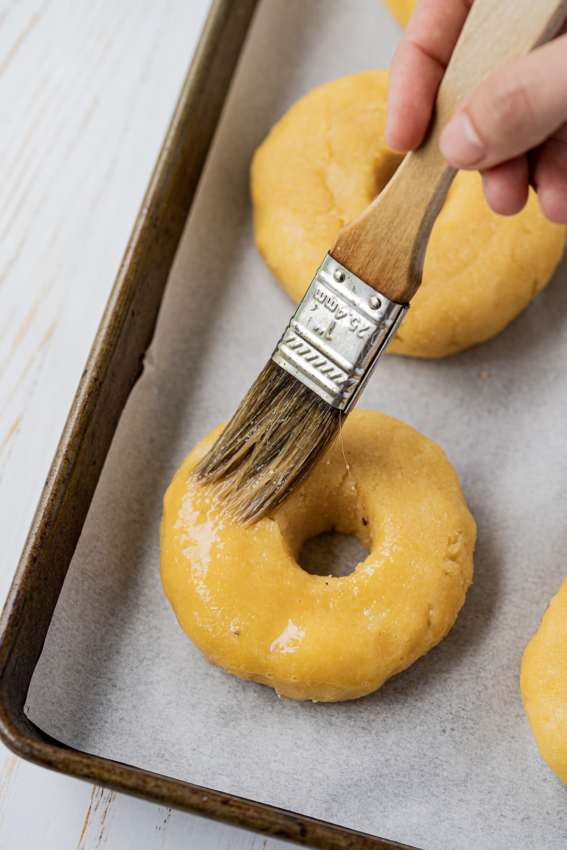 Yield: 6 Bagels
Gluten-Free Almond Flour Bagels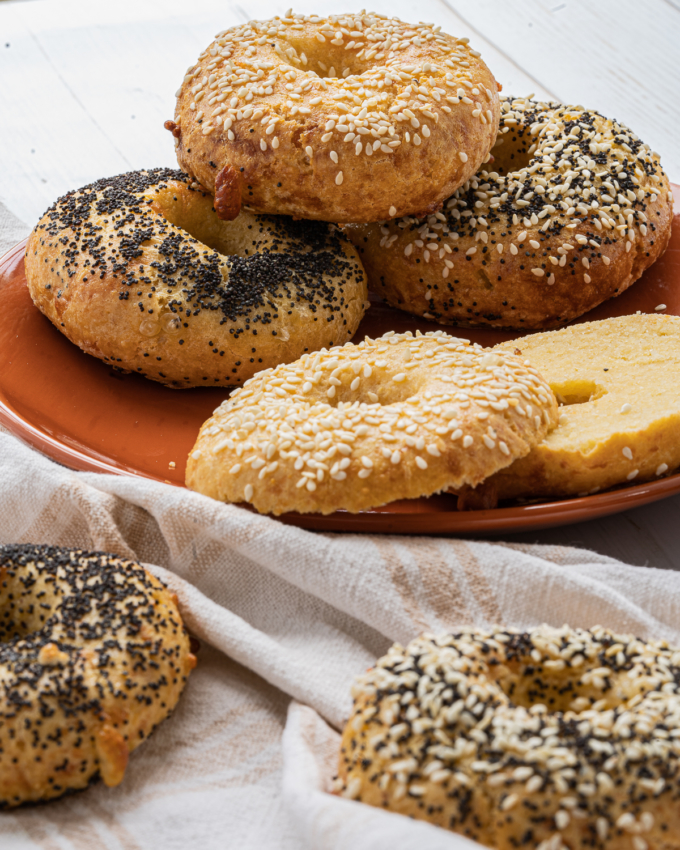 Dense inside and crusty on the outside, bagels are the perfect breakfast or snack! But these almond flour bagels are gluten free too!
Ingredients
1 ¾ cup almond flour
2 large eggs
1 tsp garlic powder
1 tbsp baking powder
1 tsp salt
1 ¼ cup mozzarella cheese, melted
1 tbsp olive oil
For topping
1 tbsp white sesame seeds
1 ½ tsp poppy seeds
1 egg, beaten
Instructions
Pre-heat oven to 320 degrees Fahrenheit. Line a baking tray with parchment paper or a baking mat.
Beat eggs in a medium bowl and add garlic powder, baking powder and salt. Set aside.
Place mozzarella cheese in a saucepan with olive oil, place it over the stove and stir until is melted (this step can also be done in the microwave).
Place beaten eggs and melted mozzarella in a highspeed food processor for the mozzarella to combine with the eggs, this will result in a smooth batter.
Transfer the butter to the medium bowl and add the almond flour.
Stir until a soft dough is formed.
Form the bagels by shaping a ball, then press it down until it flattens a bit and finally makes a hole in the middle.
Set the bagels in the prepared baking tray.
Beat the egg and brush all the bagels. This will give them a pretty golden appearance.
Sprinkle some poppy and sesame seeds all over the bagels.
Bake them for 20 minutes or until golden brown.
Let them cool before serving.

Notes
These bagels can be kept in the fridge for up to a week but they'll lose their tenderness. To improve their texture reheat them before serving.