Loaded with veggies and steamed, these vegetarian dumplings or vegan potstickers taste better than their restaurant-made counterparts!
Easy to make at home, the only thing you need to work on is your pleating skills!
Dim sums, gyozu, wontons, jiaozi, tangyuan, har gow, lo mai gai, fun guo, siew mai, cha siu bao, zongzi – whatever form they come in – dumplings are one of my favorite dishes to eat at Asian restaurants. It's really easy to go all out and order platefuls of vegan potstickers at a time.
But then one day, a friend showed me how to make these amazing vegetarian dumplings at home, and I was hooked. I experimented a bit with the recipe, adding a bit of this, removing a bit of that, and changed it to my version of perfect!
Try making these perfectly delicious Asian vegetarian dumplings at home and you'll love them!
What are Dumplings?
Dumplings are a dish commonly eaten in China and other parts of the world.
They consist of a flour or potato dough that is stuffed with a filling of meats, veggies, fish, cheese, sweets, cheese, or fruits.
Depending on the type of dumplings, they can be either pan-fried, deep-fried or steamed.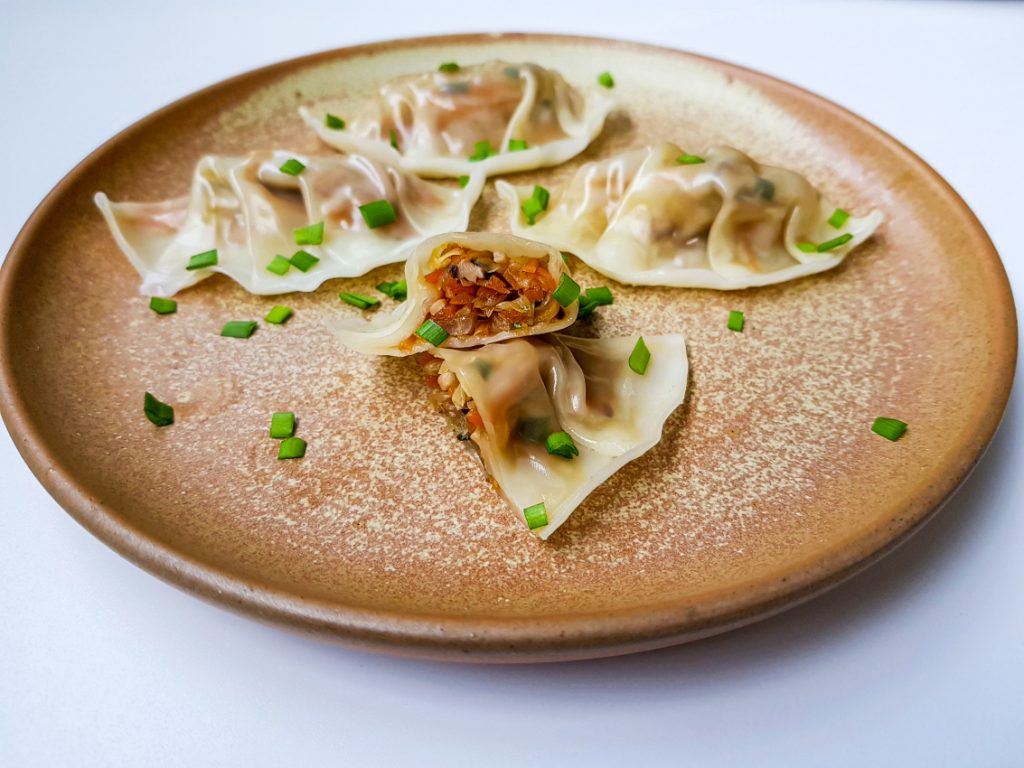 ---
Who Invented Dumplings?
The most popular version of dumplings, the jiaozi were invented by Zhang Zhongjian during the Han Dynasty about 1800 years ago (circa AD 25 to AD 220).
Legend has it that Zhang Zhongjian, who practiced traditional medicine saw many people with frostbitten ears because of a lack of proper clothing and food.
He treated their frostbite by making a stew of some medicines, black pepper, and lamb in a pot and filling them in small dough wrappers shaped like ears.
Zhongjing boiled these dumplings and fed them to his patients till the Chinese New Year.
The recovering patients loved the taste of these ear-shaped dumplings and celebrated the New Year by copying Zhang's recipe.
In fact, they loved the dish so much that they continued making them well into the next season and a new food tradition was started!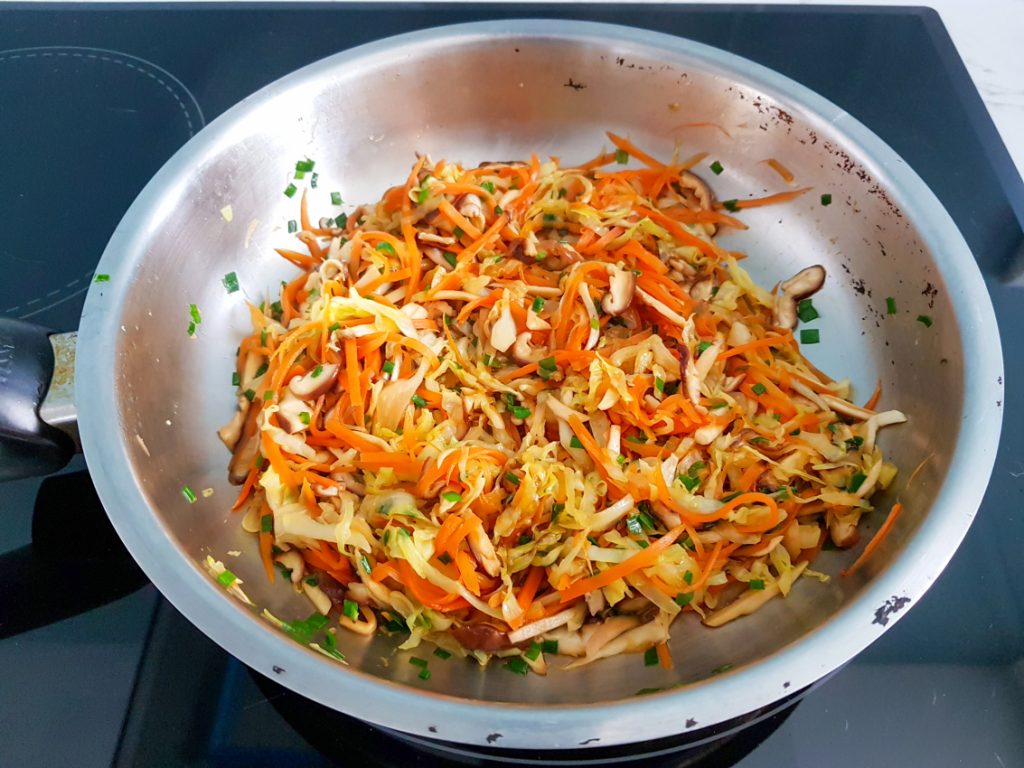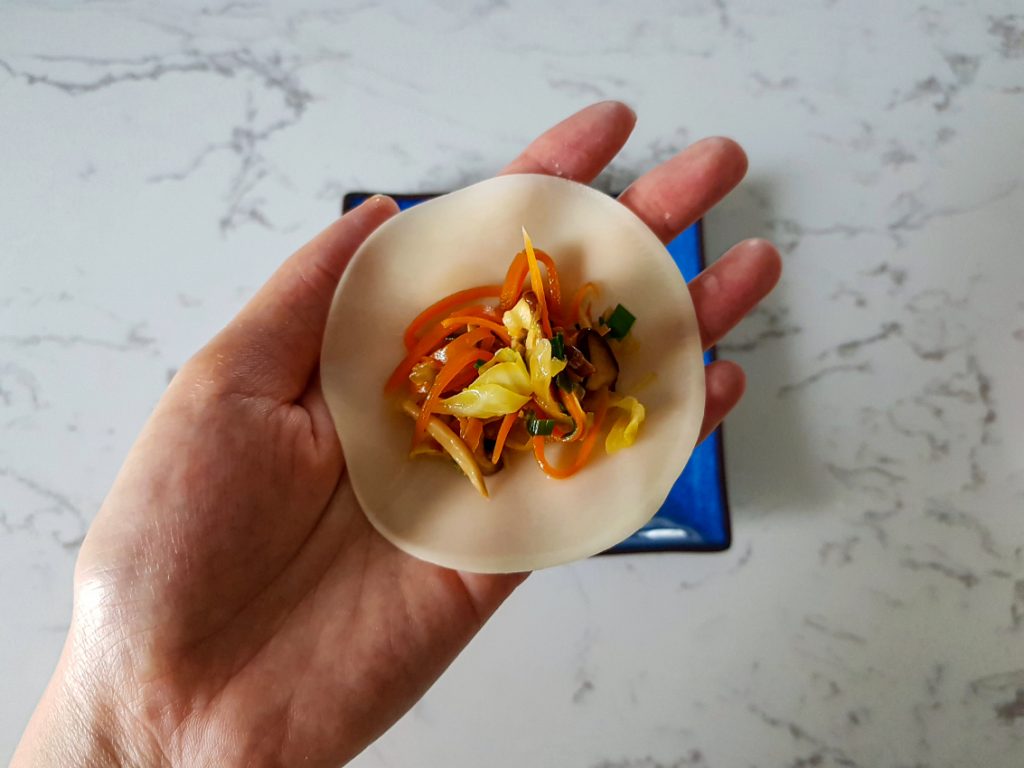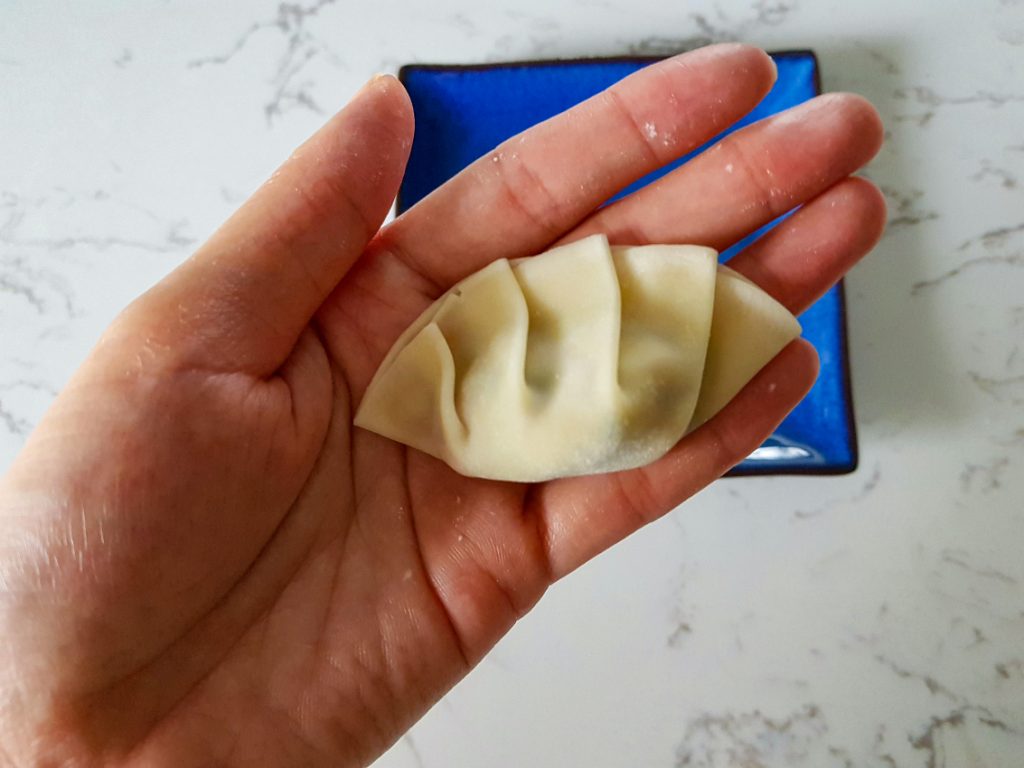 ---
Recipe Pointers For Vegetarian Potstickers Recipe
You can make the dumpling wrappers at home if you want to.
Add a cup of crumbled tofu for more filling dumplings.
If you want a meaty filling, add half a cup of cooked and shredded pork, mutton, beef, or chicken while sauteeing the veggies.
If you want more soupy dumplings, boil or steam them in stock before serving.
For a bigger treat, serve the vegetarian dumplings with hot and sour soups or spring rolls!
If you can't pleat the dumplings together like the traditional dumplings, just remember they're fine if they are pinched together too! You can learn to pleat them over time!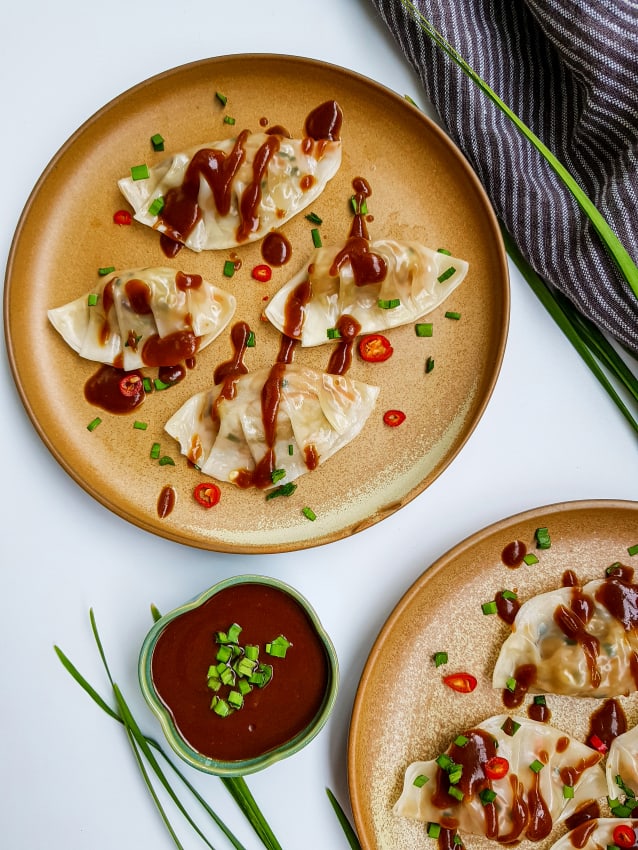 ---
FAQs about Vegetarian Dumplings
Do dumplings symbolize anything?
Since traditional dumplings were made in the shape of Chinese ingots, they symbolize wealth.
How are dumplings cooked?
There are two basic methods to cook dumplings.
Dumplings can be first steamed and then fried in oil. These are called guotie which means potstickers.
Dumplings can also be simply steamed or boiled. These are called jiaozi.
What is the difference between gyoza and jiaozi?
Although they are similar in shape, gyoza are Japanese dumplings that have garlic as a prominent flavor while the Chinese jiaozi don't. Gyoza have thicker wrappers than jiaozi, and are mostly pan-fried while jiaozi are steamed.
Can I change the filling for the dumplings?
Yes, dumplings or potstickers taste perfect with almost any filling, be it sweet or savory.
Just replace the filling with your choice of veggies, cheese, compotes, or meats. Pork is a popular choice in Asia.
Can I fry the dumplings?
Yes, if you don't want steamed dumplings, you can pan fry them too. They taste as scrumptious as ever.
Can I store leftover dumplings?
Yes, you can store the leftover dumplings in an airtight container. In the refrigerator, they will keep for a 3 to 4 days or in the freezer for a few months.
Yield: 50 Dumplings
Veggie Dumplings Recipe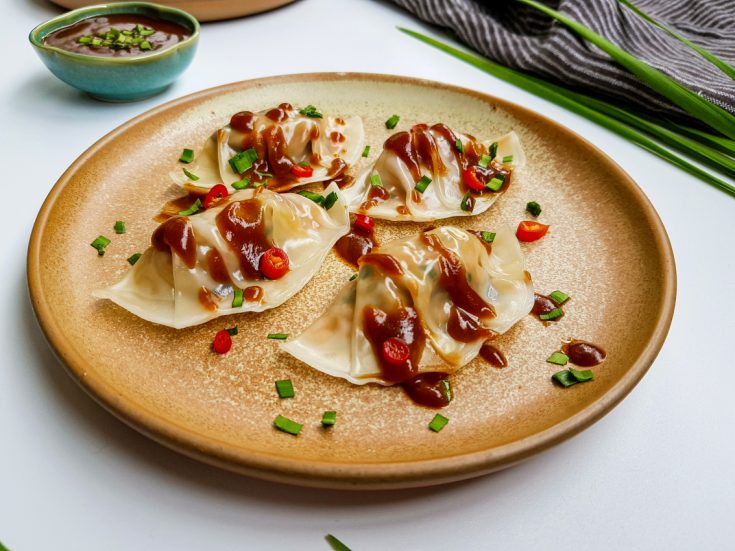 Loaded with veggies and steamed, these vegetarian dumplings or vegan potstickers taste better than their restaurant-made counterparts!
Ingredients
Fillings
5 oz cabbage (3 cups), shredded
3 oz carrot (1.5 cups), julienned
5 sprigs chives, chopped
4 oz shitake or king oyster mushroom (2 cups), chopped
2 tbsp soy sauce
1/4 tsp sesame oil, optional
Peanut Butter Sauce
1 tbsp creamy peanut butter
1/3 cup hot water
1/4 cup hoisin sauce
1/2 tsp lemon concentrate (or balsamic vinegar)
Others
2 sprigs chives chopped
2 small Thai chilies chopped
50 gyoza wonton skins
Instructions
For the fillings
In a pan over medium-high heat, add a small amount of vegetable oil (around 2 to 3 tbsp).
Add the cabbage and carrot, then saute until the veggies are tender, approximately for 1 to 2 minutes.
Add mushroom and chives, saute for another 2 minutes.
Next, season with soy sauce. Before turning off the heat, add sesame oil (if desired).
Transfer the veggie mixture to a bowl and let it cool down to room temperature.
For the sauce
In a small mixing bowl, whisk together peanut butter and hot water until peanut butter melted completely.
Then add hoisin sauce and lemon concentrate (or balsamic vinegar).
Whisk until everything is combined. Set aside.
For the dumplings
Work with one piece of gyoza at a time. Use a damp paper towel or plastic wrap to cover the remaining gyoza to prevent them from drying out.
Dip your fingers in water or use a pastry brush to moisten the edges of gyoza.
Place a small amount of the filling in the middle of the gyoza (around 1 to 2 tsp).
You can simply fold the dumplings in half, and press the edges together or proceed with the more advanced technique below.
Put the gyoza on one hand, use your fingers (thumb and index) from the other hand to pinch one corner's edge together.
Pleating the side facing toward you toward the sealed edge. Continue pleating and pinch it next to the previous one. Remember to only pleat in 1 direction.
Continue to pleat until you reach the other end of the dumplings then use your fingers to tightly seal it completely.
You might need more water if necessary, just remember to use a small amount at a time to prevent the gyoza skin from breaking. It'll take some time for you to get used to this folding technique. The more you fold, the better you will get.
For steaming
Set up a steamer, line the steamer with parchment paper if needed.
Arrange dumplings about 2 inches apart from each other.
Use a spray bottle to lightly mist the dumplings outer part or use a pastry brush and lightly brush each dumpling with water before steaming.
It should take 5 to 7 minutes to steam.
Serve immediately with peanut butter sauce on the side. Garnish with chopped chives and Thai chilies if needed.