These adorable little Santa's that brighten up any holiday setting are easy to make and delicious to eat!
The cream cheese frosting gives the strawberries the perfect creamy flavor!
---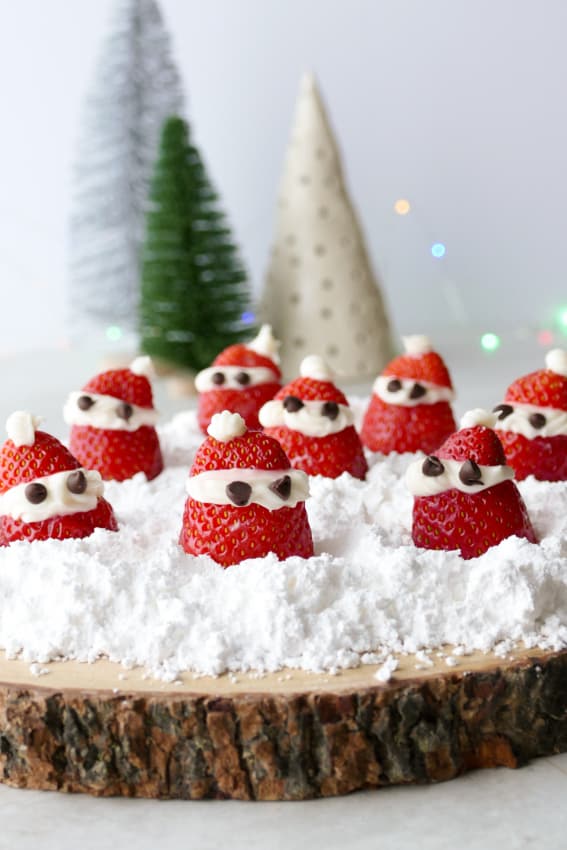 Santa was on a diet.
Stuck at home since Feb because of the pandemic, he had gotten a bit lazy. Mrs. Claus had tried to get him to do exercise. But he just lounged around watching the News and wondering when his little ones across the world would get back to writing him letters.
Well, he was getting letters from the USA and some European countries, but a lot of Asian and African countries had even stopped sending mail. Santa aka Saint Nick worried about the kids whose letters didn't reach him.
And while Santa worried, he forgot to do a lot of things; one important thing he forgot was exercise.
Santa was now worried he could get down the chimney. And his little helper Motty was worried too. Motty was a golden retriever, smooth brown fur all over, with a nose that all the kids love.
But she and Mrs. Claus worried that Santa wouldn't fit down the chimney to deliver the presents like every year before.
So Motty came up with an idea and she asked Mrs. Claus to tell all the children the world over. This time, instead of leaving out fattening cookies with the milk for Santa, leave him some tasty strawberry Santas instead.
These Santas are gluten-free, dairy free and vegetarian!
---
What are Strawberry Santas?
These bite-sized Santa pieces are a delight for everyone. And if Mrs. Claus has Santa on a cookie-free healthier diet, they're absolutely perfect!
Strawberry Santas with cream cheese are simply made with fresh strawberries topped with cream cheese and chocolate chips.
If you have some leftover cream cheese you can make some Kolaczki cookies from it as well.
They just maybe one of the best strawberry Christmas recipes ever and much healthier than many other Christmas desserts.
Make the cutest strawberry Santas and leave them out instead of cookies for slimming Santa on Christmas night!
And if you want to serve them at Christmas dinner parties or for Christmas week snacks, why not?
Kids and adults alike will love these strawberries Santas with cream cheese!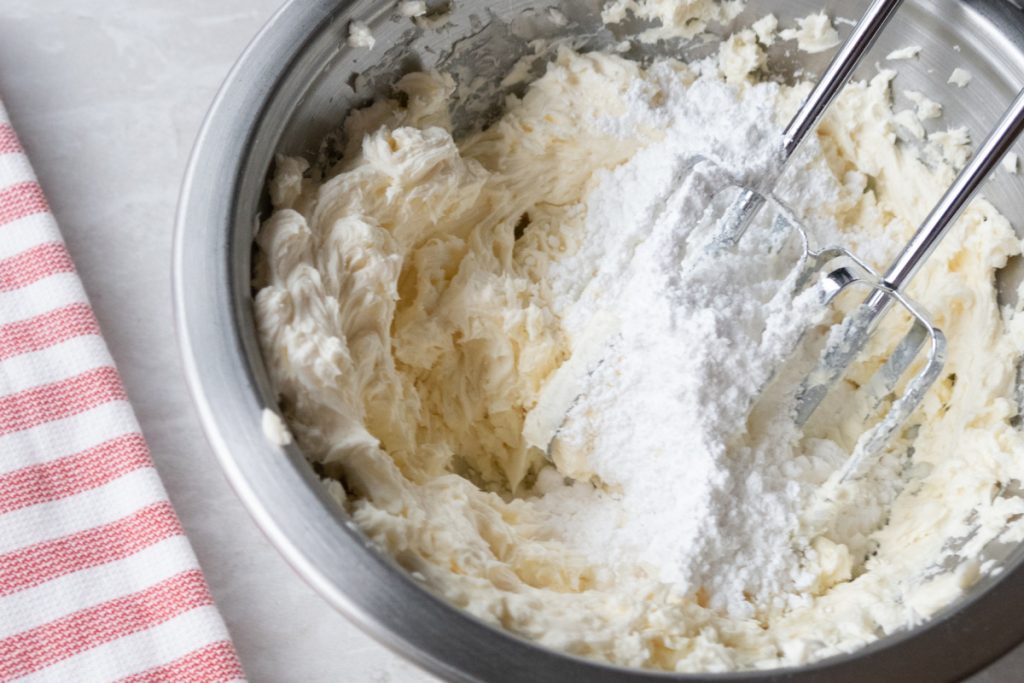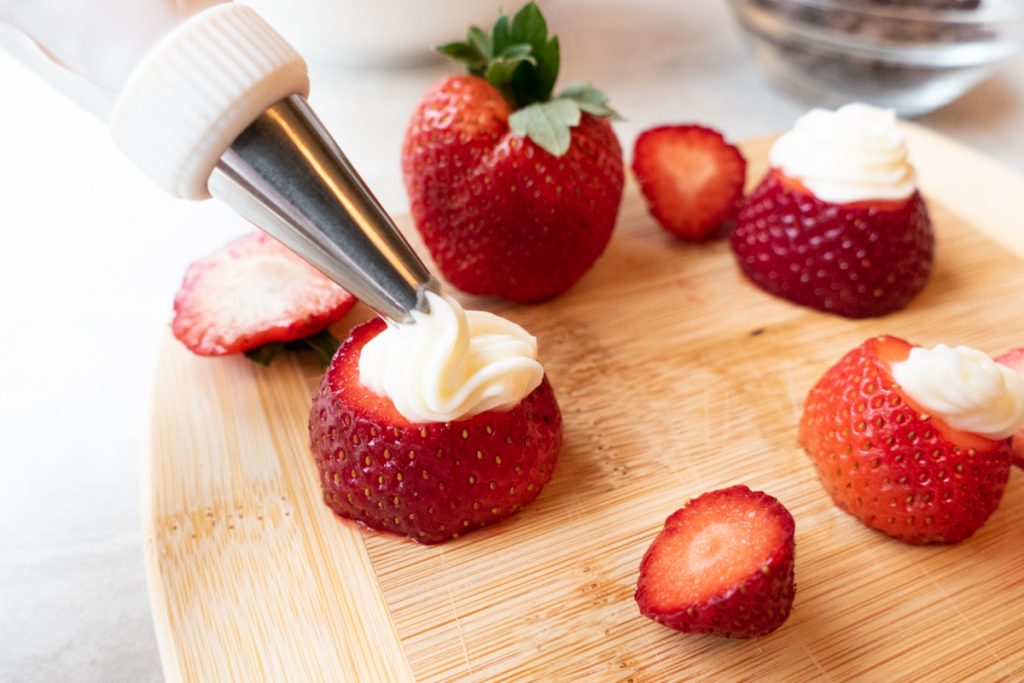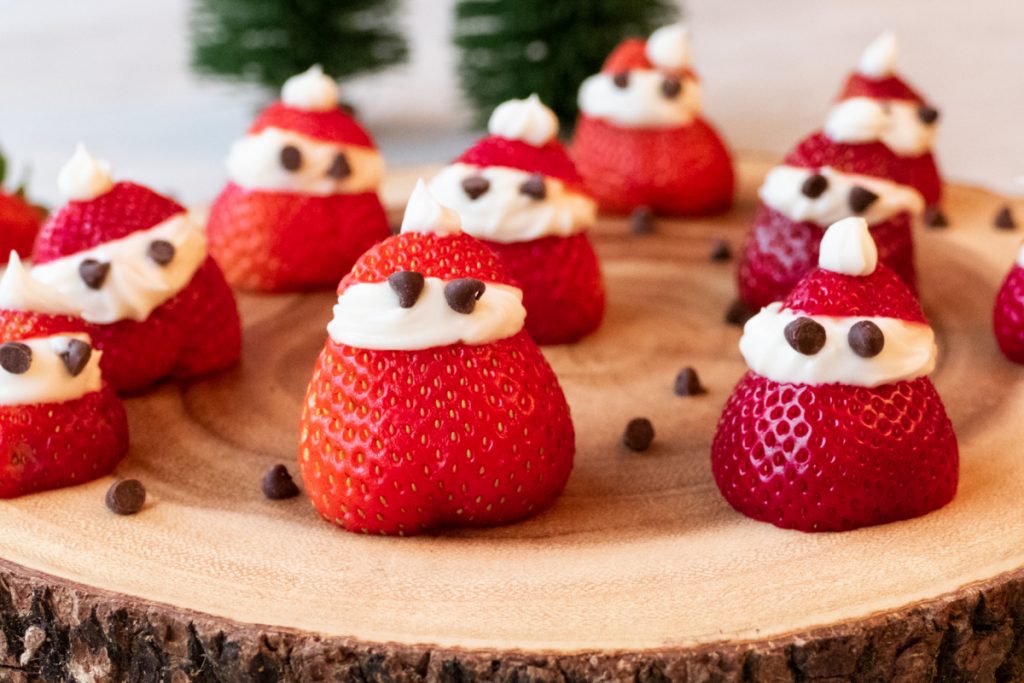 ---
Recipe Pointers For Strawberries Santas with Cream Cheese Recipe
Use non-dairy whipped cream if you want to make this recipe vegan.
You could use a long toothpick or stick and make some banana snowmen to go with the strawberry Santas.
You can use a bed of Food Safe organic cotton for the Santa's instead of icing sugar.
Cut the top of the strawberries in a manner that you have about a third or even lesser, maybe just a quarter left for the hat.
This is the easiest Christmas dessert recipe, and perfect for the kids to make!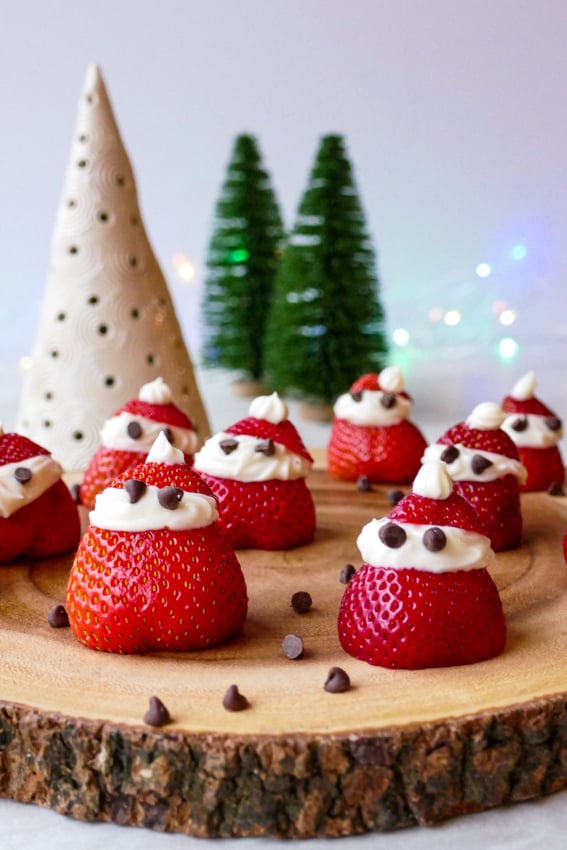 ---
FAQs about making Strawberries Santas with Cream Cheese
Why mini strawberry Santas?
Well, strawberries are a healthy source of dietary fiber, Vitamin C, Magnesium, Vutamin B6, and many other nutrients. They're a good dose of much-needed vitamins in a season filled with sugar. So why not strawberry Santas?
Are strawberry Santas gluten free?
Yes, these strawberry Santas are totally gluten-free! (Just make sure all the ingredients used were processed in a gluten free facility.)
Can I make the Strawberry Santas a day earlier?
Absolutely not! Strawberry Santas must be made on the day they are to be eaten, preferably just a few hours before.
If you make them a day earlier they will go mushy in the refrigerator and start to weep. And really, who wants weeping Santas at Christmas? 🙂
Can I use anything else instead of cream cheese?
If you don't have cream cheese; cool whip, icing, or any other frosting will work too!
What can I use instead of choco chips?
If you don't want to use choco chips, use black gel icing or silver beads for the Santa eyes.
Yield: 20 Santas
Strawberries Santas with Cream Cheese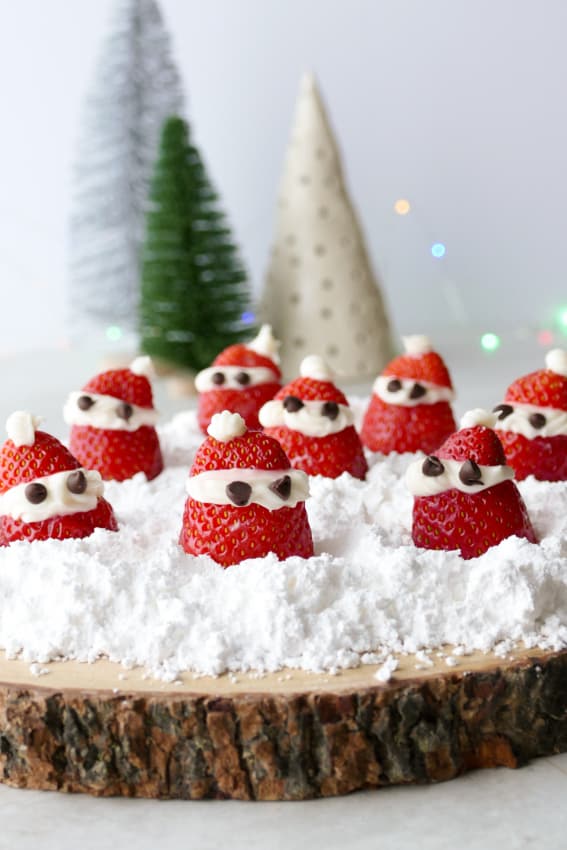 These adorable little Santa's will brighten up any holiday setting. They are easy to make and delicious to eat! The cream cheese frosting gives the strawberries an extra creamy flavor!
Ingredients
Strawberry Santas
1 pound package of strawberries
Mini chocolate chips for eyes
Cream cheese frosting
8 oz full-fat brick cream cheese (softened)
½ stick salted butter (4 tsp.) (softened)
3 cups of confectioners sugar
1 tsp vanilla or orange extract
Instructions
Prepare the strawberries by cutting the stem side off evenly to make a sturdy base. Then cut the top third of the strawberries which will create the hat.
Now prepare the frosting. In a medium-size bowl add the butter and cream cheese and beat with an electric mixer.
Add the vanilla or orange extract and stir.
Gradually mix in the confectioners' sugar until creamy.
Using a cake decorator's piping bag, pipe a small amount of cream cheese frosting onto the cut strawberry.
Put the top part of the strawberry onto the frosting.
Carefully add the mini chocolate chips to make Santa's eyes.
You can also add a tiny amount of frosting on the top of
the strawberry to make Santa's hat.
Display the Santas on a mound of confectioners sugar!
Notes
By cutting the strawberries first, it will give them time to dry a
little bit, which will help the frosting to stick better. Or you can gently blot the berries with a paper towel before adding the frosting.
Just make sure the bottoms of the strawberries are even.
If you want thicker cream cheese, you can add more sugar till you reach the desired consistency.
You can use a small spoon to put the cream cheese on the strawberries if no piping bag is available.
Nutrition Information:
Yield:
10
Serving Size:
1
Amount Per Serving:
Calories:

354
Total Fat:

18g
Saturated Fat:

11g
Trans Fat:

0g
Unsaturated Fat:

6g
Cholesterol:

35mg
Sodium:

111mg
Carbohydrates:

51g
Fiber:

2g
Sugar:

46g
Protein:

3g