Matcha Fat Balls are a low carb snack made of cream cheese, shredded coconut, and matcha tea powder.
Easy to make at home, they're also vegetarian and gluten free!
---
Matcha balls are the perfect snack when you need some energy and don't want to eat unhealthy. They can be eaten just before or after exercise, or when you're looking for a guilt-free snack in between meals!
Why Make Matcha Balls?
Matcha contains more than 130 times the antioxidants than other green teas. It's also rich in caffeine which is a stimulant and theanine which reduces stress. And combined with the healthy fats from cheese and the low sugar sweeteners, these keto desserts are absolute bliss!
What is Matcha? Where Did it Originate?
Matcha is a fine powder tea made from the leaves of the Cameilia sinensis plant. The plants are grown in the shade for up to a month and then harvested. Being in the shade gives the plant the chance to produce more caffeine and theanine.
Matcha tea goes as far back as the Tang Dynasty that lived between 618 to 907 AD in China. At that time, the tea leaves were roasted and reduced to fine particles, then decocted in hot water and salt.
The following emperors, the Song Dynasty popularized the matcha tea between the 10th and 13th centuries.
From China, the consumption of matcha tea reached Japan. In 1191, the Zen Buddhist monk Eisai or Yosai took the tea to Japan along with the Rinzai school of Zen Buddhism.
Having matcha tea is an important part of Chan Buddhism and Zen Buddhism. Matcha is now popular the world over as a tea and as an important component in cakes, smoothies, lattes, pastries, puddings, ice creams, and a whole range of food items, especially keto desserts.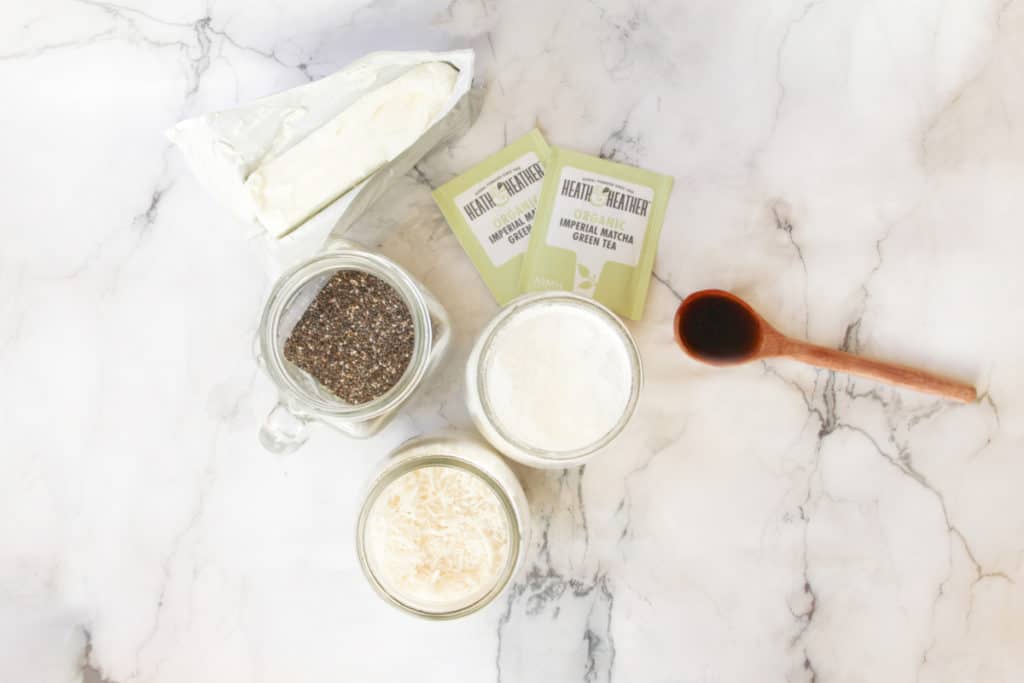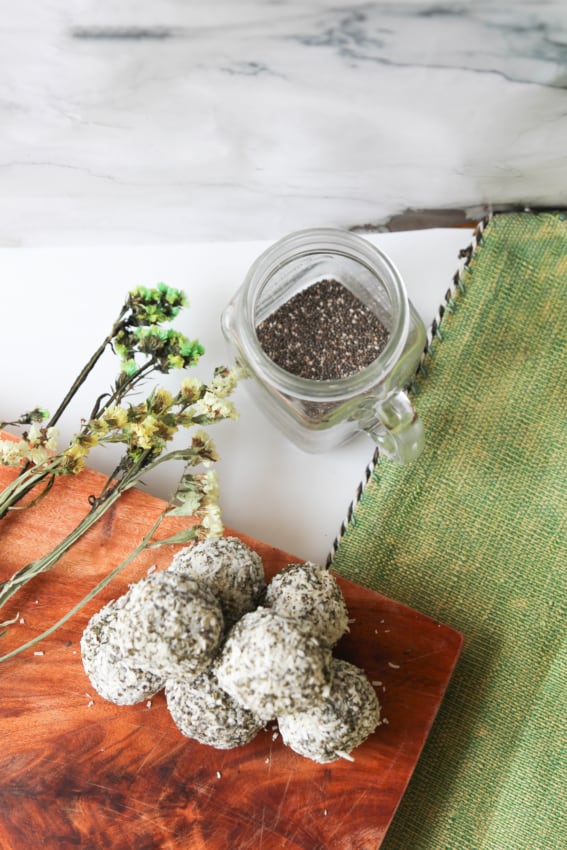 ---
Recipe Pointers For Matcha Fat Balls Recipe
The simplest energy bites ever, these matcha fat balls are vegetarian, grain-free, and gluten-free!
If you skip the chia seeds, this recipe is also nut-free!
If you want to add more protein, add some nuts or seeds to the keto fat balls.
Roll the keto matcha balls in some unsweetened cocoa powder or shredded coconut!
To make this healthier and protein-rich, you can use matcha collagen instead of matcha tea powder.
Matcha is naturally sweet, so you could skip the sweetener altogether!
Serve these matcha fat balls as an appetizer for snacks or dinner parties!
These rich keto fat balls are a delicious and satisfying nutritional powerhouse!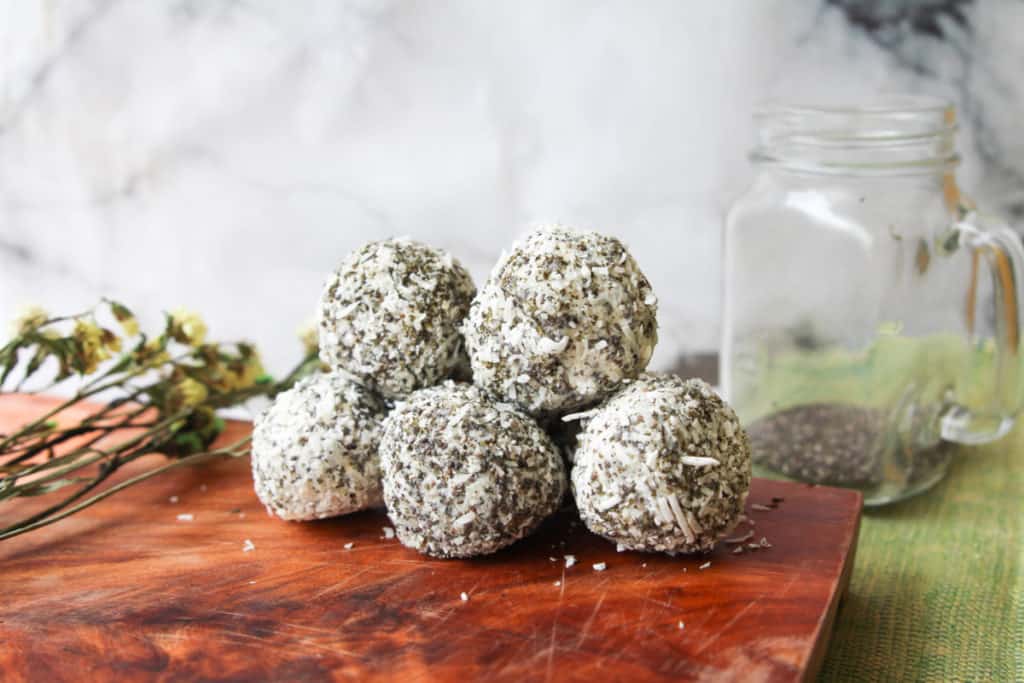 FAQs about Matcha Fat Balls
What sweetener should I use?
You can use honey, maple syrup, date syrup, or agave nectar.
Is it possible to make vegan matcha fat balls?
Yes, to make this recipe vegan replace the cream cheese with a nut butter such as almond butter or cashew cream.
How many matcha balls can I eat per day?
That depends on you. Matcha balls are high in energy but also high in calories. So you need to use moderation when consuming these keto desserts.
Is there a difference between Chinese and Japanese matcha?
Chinese matcha gets a tad more sun than the Japanese matcha does. And Japanese matcha are a little more vibrant than Chinese matcha. But for the real differences, you need to look at the different grades of the tea, whether it's Chinese or Japanese. This makes a big difference!
How long can I store the Matcha Fat Balls?
Matcha Fat Balls can be stored in the refrigerator for a week and in the freezer for 2 months. Thaw at room temperature.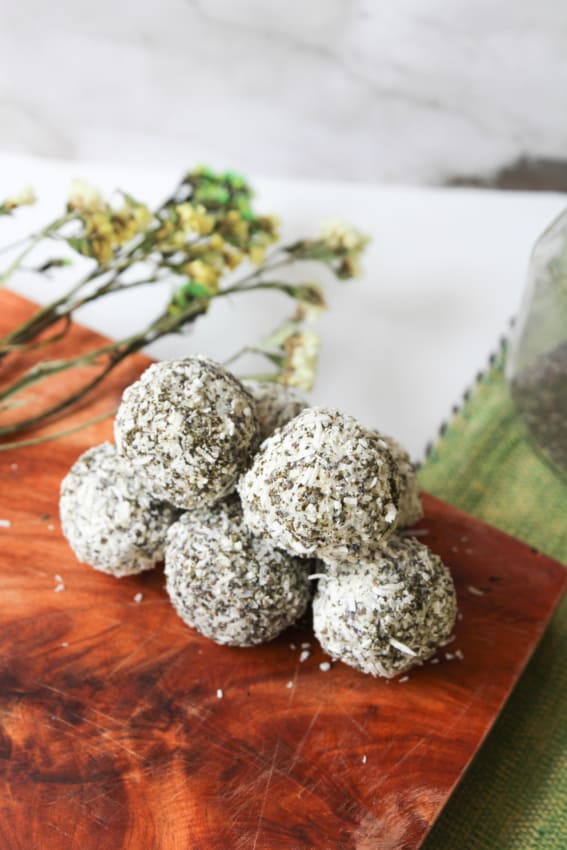 Yield: 7 to 8 Matcha Balls
Matcha Fat Balls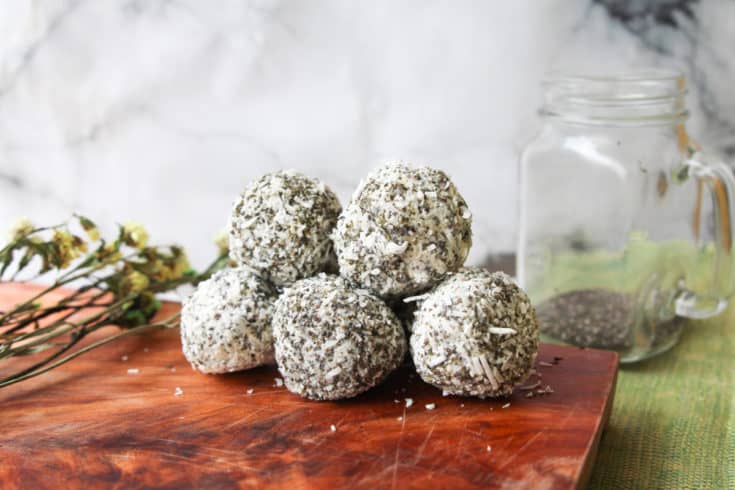 Matcha Fat Balls are a low carb snack made of cream cheese, shredded coconut, and matcha tea powder. Easy to make at home, they're also vegetarian and gluten-free!
Refrigeration Time
30 minutes
Ingredients
7 oz. cream cheese softened
1 tablespoon vanilla extract
1.5 grams Matcha Tea Powder
Sweetener of choice (as desired)
¾ cups shredded coconut
¾ cups of chia (optional)
Instructions
Place the cream cheese, ½ cup of chia, vanilla extract, the matcha tea powder, and 1/3 cup sweetener, ½ cup shredded coconut in a bowl.
Blend for 1-2 minutes (or until combined).
Place in the refrigerator for at least 30 minutes.
Shape into 7-8 balls.
Notes
You can store in a container in the refrigerator (up to one week).