Fasolka po bretonsku means Breton Beans. But, it's basically beans with meat, bacon or sausage in tomato sauce. It's an extremely popular dish in Polish cuisine.
Most sources will tell you that the name "Breton" has nothing to do with France. But, it actually does.
The term a la bretonne or 'in Breton' in French cuisine means a dish with beans cultivated near the town of Paimpol. "Coco de Paimpol" type of beans resemble the Polish white beans Piekny Jas, hence the dish became Breton Beans.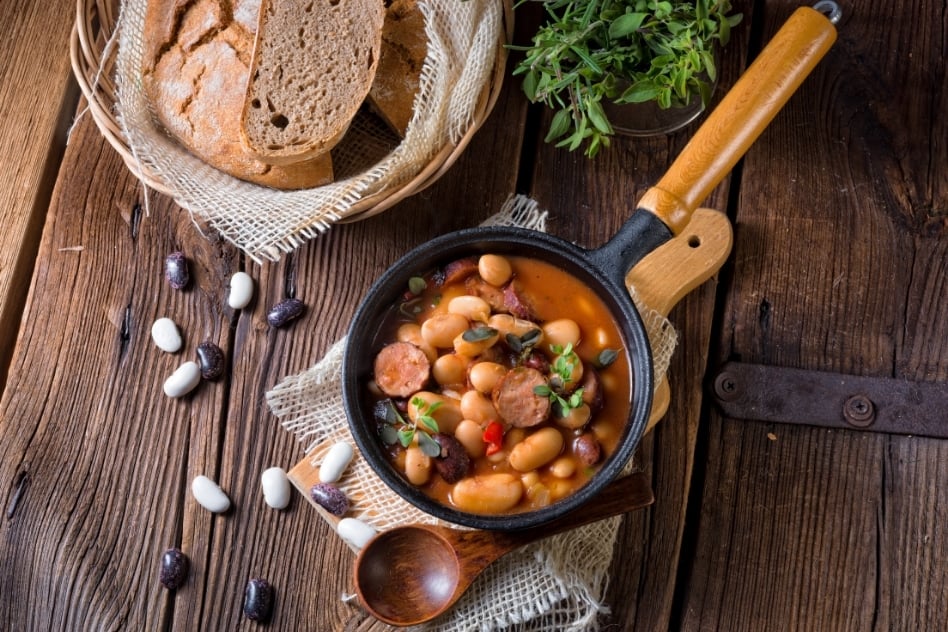 ---
Recipe Pointers For Breton Beans Recipe
Remember to soak the dried beans overnight!
This dish traditionally uses Kielbasa, but any other Polish sausages will taste good too!
If you cannot find Polish sausage, any other delicious smoked sausage will do too!
If you love meat, double the number of sausages and bacon in your recipe.
Add a cup of chopped mushrooms if you like.
Add a cup of chopped boiled potatoes or carrots if you like.
Toast bread to give it a crusty texture and serve along with the fasolka po bretonsku.
This fasolka po bretonsku can also be served with mashed potatoes.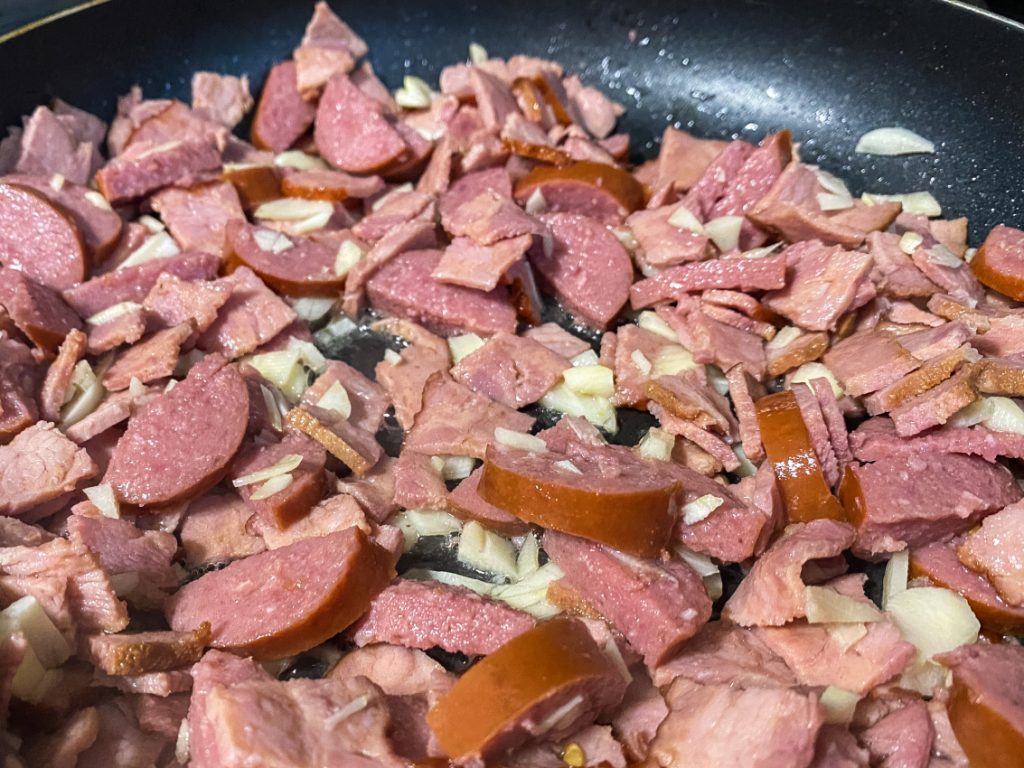 FAQs about Fasolka Po Bretonsku
What does fasolka means?
Fasolka is the Polish word for beans.
What does Fasolka Po Bretonsku mean?
Fasolka Po Bretonsku means beans cooked in the Breton style. Breton here refers to the region of Brittany in France.
Where can I buy Piekny Jas?
Piekny Jas should be available in the international section of food stores. Or simply you can get it on Amazon.
What if I cannot find piekny jas?
If you cannot find piekny jas, you can use any other similar big white beans. White beans, cannellini beans, fava beans, or navy beans could work well enough.
Can I store leftover piekny jas in the refrigerator?
Yes, leftover piekny jas or Breton beans store well in the refrigerator for a few days. Reheat before serving.
Can I freeze leftover Polish beans?
Yes, you can freeze leftover Polish beans. Store it in an airtight container and freeze for up to 3 months. Thaw in the fridge for a few hours and reheat before serving.
Yield: 6 medium bowl portions
Polish Breton Beans (Fasolka po Bretonsku)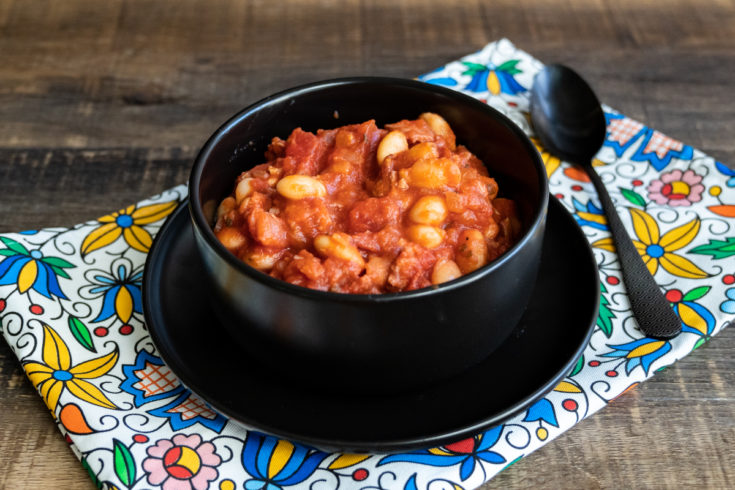 Ingredients
1 cup of dry "Piekny Jas" beans
1 cup of Polish sausage
1/2 of bacon
1 onion, chopped
5 cloves of garlic
12-14 tomatoes
4 tablespoons of tomato concentrate
1 tablespoon of marjoram
2 flat teaspoons of salt
1 teaspoon of pepper
1 teaspoon of sweet paprika
Instructions
Put the beans in a big bowl and cover with about 4-5 cups of water. Leave it to soak overnight.
Rinse your beans and cook them in a pot for about 90 minutes with salt. Once cooked, rinse and put about a cup of water back in the cup and get rid of the rest.
Meanwhile, fry your bacon and sausage on a pan for a few minutes. Then add onion. Once fried and softened, add it to the pot with beans.
Chop tomatoes in very small pieces and add them to your pot along with spices and concentrate. Cook it all for about 20 minutes without a cover, so the tomatoes create a sauce.
Eat warm with bread.
Notes
Some Poles add white mushrooms to this recipe. If you're feeling creative you can also add some mushrooms, but at my house we never did 😉
Nutrition Information:
Yield:
6
Serving Size:
1
Amount Per Serving:
Calories:

164
Total Fat:

5g
Saturated Fat:

2g
Trans Fat:

0g
Unsaturated Fat:

3g
Cholesterol:

17mg
Sodium:

1163mg
Carbohydrates:

25g
Fiber:

6g
Sugar:

12g
Protein:

8g