Mouth-wateringly delicious, the sernik is a rich and creamy Polish cheesecake that is worth the wait! Baked with farmer's cheese and refrigerated for a touch of cool, it's perfect for dessert or as a tea-time snack.
What is Sernik?
Sernik is a delicious Polish Cheesecake that's as popular as paczki, szarlotka, and babka, and maybe even more so. Made of the Polish farmer's cheese called twarog (pronounced tvah-rroog), it's a recipe that changes from family to family but never ceases to taste amazing!
Sernik is not as sweet as it's Western counterparts. Often eaten for dessert or as a snack for the second breakfast, this firm Polish cheesecake is often present on Christmas Eve or Day.
---
Where did Sernik originate?
Although sernik is a Polish cheesecake, it originated long before in a land far far away.
The Ancient Greeks used to eat something called plakountopoiikon sungramma as far back as 5th century BC. This cheesecake was even mentioned in a book by the famous physician Aegimus. It was a rare delight that was served to winners of the Olympic games.
Once the Romans conquered Greece, they adopted cheesecakes as part of their diet. In 160 BC, Cato the Elder included three different cheesecake recipes in his book on agriculture called De Agri Cultura. These recipes were for savillum, libum and placenta. And the recipe for placenta was the closest in the form to modern cheesecakes.
Centuries later in 1390, the English cookbook the Forme of Cury records a dessert called sambocade that's very similar to a cheesecake. By the 18th century, modern-yeast-less cheesecakes were created and became popular across Europe and the US.
Cheesecakes can be made with a crust base or without. The Polish cheesecake sernik is most often made without, but you'll find some Polish families that love adding a crust and sometimes even a lattice on top.
The modern sernik is based on a derivative of the arkas that was King Jan Sobieski III's favorite dessert. One legend is that the Polish king first tasted this cheesecake in 1683 after his victory against the Turks in Vienna and brought back the recipe with him to Poland.
Baked, cooled and topped with a delectable crust or sprinkling of sugar, sernik is pure Polish heaven.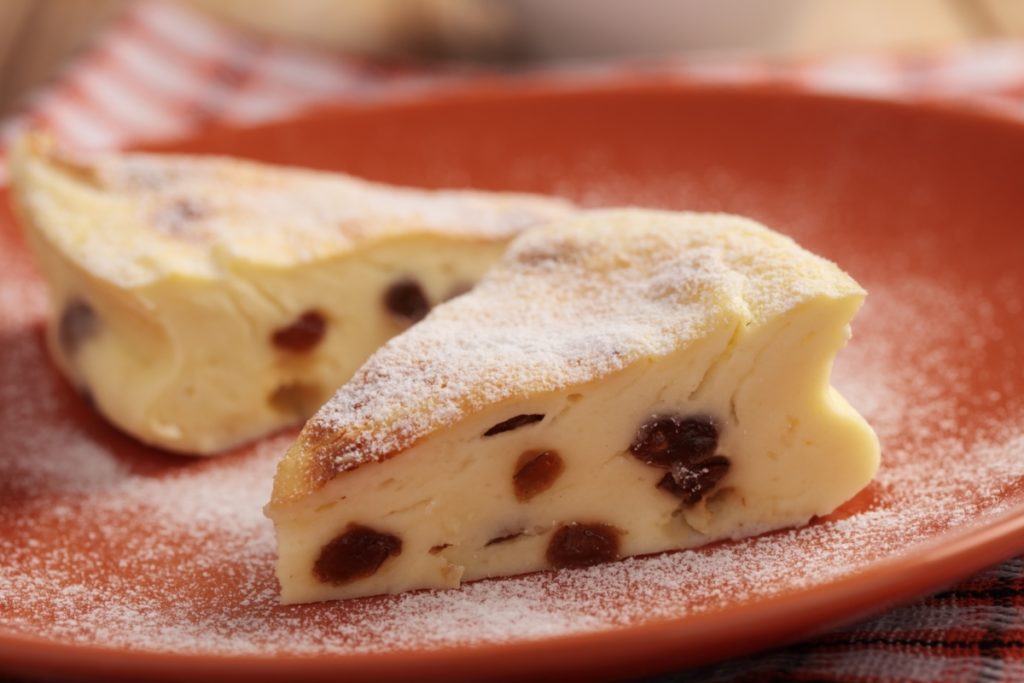 ---
Recipe Pointers For Sernik Recipe
---
FAQs about Polish Cheesecake Sernik
Why is it named sernik?
Sernik has been named after the Polish word for cheese 'ser'.
What can I use as a topping instead of powdered sugar?
You can replace the powdered sugar with a thin layer of your favorite jelly or jam, or a dusting of cocoa powder.
What to serve with Sernik?
Sernik tastes best as it is or with a simple dusting of powdered sugar or icing sugar. But it also goes well with ice cream, a topping of raspberry or blueberry jam, or a drizzle of chocolate sauce.
Can I add flavor to the sernik cheesecake?
Sernik is traditionally eaten plain or vanilla-flavored. However, you can also add lemon zest or cocoa as a flavor.
What other Polish recipes use twarog or farmer's cheese?
Other Polish recipes using farmer's cheese include the Easter pascha, pierogi ruskie, egg cutlets, and pierogi leniwe.
Twarog is also served as a topping for racuchy z jablkami or Polish pancakes.
How long can you store sernik?
Store the Polish cheesecake in the refrigerator for 4 to 5 days. Serve cold.
Yield: 12
Sernik: Polish Cheesecake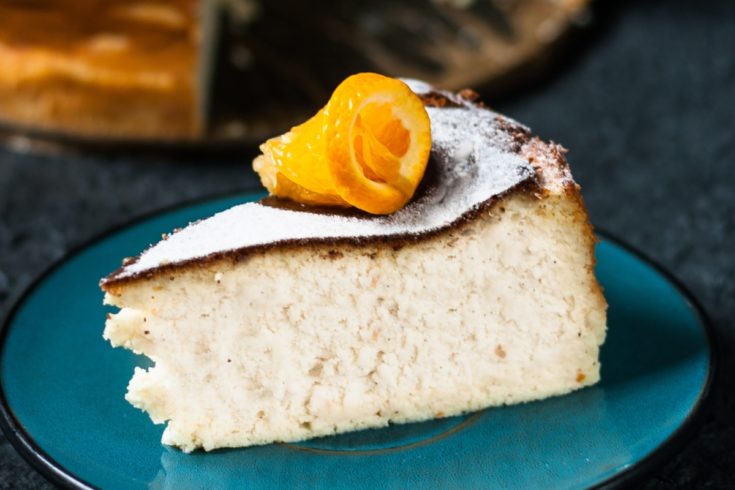 Cook Time
1 hour
10 minutes
Total Time
4 hours
25 minutes
Ingredients
2.2 lb (1 kg) Farmer's Cheese, full fat
4 eggs
1 cup of sugar
2 tsp vanilla extract
6 oz of butter
2 tbsp potato starch
2 tsp powdered sugar, to sprinkle on top
Instructions
Prepare the ingredients early by taking them out of the fridge to reach room temperature. Preheat the oven to 375 F.
Line a round 10" baking tin with parchment paper on the bottom. You don't need to line up the sides or grease them.
In a big bowl put together all the ingredients and knead until all the ingredients are combined. You can use the mixer as well. Move it to the baking tin.
Bake for 20 minutes, then reduce the temperature to 360 F and bake the cheesecake for another 50 minutes. Once baked, turn off the oven, but leave the cheesecake in for additional 10 minutes before taking it out.
After it has completely cooled down, put the cheesecake in the refrigerator for at least 3-4 hours. Sprinkle with powdered sugar on top before serving.
Notes
If you don't have potato starch, you can also add two sachets of vanilla or cream pudding without sugar to the mass.
Some people prefer this cheesecake with raisins, but lots of people hate it. You can add raisins and/or candied orange peels - if you do, remember to soak the raisins before throwing them into the bowl with the cheesecake.