Szarlotka (also known in English as sharlotka) is a prime pie all over Poland, but the truth is you either love it or hate it. It's an everyday dessert, served without any special occasion.
Don't confuse the pie with a drink, as there's also a drink called Szarlotka. It's created to taste like the cake, so contains Zubrovka bison grass vodka, apple juice, and cinnamon.
---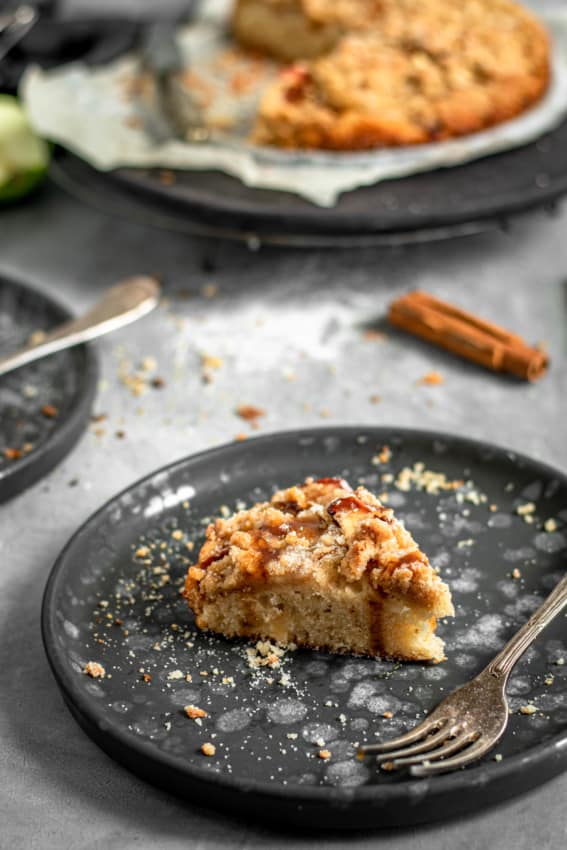 Fun fact: Szarlotka shares its name with a popular Polish cocktail. It's made of Żubrówka – bison grass vodka, mixed with apple juice and cinnamon.
Is it Polish Apple Cake or Polish Apple Pie?
Szarlotka is an apple PIE. Apple cake is a different thing and it's called jabłecznik.
Apple pie (szarlotka) is a type of cake. In this case, it must be brittle or semi-brittle. Our grandmothers used to say that apple pie does not necessarily have apples – it could be pears, apricots, plums, any fruit really.
An apple pie (jabłecznik) has only apples, while the dough may be other than shortbread or semi-flaky, for example yeast, biscuit, puff or meringue. Some people see one more difference: apple pie can only be served cold, and apple pie hot or cold.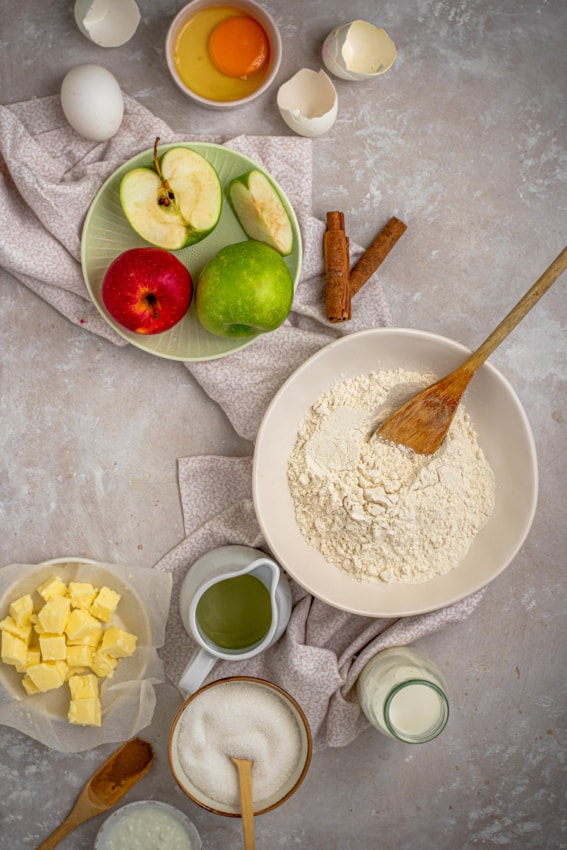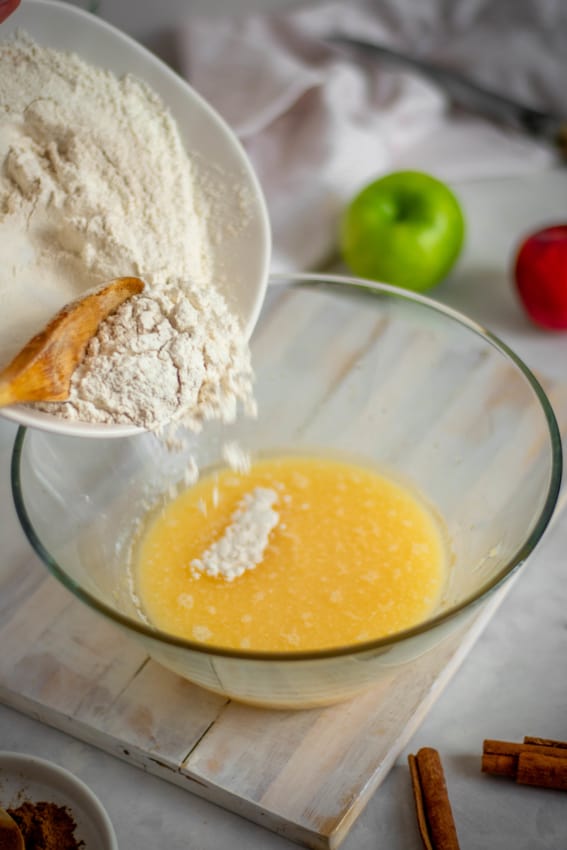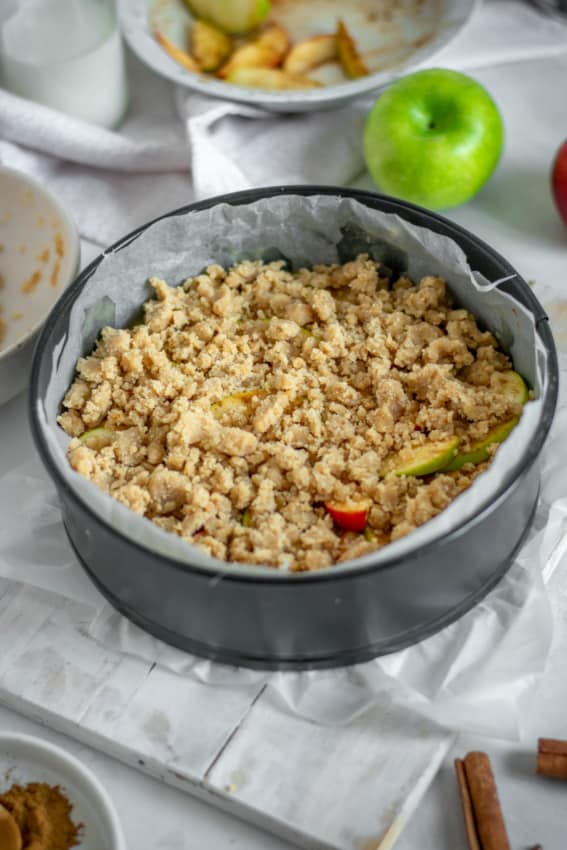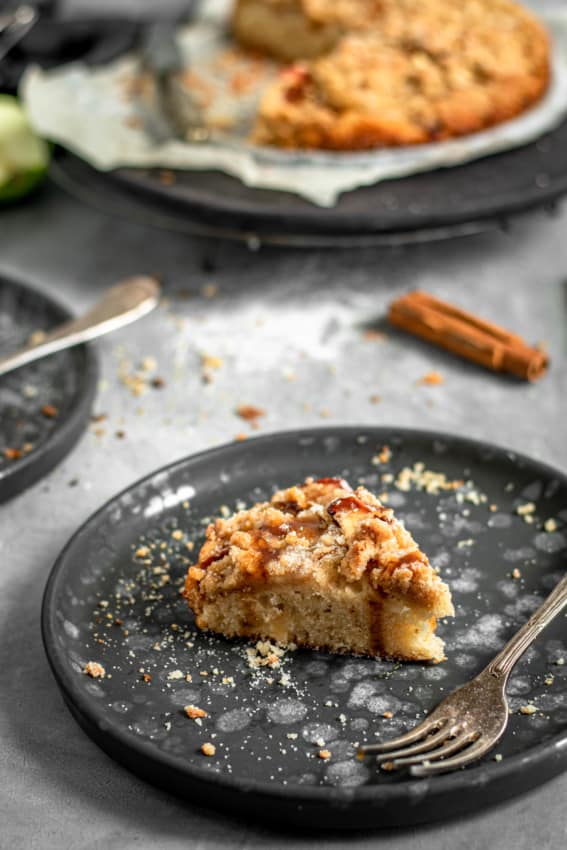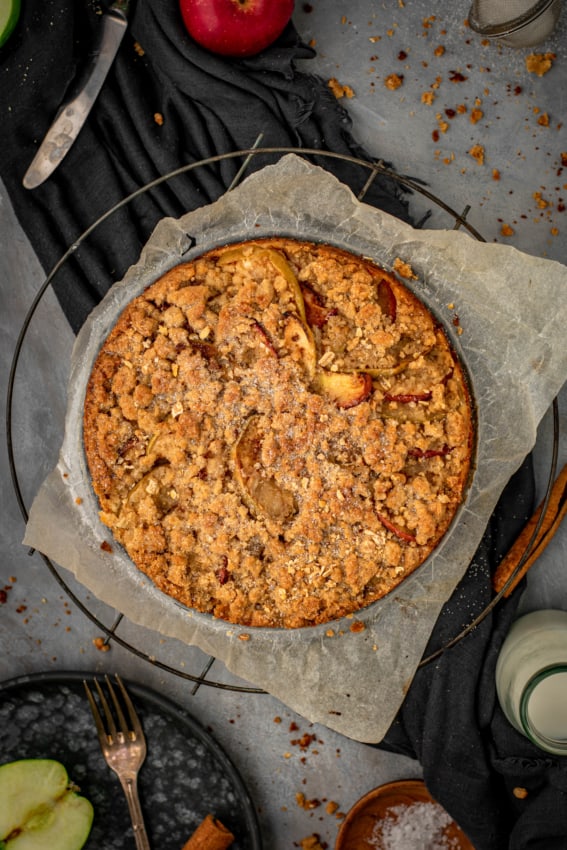 ---
Recipe Pointers For Szarlotka – Polish Apple Pie
Szarlotka is also called jabłecznik or Charlotte Russe!
Use a springform pan for the best presentation!
You can use vanilla sugar instead of table sugar for the apples.
Szarlotka tastes best when eaten a day later, so make it in advance if you can.
Although traditionally cut into a pie shape, you can cut into squares too!
You can top the pie with some whipped cream or dust it with a coating of sugar before serving!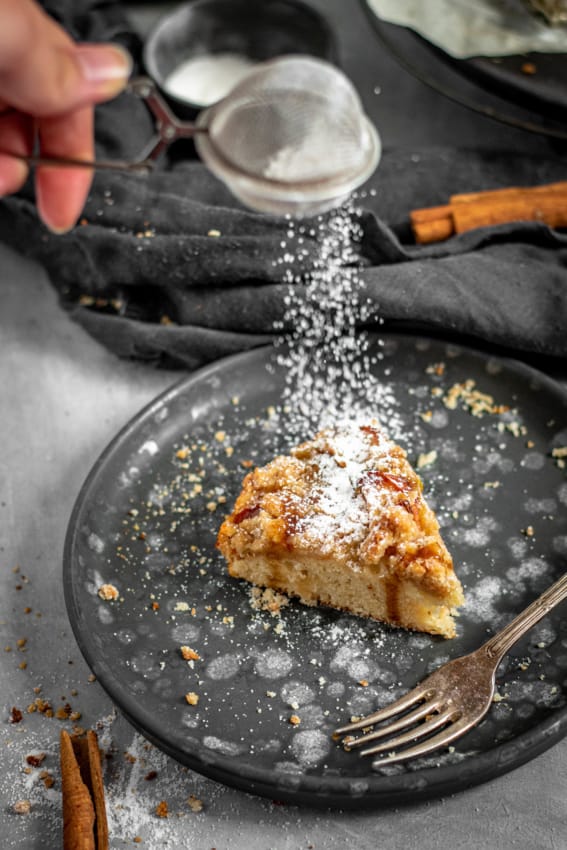 ---
FAQs about Szarlotka – Polish Apple Pie
What does szarlotka mean?
Szarlotka, derived from its French origins and named after the Russian Queen Charlotte, means Charlotte cake.
How to pronounce szarlotka?
The Polish szarlotka is pronounced shar-lott-kah.
What's the difference between Szarlotka and regular Apple pie?
The Szarlotka Polish apple pie is made with a cake batter at the bottom and a crumble on top of the pie filling. Also, the filling and crust are not as sweet as regular apple pie.
Why do you add lemon juice to the apple filling?
Lemon juice acts as a coating on the apples that prevent them from oxidation. This in turn prevents them from turning brown. So we add lemon juice to the apple pie. If you don't mind the filling looking slightly brown, you can skip the lemon juice.
What variations of the szarlotka exist?
Some Szarlotka recipes also include meringue on top. Some include raisins, dried fruits, or almonds. You'll find many different variations in the different regions of Poland.
Which apples should I use for the szarlotka?
I prefer to use tart apples like Gala or Granny Smith. You can also use McIntosh, Honey Crisp, Golden Delicious, or Polish Szara Renata apples for best results.
How do I store the Polish apple cake?
Polish apple cake can be stored on the counter for 2 days. If there are leftovers beyond 2 days, store them in the refrigerator in an airtight container for up to 3 or 4 more days.
Szarlotka - Polish Apple Pie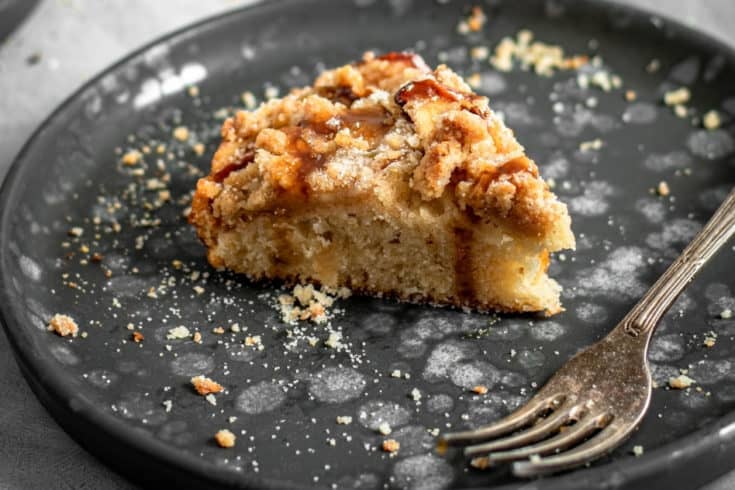 Ingredients
For the Crumb
3/4 Cups allpurpose flour
1/2 Cup Brown Sugar
3/4 tsp cinnamon
1/3 cup melted butter
For the Apples
8 Apples of choice (I used Granny Smith and Gala)
2 Tbsp granulated sugar
½ tsp cinnamon
½ tbsp freshly squeezed lemon juice
For the Cake
1¼ Cup Allpurpose Flour
1 tsp Baking powder
1/4 tsp salt
2/3 cup granulated sugar
1 large egg
¼ cup plain yoghurt
1 tsp vanilla extract
1/2 cup vegetable oil
¼ cup milk (55 ml)
Instructions
Preheat the oven to 350 Fahrenheit.
Grease a 20 cm spring form pan and line it with baking paper.

For the Crumb:

In a small bowl, whisk together the flour, brown sugar, and cinnamon until well combined.
Add in the melted butter, and whisk until a crumbly dough forms. Place it in the fridge.
For the Apples:
Cut the apples into thin slices, and place them in a bowl.
Add in the lemon juice, sugar, and cinnamon. Mix well then place in the fridge.
For the Cake:
In a medium bowl mix together the flour, cinnamon, and salt.
In a larger bowl, whisk the sugar and egg together, then add the yoghurt and vanilla extract.
Add in the oil and milk. Whisk until well combined.
Add the dry ingredients into the wet ingredients.
Mix with a spatula or a wooden spoon until just combined. Don't overmix, some lumps are okay.
Putting it together:
Pour the cake batter into the pan and arrange the apple slices on top.
Take the crumble out of the fridge, and use a fork to break up the dough into chunks.
Distribute the crumble on top of the apples.
Bake it for 35-45 minute, or until a toothpick come out clean.
Let it completely cool down before serving.