These delicious cranberry and apple turnovers are the perfect fall dessert. Warm and mellow with the sweetness of apples and tartness of cranberries, they're just perfect for the holidays!
Fall is here, and every home baker maybe thinking the same as me. It's the perfect time for some puff pastry apple turnovers that crispy on the outside and mellow on the inside.
This golden apple turnovers recipe is just that – balancing the tart cranberries with the sweet apples to deliver flavorful mouthfuls of lush goodness!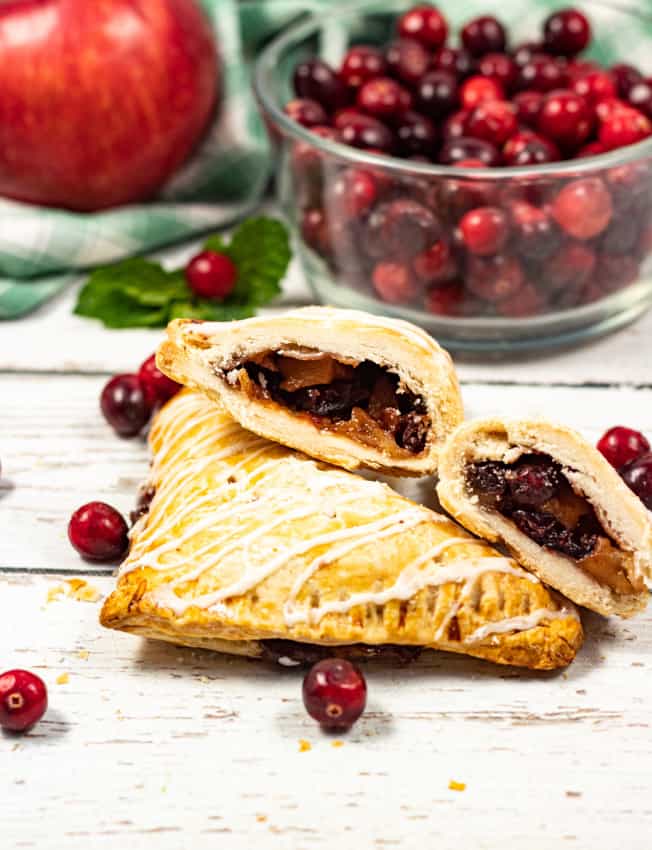 What are Turnovers?
A turnover is a sort of portable or handheld pie that is just the right size for a single individual. Quite simply, turnovers are pastries that are made by placing tasty fillings on a piece of dough, folding it over to seal it in a triangle shape and then either frying or baking it.
Turnovers can be either savory or sweet, with the popular ones being apple turnovers, peach turnovers, cherry turnovers, beef turnovers, or chicken turnovers.
There is no known date of when turnovers first appeared. But they have been mentioned in the Oxford dictionary as far back as 1798 and in a book called The Complete Housewife in 1753.
But, turnovers may have been around for centuries before that in Greek or Egyptian cultures.
You don't have to be a professional to make apple turnovers at home. With just a few ingredients, they're simple and easy to make in under an hour.
Try this apple turnovers recipe for yourself!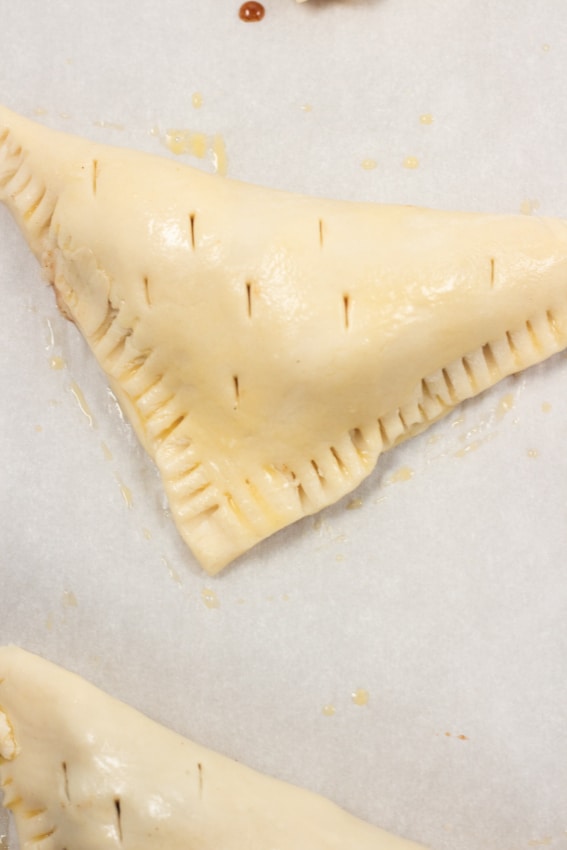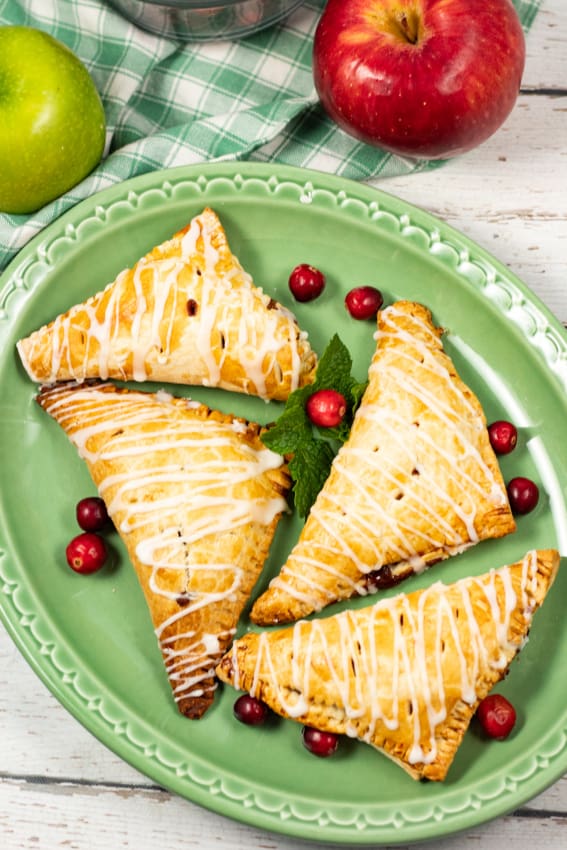 ---
Recipe Pointers For Apple Turnovers Recipe
If you prefer to make your own phyllo pastry, that's even better than the store-bought variety!

Crimp the turnovers well to ensure they don't leak.

Use a fork to drizzle the icing to form a pattern.

Ensure you make slits on the top of the apple turnovers before baking. If not, the steam will try to creep out the crimped sides of the turnovers resulting in leaks.

Warm apple turnovers go perfect with a bowl of vanilla ice cream.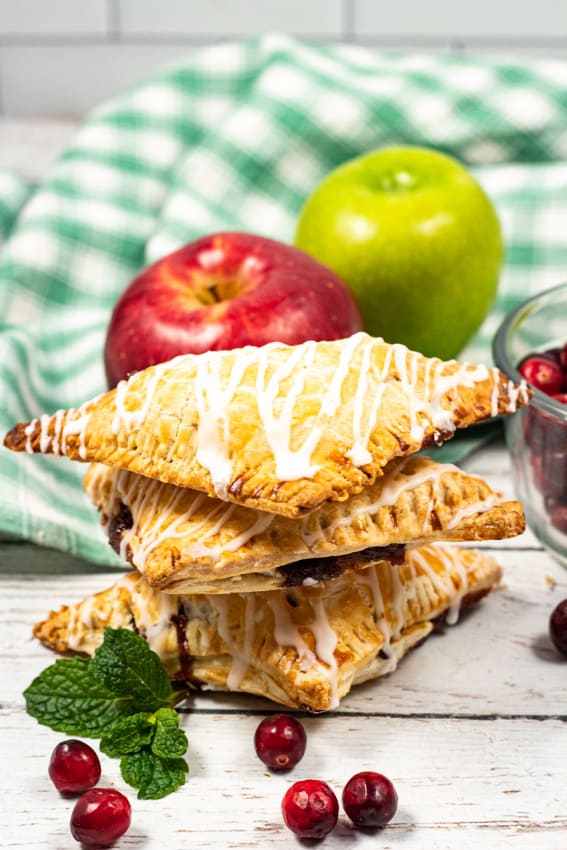 FAQS about Puff Pastry Apple Turnovers
When is Apple Turnover Day?
National Apple Turnover Day is celebrated on July 5th every year.
How do you celebrate National Apple Turnover Day?
To celebrate, simple make apple turnovers and enjoy them with your friends and family.
Can I make this recipe vegetarian?
Yes, to make your apple and cranberry turnovers vegetarian, just replace the egg wash with milk.
How do I stop the turnover from leaking?
The egg wash helps the pastry stick to each other and prevents it from leaking. Alternatively, crimping the edges of the turnover with a fork also has the same effect.
How do I prevent apple turnovers from getting soggy?
To stop turnovers from getting soggy, use a smaller amount of the brown-sugar-butter sauce while adding the fruit mix to the pastry. Alternatively, once you have crimped the turnovers, refrigerate them for 30 minutes before baking. This will make sure the bottoms bake first before the apple mixture starts heating up, and they'll turn out less soggy.
Can I freeze leftover turnovers?
Yes, place the apple turnovers in an airtight container and freeze. When you need to serve them, pop them straight from the freezer into the oven and heat. Do not allow them to thaw first or they will get soggy.
Yield: 10 pieces
Apple & Cranberry Turnovers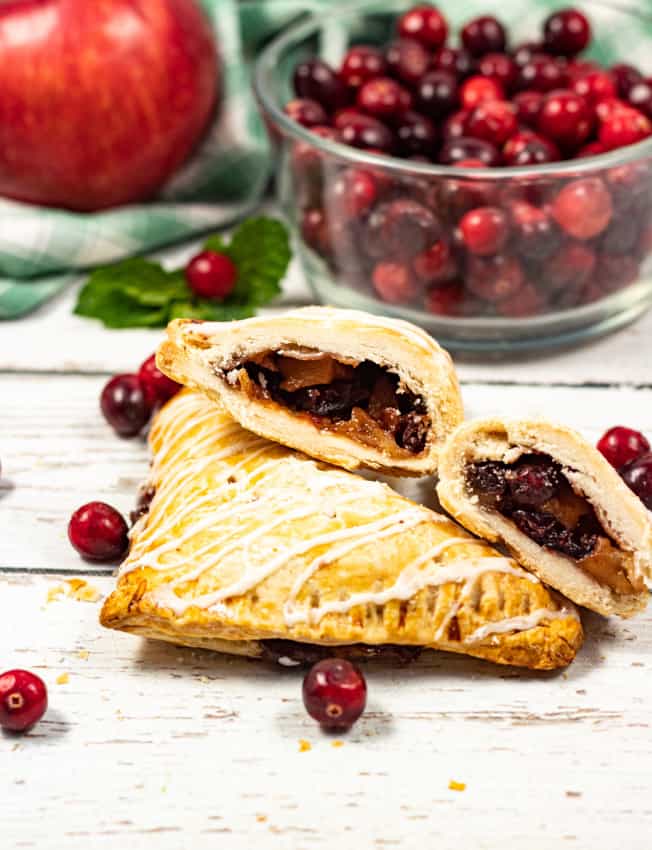 These delicious cranberry and apple turnovers are the perfect fall dessert.
Warm and mellow with the sweetness of apples and the tartness of cranberries, they're just perfect for the holidays!
Ingredients
1 pkg refrigerated pie dough (2 rounds) or any dough recipe of choice
2 c peeled and diced apples of choice (I like Granny Smith or Honey Crisp)
1 c. dried cranberries
¾ c light brown sugar (packed)
1 tbsp flour
2 tablespoons of butter
¾ tsp cinnamon
1 lg egg whisked with 1 tsp water
Drizzle Icing
1 c powdered sugar
¼ c half & half or milk
¼ tsp clear vanilla extract
Instructions
Turnovers
1. Preheat oven to 400°
2. Line baking sheets with parchment paper.
3. On a floured surface, roll pie crust to approx. ⅛-inches.
4. Cut squares approx. 4½ x 4½ inches. Repeat with second crust. Reroll and cut any leftover dough. Place squares of dough on baking sheets.
5. Place apples, cranberries, butter and sugar in a saucepan and heat over med. heat until butter is melted. Add flour and cinnamon and simmer over low for 4 min. stirring frequently. Remove from heat and allow to cool completely.
5. Brush surface of each dough square with egg wash.
6. Place 2 level tbsp. of filling onto center of each square. Fold over to form a triangle and crimp edges with a fork. Make several small slits in tops to allow steam to escape. Lightly brush the tops of each turnover with the egg wash. Optionally, you can also sprinkle the tops with sugar at this point.
7. Bake on center rack of the oven for approx. 20 min or until light golden brown.
8. Allow to cool completely, then drizzle with icing.
Drizzle Icing

Whisk powdered sugar, milk and extract until smooth.

Nutrition Information:
Yield:
10
Serving Size:
1
Amount Per Serving:
Calories:

320
Total Fat:

9g
Saturated Fat:

4g
Trans Fat:

0g
Unsaturated Fat:

5g
Cholesterol:

23mg
Sodium:

147mg
Carbohydrates:

59g
Fiber:

2g
Sugar:

41g
Protein:

3g