Colorful marzipan Christmas figurines on a blanket of frosted cream cheese snow make these red velvet snow globe cupcakes a magical Christmas treat!
Red velvet cupcakes have a really Christmassy feel to them! Frosted cream cheese on a red velvet mound with little Christmas figurines of marzipan in a shiny gelatin globe.
The kids will go crazy over these snowglobe cupcakes! Adults will too! You can't go wrong when you make these easy red velvet snowglobe cupcakes as gifts for Christmas dinners and parties.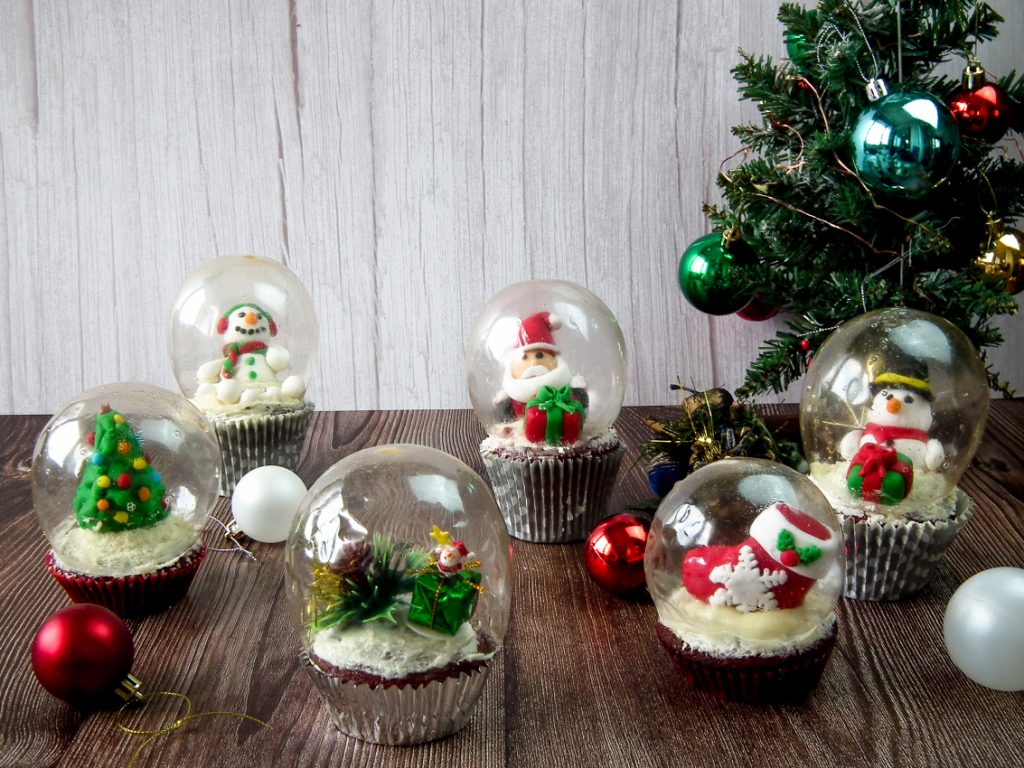 ---
What Exactly is Red Velvet Cake?
Modern red velvet cakes are bright red cakes with a hint of cocoa and touch of smoothness. But historically, red velvet cakes have two different factors.
'Velvet' was a term used in the Victorian Era for luxuriously soft cakes that were served at fancy parties. These cakes were a new invention by bakers who had figured out to mix together flour and cocoa in such a way that they created a finer crumb than traditional sponge cakes. But the cakes were not red in color, they were more of a mahogany color.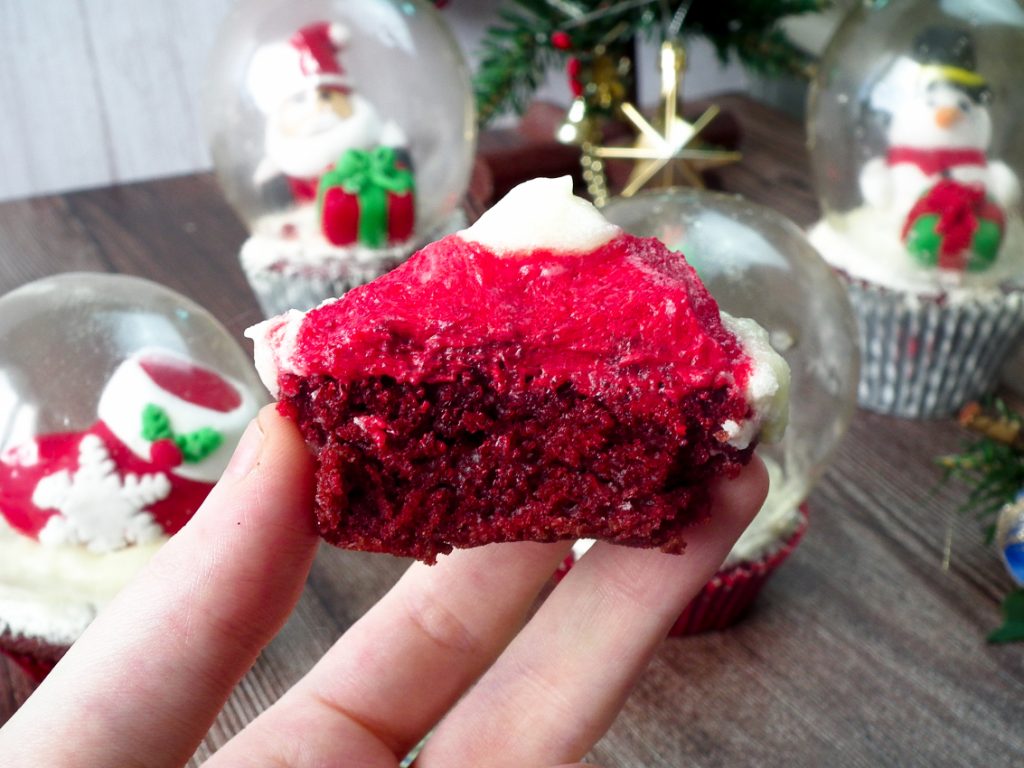 How Did the Red Velvet Cake Become Red?
During World War II, the lack of supplies resulted in beetroot juice or pureed beetroots being added to cake mixtures for their natural red color and moisture.
Over time buttermilk was added to the cake for added moisture. This buttermilk however reacted with the non-Dutched cocoa being used at the time to create a slightly red color.
After that, even when Dutched cocoa came back into circulation in the 1940s and 50s, the red color of the cake had grown so popular, that artificial coloring started being added to the cakes.
So what really is a red velvet cake? Nowadays, a red velvet cake is a deliciously moist cake with a hint of chocolate that contrasts with a tangy cream cheese frosting to take you to cake heaven!
Cover it with your Christmas marzipan decorations and snow globes and you'll be lost in a winter wonderland!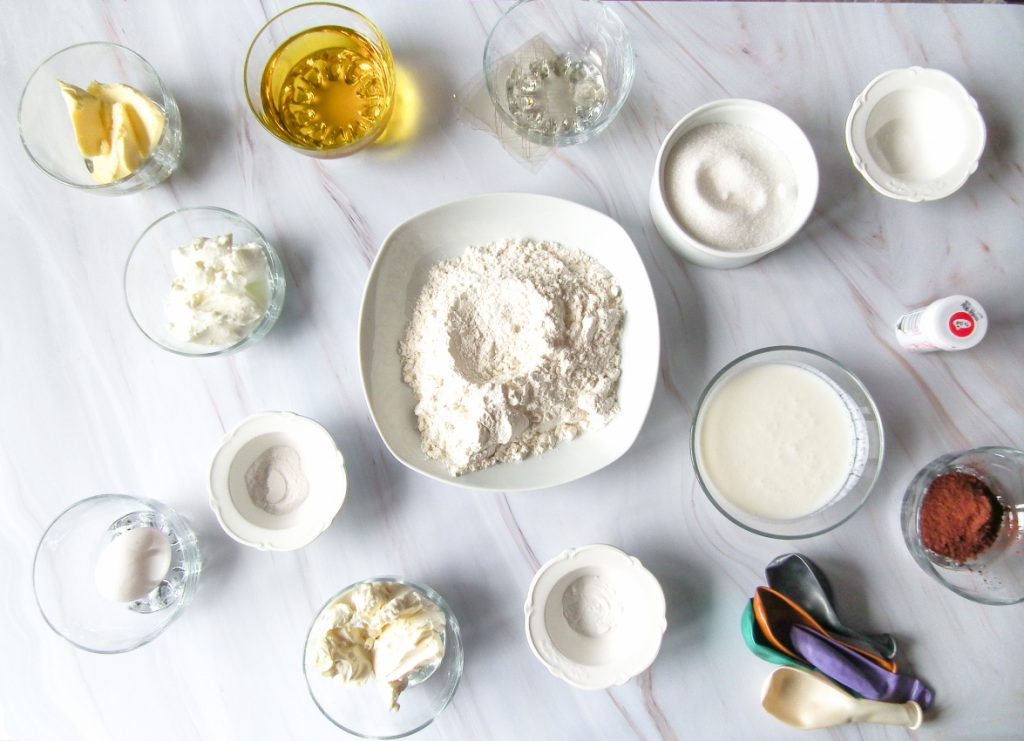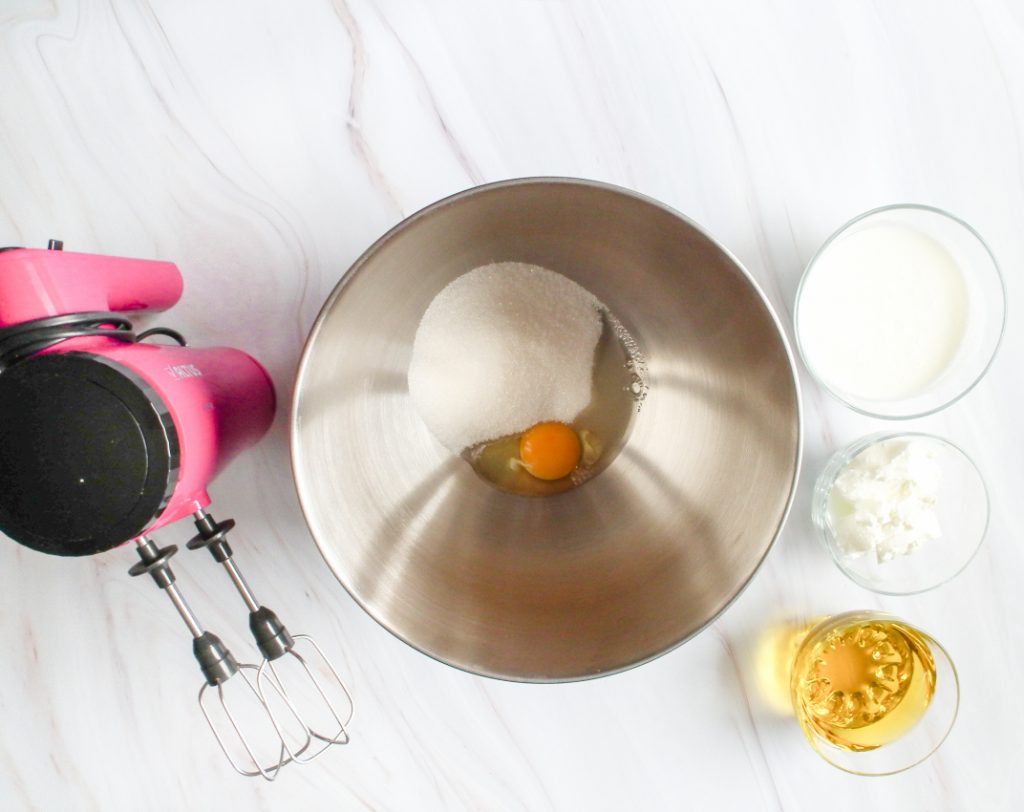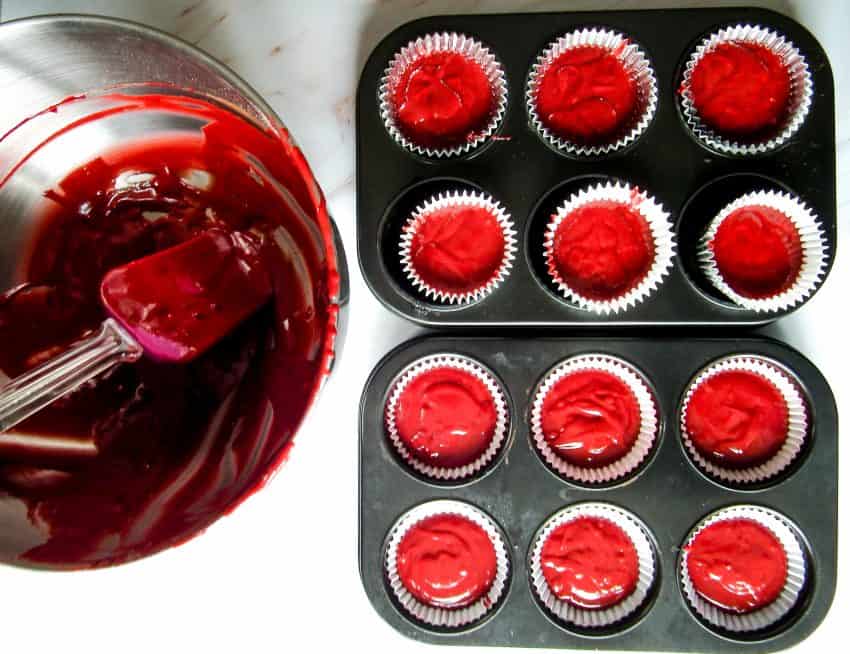 ---
Recipe Pointers For Red Velvet Snowglobe Cupcakes Recipe
Gelatin sheets are preferred as they don't have as strong of a gelatin taste as gelatin powder does. Platinum grade gelatin gives a clearer snow globe.
Add a few drops of vanilla or peppermint flavoring to your gelatin liquid before covering the balloons with it!
Don't use baking powder instead of baking soda. This is important! The reaction of the baking soda and buttermilk mixture gives the cake its classic redness. But of course, nowadays we add color too!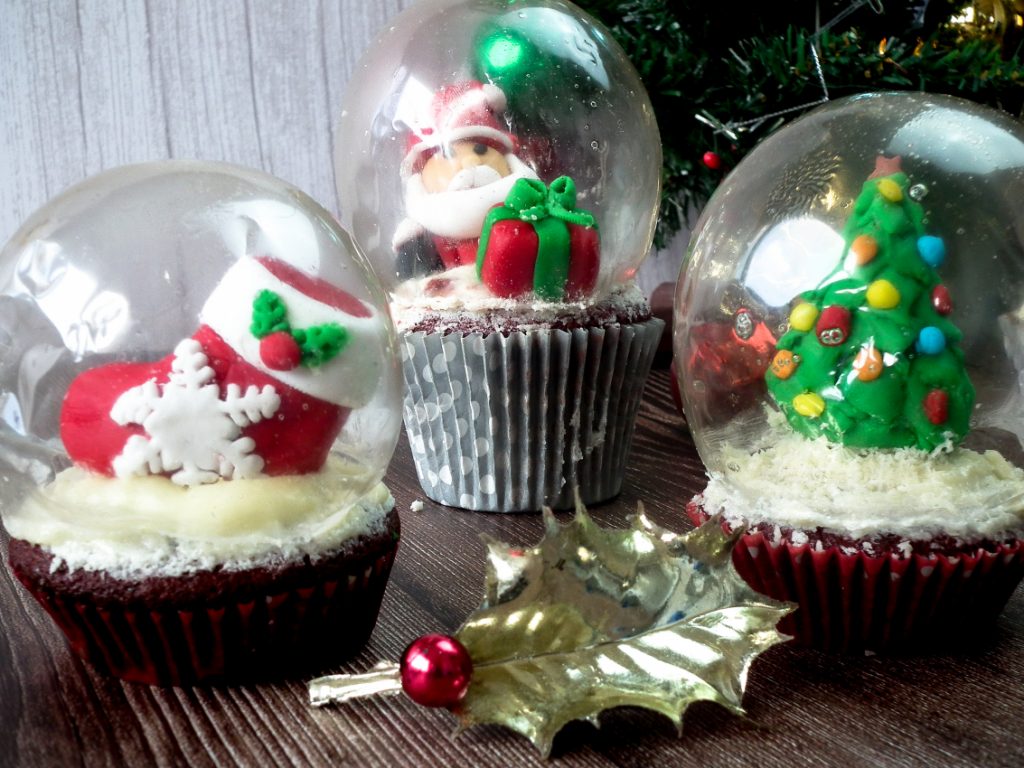 ---
FAQs about Red Velvet Snowglobe Cupcakes
Can I make red velvet cupcakes without red food coloring?
Yes, substitute the red food coloring with beet powder for a natural red color.
Does the red velvet cake have any other names?
Before being called red velvet cake, the cake was also called a $300 cake, flame cake, red mystery cake, red carpet cake, Waldorf Astoria red cake, and a Waldorf red cake.
What makes red velvet cakes so moist?
The addition of buttermilk to the cake mixture gives it that moistness. Some recipes also use vinegar.
So red velvet cake is really a cocoa cake?
Well, almost. The red velvet cake has only so much cocoa in it that you get a hint of chocolate.
What is Dutched cocoa?
Cocoa that has undergone a process to deepen it's color and take the bitterness out is called Dutched cocoa.
Cocoa that hasn't been treated is lighter in color and called non-Dutched cocoa.
How long can I store these cupcakes?
Unfrosted red velvet cupcakes can be stored in the refrigerator for a few days or in the freezer for a few months.
However, once the cake is frosted it's best to finish it the next day.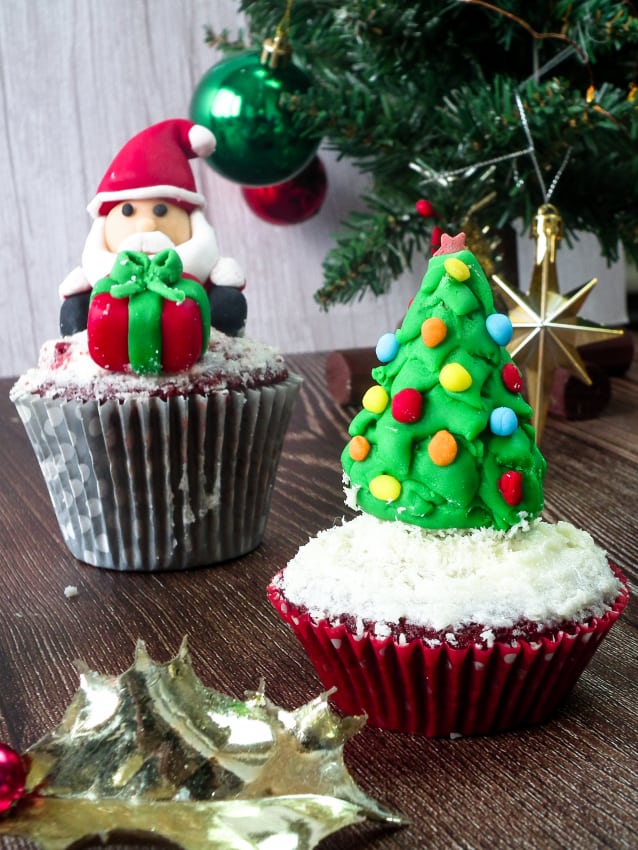 Yield: 15 Cupcakes
Christmas Red Velvet Snow Globe Cupcakes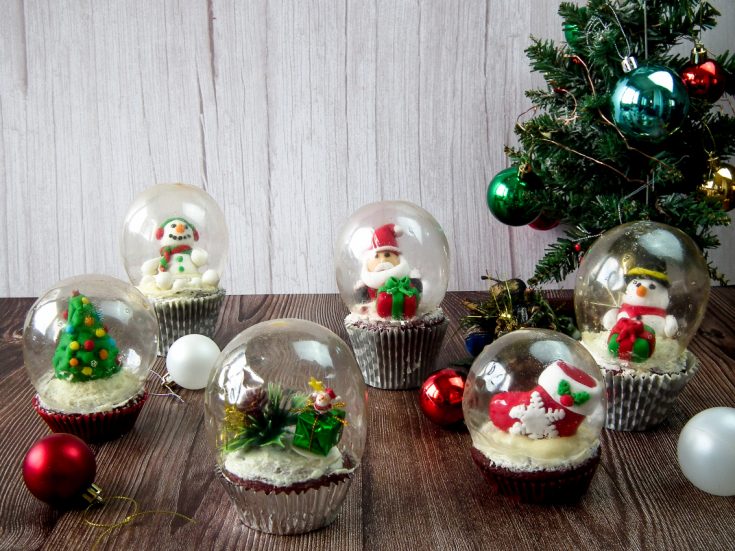 Colorful marzipan Christmas figurines on a blanket of frosted cream cheese snow make these red velvet snow globe cupcakes a magical Christmas treat!
Additional Time
15 minutes
Ingredients
For the Gelatin Snow Globes
• 14 sheet (28 g) gelatin
• 5 tbsp cold water
• 15 water balloons
For the Cheese Cupcake Frosting
½ cup (115 g) butter (room temperature)
1 cup (120 g) cream cheese
2 cups + ½ cup (300 g) powdered sugar
tsp vanilla extract
For the Cake
1 large egg
1 cup (200 g) sugar
2/3 cup (160 g) butter milk
½ cup (120 g) vegetable oil
2 tbsp (30 g) yogurt
1 tbs vanilla extract
1 cup + 2/3 cup (210 g) flour
Pinch of salt
½ tbsp (7.5 g) baking soda
1 tbsp + 1/2 tbsp (10 g) cocoa powder
1 tbsp red food coloring (Please add little by little!)
Colorful marzipans
Instructions
For the Snow Globe Gelatins
Soak the gelatin in cold water for 5 minutes.
Squeeze the excess water from the gelatin and put it in a saucepan.
Pour 5 tbsp of cold water over it.
Double boil it on the stove until it melts. (do not overheat!)
Inflate the balloons.
Dip all the balloons in the gelatin or cover with a paintbrush.
Let it dry for 10 minutes. Then, cover all the balloons with another coat of gelatin.
Set aside to dry for 24 hours.
After the gelatin is completely dry, pop the balloons and take them out of the gelatin globes.
For the Cheese Cupcake Frosting
Beat the softened butter, vanilla extract, and cream cheese together till its smooth.
Add the powdered sugar and whisk for 3 minutes.
Then, put the frosting in a piping bag and store in the refrigerator till you're ready to decorate the cake.
For the Cupcakes
Preheat the oven to 180 C / 356 F.
Place the cupcake liners in the molds and set aside.
In a large bowl mix the egg, sugar, yogurt, buttermilk, vegetable oil, and vanilla extract.
In another bowl sift the flour, cocoa powder, salt, and baking soda together.
Add these dry ingredients to the mixture in the large bowl and stir with a spatula (do not over mix!)
Add the red food coloring little by little till you reach the perfect red velvet color.
Divide the mixture into the lined cupcakes molds.
Bake for 20 minutes in the oven. Before removing the cupcakes from the oven, test with a toothpick or a knife. If the toothpick comes out clean, take out the cupcakes from the oven. If not, bake for 5 more minutes.
Rest for 15 minutes to cool down.

Assembling the Cupcakes
Pipe a layer of frosting on the cupcakes.
Decorate with the colorful marzipan pieces as you wish.
Cover with the snowglobes.
ENJOY!