This smooth and creamy classic hummus dip is made with just 6 basic ingredients. For an authentic touch of Middle Eastern cuisine, this is the best hummus recipe to make at home; better than any store-bought variety!
What is Hummus?
Hummus is a Middle Eastern or Mediterranean dip made of garbanzo beans (chickpeas), tahini, lemon juice, garlic, salt, and olive oil. Traditionally served in a bowl drizzled with olive oil and paprika or sumac, hummus has been satisfying the hunger of human beings for centuries.
Where did hummus originate? That's a difficult question to answer. Hummus recipes have been found in cookbooks from Cairo dating as far back as the 13th century, but there was no tahini or garlic in the recipe.
Many cultures lay claim to having invented hummus long before that – the Lebanese, Turks, Jews, and Syrians. To date, no one has proven ownership, but hummus is surely an Arab dish, not Israeli.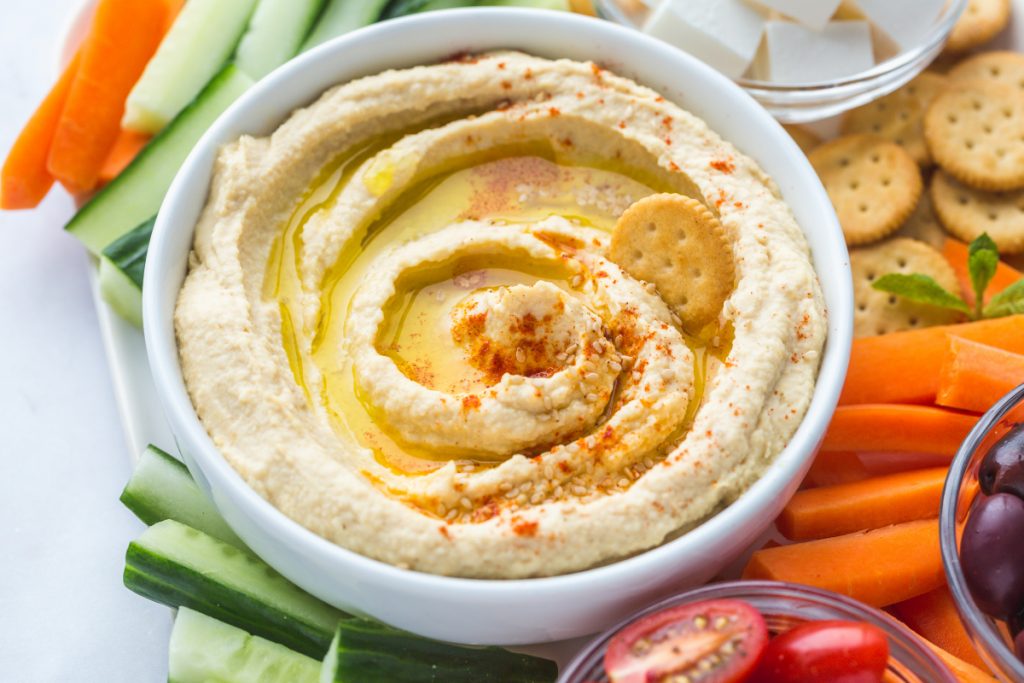 ---
Why is Hummus so popular?
Well, just try it and see! The smooth creaminess of the chickpeas and the tanginess of the lemon juice just waiting to be spread on your pita bread and covered with olives, mushrooms, paprika, and pine nuts is mouth-watering. Wedges of pita chips or carrot sticks just dipped in this gluten-free and dairy-free hummus are drool-worthy.
But apart from the flavor and taste, hummus has more to offer. It's low in fat, high in fiber and protein, and a great source of energy.
It's healthier than regular sauces or dips and a great addition to a health-conscious diet! With Mediterranean and Middle Eastern cuisine gaining popularity the world over, no wonder hummus is becoming a food sensation.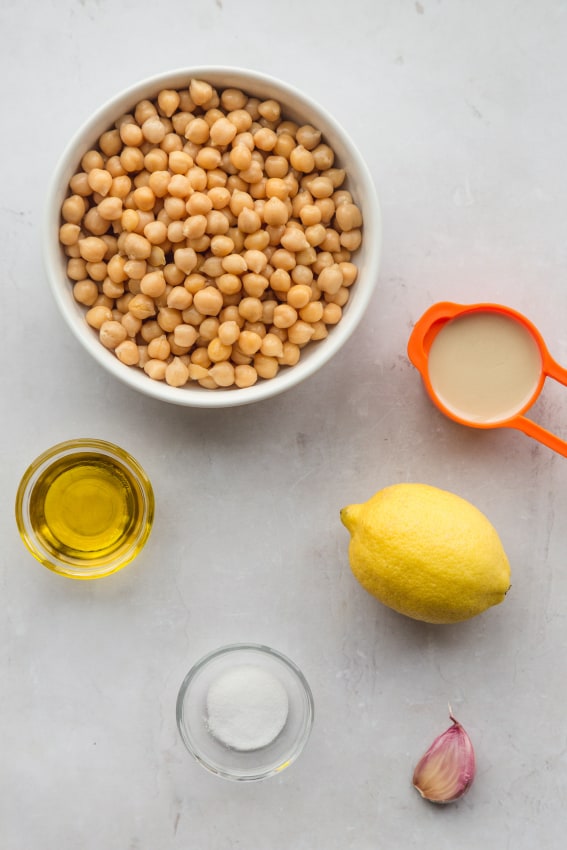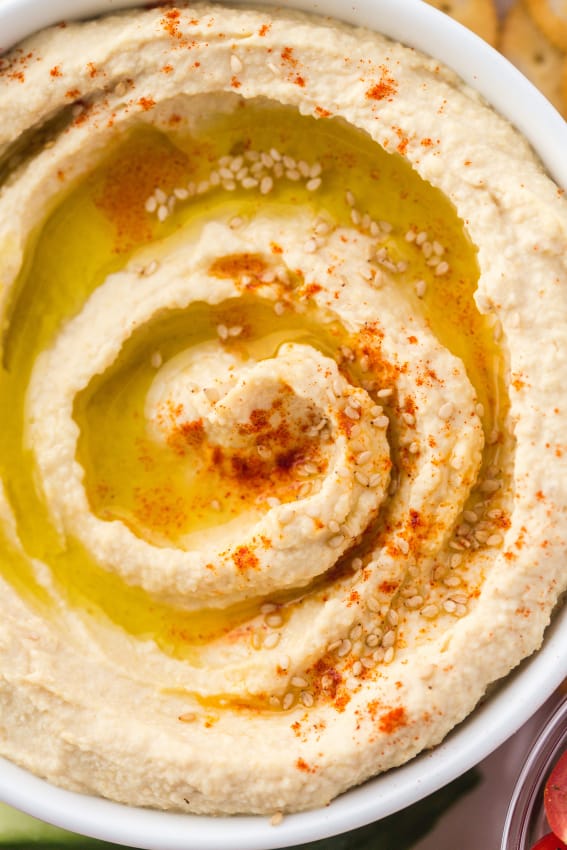 ---
Recipe Pointers For Making the Best Hummus Easily
Use dry beans (instead of canned ones) and remember to soak them in plenty of water overnight, and pressure cook them for 20 minutes before making the hummus.
You don't need to peel the chickpeas, but I recommend it. To make it easy add baking soda to the water you soak it in.
You will get a creamier texture if you peel them, I find this too time-consuming, and the difference not worth it.
The exact amount of water you should add depends on the kind of tahini you use. If your tahini is extra thick, you will need a little bit more water.
For an authentic flavor, add 1 teaspoon of ground cumin to the hummus mixture while grinding.
Garnish with extra virgin olive oil, toasted sesame seeds, and paprika. An authentic garnish is just olive oil and a sprinkle of sumac.
Store leftover hummus in the fridge in an airtight container for up to 5 days.
Serve as a part of a snack or mezze platter, in wraps, sandwiches, or as a dip with pita chips.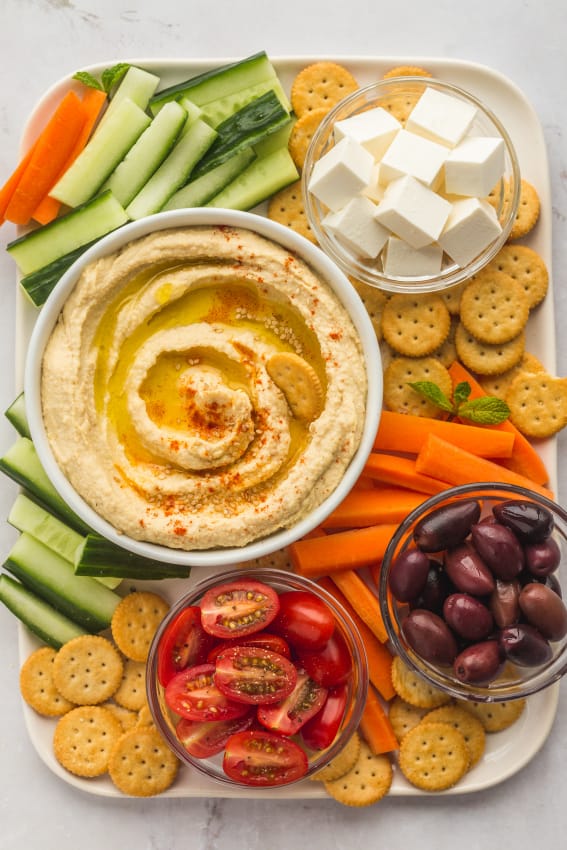 ---
FAQs about making hummus at home
What does hummus mean? Does it have other names?
Hummus literally means "chickpea" from the Arabic word "hummus bi-t-tahina" or "chickpeas in tahini". It's also called humus, houmous, hommus, or hommos.
What to eat with hummus?
Hummus can be eaten with carrot or zucchini sticks, veggie wedges, olives, tomatoes, saltine crackers, pita wedges, nachos, chips, and a host of other ingredients.
You can also add them to sandwiches or wraps in place of sauces or dips or serve with baked fish.
Can I make different flavors of hummus?
Yes, you can. Add boiled beetroots to the mixture for a bright beetroot hummus, pine nuts, pumpkin for a pumpkin hummus, spinach for a spinach hummus, or honey for a sweet hummus.
There are many more flavors that you can blend in to get the perfect hummus.
Is hummus keto-friendly?
The keto-friendly diet is high fat and low carbs. But hummus is made from garbanzo beans (chickpeas) which are high in carbohydrates and low in fat content, and so are not keto-friendly.
Can you make hummus without tahini?
Tahini which is made from sesame seeds gives the hummus its nuttiness. If you don't have tahini, you have two options.
First, just reduce the amount of water you use and add a teaspoon of cumin powder. Or second, add an equal amount of peanut butter. Both versions taste great.
Palestinian hummus uses more tahini in the recipe, but in my opinion, it's a bit too much.
Where was the largest batch of hummus made?
According to the Guinness Book of World Records, the largest serving of hummus was made in Beirut, Lebanon on 8 May 2010. Chef Ramzi Choueiri and 300 student-chefs of Al-Kafaat University made a whopping 10452 kgs of hummus that day!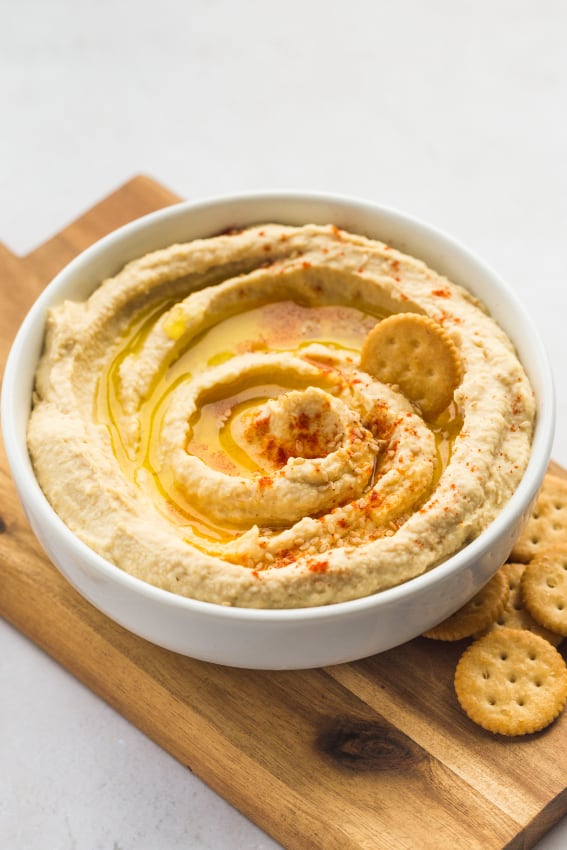 Yield: 8 Servings
Best Hummus Recipe from Scratch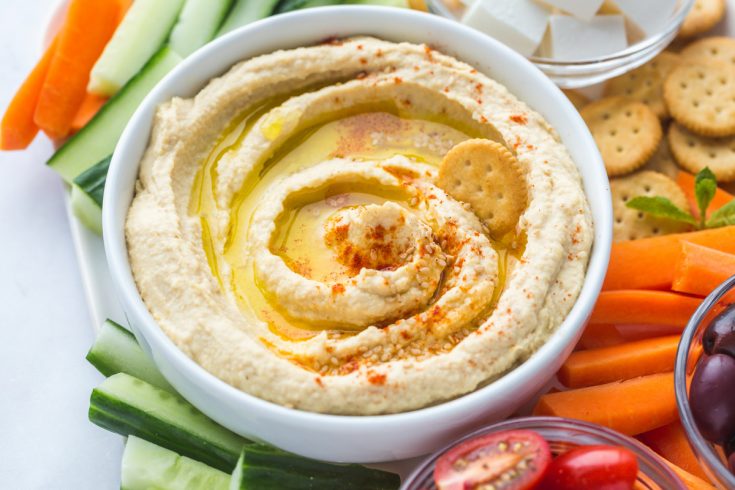 Creamy and fluffy classic hummus dip made with just 6 basic ingredients. This is an authentic Middle Eastern recipe that you will love!
Ingredients
1 15-oz can garbanzo beans, drained
3 cloves of garlic
¼ cup tahini paste
2 tablespoons extra virgin olive oil
2 tablespoons lemon juice
1 teaspoon salt
1 tablespoon of baking soda
Instructions
Soak the beans overnight in water with baking soda for at least 12 h and cook for 20 minutes.
In a food processor or a high power blender, combine all of the ingredients and blend for 60 seconds. You will get a thick paste.
Scrape down the food processor and add water to the mixture to thin it out (start with 1 tablespoon), and blend for 20-30 more seconds or until the hummus is pale and creamy. Add more water if necessary to get the right texture, and run the food processor again.
Have a taste, and adjust ingredients to your preference (I usually add more lemon juice and garlic).

Notes
Don't use canned beans.

You don't need to peel the chickpeas. Although you will get a creamier texture if you peel them, I find this too time-consuming and the difference worth it.

The exact amount of water is not specified as this depends on what kind of tahini you're using. If your tahini is extra thick, you will need a little bit more water.

For an authentic flavor, add 1 teaspoon of ground cumin to the hummus.
Nutrition Information:
Yield:
8
Serving Size:
1
Amount Per Serving:
Calories:

151
Total Fat:

9g
Saturated Fat:

1g
Trans Fat:

0g
Unsaturated Fat:

7g
Cholesterol:

0mg
Sodium:

873mg
Carbohydrates:

14g
Fiber:

4g
Sugar:

2g
Protein:

5g