A refreshing cocktail for hot summer nights and days, the raspberry, rosé, and vodka spritzer will lighten your spirits and keep you sparkling!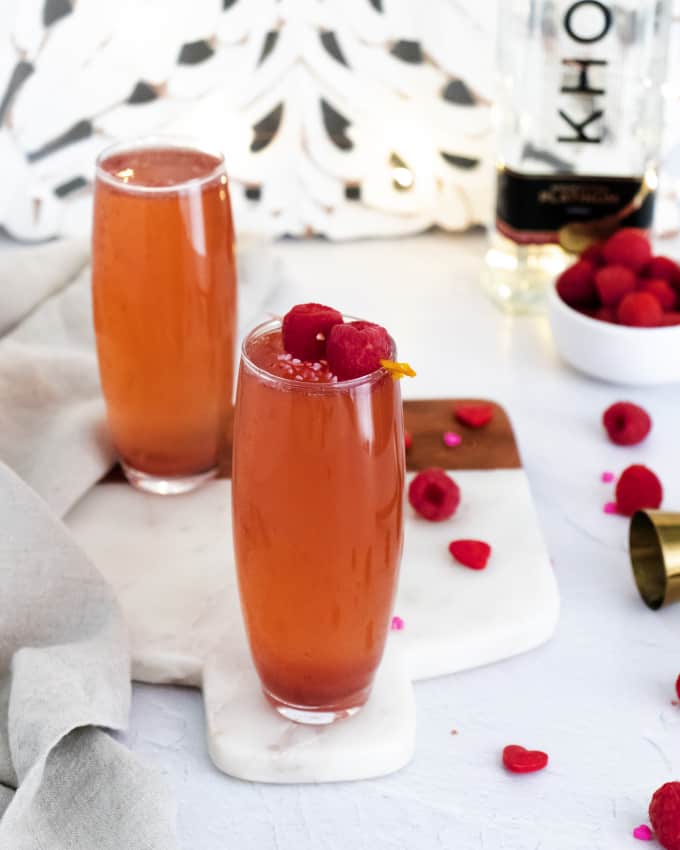 Summer is the perfect time to indulge in some invigorating cocktails, and what better mix to make than a raspberry, rosé wine, and vodka spritzer?
---
What is a Spritzer?
A spritzer is a cocktail made using part soda or carbonated water, and part white or pink wine, to which alcohol or other flavors can be added.
The drink gets its name from the Austrian Gespritzter which originated in Venice in the 19th century as a way to make wine "bubbly". Yes, Venice was a part of the Austrian Empire when the drink was created.
The Austrian soldiers stationed around Venice at the time were more used to beer, and so would dilute their wine with water or soda to reduce the alcohol content. The water being sprayed or squirted into the wine resulted in the name Gespritzter or G'spritzter, which literally means to squirt or spray in German. By the way, spritzers are also called Schorle in Germany.
Hungary also laid claim to inventing the spritzer in 1842 when scientist Ányos Jedlik took a bottle of soda water with him to his friend András Fáy's wine cellar.
Soda being a nouveau invention, it was just gaining popularity at that time. Anyos mixed the soda with the wine and invented the drink called fröccs. However, most experts say this story is just a story. Austria is the true inventor of the spritzer.
Spritzers made by mixing wine with lemonade are sweet and called Süssgespritzter while mixing wine with soda is called Sauergespritzter.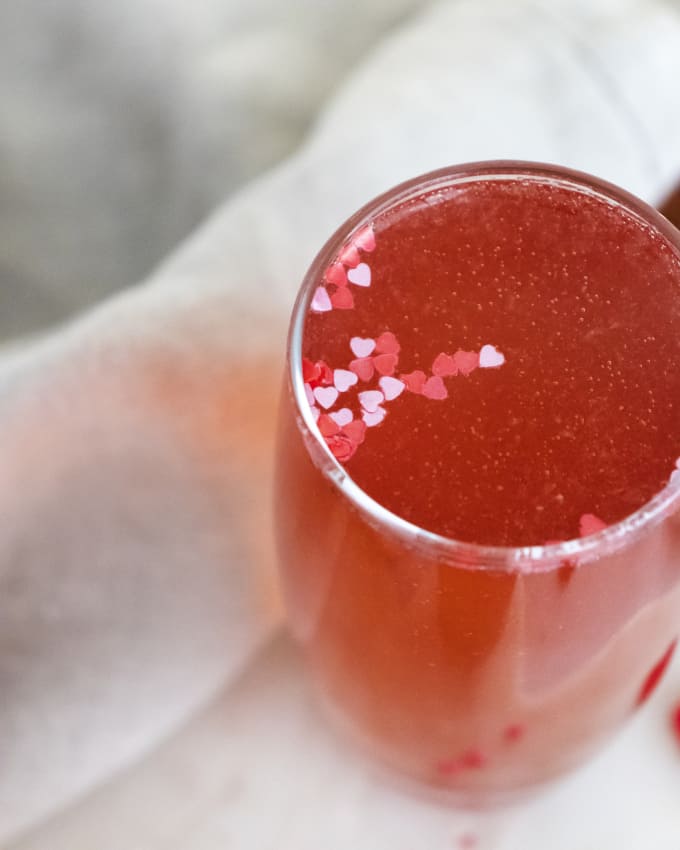 ---
Does Spritzer Have to Be Alcoholic?
Spritzers can be alcoholic or non-alcoholic. The most popular form of spritzer is the ApfelSchorle made by mixing apple juice with sparkling water.
Over time, as spritzers took over the world, many varieties were born; raspberry wine spritzers, apple spritzers, apricot brandy spritzers, Sicilian orange spritzers, berry vodka spritzers, and more.
Take any fruit juice or liqueur, and it can easily be converted into a tasty wine spritzer. My favorite is the raspberry, rosé, and vodka spritzer!
---
Recipe Pointers For Raspberry Wine Spritzer Recipe
If you do not have raspberry jam, any other fresh fruit jam will work perfectly. Blackberry, strawberry, or even mixed berries are a great choice!
If you find jam too sweet and don't want to use it, add a dash of Angostura bitters for flavor.
If you don't have a sparkling rosé, you can use a 50/50 mix of regular rosé and club soda.
Chill the glasses before using them for that perfect effect!
Multiply the wine spritzer ingredients by the number of glasses you want to serve.
Garnish with fresh raspberries and lime wedges or with fresh raspberries and mint leaves.
This vodka and wine spritzer is perfect for Valentine's Day or date night cocktails too!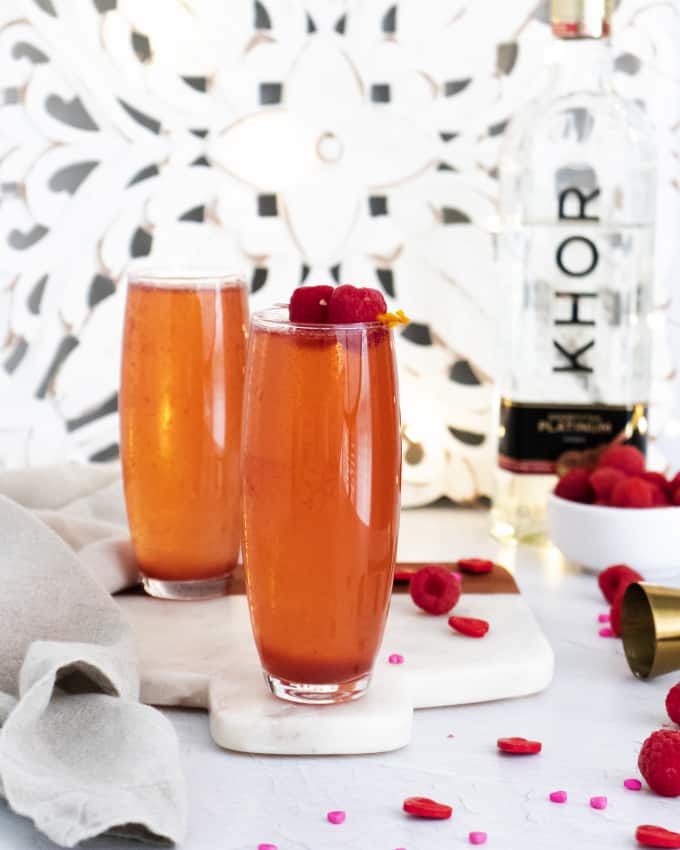 ---
FAQs about Raspberry Vodka Spritzer
What is rosé?
A rosé is a wine that includes some color from the skins of the grapes because the black-skinned grapes are allowed contact with the wine for up to a day. The color of a rosé may vary from a pale pink to a bright pink.
How do you say rosé?
Rosé is pronounced ro-zay.
How do you pronounce spritzer?
Spritzer is pronounced sprit-suh.
Which vodka should I use?
Any good quality vodka will do. For example, Smirnoff, Absolut, Grey Goose, Ketel, Belvedere, or Ciroc.
I can't find raspberry jams. Can I use any other jam?
Yes, and other fresh or seasonal jams will work perfectly too!
Can I use any other wine instead of rosé?
Yes, if you don't have rosé, you can use Pinot Noir, Reisling, Grenache, or Sauvignon Blanc for this vodka spritzer recipe.
Can I use sparkling water instead of wine?
If you don't have rosé or any other white wine on hand, use Ozark, San Pellegrino or Perrier sparkling water.
Yield: 1 Drink
Raspberry Rosé & Vodka Spritzer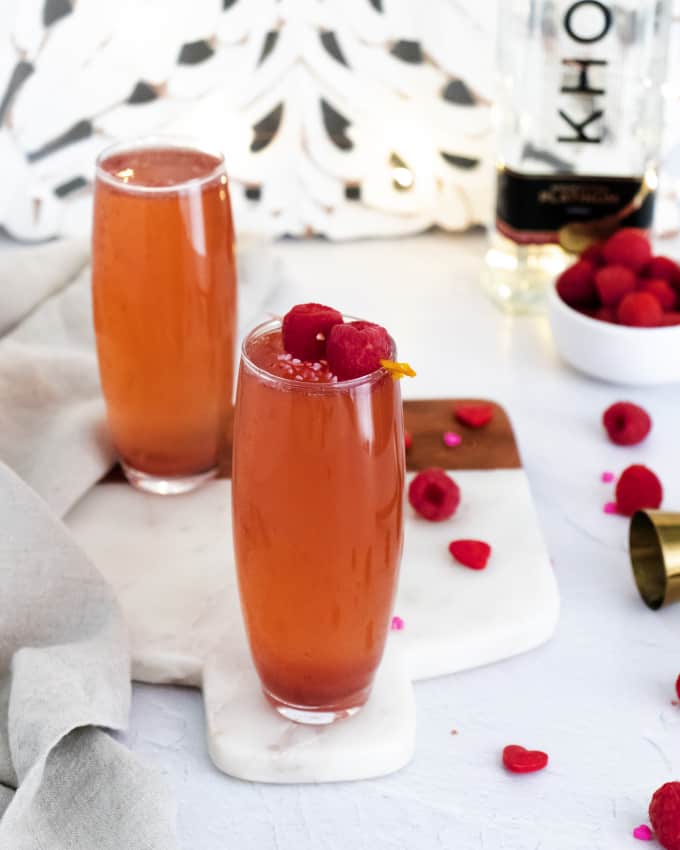 A refreshing cocktail for hot summer nights and days, the raspberry, rosé, and vodka spritzer will lighten your spirits and keep you sparkling!
Ingredients
1 tablespoon raspberry jam
1 1/2 ounces vodka
3-5 fresh raspberries
2 large fresh mint leaves
Sparkling Rosé, about 1/2 cup
Instructions
In a cocktail shaker (or small jar), combine the raspberry jam, vodka, fresh raspberries, and fresh mint leaves. Muddle them (with a muddler or end of a wooden spoon) until the berries are broken up— about 15 seconds.
Pour the muddled berries through a small fine mesh sieve into a glass. Make sure to push all of the juice out to get the full flavor!
Top with enough Rosé to fill the glass. Garnish with fresh berries and mint.
Notes
Any jam will work in this recipe— raspberry, strawberry, even mixed berry!
If you don't have sparkling rosé, you can use a 50/50 mix of regular
rosé and club soda.
Nutrition Information:
Yield:
1
Serving Size:
1
Amount Per Serving:
Calories:

214
Total Fat:

0.4g
Saturated Fat:

0g
Trans Fat:

0g
Unsaturated Fat:

0g
Cholesterol:

0mg
Sodium:

4mg
Carbohydrates:

20.5g
Fiber:

3.7g
Sugar:

11.5g
Protein:

0.9g