This mushroom carbonara recipe with udon is different! A fusion of cultures, the creamy carbonara sauce contrasts beautifully with udon noodles, while the mushrooms and turkey bacon work together to give you a filling dinner!
I stumbled upon this recipe, or I should say dish, at a small restaurant called Marugame Monzo in Los Angeles. They're known for alternative twists for udon noodles.
Their creations are so popular that they always have a waiting time in line for at least an hour, regardless of the day of the week. As I don't live in LA anymore I wanted to learn how to make it myself.
What is Carbonara?
Carbonara is a pasta dish with a creamy Italian sauce made with cured meat, egg yolks, heavy cream, garlic, crushed black pepper, and hard Italian cheese.
The story of the Carbonara's origins are uncertain, but it has been recorded in cookbooks dating back to 1839 and was first made in the region of Lazio.
Cheese that are commonly used include Pecorino Romano or Parmigiano Reggiano (Parmesan). While Pecorino is a sheep's milk cheese, Parmesan is a cow's milk cheese.
While the pasta is most often always spaghetti; the meat component of the carbonara is usually cured meats such as pancetta (pork belly) or guanciale (pork cheeks).
---
What are Udon Noodles?
Udon noodles are thick Japanese noodles made of wheat flour, salt, and water. They're 2 to 4 mm thick and can be round or flat.
There are a variety of stories about the origins of these noodles, with most of them pointing to their origins in China. The noodles were introduced to Japan during the Tang Dynasty somewhere between 618 to 907 CE. Another story states that a Japanese envoy to China was introduced to the noodles there, and brought the muginawa technique back to Japan. The muginawa is the ancestor of many Japanese noodles, including the udon.
Why mix a carbonara recipe with udon noodles? Because this fusion of cultures is just perfect! It's almost like eating at Marugame Udon in your own home!
Here's how to cook udon noodles from Japan with a creamy carbonara sauce from Italy.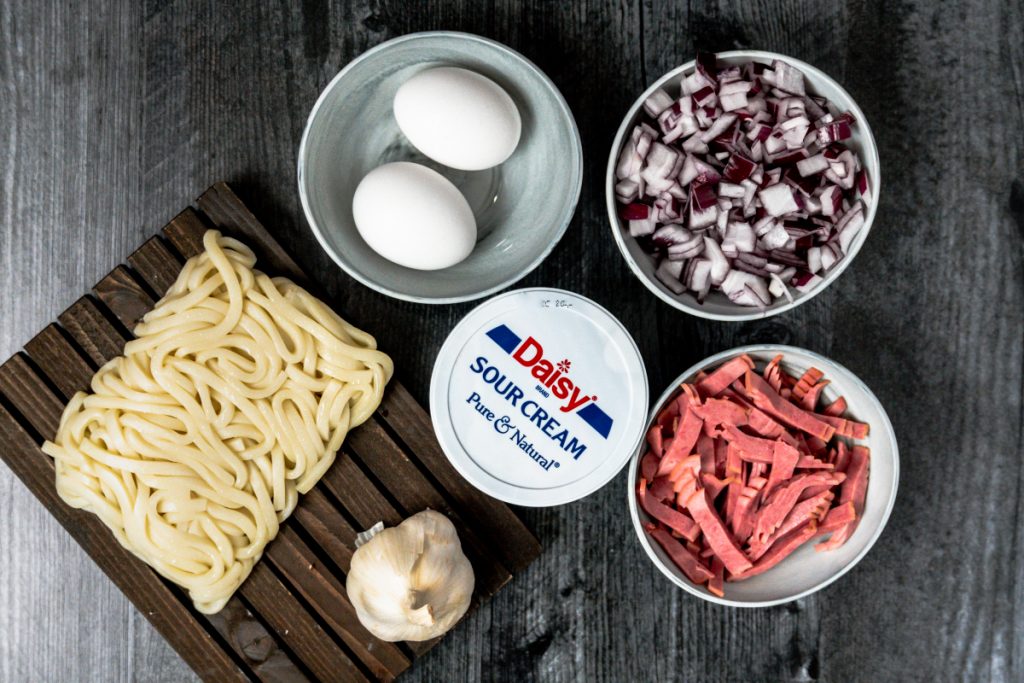 Recipe Pointers For Udon Carbonara Recipe
You can use pork bacon or beef bacon if you prefer. Unsmoked bacon is the best!
The miso paste adds a tangy and savory flavor to the noodles.
Parmesan is less salty than Pecorino Romano cheese, so if you would like a saltier dish, use Pecorino Romano instead.
Use room temperature eggs for the carbonara. If using refrigerated eggs, leave them out for 30 minutes to an hour before cooking.
Do not cook the egg mixture for too long. It shouldn't look like scrambled eggs.
For a richer carbonara sauce, add an extra egg yolk to the mixture.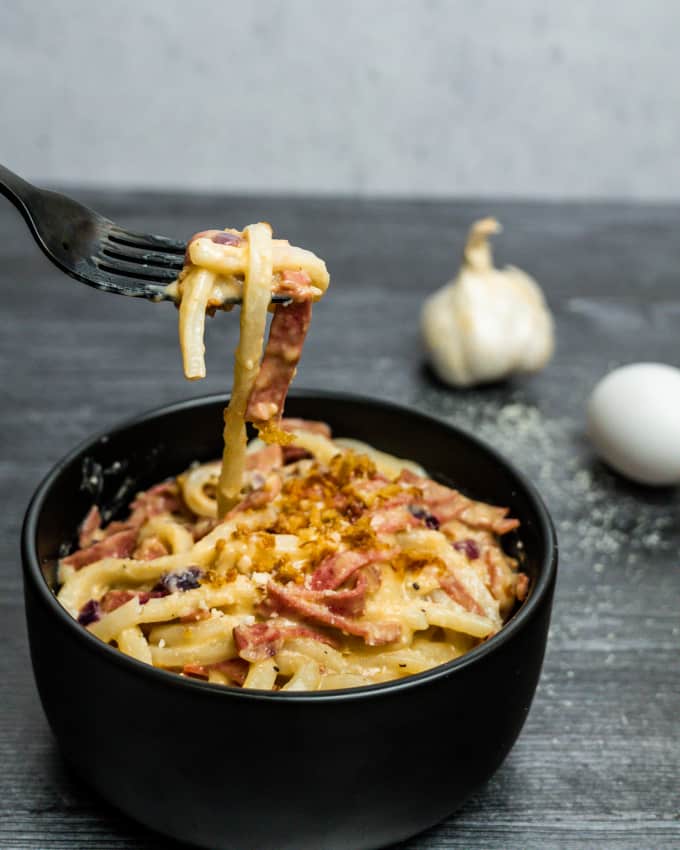 ---
FAQs about Creamy Udon Noodles
Can you use frozen udon noodles?
Yes, absolutely. Just keep them in the hot water for a little bit longer than fresh ones. Never cook udon before throwing it on your pan.
Do udon noodles have egg in them?
No, udon noodles are made from salt, water and wheat flour and are completely vegan.
What's the difference between udon and soba noodles?
While both udon and soba are Japanese noodles, udon are made of wheat flour and much thicker than the soba noodles that are made of buckwheat flour.
How to cook udon noodles?
It depends on the type of udon noodles. Pre-cooked udon noodles don't require any cooking. They just need to be added to boiling water before serving to separate them. Semi-dried or dried udon noodles require to be boiled in water for 5 to 10 minutes.
What are the different methods of cooking udon noodles?
Udon noodles can be cooked using many styles. Some popular Japanese styles for hot udon are miso udon, curry udon, chikara udon, udon suki, hoto udon, oyako udon, kake udon, or udon yaki. Popular styles for cold udon noodles are zaru udon, hadaka udon or bukkake udon.
What is miso?
Miso is a traditional Japanese seasoning made by fermenting soybeans with salt and the fungus called koji. Other beans that may be added while fermenting the miso paste are rice, barley, rye, buckwheat, millet, wheat, cycad, and hemp seed.
The fermented paste is thick and a shade of brown; and is used to pickle meats, veggies, or fish, and also to make sauces and spreads.
Yield: 8 Servings
Fusion Creamy Udon Carbonara Noodles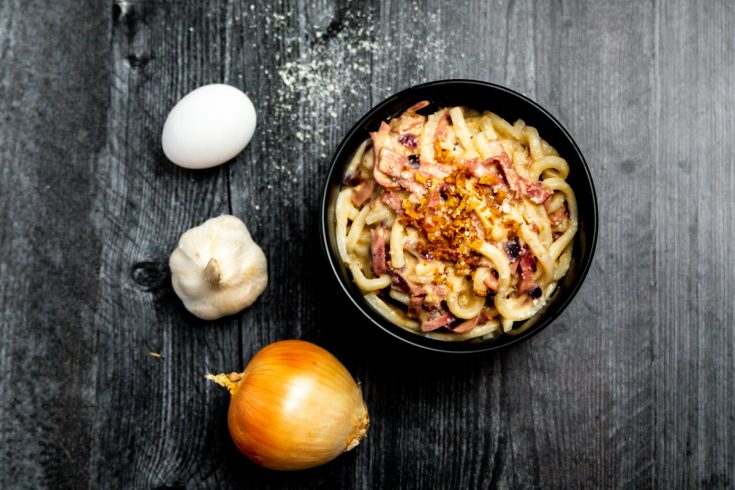 Ingredients
3 udon packets
4 eggs
1 cup of bacon (I like using turkey bacon)
1 tablespoon of heavy cream
Salt
Pepper
3 cloves of garlic
1 cup of shredded parmesan
1 tablespoon of miso paste
1 green onion or seaweed strips
6 oz of mushrooms (optional)
Oil to fry
Instructions
Don't boil udon noodles before putting them on the pan. Stick them in a hot water for a few minutes so they separate nicely and strain immediately.
Cook the bacon with a tiny bit of oil, then set aside.
On the same pan you used for the bacon, whisk the garlic, egg, cheese and miso paste and mix for about 1 minute.
Add in sour cream to make it creamier (optional).
Immediately take off gas, then throw in the udon and quickly mix everything together.
Season with green onions or seaweed strips.

Nutrition Information:
Yield:
8
Serving Size:
1
Amount Per Serving:
Calories:

438
Total Fat:

17g
Saturated Fat:

5g
Trans Fat:

0g
Unsaturated Fat:

10g
Cholesterol:

136mg
Sodium:

1618mg
Carbohydrates:

42g
Fiber:

4g
Sugar:

5g
Protein:

30g