Looking pretty in red and green, these Vegan Xmas Cupcakes are the perfect treat for Christmas week!
Ready in under an hour, they're eggless, dairy-free, vegetarian, and vegan!
Christmas is just around the corner and what better way to celebrate the season of giving, than by giving your friends and family a taste of some delicious Christmas cupcakes?
I have friends who eat everything and friends who are vegan. So these cupcakes are perfect for a party or event with both sides present! They love these vegan buttercream frosted red and green delights so much; they don't even realize they're vegan!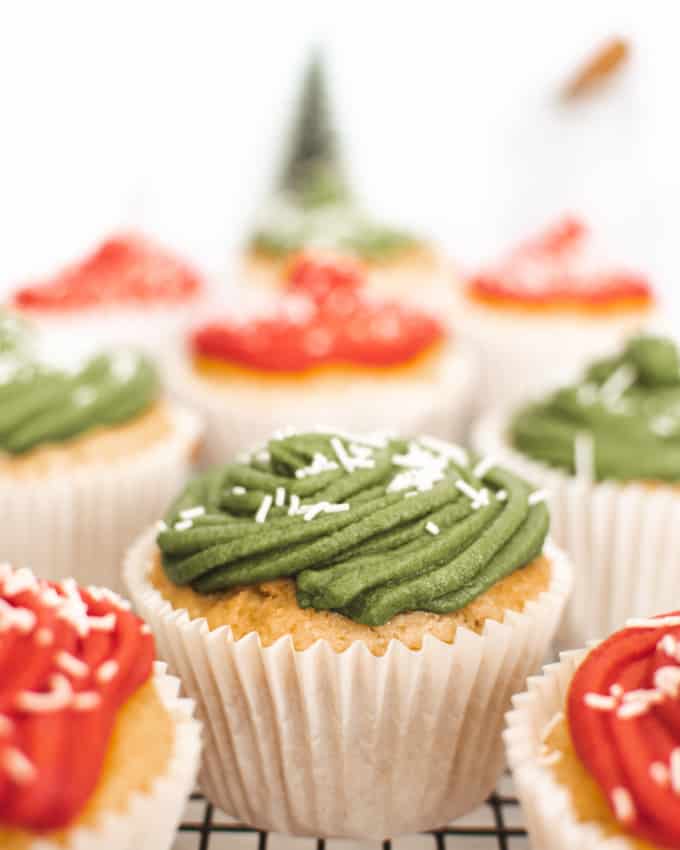 ---
What is Veganism?
Veganism is refraining from consumption of dairy, eggs or any other products of animal origin.
Why do people go vegan? The main reason is ethics. Vegans believe that it's not right to kill a conscious being for consumption. Veganism also extends to saying no to animal testing or wearing animal products.
Others do it for health or environmental reasons. My vegan friends get all their vitamins and minerals they need for their diet from plant-based food sources.
Whatever the reasons for veganism, the diet does not lack for anything. Instead of milk, you drink almond milk, cashew milk, coconut milk or others. Instead of eggs you have tofu or chickpea eggs, cheeses are made from nuts, and so much more.
I love cooking vegan food for my friends ever so often, and these Christmas tree cupcakes are right up there on that list! Buttery and moist, Vegan Xmas Cupcakes are a treat for everyone!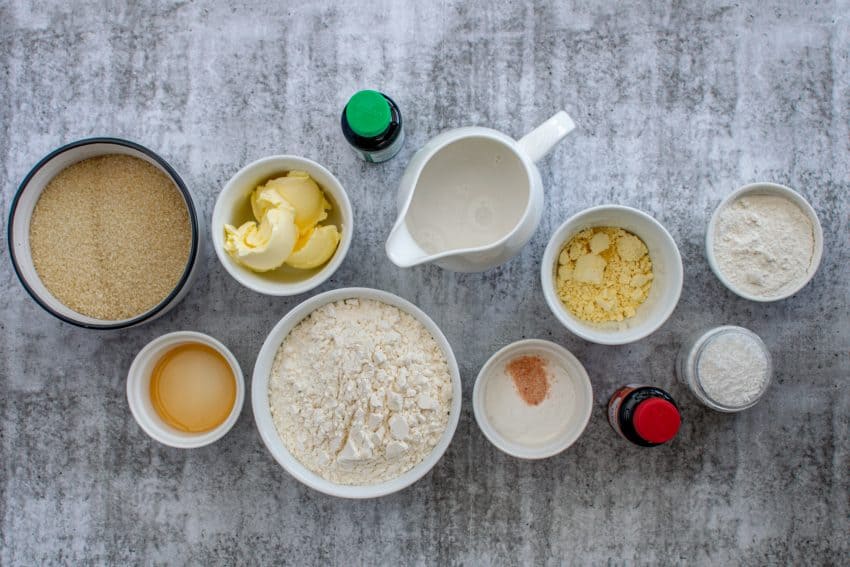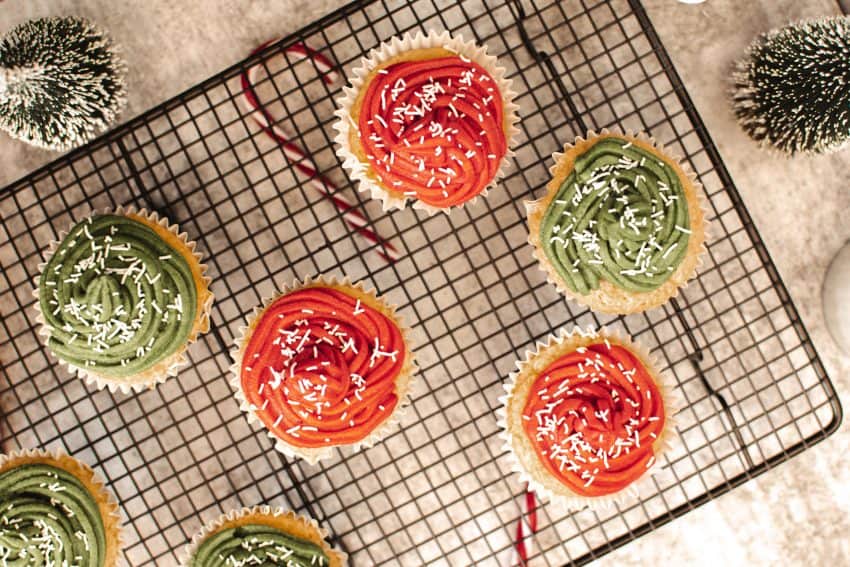 ---
Recipe Pointers For Christmas Cupcakes Recipe
My favorite vegan butters are Earth Balance Vegan Buttery Sticks, Country Crock Plant Butter, and Foragers Buttery Spread.
You can also substitute the vegan butter with coconut oil, but only in the cake, not in the frosting. It gives it a slightly nutty flavor.
You can replace granulated sugar with brown sugar.
Optionally add white or gold sprinkles on top of the buttercream.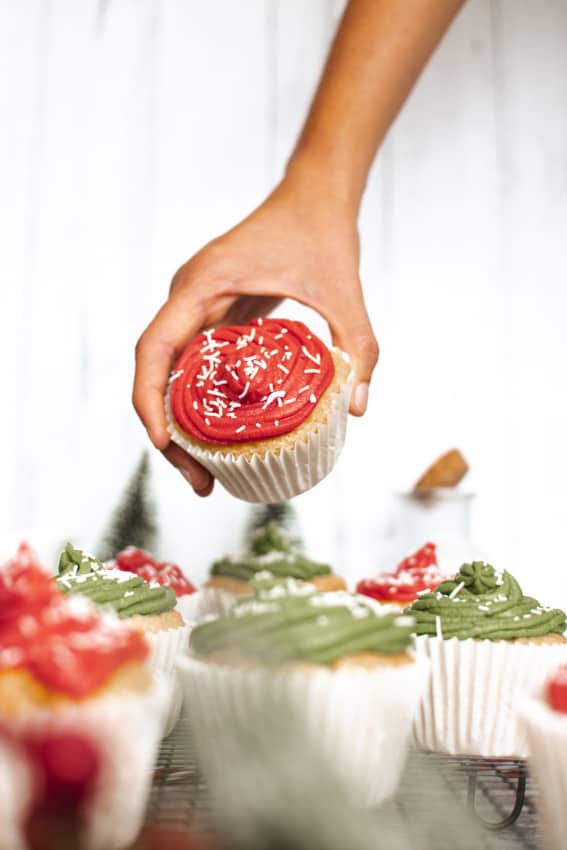 ---
FAQs about the Vegan Cupcakes
Which dairy free milk should I use?
Any dairy free milk will work. I use almond milk, but you can also use cashewnut milk, coconut milk, soy milk, oat milk or any other vegan milk.
Is food coloring vegan?
Artificial food coloring is not vegan, but natural food coloring is cruelty free and vegan. Just make sure to check the notes before you buy.
Is there a natural substitute for red food coloring?
To substitute for red food color, you'll have to make a puree of beetroots and add that to your buttercream frosting.
Is there a natural substitute for green food coloring?
Yes, use matcha powder instead of green food color.
Yield: 12 CupCakes
Vegan Christmas Cupcakes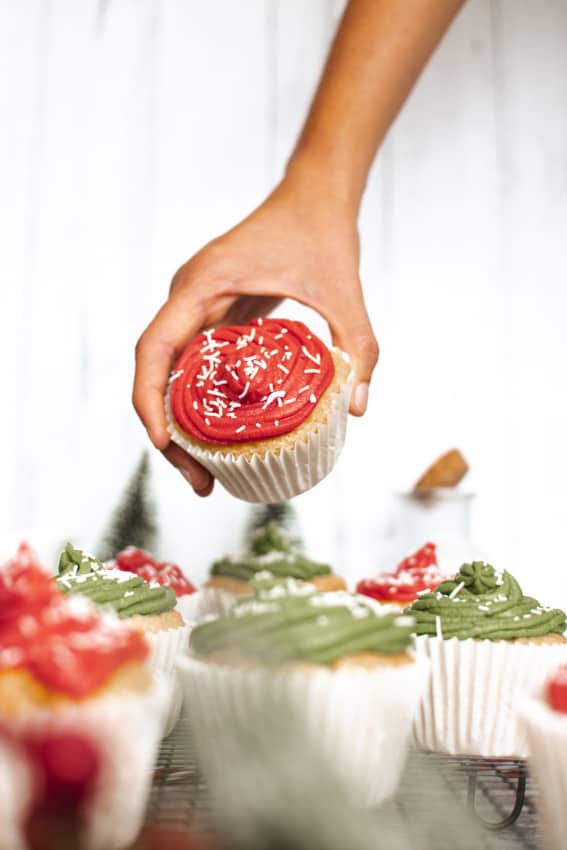 Looking pretty in red and green, these Vegan Xmas Cupcakes are the perfect treat for Christmas week! Ready in under an hour, they're dairy-free, vegetarian, and vegan!
Additional Time
15 minutes
Ingredients
Vanilla Muffins
1 3/4 cup all-purpose flour
1 cup granulated sugar
1 tbsp baking powder
1/2 tsp salt
3/4 cup non-dairy milk
1/4 cup chickpea egg (1 tbsp chickpea flour + 3 tbsp water)
2 tsp vanilla extract
Buttercream
6 tbsp. vegan butter
2 cups powdered sugar
2 tsp. non-dairy milk
1 tsp vanilla extract
1tsp green colourant
1 tsp red colourant
Instructions
Cupcakes
Preheat the oven to 350º F. Line a muffin tin with 12 baking cups.
In a bowl, stir together the dry ingredients. Add the wet ingredients to the dry and gently whisk together until combine.
Scoop the batter into the prepared muffin tin so that they are 2/3rds of the way full, filling all 12 muffin molds evenly.
Bake until a toothpick inserted in the cupcake comes out clean. From 20 to 25 minutes.
Remove from the oven and set aside for them to cool.
Buttercream
For the buttercream, use a blender to cream the vegan butter. Turn mixer to low and slowly add powdered sugar with motor running, scraping down the sides as necessary.
Once the powdered sugar is incorporated, add non-dairy milk and vanilla extract and beat until combined.

Pipe Buttercream
Once the cupcakes are cool, pipe buttercream onto the cupcakes. Serve immediately.

Nutrition Information:
Yield:
12
Serving Size:
1
Amount Per Serving:
Calories:

276
Total Fat:

7g
Saturated Fat:

4g
Trans Fat:

0g
Unsaturated Fat:

2g
Cholesterol:

32mg
Sodium:

279mg
Carbohydrates:

51g
Fiber:

1g
Sugar:

36g
Protein:

3g