This delicious Mexican Albondigas soup is full of veggies and homemade meatballs. The meatballs made with rice have a really nice texture!
---
What are Albondigas?
Albondigas are the Spanish and Latin American name for meatballs made with ground meat, onions, spices, and other ingredients.
The recipe varies from region to region since most countries have their own version of meatballs.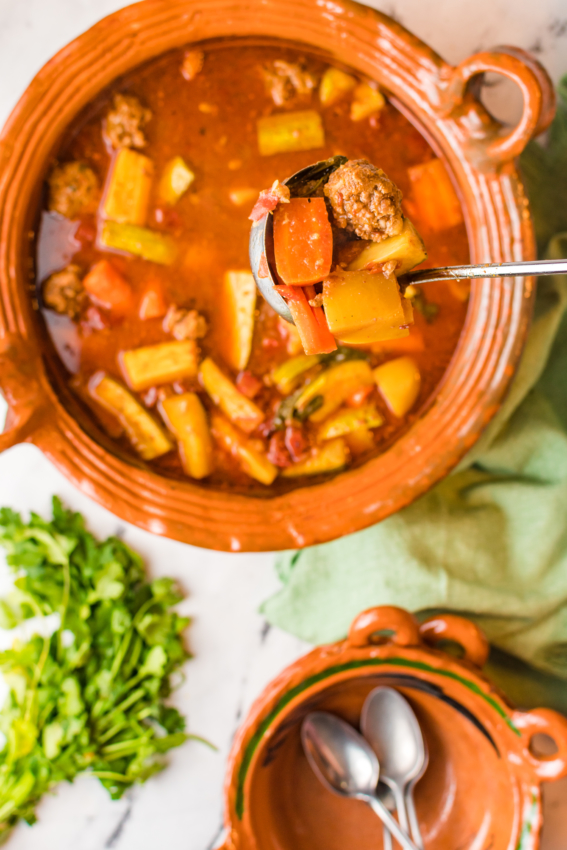 Where Did Albondiga Soup Originate?
Although sopa de albondigas or albondigas soup is considered an important part of Mexican culture, it originated long before that on another continent.
The history of the meatball soup is surely not as brutal as the history of pozole though.
Portugal, Spain and parts of France formed part of the region of Al-Andalus, under the Arab rule of the Iberian peninsula from the 8th to the 15th century.
When the Moors and Arab Muslims ruled Al-Andalus, they brought with them many dishes with Arabic and Asian influences – empanadas, paella, ceviches, or even the popular horchata.
The meatballs or albondigas are just one of these dishes. Derived from the al-bunduq, these meatballs were often made of pheasant, peacock, lamb, or rabbit meat with rice.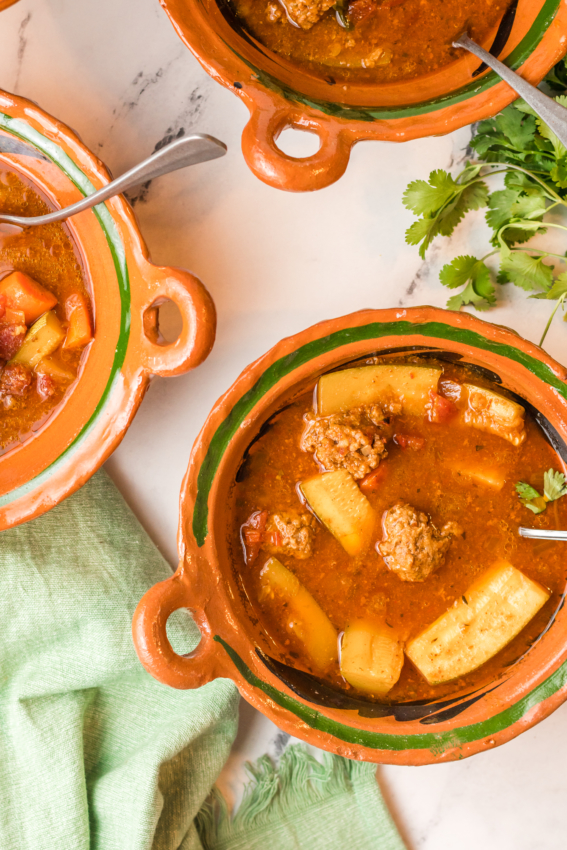 When the Moors, Berbers, and Arabs left by 1492, the recipes for al-banadiq stayed behind. The Spanish fried the albondigas in olive oil and then cooked them in a tomato sauce, and often use a mix of chicken, ham, and beef meat.
Later, the Spanish recipes for albondigas traveled with them to Latin America.
Mexican albondigas, like their predecessors, are made of ground beef, but can also be made from ground pork, veal, lamb, chorizo, or chicken meat. Potatoes, carrots, rice, celery, onions, garlic, paprika, and a host of spices give added flavor.
But don't let the number of ingredients fool you. Mexican meatball soup is really easy to make at home!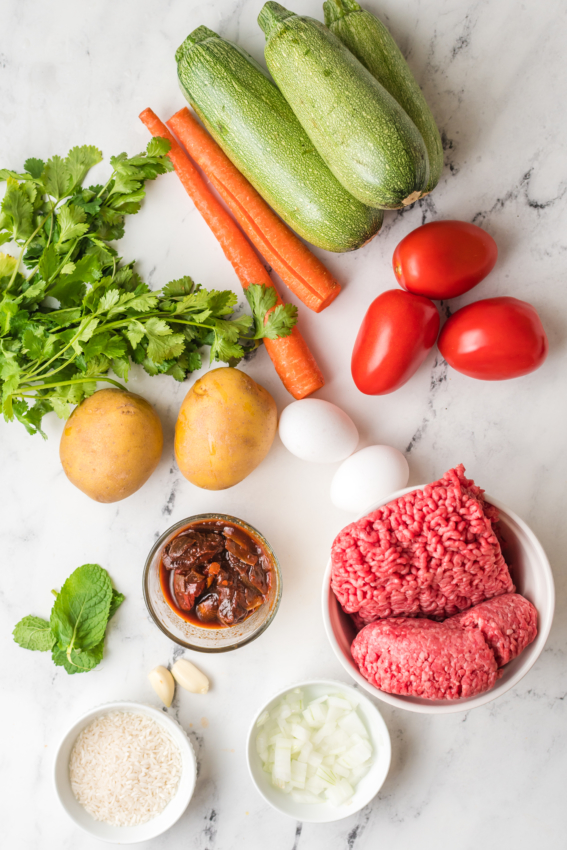 What Do I Need to Make Mexican Albondigas Soup?
You'll need a large cooking pan for the soup, along with a blender and a large mixing bowl. The ingredients for the Mexican meatball soup are as follows:
Hamburger meat – I like to use the 80/20 so there is still enough fat in the meat to help bond it together.
Roma tomatoes
Rice – this helps the meatballs stay together well. I use regular white rice.
Cilantro – this adds great flavor
Mint – the sweet mint is amazing in many Mexican dishes
White Onions
Oil
Garlic
Cumin
Chili powder
Mexican oregano
Salt and pepper
Eggs – this helps bind the meatballs
Squash
Potatoes
Carrots
Chipotle peppers in adobo sauce
Beef broth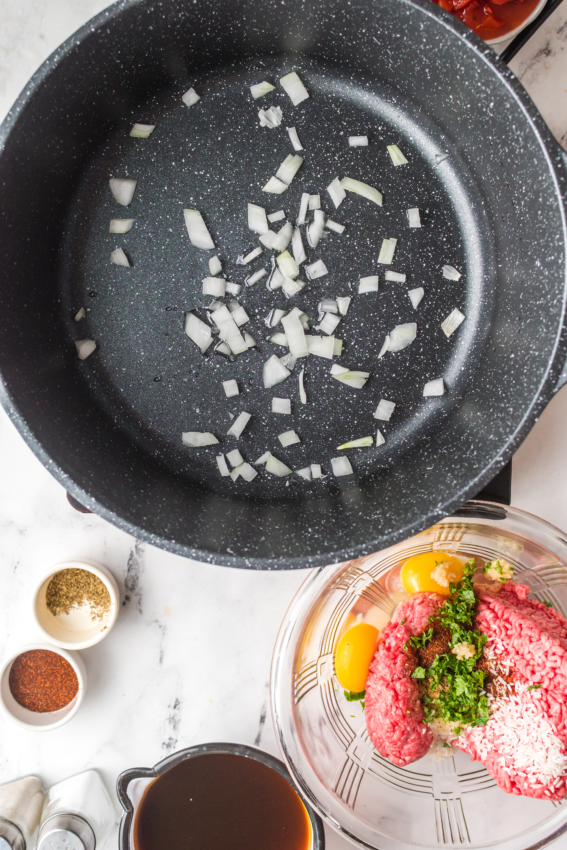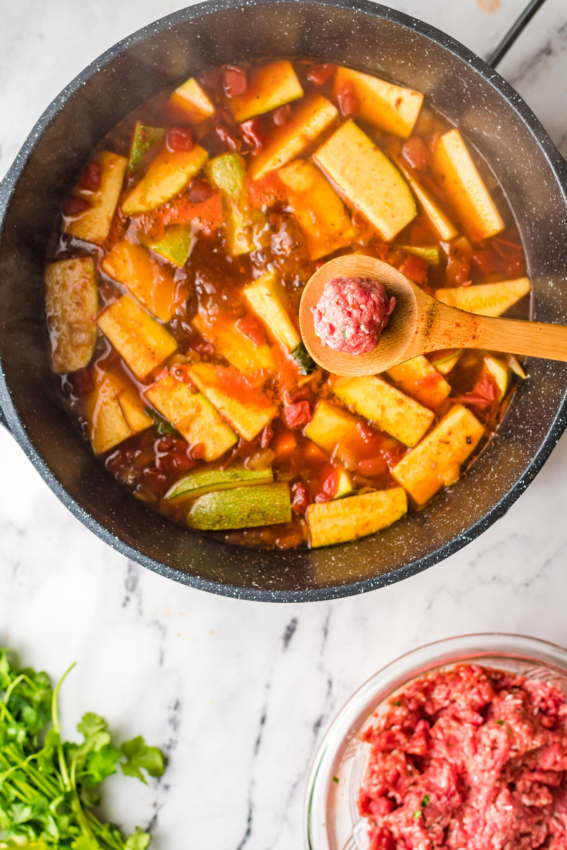 ---
Recipe Pointers For Mexican Meatball Soup
If you cannot find Roma tomatoes, use any other good-quality tomatoes.
If you don't want it to be too oily, you can use a spray of nonstick cooking oil instead.
If you can't find Mexican oregano, regular oregano will work too!
If you don't find Mexican squash, use zucchini or yellow squash.
If you can't find chipotle peppers in adobo sauce, use chipotle salsa.
Beef broth can be replaced with water and bouillon.
If you like peas or green beans, add them to the broth in the last 10 minutes.
Serve with boiled eggs, bolillos and Mexican crema!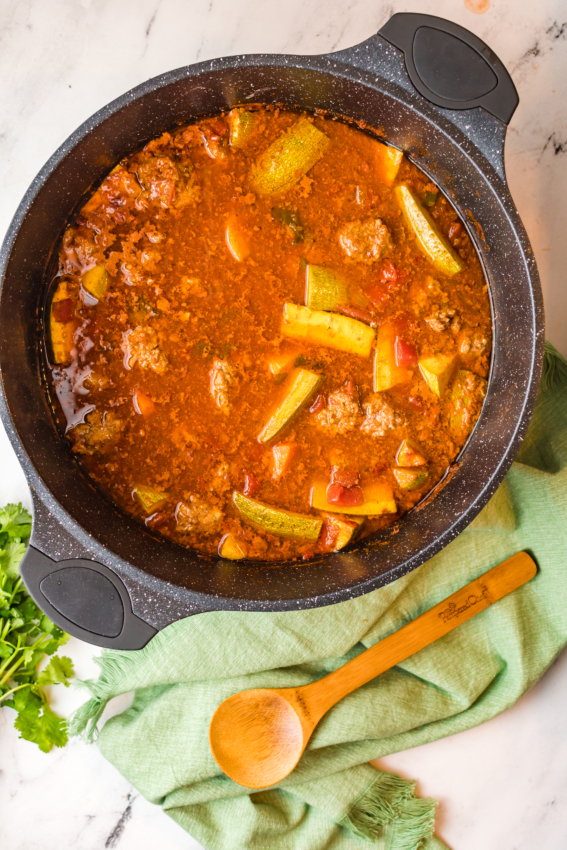 ---
FAQs about Albondigas Soup
What does al-bunduq mean?
Al-bunduq is an Arabic term for meatballs that actually means hazel nuts or small rounds.
How do you pronounce albondigas?
Albondigas is pronounced al-bone-dih-gaas.
Do I have to use hamburger meat?
No, you can use any beef, pork, lamb, or veal ground meat of your choice.
How do you prevent the albondigas from falling apart?
To prevent the albondigas from falling apart, put some pressure on them while rolling. If they are compact, they shouldn't break.
The added cooked rice and eggs also helps them stay together.
Why are the albondigas hard?
The albondigas can become hard if you roll them to tight. It means you need to roll them lighter the next time.
Why don't you fry the albondigas before cooking?
It's not necessary to fry the albondigas separately before cooking.
But if you are worried about them falling apart, you can fry them separately for 5 minutes to allow them to form well before adding them to the soup.
How do I store leftover albondigas soup?
Store leftover albondigas soup in an airtight container in the refrigerator for up to 5 days. Or this soup can be frozen for up to 2 months.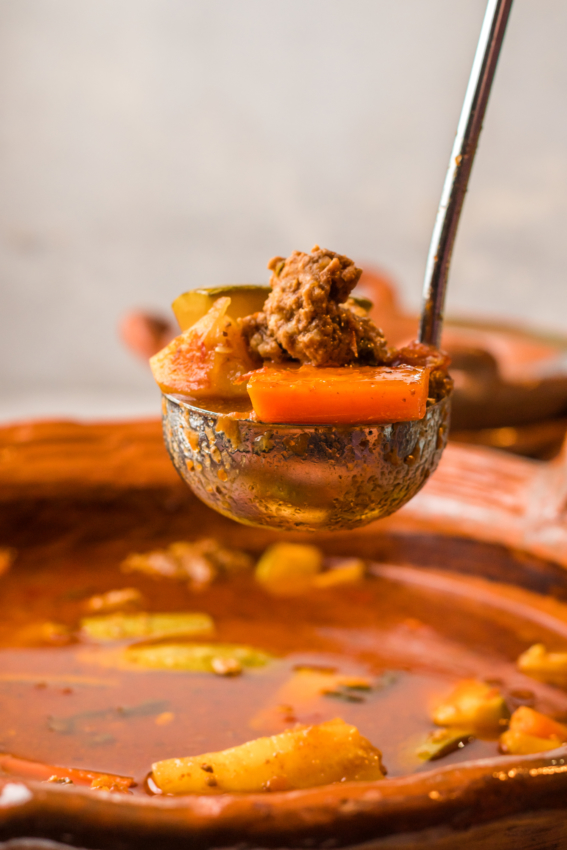 Albondigas - Mexican Meatball Soup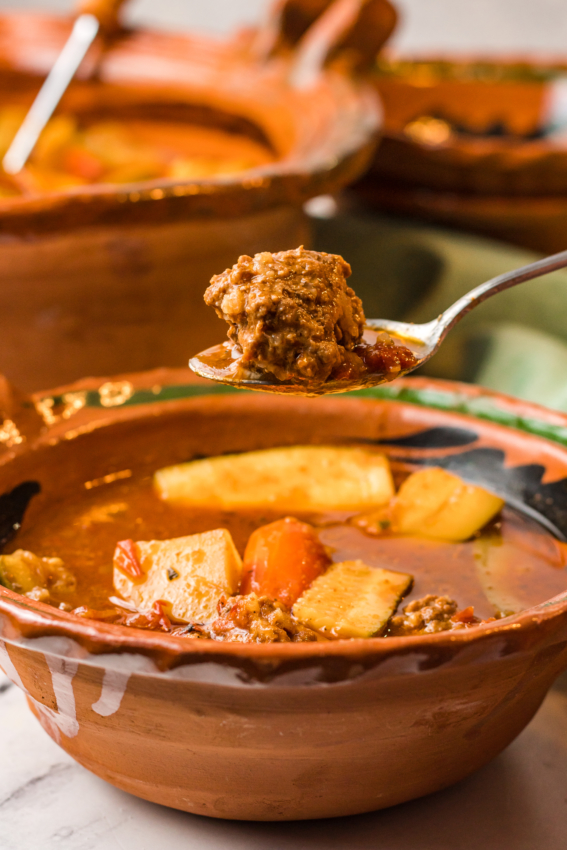 This delicious albondigas soup is full of veggies and homemade meatballs. The meatballs are made with rice which holds them together and gives them a really nice texture.
Ingredients
3 roma tomatoes
3 chipotle peppers in adobo sauce (or 3 Tablespoons chipotle salsa)
2 garlic cloves, peeled
1 teaspoon salt
1 teaspoon pepper
½ teaspoon cumin
1 Tablespoon chili powder
2 teaspoons Mexican oregano
1 pound hamburger meat
1 egg
2 Tablespoons rice
¼ cup onion, chopped
1 teaspoon oil, optional
5 cups beef broth
2 green squash (Mexican green squash preferred), cut into large pieces
3 large carrots, peeled and cut into large pieces
2 large potatoes, peeled and cubed
3 sprigs fresh mint, optional
1 bunch fresh cilantro, washed
Instructions
Place the tomatoes, chipotles, garlic cloves, and a tablespoon of minced onion in a blender with ½ cup beef broth. Blend till it is completely pureed.
In a large mixing bowl, combine the hamburger, ½ teaspoon salt, ½ teaspoon pepper, 1 teaspoon chili powder, 1 teaspoon Mexican oregano, rice, and egg. Stir to combine.
In a large pan, heat the oil and cook the onions until translucent for about 5 minutes.
Add the tomato puree from the blender and the beef broth. Add the vegetables and cook for 5 minutes.
Form meatballs from the meat mixture and carefully lower them into the pan. Add the mint sprigs and cook for 30 minutes.
Add the cilantro and simmer for 5 more minutes.
Serve with bolillos or fresh corn tortillas.