The mouth-watering Mexican torta con chorizo is the perfect breakfast, snack or meal!
---
These delicious Mexican sandwiches are made with bolillo bread.
Bolillos are breads that are similar to the French-baguette but shorter, and actually have French roots.
Tortas are a great grab-and-go snack as the bolillos can be prepared in advance and served cold. Or they can be stuffed in advance and just heated up before serving. Some vendors also press them like paninis.
There are many popular versions of tortas based on their fillings:
Torta de huevo is filled with eggs,
Torta de pierna is filled with pork legs,
Torta de chorizo is filled with chorizo sausage meat,
Torta de adobada uses adobo pork meat,
Torta de carnitas use a shredded pork carnitas filling,
Torta de pavo uses turkey meat,
Torta de aguacate is filled with avocado,
Torta de lomo is filled with pork loin meat,
Torta de jamón is filled with ham,
Torta de milanesa is filled with a schnitzel type meat.
To make a torta con chorizo, the chorizo is cooked with potatoes and then served on the bread with avocado, cheese, and cream. Toppings may also include veggies and fried eggs.
The torta con chorizo is also a great Mexican meal prep dish. You can prepare the chorizo and potato mixture a few days earlier. Just heat it and serve on the bolillo bread when you're in a hurry!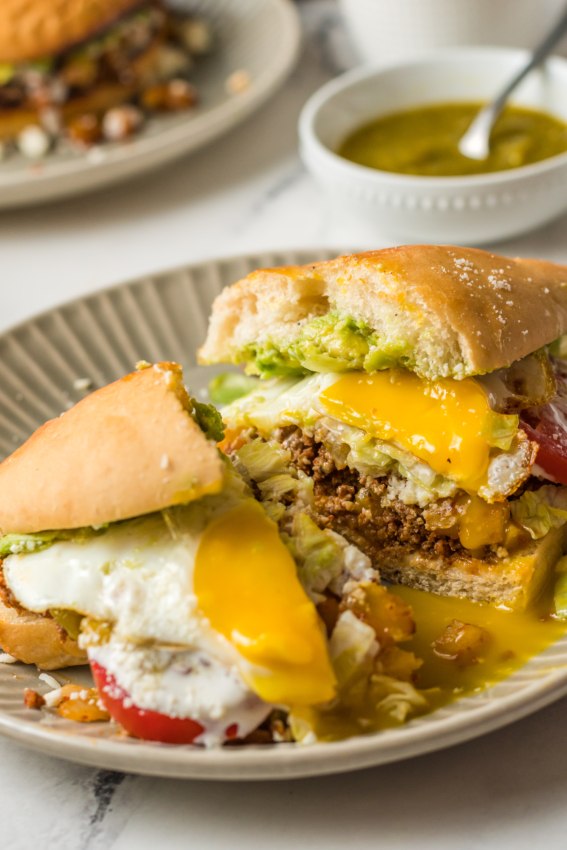 ---
Ingredients to Make Torta con Chorizo
Bolillo bread – These are nice large buns that are pointed on the ends. Crispy on the outside and chewy on the inside. Absolutely perfect for sandwiches.
Chorizo – You can make your own or you can find some in the grocery store near the Mexican cheese and cream.
Canola oil – Or you can use any kind of oil you want.
Potatoes – Any will work.
Onion – I like to use white onion, but any is fine.
Mayonnaise – I highly recommend Mexican mayonnaise. They have lime in it and it is wonderful. But you can skip the Mayo if you prefer.
Mexican Cream – Optional.
Cotija cheese – This is a drier, aged Mexican cheese that adds great flavor to the tortas.
Queso Fresco – This is a mild crumbly cheese. Most stores will carry this.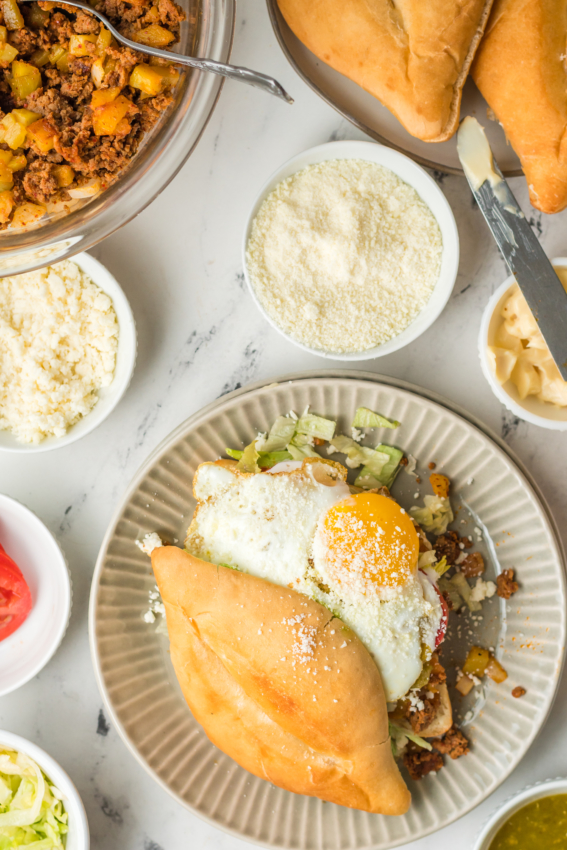 ---
How do I make the Torta con Chorizo?
Cook the chorizo and potato mixture.
Then, start by slicing the bolillos open. Then place them on a pan to toast. Make sure to toast both sides.
Next, spread the bottom half with mayonnaise. This is optional.
Put a nice layer of the cooked chorizo and potato mixture over the mayonnaise.
Pile on some lettuce and a few slices of tomatoes.
Add a drizzle of cream and a sprinkle of queso fresco.
Open an avocado and mash it with a spoon or fork in the avocado peel. Scoop it out and cover the top half of the bread. Be liberal!
Add a bit of salsa for a bit of spice.
Fry an egg and place on top, then sprinkle with the cotija cheese.
Enjoy!!!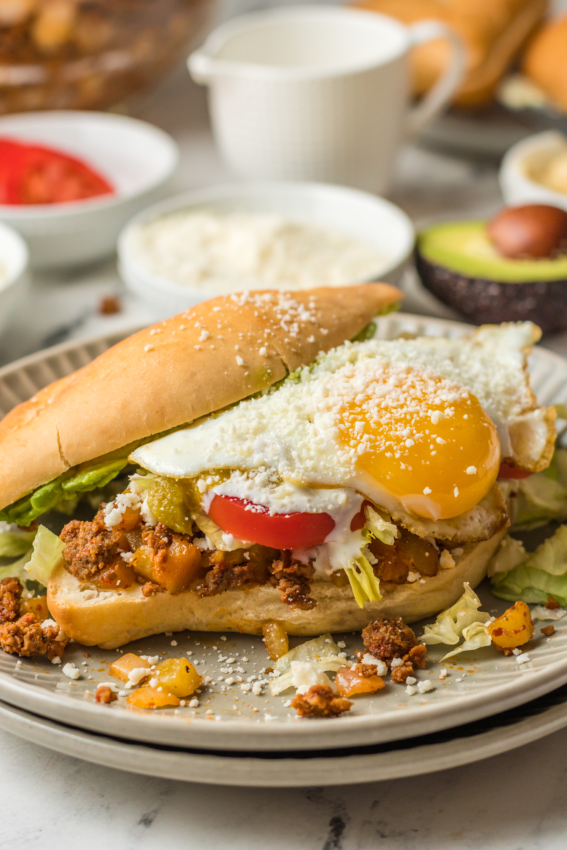 ---
Recipe Pointers and Substitutions
Dice the potatoes small so they cook quickly.
Mexican cream is pourable. If you can't find it, just thin down some sour cream with milk.
If you don't want to use mayonnaise, spread Mexican crema, butter, or sour cream on the bottom of the bolillo.
Mash an avocado and spread it on the top side of the bolillo bread to make it creamier.
You can also add lettuce, chopped onions, bell peppers, or tomato slices.
Top the chorizo with some jalapenos for a kick of spice!
For something more wholesome, you can add a fried egg on top of the chorizo mixture.
Serve with some green or red salsa!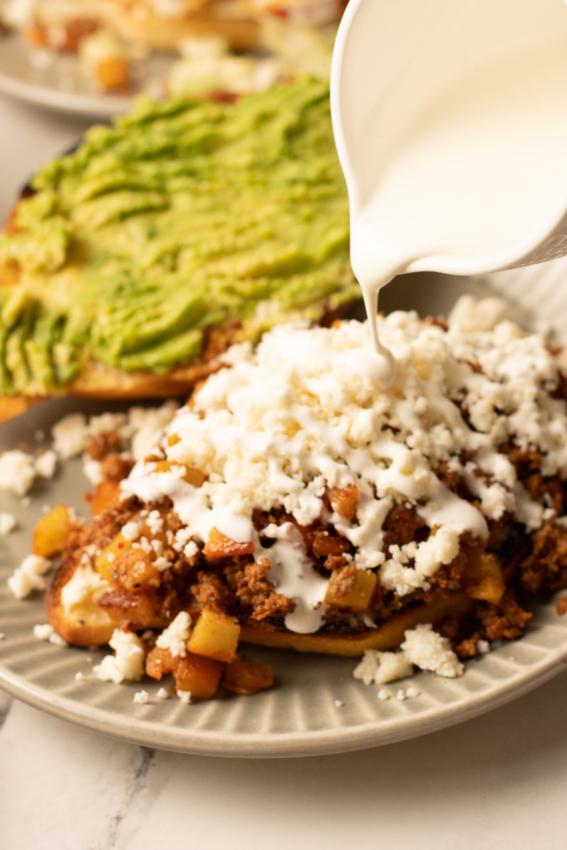 ---
FAQs about Mexican Torta con Chorizo
What are the other names for tortas?
Tortas are called lonches in Northern Mexico.
Can I make the tortas vegetarian?
Yes, to make the tortas vegetarian, replace the chorizos with refried black beans and mushrooms. Or you can use vegan chorizos.
How do I store tortas?
Keep all the ingredients separate until you are ready to assemble the torta.
The chorizo and potato mixture can be stored in the refrigerator in an air-tight container till ready to use. Reheat before adding to the bolillo.
How do I store leftover tortas?
It's best to finish the torta immediately. Leftover tortas will get soggy and shouldn't be stored for later.
Mexica Torta con Chorizo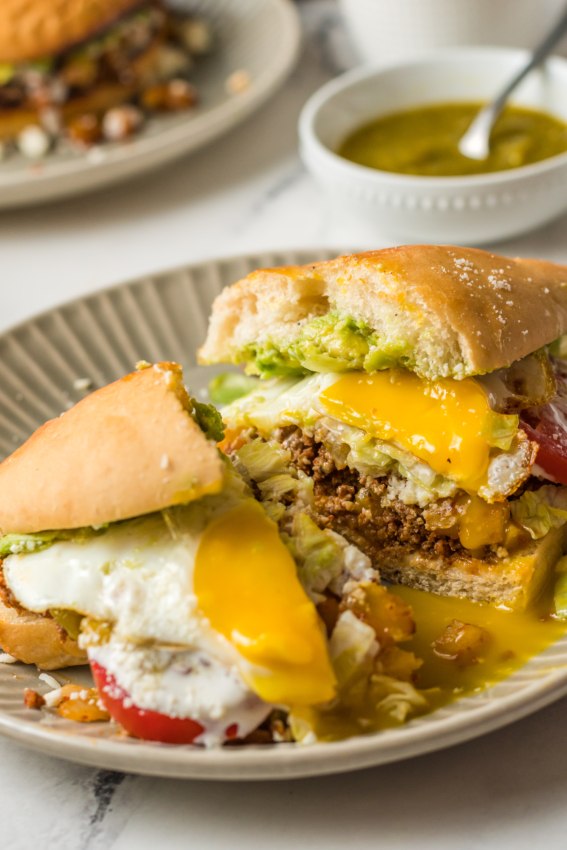 Tortas are delicious Mexican sandwiches made with chorizo and potato filling on a bolillo bread!
Ingredients
1 9-ounce package of chorizo
2 tablespoons canola oil
2 potatoes, peeled and diced very small
¼ cup onion, diced
½ teaspoon salt
½ teaspoon pepper
4-6 Bolillos
4 tablespoons mayonnaise, optional
½ cup shredded lettuce, optional
1 roma tomato, sliced, optional
½ cup queso fresco
¼ cup Mexican cream
¼ cup green salsa, optional
2 avocados
½ cup cotija cheese, optional
4-6 fried eggs, optional
Instructions
Cook the chorizo in a large skillet.
Tip the pan and spoon out the rendered fat. Remove the chorizo from the pan and keep warm.
While the chorizo is cooking, place the diced potatoes in a bowl and cook in the microwave for 3 minutes. Stir and cook an additional 2 minutes.
Add the oil to the pan and heat.
Add the potatoes and onions and cook till the onions are translucent and the potatoes are slightly browned.
Add the chorizo back into the pan and stir.
Add salt and pepper.
Slice the bolillos open and place in a skillet to toast. Toast both sides of bread (optional).
Spread the bottom half of the bolillo with mayonnaise and layer with the chorizo and potato mixture.
Add lettuce and tomato and salsa.
Drizzle with cream and sprinkle with queso fresco.
Fry an egg and place on the sandwich. Sprinkle with Cotija cheese.
Use a fork or a spoon to mash half an avocado in the peel and scoop out onto the top piece of the toasted bolillo.
Place on the sandwich and enjoy!!