Made with chipotle peppers, this spicy chipotle mayonnaise is a Mexican delight! Use it as a dip or spread!
---
Chipotle mayonnaise is used as a dip or spread in many dishes, and not just in Mexican cuisine. Made with spicy chipotle peppers and Mexican crema, the Mexican chipotle mayonnaise is the perfect medium-spicy condiment!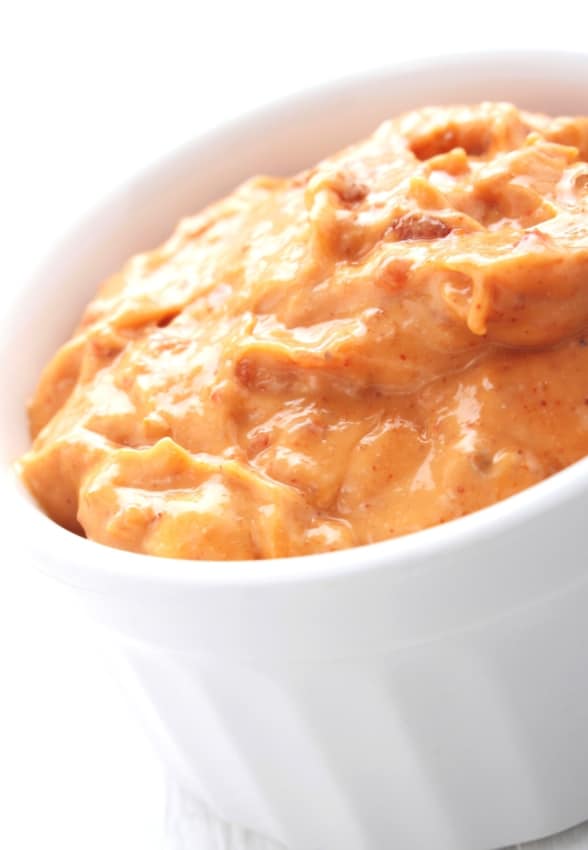 What are Chipotle Peppers?
Chipotle peppers or chilpotle peppers are a Mexican pepper with thick flesh. They are actually jalapeno peppers that have been allowed to ripen to maturity.
If they are harvested off the chili plant when they are green, they are called jalapenos. But when they have been allowed to ripen and mature, they turn red. These bright red peppers are left on the plants till they lose their moisture and turn a deep red.
These ripe red peppers are smoke-dried to form chipotle peppers and are used in many Mexican dishes.
You'll also find chipotle peppers used in slow-cooked dishes such as the picadillo, shrimp tacos, salsas, and marinades.
Chipotle sauce is by far the most popular. You'll find it used in Tex Mex and Mexican restaurants across the world!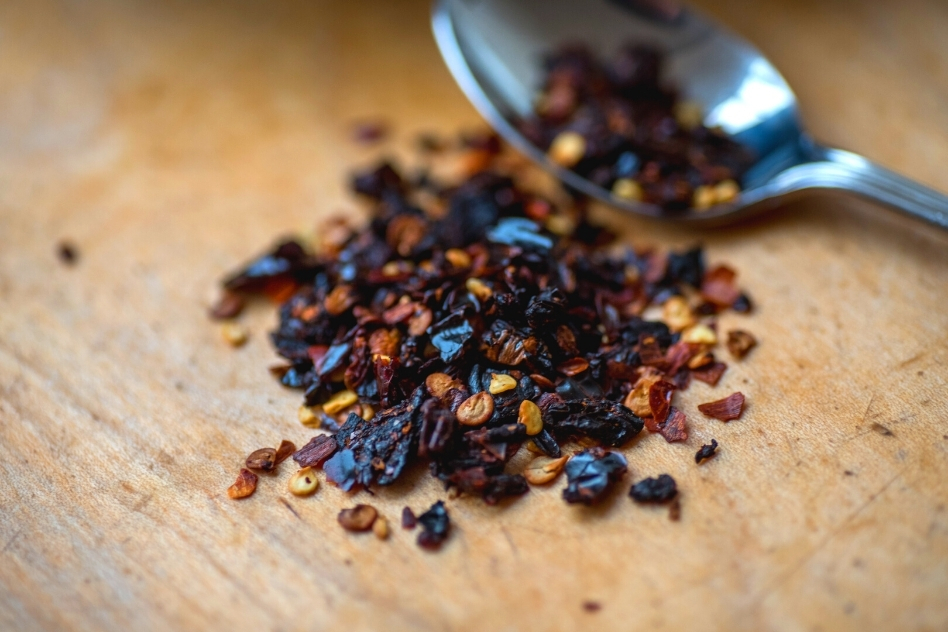 Recipe Pointers For Chiptole Mayonnaise
Lather on bolillos before stuffing them with chorizo filling.
Serve as a dip with chopped chives and lemon juice.
You can make Mexican crema at home if you prefer.
Best to store in the refrigerator.
Use vegan mayo to make this recipe vegan!
Leave some of the chipotle chunky if you prefer.
Add more chipotle if you want it spicier!
Add 2 tablespoons of honey for a sweeter chipotle mayonnaise.
FAQs about Chiptole Mayonnaise
How hot are chipotle peppers?
Chipotle peppers have a medium heat. They range 2500 to 8000 Scoville Heat Units (SHU).
So they're hotter than Ancho and Poblano peppers which are at 1000 to 2000 SHU, and at par with tabasco peppers at 7000 SHU.
They're milder than the Serrano peppers at 10,000 to 23,000 SHU, and Chile de Arbol Peppers at 15,000 to 65,000 SHU.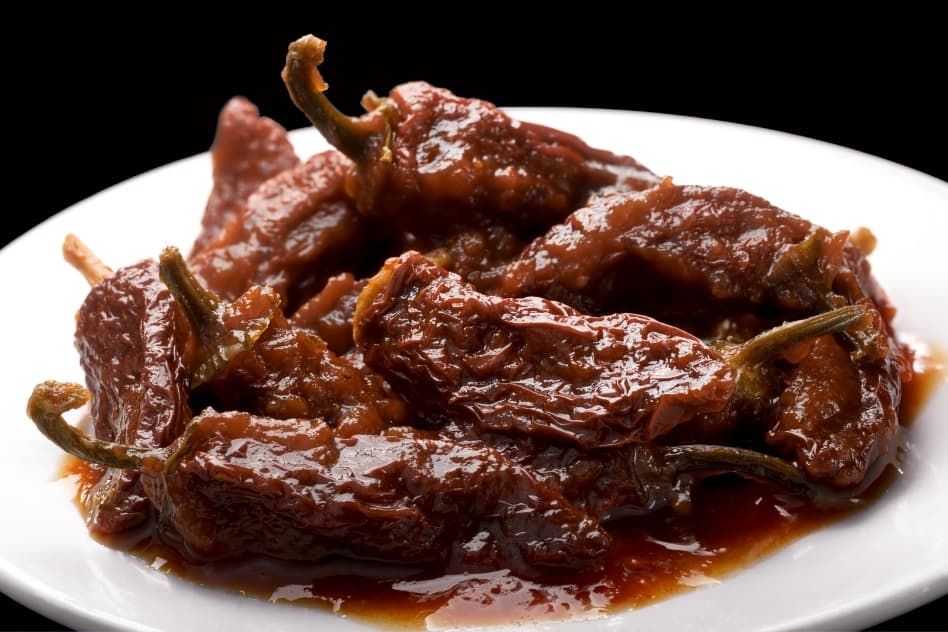 Are chipotle the same as jalapeno peppers?
Yes, chipotle peppers are jalapeno peppers that have been smoke dried after ripening. Sometimes serrano peppers are also used.
What does chipotle flavor taste like?
Chipotle has a smoky flavor with a mild sweetness.
What can you serve chipotle mayonnaise with?
Chipotle mayonnaise is the perfect dip for fries, nachos, and veggie sticks. Also use it as a spread for tacos and sandwiches.
Or add chipotle mayonnaise to a salad to make it creamy. Or serve as a dip for crab cakes, grilled fish, chicken wings, or cauliflower wings.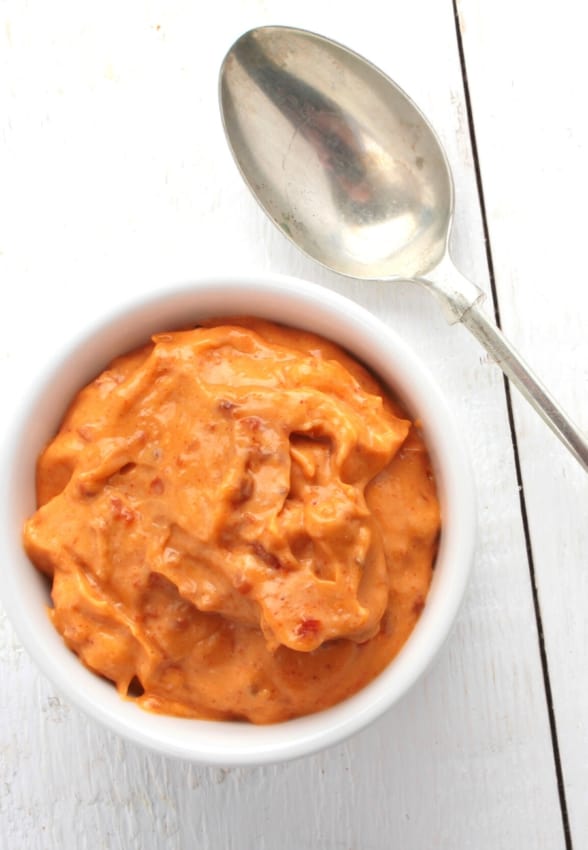 Yield: 1 cup
Homemade Chipotle Mayonnaise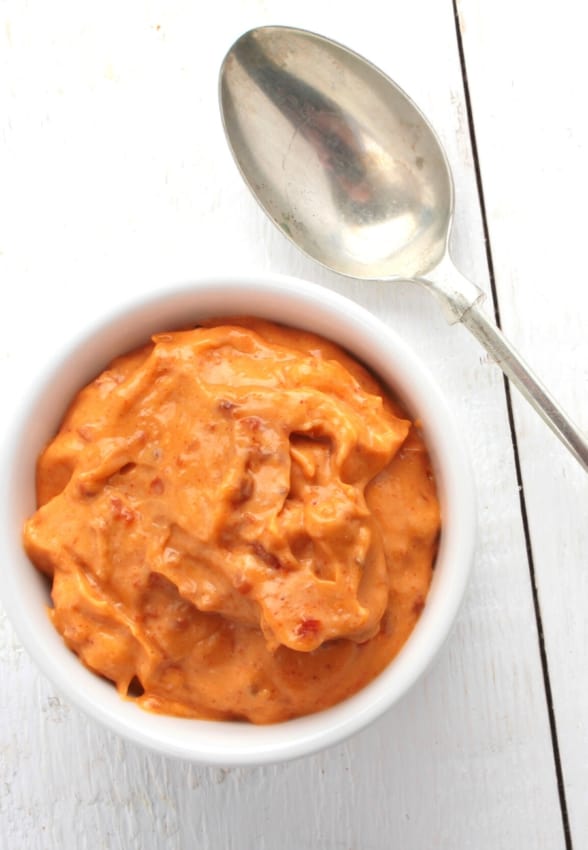 Made with chipotle peppers, this spicy chipotle mayonnaise is a Mexican delight! Use it as a dip or spread!
Ingredients
1/2 cup of mayonnaise
1/3 cup of Mexican crema or Greek yogurt - see substitutes
1 can of chipotles in adobo
2 tablespoons of lime juice
1 clove of garlic or 1 teaspoon of garlic powder
salt
Instructions
De-seem and de-seed chipotles from the can. Don't throw away the sauce that's left in a can just yet.
Put them into a blender along with mayonnaise, crema, 1 tablespoon of adobo sauce from the can, lime juice, garlic, and salt.
Puree until smooth and chipotles are completely chopped.
Keep in the fridge until ready to serve. Store for up to a week.