Chorizo, potatoes, and eggs fill these hearty breakfast burritos. Make the whole family excited for breakfast with these yummy burritos!
---
One of the most-loved Mexican breakfasts, the burrito originated in or near Ciudad Juarez in Chihuahua, Mexico.
Well, that's what folklore says!
But a dictionary from much earlier in 1895 says the burrito is a dish from the Mexican state of Guanajuato. The Diccionario de Mejicanismos by Feliz Ramos i Duarte defines the burrito as a tortilla filled with meat and other ingredients and rolled up.
So it probably existed for quite some time.
But there are two popular folk tales that people love sharing about the burritos.
The first one tells of a street food vendor in the 1940s in Ciudad Juárez who wrapped food in tortillas and sold it to school children. The vendor would call the children burritos, and that name was soon transferred to the food as it gained popularity.
Another legend from the time of the Mexican revolution (1910 to 1921) starts at a street food stall in Ciudad Juarez.
The vendor Juan Mendez used a donkey to carry the tacos he sold near Bella Vista in Ciudad Juarez. Mendez would wrap the meat inside the tortilla so that it stayed warm. His tacos soon gained popularity.
Because they were transported on a donkey, buyers would refer to them as 'food of the donkey', or 'food of the burro'. Over time this was shortened to simply 'burritos'.
Made with flour tortillas, burritos can be filled with refried, beans, fish, chicken, or meat, along with rice, chile, salsa, Mexican crema, or cheese.
The perfect Mexican breakfast dish or street food, burritos are now popular everywhere!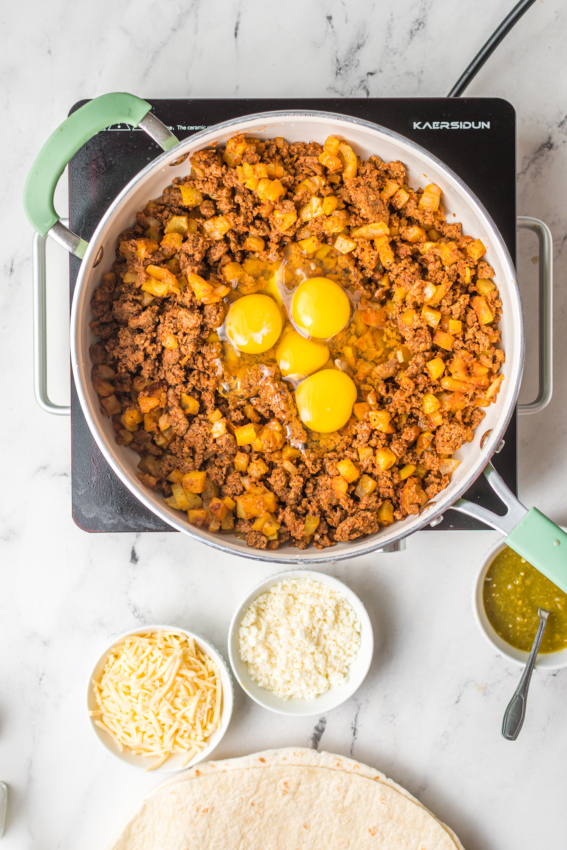 What do I need to make chorizo breakfast burritos?
Chorizo – You can buy it in packages in Walmart or any Mexican store, or you can try my recipe for homemade chorizo.
Potatoes
Eggs
Cheese
Tortillas
Salsa
Cream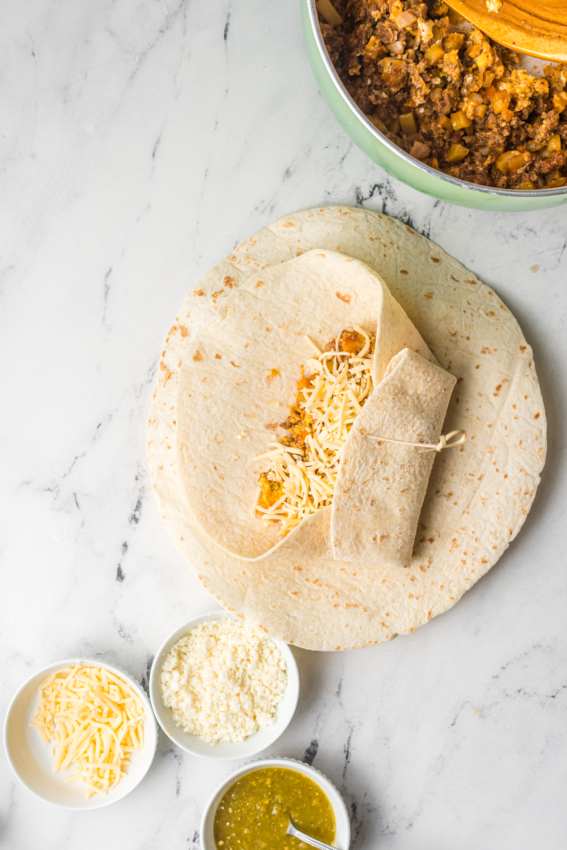 ---
Recipe Pointers for Mexican Breakfast Burritos
You can use only egg whites if you want, or skip the eggs altogether.
You can replace the Queso Fresco or Chihuahua with any other cheese you want.
Buy the largest flour tortillas so that you can make nice big burritos.
Any green salsa or red salsa will work fine.
You can add shredded lettuce, tomatoes, and guacamole to the burritos.
Add cooked rice to the burritos if you prefer!
If you don't find Mexican crema, you can use sour cream. Or you can make the crema at home!
If you want it crunchy, you can toast the burrito before serving!
---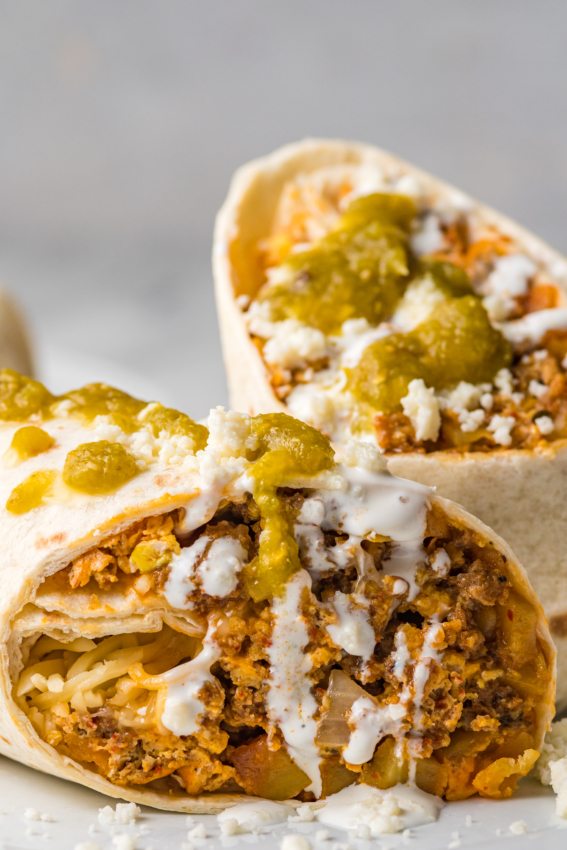 FAQs about Mexican Burritos with Chorizo Filling
What does burrito mean?
Burrito means 'little donkey'.
In Central Mexico, burritos are called tacos de harina, and beyond Northern Mexico they are called burritas.
When did burritos become popular in the US?
Burritos had made their way to different parts of the US. But they first became popular are being sold at the El Cholo Spanish Café in Los Angeles in the 1930s.
When was the first frozen burrito made?
The first frozen burrito was made by Duane R Roberts in Southern California in 1956. He is the same person who first sold frozen burger patties.
Do I have to use chorizo?
No, chorizo is just one popular burrito filling. You can also use ground chicken, fish, beef or turkey meat.
Is it possible to make vegetarian burritos?
To make the burritos vegetarian, replace the chorizo and eggs with vegan chorizo, mushrooms, carrots, corn, or refried beans.
How do I store leftover burritos?
Burritos are great to make ahead and freeze. Fill and cool completely, then wrap tightly in tinfoil, and place in a ziplock bag or airtight container.
Warm in a 350° F oven for 20 minutes before serving. If still frozen they may take longer.
Alternatively, you can remove the tinfoil and heat in the microwave 1-2 minutes.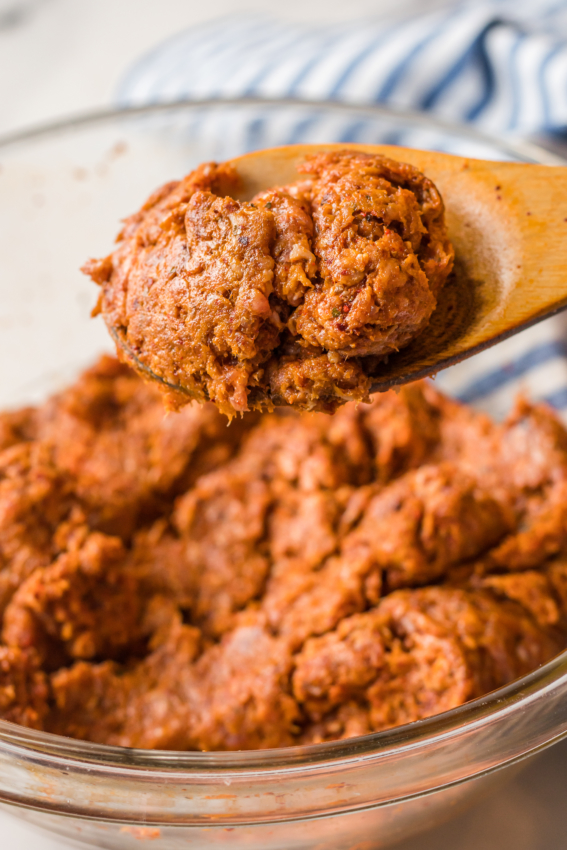 Yield: 4 Burritos
Chorizo Breakfast Burritos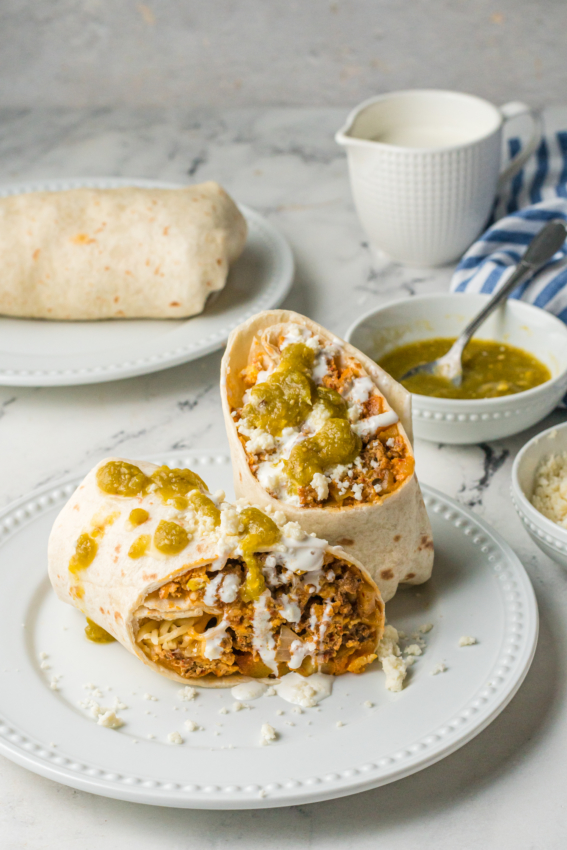 Chorizo, potatoes and eggs fill these hearty breakfast burritos. Make the whole family excited for breakfast with these yummy burritos.
Ingredients
1 9-ounce package chorizo (or homemade)
2 medium-sized potatoes, peeled and diced small
4-6 eggs
½ cup shredded Chihuahua cheese
¼ cup Queso fresco
4 large flour tortillas
¼ cup Mexican cream or sour cream
¼ cup salsa
Instructions
In a large skillet, cook the chorizo.
While the chorizo is cooking, place the potatoes in a microwave-safe bowl and cook for 3 minutes. Stir and cook for an additional 2 minutes.
Reserve 2 Tablespoons of the chorizo grease and drain the rest.
Remove the chorizo and add the potatoes.
Cook till tender and slightly browned.
Add the chorizo back into the pan.
You can cook the eggs two ways: either make a well in the middle of the pan and add the eggs and let them sit for 20 to 30 seconds before stirring, you can stir them into the chorizo mix and finish cooking. Or you can scramble the eggs in a separate pan.
Heat the tortillas on a skillet or in the microwave just till warmed.
Add a half cup of egg mixture to the middle of the tortilla, then top with shredded cheese.
Fold the sides of the tortilla in, then fold one side over. Roll up. If the sides begin to untuck, just fold them back in and roll tightly.
You can toast the burrito in a pan once it is rolled up if you like it to be a bit crunchy.
Cut the burrito open and add queso fresco, cream, and salsa for a delicious breakfast.
Nutrition Information:
Yield:
4
Serving Size:
1
Amount Per Serving:
Calories:

783
Total Fat:

48g
Saturated Fat:

20g
Trans Fat:

0g
Unsaturated Fat:

24g
Cholesterol:

374mg
Sodium:

1415mg
Carbohydrates:

50g
Fiber:

4g
Sugar:

3g
Protein:

37g