This savory salmon quiche is made with a deliciously smoked salmon, creamy cheese, sour cream and spicy red pepper flakes. Perfect for a savory snack or even a meal!
---
For a really tasty snack or dinner, this salmon quiche is really filling and fish-tastic! Using either store-bought or homemade pie crusts, it can be made any time of the day.
And with the smoked salmon replacing regular salmon bits the dish gets even tastier!
Where Did the Quiche Originate?
Quiche, pronounced keesh, is a French tart that has a pastry crust and savory filling that can be eaten hot or cold. The filling is made using a mixture of eggs, milk, veggies, chicken, meat, or fish.
The most popular version of the quiche across the world is the quiche Lorraine that's made with leeks and bits of bacon called lardons. Other popular quiches include the quiche provençale (tomatoes), quiche au fromage (quiche with cheese), quiche aux champignons (quiche with mushrooms), or quiche florentine (spinach).
Make this Salmon quiche easily at home. It's the perfect way to give the family and kids their much-needed intake of iron and antioxidants! Shh, we meant yummy spinach and tasty salmon!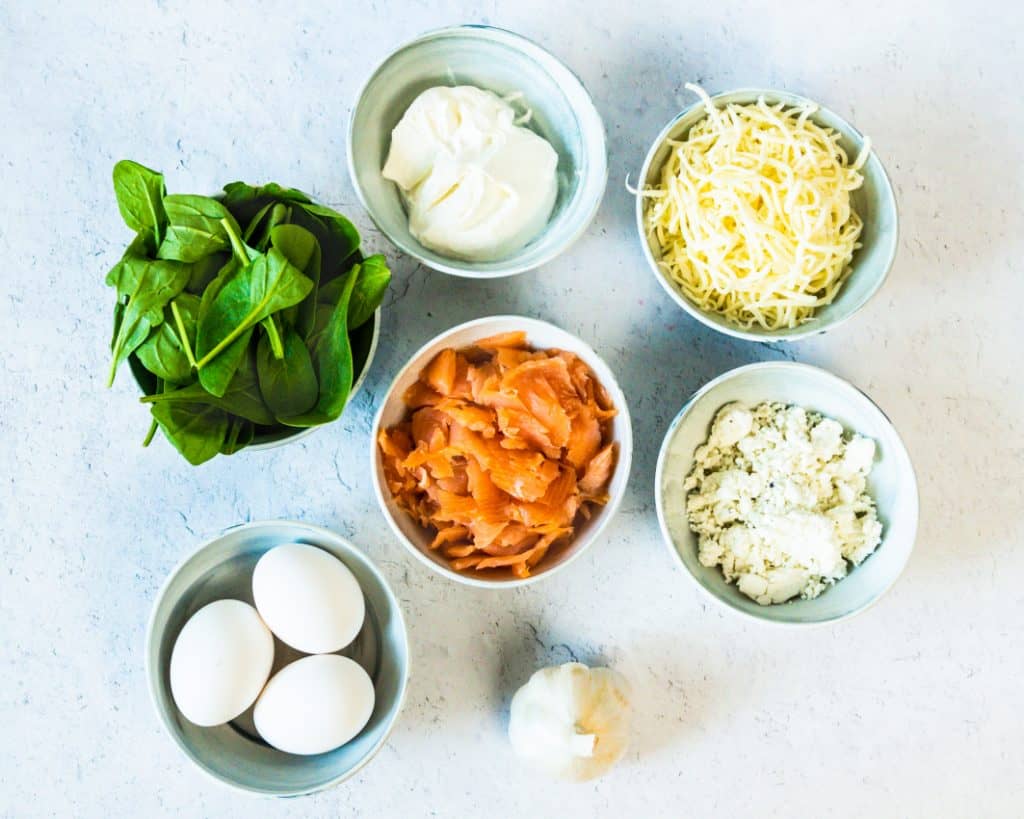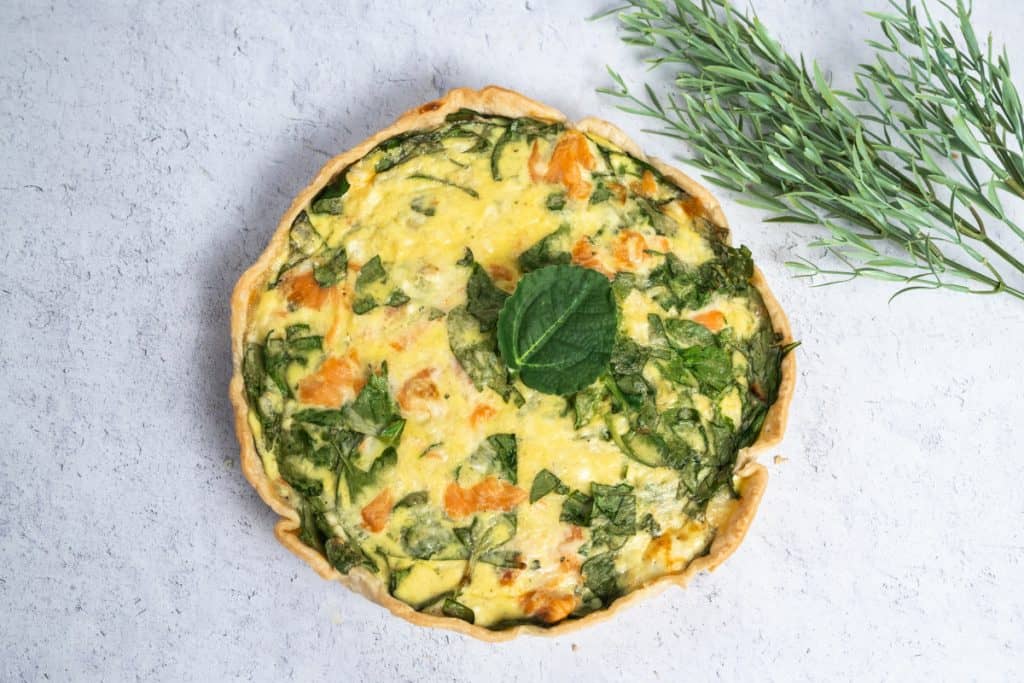 ---
Recipe Pointers For Salmon Quiche
If you're not a fan of smoked salmon, used cooked salmon instead!
This quiche recipe is perfect for when you have guests over. Just make it in advance and reheat it for a few minutes before serving! Or serve at room temperature!
If you want it really fishy – I know that's not a real word – use 1.5 times the amount of smoked salmon!
Not a fan of salmon? Use any other chopped cooked meat, sausages, or veggies that you want!
For a truly innovative quiche, you can use puff pastry instead of pie crust.
You can use tarragon or leeks instead of dill.
Pair the salmon quiche with a green bean salad or this cucumber salad.
FAQs about Salmon Quiche
What does quiche mean?
Quiche is a French word meaning an open tart or pie filled with a savory filling. The word was first used in the Lorrain patois language in 1605, and then in the French language in 1805, and finally in the English language in 1925. But the word may have actually been derived from the German word kuchen which means cake or tart.
What other cheese can I use?
If you can't use mozzarella or blue cheese, you can replace either of them with Swiss cheese, cheddar or Monterey Jack.
Why does the quiche need to rest before serving?
The quiche is still cooking when it's taken out of the oven. The standing time allows the quiche to complete cooking on the inside while the outside cools to a warm temperature.
How do I know when the quiche is cooked?
Shake the quiche pan or tin. If the quiche looks like it's set at the sides, but jiggles a tiny bit in the center, it's cooked! Alternatively, stick a toothpick in it and check whether it's not too wet.
Can I refrigerate the quiche?
Yes, you can put the quiche slices in an airtight container and refrigerate for up to 3 days.
Can I freeze the leftover quiche?
Quiche is best eaten fresh, but if stored in an airtight container, it will last for up to 3 months. Reheat in an oven or microwave before serving.
Yield: 1 quiche (4-5 slices)
French Salmon Quiche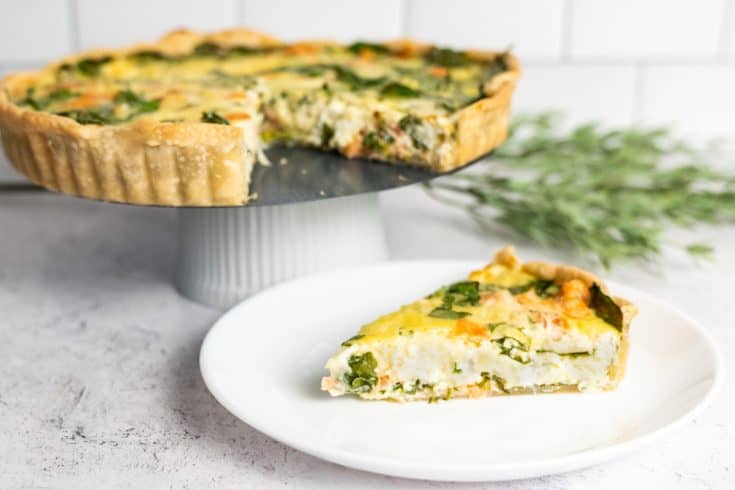 This savory salmon quiche is made with a deliciously smoked salmon, creamy cheese, sour cream and spicy red pepper flakes. Perfect for a savory snack or even a meal!
Additional Time
5 minutes
Total Time
1 hour
30 minutes
Ingredients
Base (if not using store bought pie crust for 9-inch pie)
5 tablespoons of butter
5 oz of flour
1/4 cup of cold water
1/4 cup cold vodka
salt
Filling
3 eggs
6 oz of smoked salmon
2 cups of fresh spinach
1 cup shredded mozzarella cheese
1/4 cup of blue cheese
3 tablespoons of sour cream
1/8 teaspoon red pepper flakes
2 cloves of garlic, minced
1 teaspoon of dill
Instructions
Make a pie crust:
- Mix the flour with butter and salt together. You can use the food processor to pulse it altogether if you don't want to use your hands.
- Then add water & vodka and pulse it all again.
- Refrigerate for about 30 min and roll it out so it's about 9-inch big and put it on your quiche pan.
Put salmon at the bottom of your crust. Then cover with spinach and cheeses.
Whisk eggs with sour cream, dill, garlic, red pepper flakes and salt until creamy.
Cover the salmon with spinach completely. You can delicately fluff it with a fork so the eggs are spread out through the salmon entirely.
Bake in preheated 400 degrees oven for 40 min. Let it stand for about 5-10 minutes before serving..