Homemade Mexican chorizo is so easy to make and tastes even better than from the store. Grab some ground pork and some spices and you've got a delicious meat ready to use in many dishes!
---
What is Chorizo?
Chorizo is a sausage made of ground or minced pork meat and spices that can be sold raw or cured. It can either be encased or sold loose.
Nowadays, chorizos are also made from other ground meat such as beef, lamb, turkey or chicken.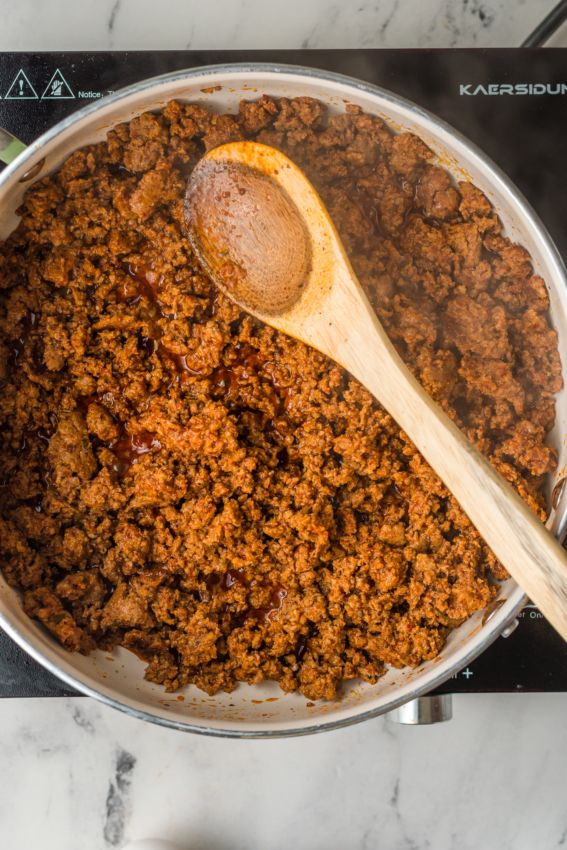 Where Did Chorizo Come From?
Chorizo is a Spanish creation.
In Spain, chorizos are made with roughly chopped pork meat, pork fat, herbs, spices, salt, and wine.
They can be sweet or spicy, long or short, hard or soft, smoked or unsmoked, or of many more types. And there are many regional varieties of chorizos.
When the Spanish colonized Latin America in the 16th century, they introduced pigs, garlic, rice, onions, and other European foods to the region.
Along with the introduction of pork to Mexico, came the dishes that were made from them.
The Mexican chorizo is one of them. A derivative of the Spanish fresh chorizo called chorizo fresco, the Mexican chorizos are made with uncooked meat that has been minced and mixed with spices. The addition of Mexican chili peppers also makes the chorizo spicier than their Spanish ancestors!
You'll find them sold uncooked in Mexican section of the market, but it's easy to make the Mexican chorizo at home too!
What do I need to make Mexican chorizos?
Ground pork
Guajillo chili powder – These have a very nice flavor and don't have a lot of heat. They can be found at most Mexican stores, or in the Mexican spice section.
Apple cider vinegar
Cumin
Paprika
Salt
Cinnamon
Allspice
Garlic powder
Onion powder
Bay leaf – This needs to be ground in the spice grinder, or chopped as fine as possible.
Pepper
Oil – Use olive or canola for no flavor.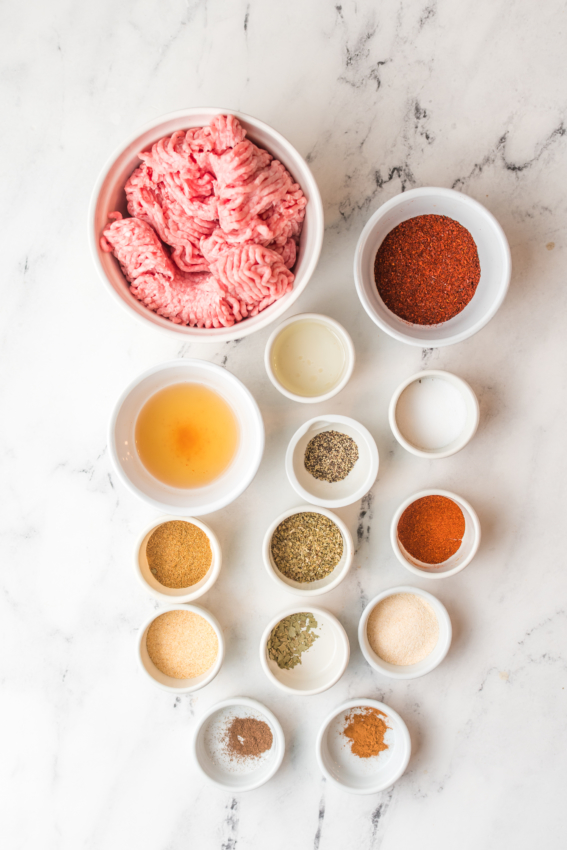 Recipe Pointers for Mexican Chorizos
Apple cider vinegar is best, but you can use any vinegar you prefer.
Smoked paprika tastes best, but any paprika will work fine.
You can replace the allspice powder with clove powder if you like.
For more flavor, replace the garlic powder with 4 cloves of finely minced garlic.
For a milder chorizo, reduce the quantity of spices used.
You can use a 50:50 mixture of ground pork and ground beef.
Add the chorizo with pickled onions to your burritos or tacos.
For a whole meal, serve with white rice, chopped cilantro, lime wedges and tomato slices.
For a snack, serve the chorizo on top of nachos or tortilla chips with crumbled cheese!
---
FAQs about homemade Mexican Chorizos
What's the difference between Mexican chorizo and Spanish chorizo?
Mexican chorizo sausages are made from ground meat and sold loose, although you might sometimes find them encased. The Mexican chorizos are traditionally raw and require to be cooked before consumption, like the Spanish chorizo fresco.
Most Spanish chorizos on the other hand are cured meat that has been encased and can be eaten without cooking if preferred.
What if I can't find the Guajillo chili powder?
If you can't find the Guajillo chili powder, you can use dried guajillo chilis. Just deseed the chilis and toast in a pan for a little bit, then grind with a spice grinder until there is a fine powder.
If you can't find Guajillo chilis also, use ancho chili powder, or any other medium-spicy chili powder of your choice.
What does the Mexican chorizo taste like?
The Mexican chorizo tastes 'picante' or spicy.
How can I store this chorizo meat?
You can store the chorizo in an airtight container in the refrigerator for up to 5 days, or in the freezer for up to 3 months.
You can also cook the chorizo mixture before storing if you prefer.
How can I use chorizo?
This delicious chorizo meat can be used in tacos, on tostadas, with eggs, on tortas, or in burritos.
It can also be added to soups.
Homemade Mexican Chorizo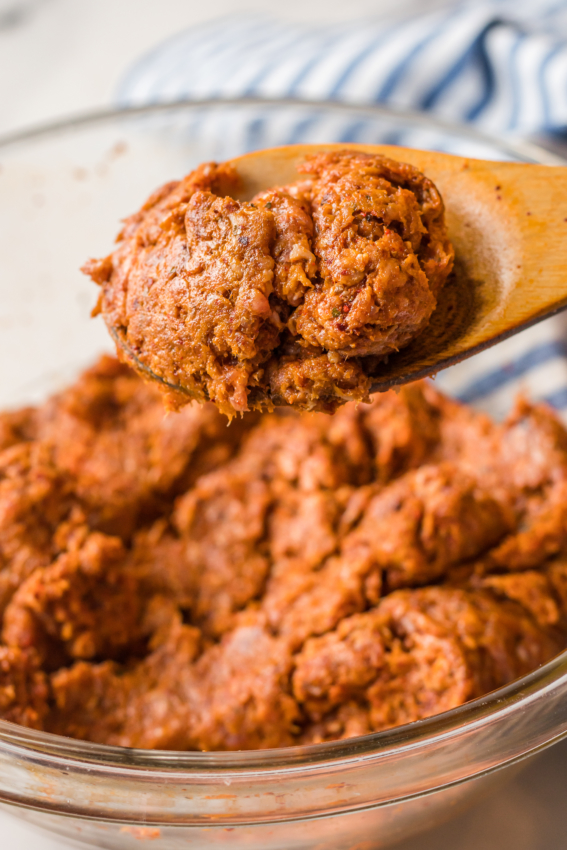 Ingredients
1 pound ground pork
¼ cup guajillo chili powder
¼ cup apple cider vinegar
1 teaspoon cumin
½ teaspoon paprika
2 teaspoons Mexican oregano
2 teaspoons salt
⅛ teaspoon cinnamon
⅛ teaspoon allspice
1 tablespoon garlic powder
2 teaspoons onion powder
1 bay leaf, ground
½ teaspoon ground pepper
1 tablespoon canola oil
Instructions
Place all ingredients in a large mixing bowl and mix to combine.
Put the chorizo in an airtight container and place in the refrigerator for 24 hours so the flavors will combine.