Called the classic Red Borscht or Barszcz Ukrainski, this Polish version of Ukrainian borscht soup is made with cannellini beans and is thick in texture. Milder in taste than the clear red borscht, it's hearty and filling.
---
What is Barszcz Ukrainski?
Being close to Ukraine's border has added a few Ukrainian dishes to the Polish diet. One of them, the Barszcz Ukrainski is a popular version of the red borscht that has been borrowed from Ukraine.
Ukrainian borscht comes from Ukraine and is one of the national dishes in this country. It is also often served in Poland, but the recipe has been heavily modified, mainly by adding beans.
In Poland, this classic soup a bit different by adding white beans to it. In Ukraine, this version of borscht is called Chernihiv Borscht or borscht with white beans.
The Ukrainian borscht is meat-based and made using pork ribs or chicken. In the city of Poltava, it's made with duck broth or goose broth. In Poland, we use pork broth or chicken broth.
---
Barszcz Ukrainski : A Different Red Borscht
Called the Ukrainian Borscht, this recipe includes many root vegetables such as potatoes, carrots, cannellini beans, tomatoes and celery that are not included in the simple red borscht.
It also distinguishes itself from regular borscht by the larger quantity of garlic added and by the addition of cannellini beans.
Ukrainian borscht can be eaten year-round. And although it's tangibly different from the clear traditional barszcz czernowy, you'll love it just as much!
---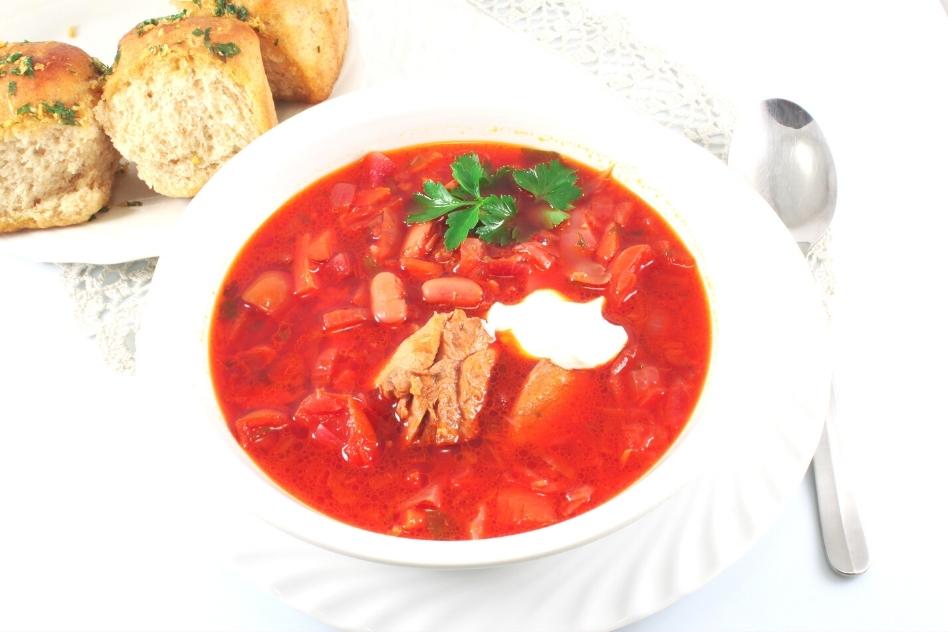 What to serve with Borscht Ukrainski?
Serve the barszcz Ukrainski with:
Toasted bread with a generous layer of butter
Bread rolls
Boiled Pork
Boiled Beef
Croutons
Fried Kielbasa Sausages
Sour Cream
Pork Crackings
Hard boiled eggs
Boiled, Mashed or Fried Potatoes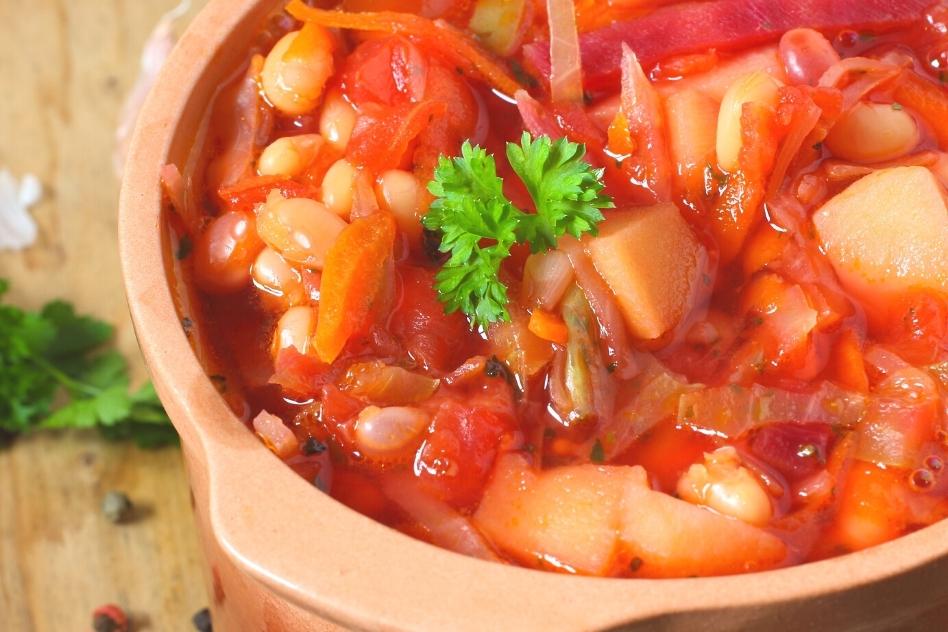 ---
Recipe Pointers For Barszcz Ukrainski
Do not let the soup boil at any time or it will lose color and turn brown.

Adding vinegar clarifies the borscht and helps retain the red color.
You can replace the celery with parsnips or turnips.
Serve with a side of fried kielbasa sausage or toasted bread.
Add more tomato puree to make it tangier.
If you're vegan, use these these delicious smoked apple sausages instead.
You can add chopped cabbage to the borscht.
Top with chopped parsley, dill or sour cream and serve!
---
FAQs about Classic Red Borscht : Barszcz Ukrainski
What is the difference between the Polish Red Borscht and Borscht Ukrainski?
The traditional Polish red borscht or Barszcz Czerwony is a clear beetroot soup with a really tart flavor, while the Barszcz Ukrainski has a milder flavor but more texture from extra veggies and beans added. Sometimes, sour cream is also incorporated into the recipe.
Is it possible to make Barszcz Ukrainski Vegan?
Yes, it is. To make the Barszcz Ukrainski vegan, do the following:
Do I have to use Chicken Broth or Chicken Leg?
No, you can use any other meat broth or meat of your choice. The Barszcz Ukrainski can be made with beef broth, pork broth, pork ribs, pork bones, or any other poultry broth or meat such as turkey, duck, or goose. You can also use chicken rosol soup if you prefer.
What if I cannot find cannelini beans?
If you don't have cannellini beans, use lima beans, butter beans, or wax beans.
Can I use dried beans instead of canned beans?
Yes, you can use dried beans if you prefer. But in this case, soak the beans in water the night before.
How long can I store Ukrainian Borscht Soup?
This Ukrainian borscht soup can be stored in an airtight container in the refrigerator for 4 to 5 days or in the freezer for 3 months. Reheat before serving.
Yield: 10
Classic Red Borscht: Barszcz Ukrainski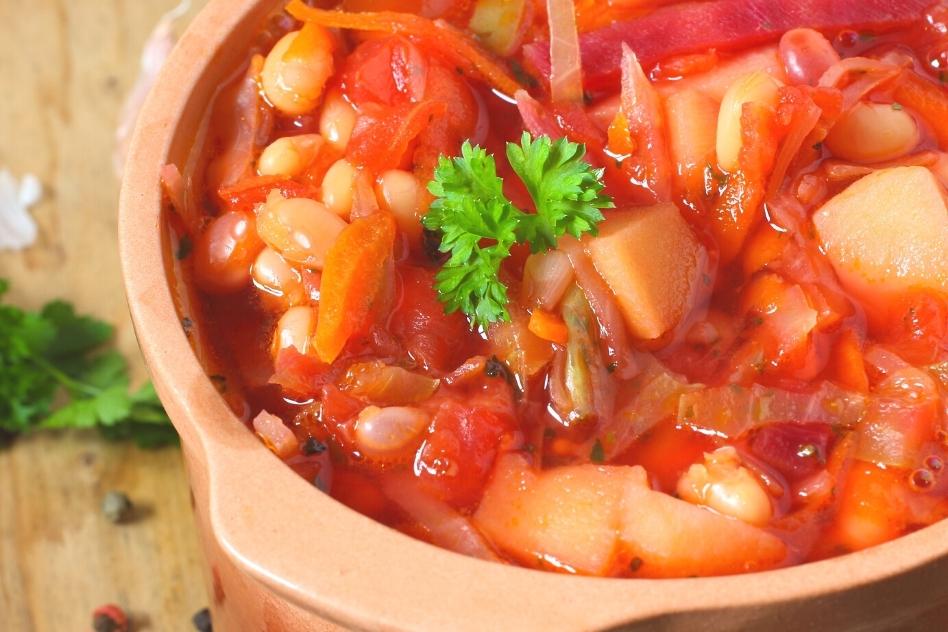 The classic Red Borscht or Barszcz Ukrainski is made with cannellini beans and is thick in texture. Milder in taste than the clear red Polish borscht, it's hearty and filling.
Total Time
2 hours
30 minutes
Ingredients
4 medium beets
4 tbsp olive oil
8 cups chicken broth or raw chicken leg and whole celery
3 medium potatoes, peeled and sliced into bite-sized pieces
2 carrots, peeled
1 can white cannellini beans with juice
2 bay leaves
2 garlic cloves, peeled
1 small onion
1 can of tomatoes, sliced and mushed a bit
3 medium potatoes, peeled
1 tablespoon of vinegar
1 tablespoon of lemon juice
1.2 tablespoon of sugar
salt and pepper to taste
Instructions
Heat up 8 cups of chicken broth in a big pot until it starts boiling. Add the peeled and diced beets and carrots to the broth.
After 10 minutes of cooking, add the peeled and diced potatoes and the beans, cut into 0.75 inches pieces. Cook for an additional 10 minutes, until it's all easily pierced with a fork.
Meanwhile, chop the onion into very small pieces and fry it in butter or oil until soft, together with one clove of garlic, sliced for about 2 minutes. Move it to the big pot along with canned tomatoes.
Add lemon juice, sugar, and vinegar, along with salt & pepper to taste. Boil it all together on low heat for another 20 minutes.