Kapusniak is a wholesome and filling Polish soup made from sauerkraut or fermented cabbage, carrots, and potatoes. Eaten meatless during the season of Lent, the soup can include smoked bacon, pork ribs, and kielbasa at other times.
---
It's All About The Cabbage!
Cabbage as a species has been grown in Europe since 1000 BC, but it was not till the 9th century, that the modern version of cabbage reached from Byzantium to the rest of Europe.
And by the 16th century, cabbage became a popular ingredient in European dishes. All across the continent, cabbage has been used in various forms from soups to salads, to sauerkraut, and more.
In Poland too, cabbage or kapusta is an important ingredient in our diet. To save cabbage for the cold winter months, it's fermented into sauerkraut. And of course, the tasty sauerkraut gets added to many traditional dishes, from hunter's stew to golabki, to pierogi and more.
One popular dish made with sauerkraut or kapusta kiszona is kapusniak soup.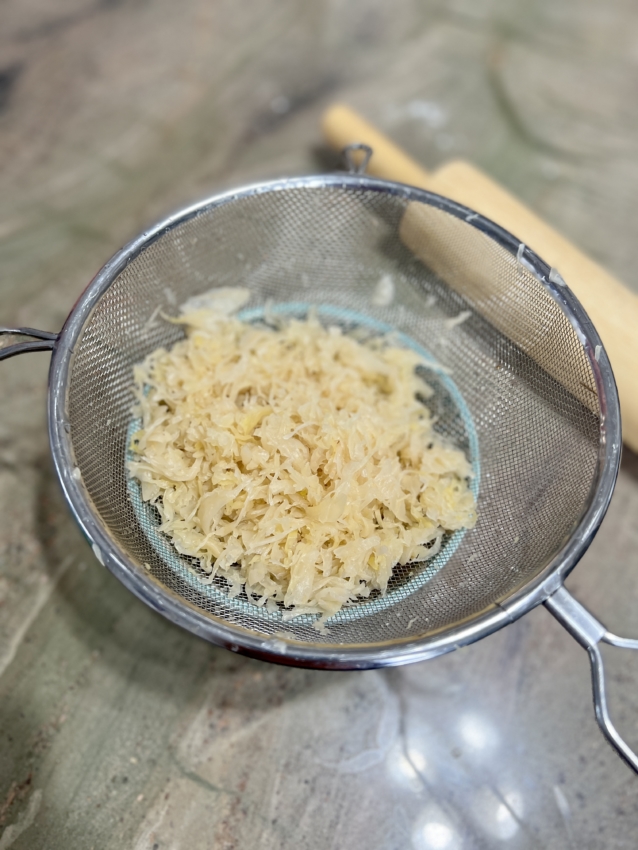 What Is Kapusniak Soup?
As popular in Poland as borscht and zurek, the kapusniak is a traditional Polish soup made from sauerkraut, potatoes, root vegetables, and delicious pork ribs. When eaten during the Lenten season as a fasting dish, the soup doesn't contain any meat.
With hundreds of variations of this popular soup, it's often difficult to find out which is an authentic Polish kapusniak. So the best place to look for an original recipe is from a Polish friend. I'll be your Polish friend today and share my mom's special kapusniak recipe.
This Polish winter cabbage soup tastes best when simmered for long hours. So always make some extra and refrigerate for those lazy weekends.
What other dishes are made from Kapusta Kiszona or Sauerkraut?
Some Polish dishes made from sauerkraut include:
Pierogi
Uszka Dumplings
Krokiety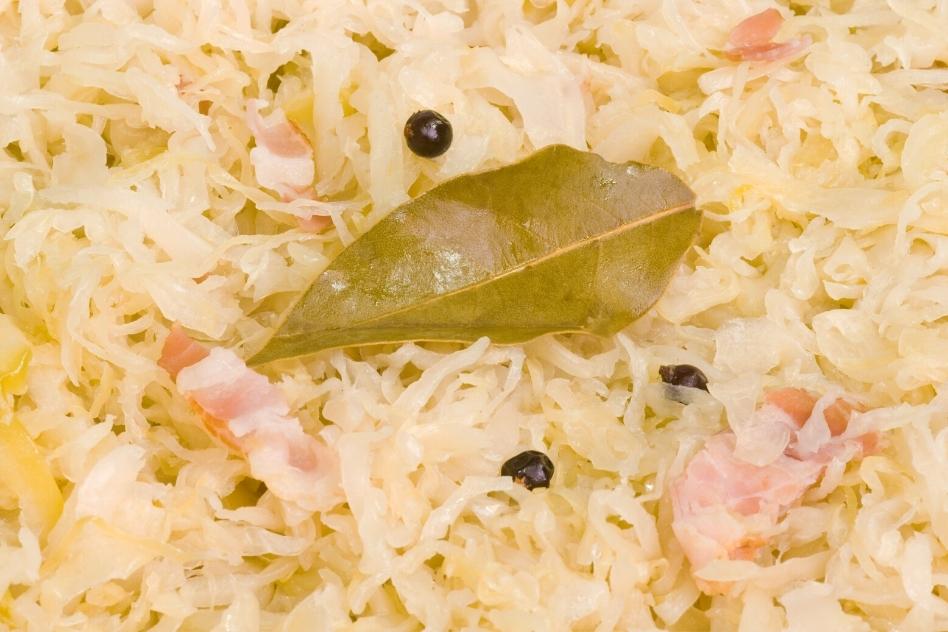 ---
Recipe Pointers For Making The Best Kapusniak
This soup is gluten free!
You can buy the sauerkraut in a Polish deli or in the gourmet section of a supermarket, or better yet, make your own.
If you're using jarred sauerkraut instead of a fresh one cook for only 15-20 minutes instead of 30 min.
You can thicken the soup by using a roux of flour and butter as seen in Step 8 of the recipe card below.
If you want it tangier, add some sauerkraut juice.
Serve with sourdough bread or rye bread.
Season with more salt or pepper as needed!
Top with fried bacon, sour cream, or parsley before serving.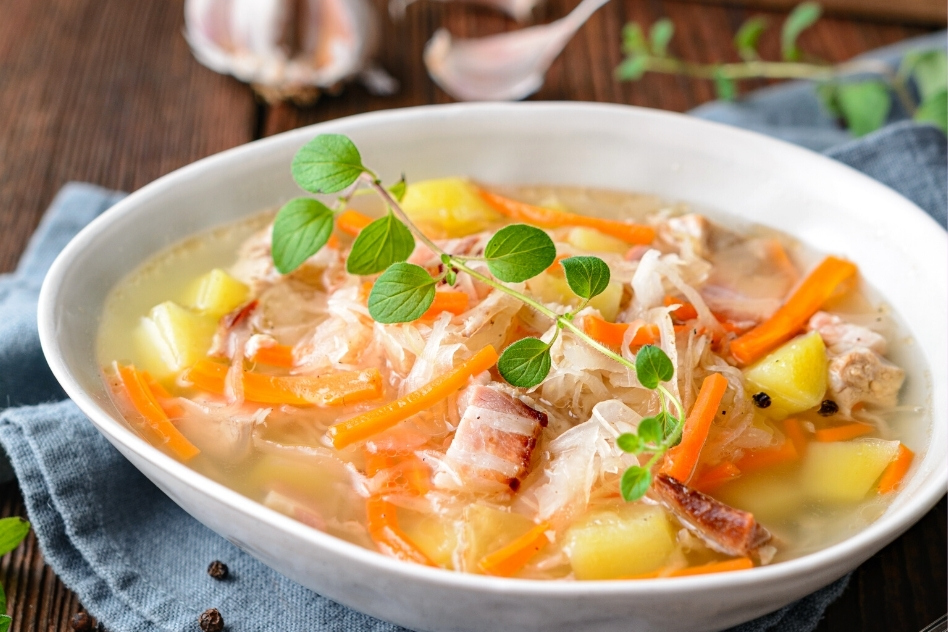 ---
FAQs about Cooking Kapusniak
Do other cultures make soups similar to the Kapusniak?
Soups made from sauerkraut in other Central and Eastern European are:
Kapusnyak in Ukraine
Krautsuppe in Germany
Kapustnica in Slovakika
Sour Shchi in Russia
Skābu Kāpostu Zupa in Latvia
In other cultures, the soup can be made with fresh cabbage and is called:
Soupe aux choux in France
Shchi in Russia
Zelná Polévka in Czechia
Kålsoppa in Sweden
Kaalikeitto in Finland
In some regions of Poland, kapusniak is also made with fresh cabbage.
Can this Kapusniak recipe be made faster?
To reduce about an hour's time from the recipe, you can use readymade pork broth base or pork bouillon cubes.
What is the difference between Kapusniak and Kwasnica?
Kapuśniak is a traditional sauerkraut-based soup made with potatoes, carrots, and pork meat. Kwaśnica is also made with many of the same ingredients but uses mutton instead of pork.
While kapusniak is made all over Poland, kwasnica is endemic to the Tatra mountains.
How to make the Kapusniak Vegetarian or Vegan?
To make vegetarian kapusniak, simply skip do not add the pork ribs or bacon. And instead of preparing the pork broth, use a vegetable or vegan broth.
How long can Kapusniak be stored?
Kapusniak can be refrigerated for 3 to 4 days or frozen for up to 3 months.
Kapusniak: Polish Sauerkraut Soup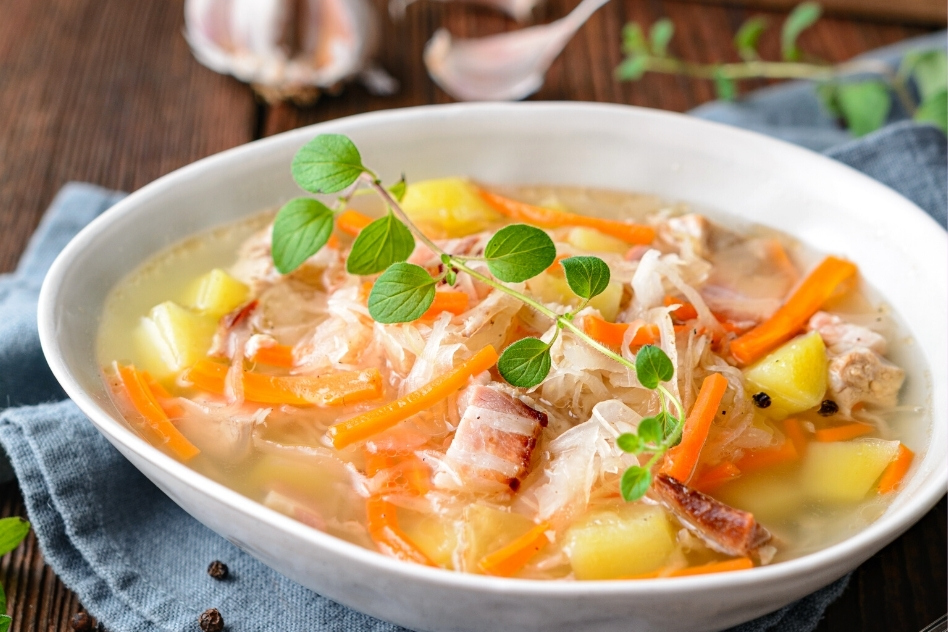 Kapusniak is a wholesome and filling Polish soup made from sauerkraut or fermented cabbage and potatoes. Eaten meatless during the season of Lent, the soup can include bacon and kielbasa at other times.
Cook Time
1 hour
15 minutes
Total Time
2 hours
15 minutes
Ingredients
1 lbs of pork ribs
1/2 cup of smoked bacon, chopped in cubes without skin
1.5 cups of sauerkraut
5 bigger potatoes
1 small onion
2 medium carrots, grated on large meshes
2 bay leaves
3 grains of allspice berries
1/2 teaspoon of cumin
1/3 teaspoon of salt
1/4 teaspoon of pepper
Instructions
Pour five cups of water over the pork ribs. Add two bay leaves, three grains of allspice, and salt. Cover and cook for 1 hour.
Remove the meat after it's cooked and put it in the bowl. Leave the bullion in the pot and add sauerkraut with the juice from it as well. It adds to the flavor.
Cook it for about 30 minutes, until the sauerkraut is soft.
Meanwhile, peel the potatoes and carrots. Chop everything into small cubes and cook for about 15 minutes in a separate pot. Set aside when cooked, still in the water.
Place smoked bacon in a cold pan. Set the burner to medium power and wait until the bacon fat starts to melt and the bacon turns brown (about 10 minutes).
Add the peeled and finely chopped onion and the peeled and grated carrots to the pan. Stir everything together and cook for 10 minutes.
Put it all into the big pot already with the cabbage. Add half a teaspoon of cumin (which may be ground) and pepper. Cook it all together for 10 minutes, then add already boiled potatoes and carrots (along with the water). Enjoy!
If you like your soup thicker you might make a thickener. You'd need to melt a spoon of butter on a small pan, then add a spoon of flour and mix it instantly. When the fat with flour starts to create foam, pour it all into the pot and bring to boil.
Notes
If you're using jarred sauerkraut instead of a fresh one cook for only 15-20 minutes instead of 30 min.