Kotlety Mielone are a popular Polish meat dish of flattened meat patties that are breaded and fried. Easy to make, they're almost a staple part of the Polish diet!
What is Kotlety Mielone?
Kotlety Mielone are pan-fried Polish frikadeller meatballs made of ground meat. Their origins are unknown, but they're popular in a number of European cultures under different names and appeared somewhere in the 17th or 18th centuries.
The Polish Kotlety Mielone are very similar to the Silesian karminadle which are small round cutlets made of rabbit or pork meat. They're also similar to the figatele mentioned in the Compendium ferculorum, albo Zebranie potraw by Stanisław Czerniecki in 1682. The only difference between the figatele and the kotlety mielone is that the figatele were baked and then boiled.
Kotlety mielone are traditionally made of ground pork meat, but they can also be made of beef, veal, or game meat. In the Southern part of Poland, they're called sznyclem.
Nowadays, Kotlety Mielone are made by mixing ground beef or pork meat with chopped onions, garlic, and herbs before being shaped into flattened round disc-like shapes that are breaded and fried with lard, butter, or oil. This version of the cutlet gained popularity in the People's Republic of Poland. At that time, they were made from topside roast and were often served in pubs and other hangouts.
Mouthwateringly delicious, these Polish cutlets are perfect as a snack, main dish, or side dish!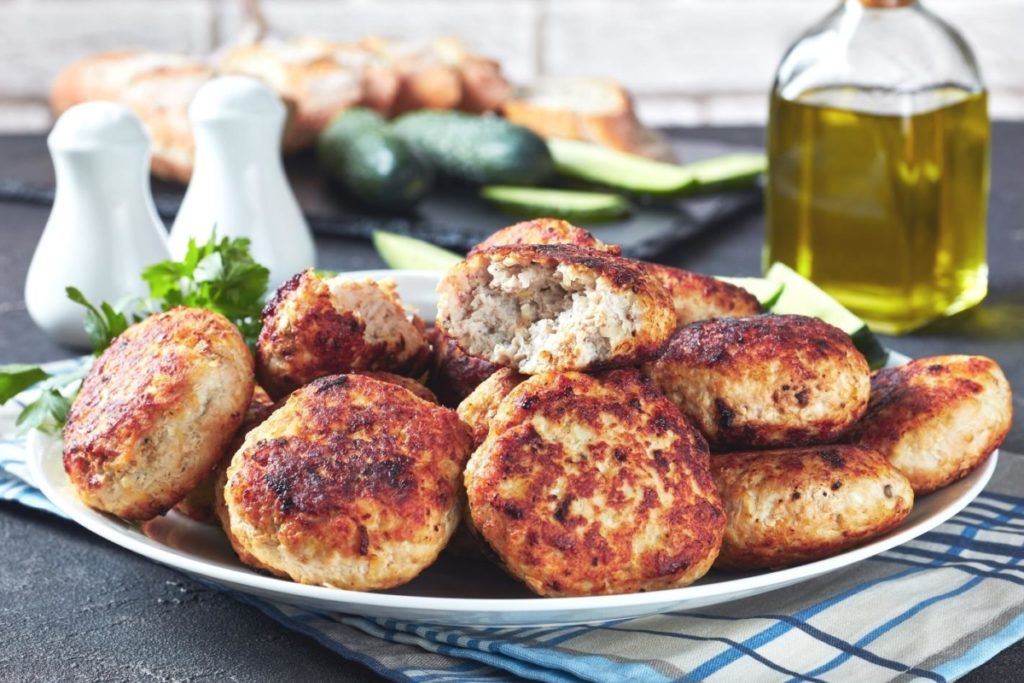 ---
What Other Cultures Have Kotlety Mielone?
Many European cultures make similar cutlets with these names:
Frikadeller in Denmark
Bulette or Frikadelle in Germany
Kjøttkaker in Norway
Faschiertes Laibchen in Austria
The versions listed here were made by frying, but there are many more that are made by boiling or steaming. Many Asian countries that were once colonies of European countries also make similar types of patties.
---
Recipe Pointers For Kotlety Mielone Recipe
If you find marjoram, you can add some to the beef mixture instead of oregano.
You can replace beef with any other meat of your choice.
You can also make a 50:50 mixture of two different types of ground meat. For example, pork and beef.
You can skip the mushrooms if you want to. Use extra onions instead.
To make the cutlets gluten-free, replace the breadcrumbs with panko and the Kaiser roll with gluten-free bread.
To make tastier cutlets, use meat with more fat in it. The cutlets will be super tasty!
For a smoother texture, use double ground meat.
After frying, dry the cutlets on a paper towel to remove the excess fat.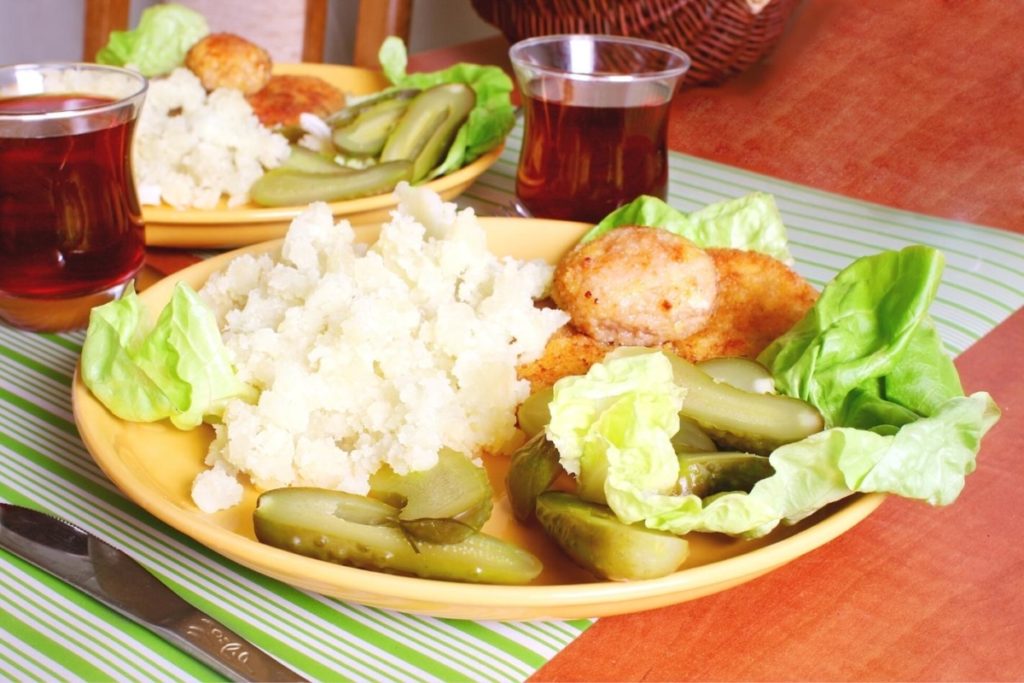 ---
FAQs about Kotlety Mielone
How to pronounce Kotlety Mielone?
Kotlety Mielone is pronounced as cot-leht-tee my-low-neh.
What does Kotlety Mielone mean?
Kotlety means cutlets, and mielone means ground. So together the words mean ground cutlets.
How to serve Kotlety Mielone?
Kotlety Mielone can be served in many different ways. Here are a few options:
Serve with groats or rice, salatka jarzynowa (salad) or mizeria, and a spicy gravy or sauce!
Alternatively serve with boiled, fried or mashed potatoes and zupa ogorkowa!
Add to a burger bun with some pickled cucumbers, lettuce, mayo and sauce!
Serve with pasta or kopytka dumplings.
Serve with beetroot buraczki salad.
You can skip the egg if you're allergic. Use more soaked bread for binding.
Crumble the cutlet into bits and add to wrap with hummus, chopped tomatoes, onions and parsley!
Serve on their own as a snack with a good dip!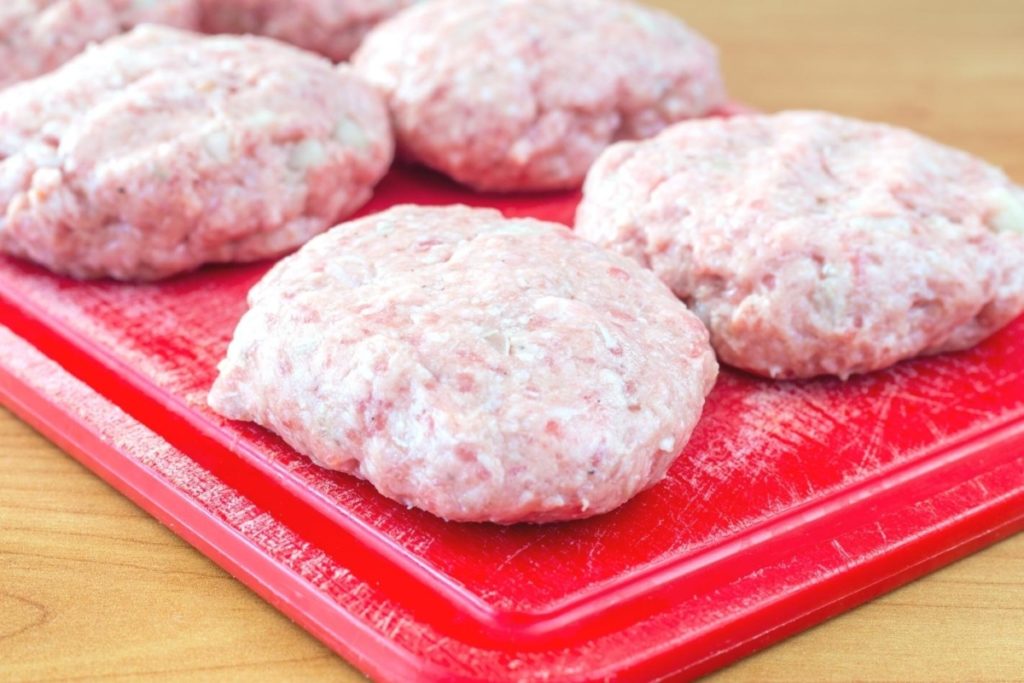 Which Meat should I use to make Kotlety Mielone?
Kotlety Mielone can be made with beef, pork, veal, venison, or any other meat of your choice. You can also use game meat to make these cutlets. Some people use turkey to make kotlety mielone but they aren't as juicy as with red meat.
How to store these Polish cutlets?
Kotlety Mielone can be stored in a covered dish in the refrigerator for 4 to 5 days, or in the freezer for 3 months. Reheat before serving!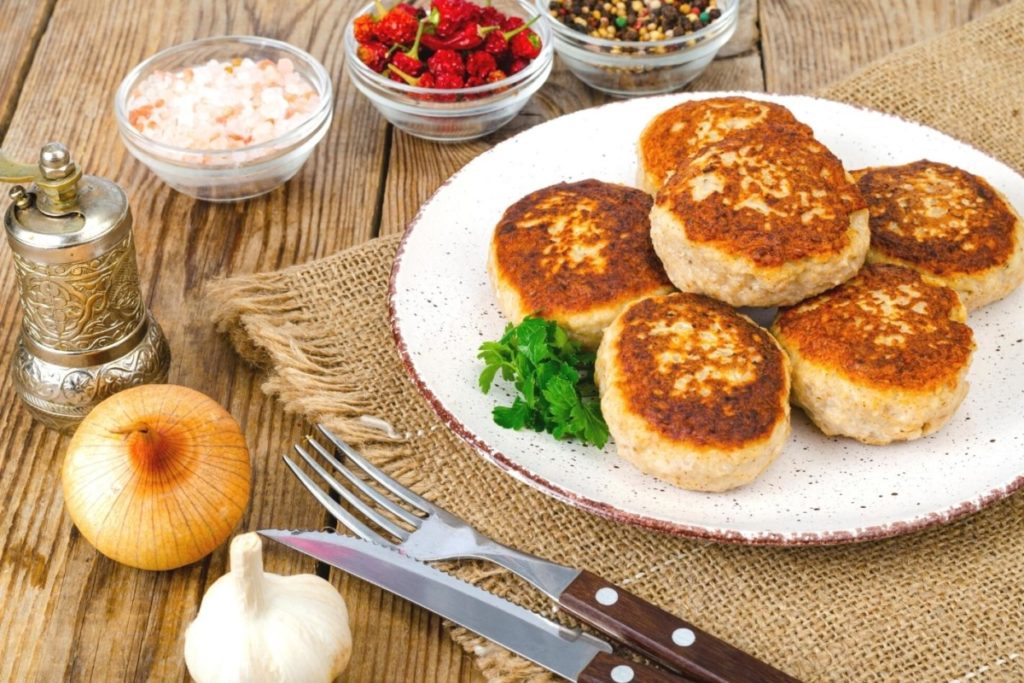 Kotlety Mielone: Polish Frikadeller Meat Patties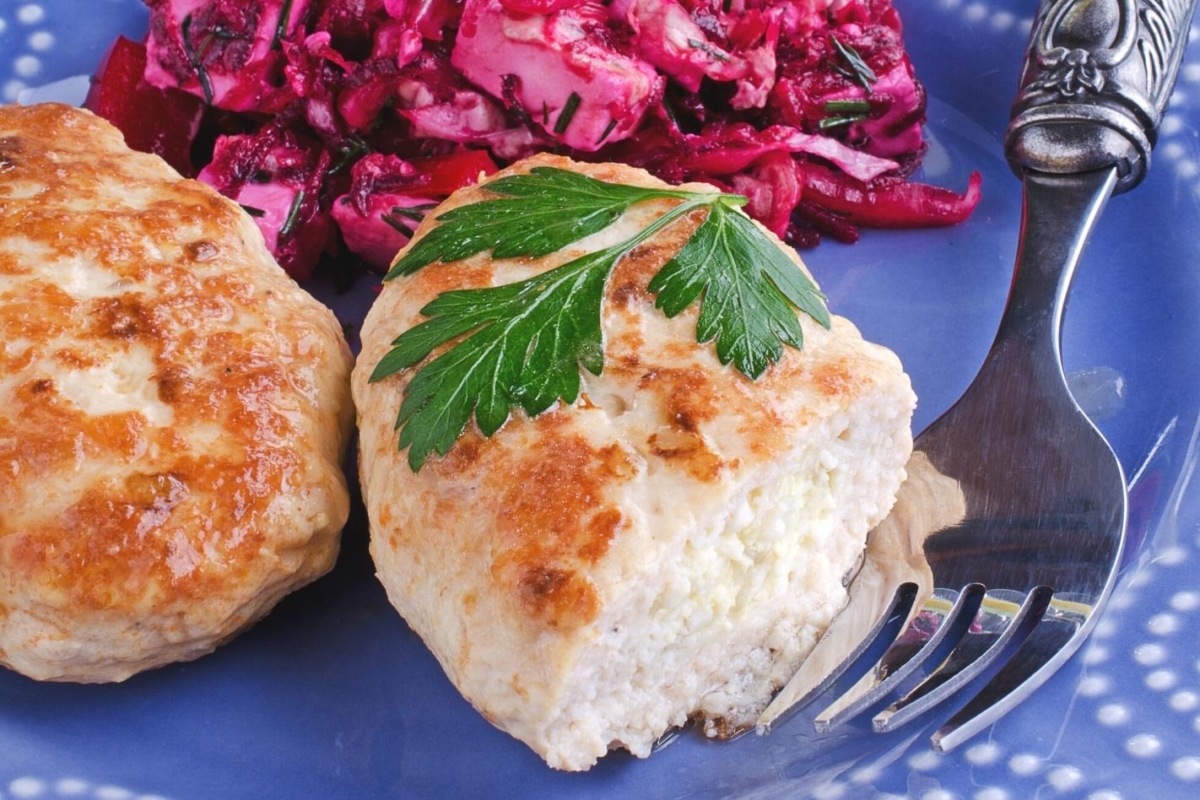 Kotlety Mielone are a popular Polish meat dish of flattened meat balls that are breaded and fried. Easy to make, they're almost a staple part of the Polish diet!
Ingredients
1 lbs of ground beef
1 egg
1/2 cup of milk
1 onion (any color)
3 small mushrooms
1 hard Kaiser roll or any roll (stale)
1/2 cup of breadcrumbs
3 tablespoons of grated tomatoes (canned, bottle)
3 cloves of garlic, minced
1 tbs of salt
1 teaspoon of dill
1/2 teaspoon of oregano (optional)
oil to fry
Instructions
Finely chop the onion, garlic and mushrooms, and brown on a frying pan.
Put the ground meat into a bowl and mix with salt, dill and oregano.
Meanwhile, soak the stale kaiser roll in milk for a few minutes, making sure the whole roll becomes soft. When it's soft, squeeze it by hand from the liquid excess and put in the bowl with meat.
Add the fried onion and mushrooms to the bowl with the meat, along with one egg. Knead it all together using your hands.
If the mass feels too loose and not sticking together, add a spoon of breadcrumbs.
Form each cutlet in the hand into a perfect ball, then slightly flatten it. Then roll gently into breadcrumbs.
Fry your kotlety mielone in oil on medium heat for about few minutes on both sides, until brown.
Serve with mashed potatoes and mizeria (or other salad), or kopytka.