Better than take out, this homemade Paneer Tikka Masala will make your mouth water. Bursting with flavor and spice this Indian dish is incredibly easy to make in the Instant Pot.
---
A quintessentially North Indian dish, the paneer tikka masala is popular on the menu of homes and restaurants across India and the world! The rich creamy tomato sauce is spicy, rich, and flavorful.
What is Paneer?
Derived from the Urdu word panir, paneer is a soft Indian cottage cheese made by separating curds from whey using lemon juice. The method used to make this cheese is a bit different. The curds are hung in a muslin cloth for 3 to 4 hours so that the excess water drains out. This water is used for other cooking purposes.
The hung curds are then transferred to another muslin cloth, shaped in the form of a block, and covered with a stone slab till it takes shape. This usually takes another 2 to 3 hours. Once the paneer is ready, it's used in cooking sweet and savory dishes. Although paneer can be store-bought, many Indian families make fresh paneer at home regularly.
What is Masala?
Masala is a mix of different spices. There are many types of masalas with different concentrations of ingredients. But like most Indian words, masala also has different meanings. In the case of the paneer masala, it means an an onion, tomato, and cashewnut based sauce.
Why is it Called tikka? What is a tikka?
Contrary to popular belief, although the paneer tikka masala is a spicy dish, tikka doesn't mean spicy in this instance.
The Indian word tikka has a lot of different meanings. It can mean the sandal paste mark on the foreheads of Hindu priests, the red kumkum mark on the foreheads of married women, and it can also mean spicy.
But tikka is also a Punjabi word derived from Urdu that means a chunk, bit, or piece of something. So the word tikka in a paneer tikka masala refers to the boneless pieces of paneer that have been marinated and grilled before addition to the masala.
These paneer tikkas can also be eaten on their own as a starter or appetizer. Other similar tikka dishes include chicken tikka, reshmi tikka, malai tikka, and more.
When the grilled, baked, or fried paneer tikka is added to the masala curry, it turns into a tasty paneer tikka masala.
How to make paneer tikka masala? It's usually a two-step process that first requires marinating and grilling of the paneer separately, and then requires the creation of a masala (spicy curry) to which the paneer and veggies are added.
If you want to make the paneer masala curry in one go, we've got the perfect quick and easy instant pot paneer masala recipe for you! This paneer masala tastes even better than in a restaurant!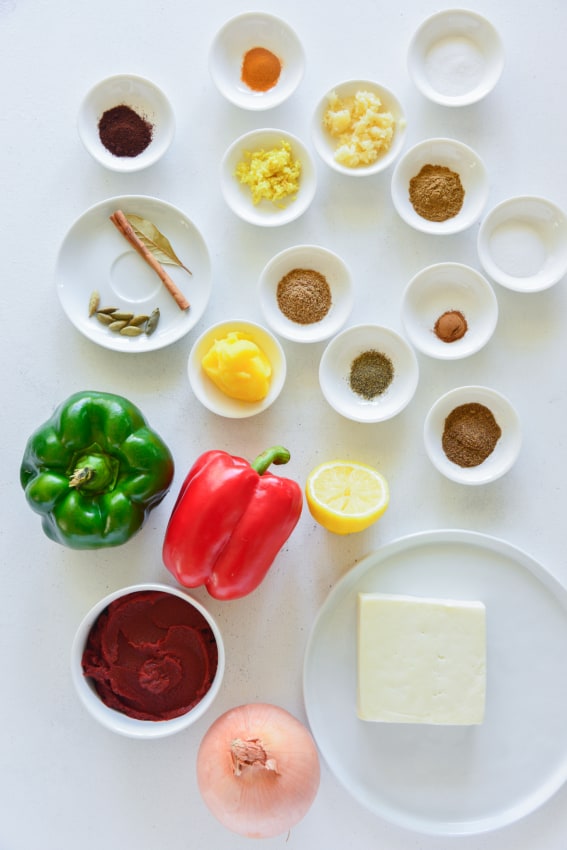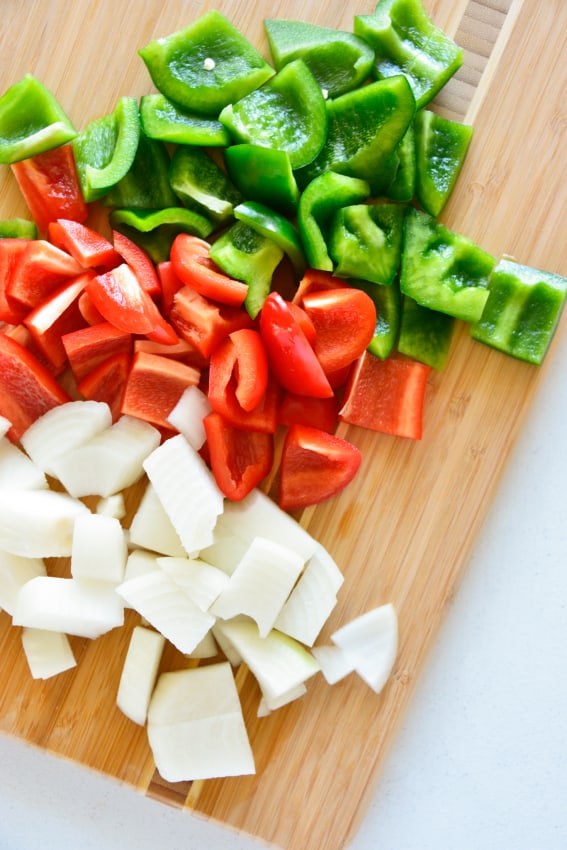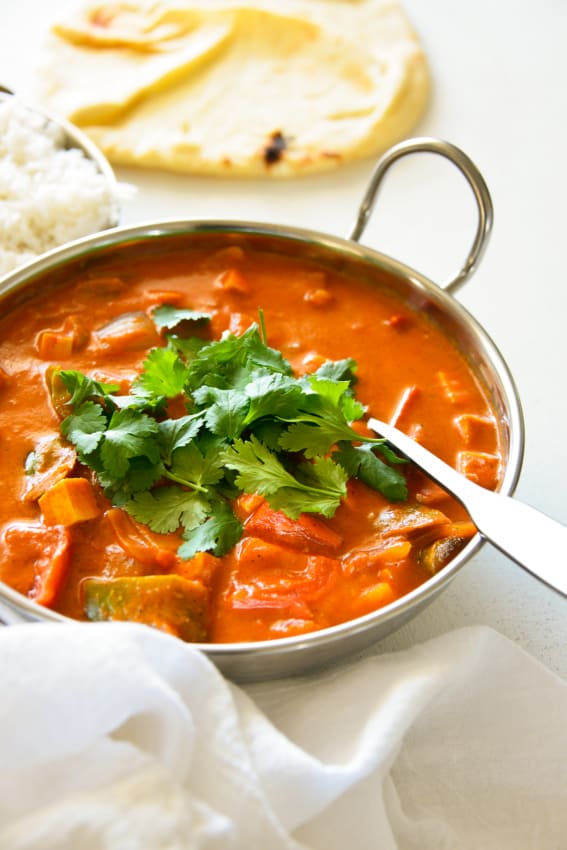 ---
Recipe Pointers For Paneer Tikka Masala
If using frozen paneer, thaw at room temperature before using.
Add the fresh paneer in the last few minutes so that it doesn't crumble.
If you want to go the more traditional route, marinate and grill the paneer pieces to form paneer tikkas before adding the masala.
The grated ginger and crushed garlic can be substituted with an equal amount of ginger paste and garlic paste.
Add 2 tablespoons of cashewnut paste to the masala for a richer texture.
To make this dish vegan use soy tofu instead of paneer and coconut cream instead of cream.
Top with fresh chopped coriander and a dollop of butter or ghee just before serving as my Indian friends do.
Serve with and Indian lime pickle and plain rice, jeera rice, naan, or paratha.
You can use the same recipe to make mushroom tikka masala or chicken tikka masala. (Only the cook times will differ.)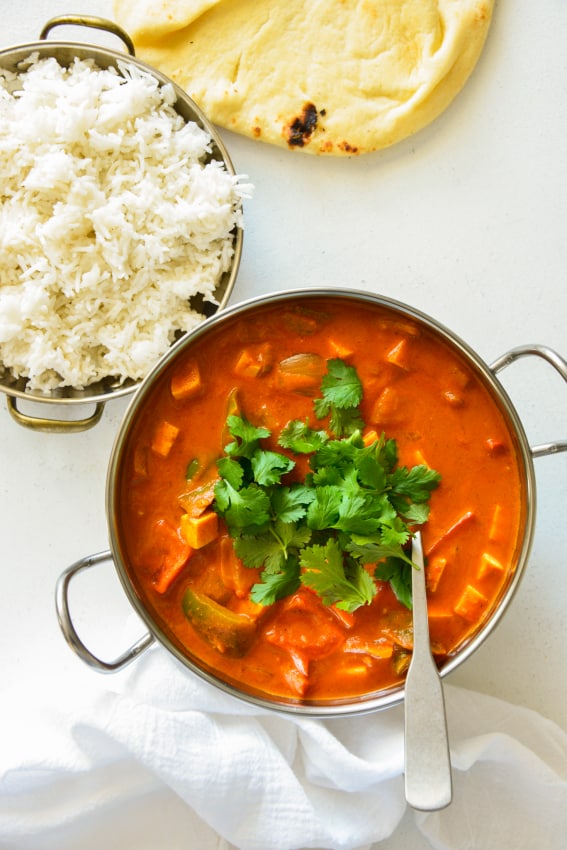 FAQs about Paneer Masala
Where can I buy paneer?
Packaged paneer is available in the Asian section of most super markets. If you want fresh paneer, you can get it in many of the local Indian stores.
Can I use milk instead of cream?
No, milk changes the texture of the dish. It's best to use cream only.
Is the paneer tikka masala a gravy or a curry?
Gravies are served separately from a dish while curries are formed by adding water or other liquid ingredients to the dish while cooking. Since the tikka masala sauce and paneer are served together, it is a curry.
Will the paneer melt in the masala?
No, paneer is a soft un-aged cheese, but it does not melt at high temperatures.
How do I make paneer tikkas?
To make paneer tikkas, marinate the paneer with a teaspoon ginger paste, teaspoon garlic paste, 1 teaspoon chilli powder, 0.5 tsp garam masala and 1 tbsp lime juice. Refrigerate for 30 minutes to 2 hours. After reemoving from the refrigerator, thread the paneer on a skewer and grill or barbecue for till lightly brown on both sides. Alternatively, fry in a pan and brown on both sides. These paneer tikka pieces can be added to the tikka masala curry as usual.
Can I refrigerate left over paneer masala?
Yes, transfer the paneer masala to an airtight container and refrigerate. Consume within 2 to 3 days.
Yield: 6 Servings
Paneer Tikka Masala Recipe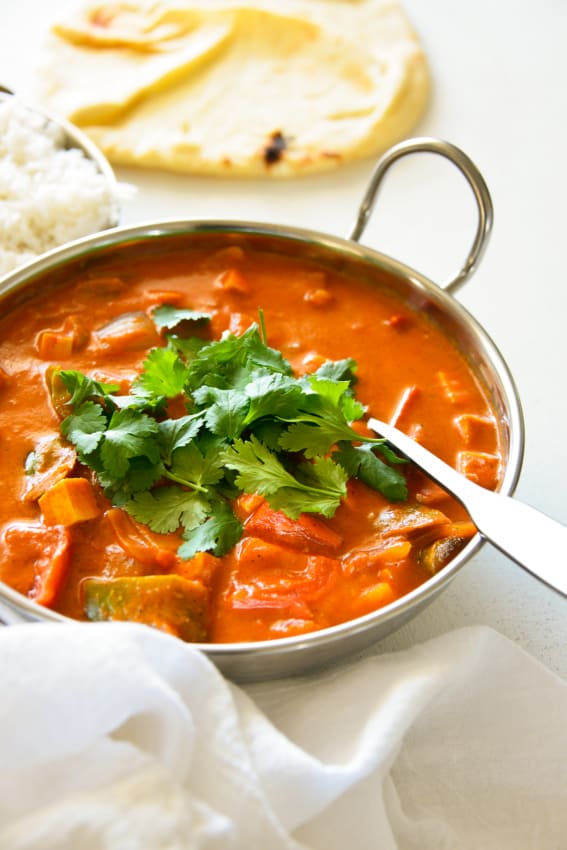 Better than take out, this homemade Paneer Tikka Masala will make your mouth water. Bursting with flavor and spice this Indian dish is incredibly easy to make in the Instant Pot.
Ingredients
2 tablespoons ghee
1 cinnamon stick
1 bay leaf
8 pods cardamom, cracked open
1 1/2 teaspoons salt
1 teaspoon sugar
1 teaspoon garam masala
1 teaspoon cumin
1 teaspoon coriander
1/2 teaspoon chili powder
1/4 teaspoon turmeric
1/4 teaspoon cinnamon
1/4 teaspoon black pepper
4 large cloves garlic, crushed
1-inch piece fresh ginger, peeled and grated
1 large onion, chopped
1 green bell pepper, chopped
1 red bell pepper, chopped
6 ounces tomato paste
3 cups water
16 ounces paneer cheese, cut into 1/2-inch cubes
1/2 lemon, juiced
1/4 cup heavy cream (optional)
Optional Garnishes
Heavy cream
Fresh cilantro
Instructions
Turn an Instant Pot on "Saute". Once hot, add the ghee, cinnamon sticks, bay leaves, and cardamom pods. Cook for 1 minute, stirring frequently.
Stir in the salt, sugar, garam masala, cumin, coriander, chile powder, turmeric, cinnamon, black pepper, garlic, and ginger, and cook for 1 minute, stirring constantly.
Add the onion and bell peppers and cook for 2 minutes, stirring frequently.
Stir in the tomato paste and water.
Press "Cancel" to stop the Saute function.
Cover the Instant Pot, making sure it's set to "Seal", and cook on "Manual, High Pressure" for 2 minutes.
Release the pressure and stir in the paneer cheese.
Turn on the "Saute" function and cook for 5 minutes, stirring frequently.
Press "Cancel" to stop the Saute function.
Stir in the lemon juice and heavy cream (if using).
If desired, serve garnished with fresh cilantro and a drizzle of heavy cream along with basmati rice and/or naan bread.
Notes
Serve with basmati rice or naan bread.
This is a mild spice level in terms of heat. Can add more chili powder, cayenne pepper, or crushed red pepper to increase to heat level.


Nutrition Information:
Yield:
6
Serving Size:
1
Amount Per Serving:
Calories:

380
Total Fat:

28g
Saturated Fat:

16g
Trans Fat:

1g
Unsaturated Fat:

9g
Cholesterol:

80mg
Sodium:

1132mg
Carbohydrates:

18g
Fiber:

3g
Sugar:

9g
Protein:

17g