Fresh lime and shrimp mix with veggies to form the best Mexican shrimp ceviche! Raw food never tasted this good!
---
Raw fish or shrimp cured in lime or lemon juice and seasoned with spicy peppers is a popular Latin American appetizer. Also called seviche, sebiche, cebiche, serbiche, or cerbiche, the first documented mention of ceviche was in 1820 in the popular Peruvian song La Chica.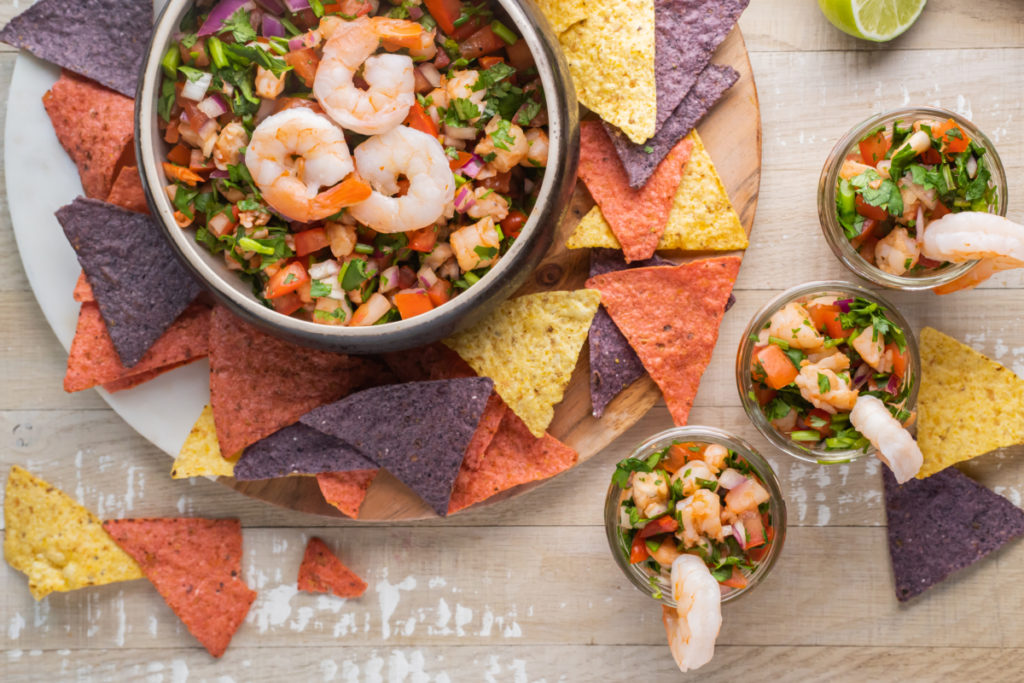 Where was ceviche invented?
The Peruvians believe that ceviche was eaten in Peru by the Moche civilisation more than 2000 years ago, along the Western coast. The moche are believed to have fermented food with the juice of the curuba or banana passionfruit.
Later, in the 13th century, the Incans marinated fish with a maize beverage called chica.
Peru considers ceviche a national dish that evolved in the Pacific coastal region.
According to food historians though, Ceviche is thought to be a derivative of the Spanish escabeche where raw meat or fish is cooked by softening in vinegar, lime, and spices.
And this dish is supposed to have been brought to Spain by the Moors who ruled the Iberian peninsula from the 7th to the 15th century.
On the other hand, Spanish Chef Ferran Adria, Peruvian chef Gaston Acurio, and others contest that ceviche is truly Peruvian and was brought to Europe by the Spanish conquistadors after their journeys.
Ceviche is now a much-loved dish on all continents, with many regional varieties.
What better way to celebrate an event or enjoy a dinner party than with some homemade Mexican ceviche?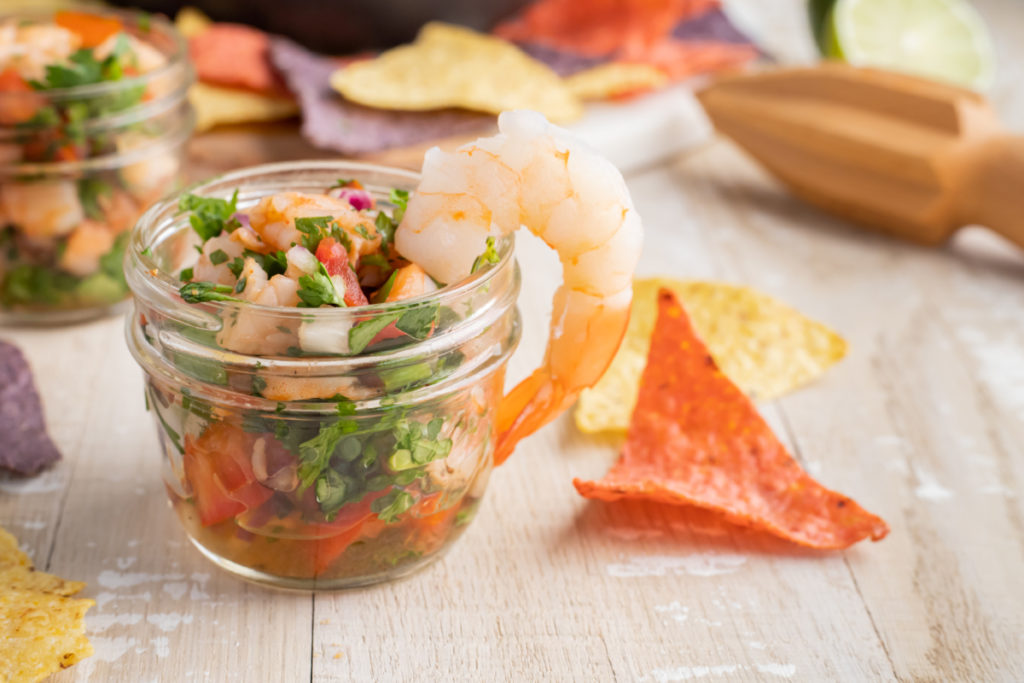 ---
Recipe Pointers For Shrimp Ceviche Recipe
The longer you allow the shrimp to marinate in the lime juice, the better!
You can replace the shrimp with raw fish. Check with your grocer that the fish can be eaten raw before you pick one.
Frozen shrimp, tuna, or salmon will work too! Just make sure it's from the best grocer and packed in hygienic conditions.
If you're too worried about using raw shrimp, use pre-cooked shrimp. No judgment!
Serve with a side of sliced avocados, diced avocados, or guacamole!
You can add diced fresh cucumber too.
Top on tostadas or serve with nachos, crackers, and buffalo cauliflower wings.
Or use ceviche to make shrimp tacos!
Top with Tabasco sauce of Salsa Valentina!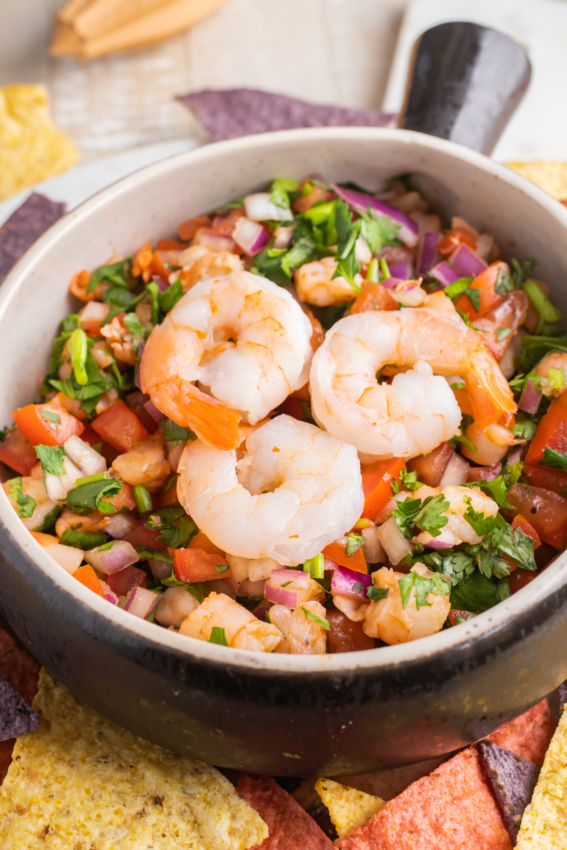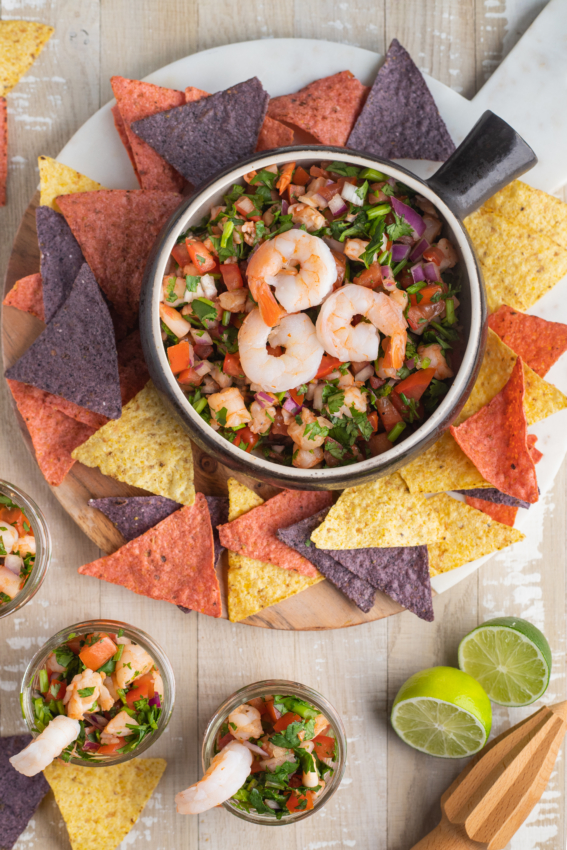 ---
FAQs about Shrimp Ceviche
Is shrimp ceviche safe to eat?
If made properly, shrimp ceviche is as safe to eat as sushi.
Also since a lot of lime juice is used, the acids from the lime juice technically "cook" the shrimp making it edible. Make sure it sits in the lime juice for at least 30 minutes to an hour.
How to pronounce ceviche?
Ceviche is pronounced suh-vee-shei or say-bee-shei.
Is ceviche the same as sushi?
Not really. Ceviche is raw shrimp or fish that has been marinated in lime juice and seasoned with spices before serving. Sushi, which many people think is raw fish, isn't!
Sushi is a Japanese dish made of rice, vinegar, salt and sugar. Raw food and vegetables may or may not be added to it, with some of the most popular additions being raw tuna or salmon.
What's the difference between ceviche and sashimi?
Ceviche is one of the Latin American shrimp recipes that involve cooking the shrimp in lime juice. As opposed to this, sashimi is a Japanese technique of slicing raw fish fine and serving it with soy sauce along with ponzu or wasabi.
How is ceviche served in different Latin American countries?
Most Latin American countries have their own way of serving ceviche.
In Peru, it is served with sweet potatoes and sweet corn. In Mexico, it's served with raw onions and avocado paste.
In Ecuador, ceviche is served with tomato sauce and lemon.
In Costa Rica, ceviche is served with lime juice, salt, cilantro, minced onions, ground black pepper, and finely chopped peppers. In Nicaragua, it's similar.
In Caribbean countries, mahi mahi, all spice and habanero peppers are added to the ceviche preparation.
What is the difference between Peruvian and Mexican ceviches?
Peruvian ceviches are usually marinated for a very short amount of time, sometimes a few minutes to a maximum of 15 minutes. On the other hand, Mexican ceviches are marinated from 30 minutes to 2 hours.
Peruvian ceviche is served with sweet potatoes while Mexican ceviche is served with raw onions and tortilla chips.
Can I store leftover ceviche in the refrigerator?
Absolutely not! Ceviche must be eaten fresh or it will give you food poisoning. It is best to discard leftover ceviche after 24 to 48 hours.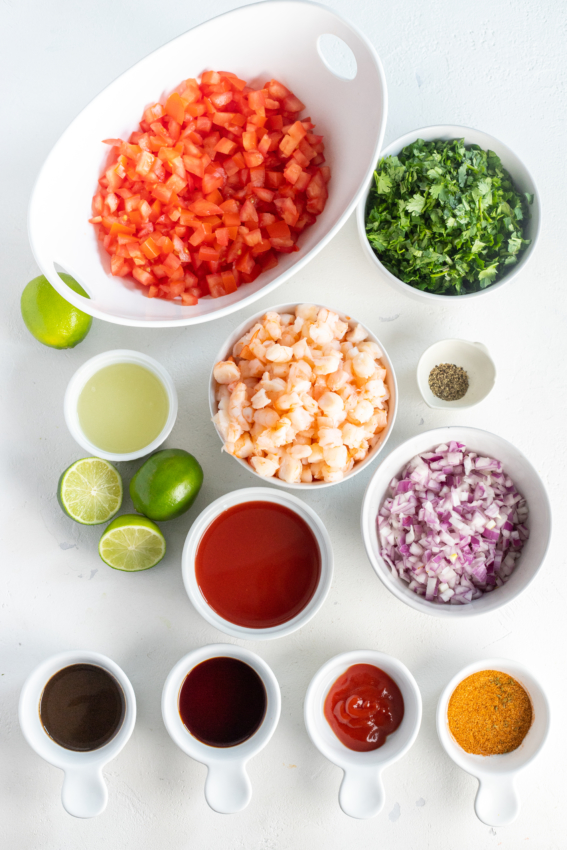 Yield: 4 portions
Shrimp Ceviche Mexican-Style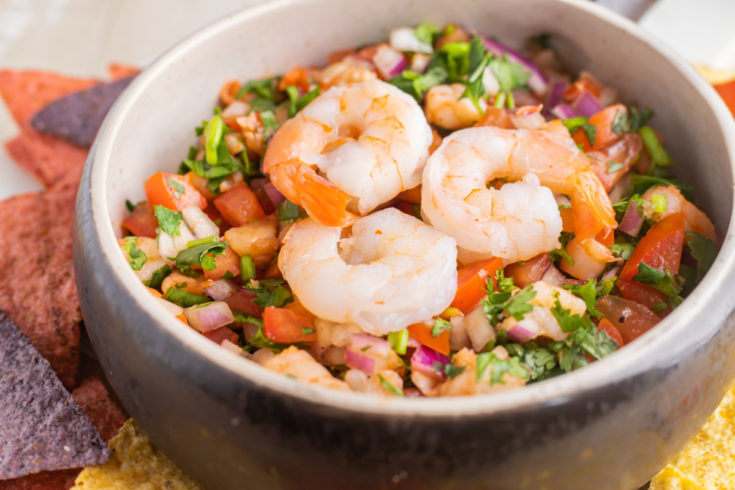 Fresh lime and shrimp mix with veggies to form the best Mexican shrimp ceviche! Raw food never tasted this good!
Ingredients
1 lbs of fresh shrimp, deveined and peeled
1/3 of red onion, diced
3 tomatoes, diced
1 jalapeno, finely chopped
1 cup of freshly squeezed lime juice
1/2 cup of fresh cilantro, chopped
salt to taste
salsa Valentina to taste (optional)
Instructions
Mix all of the shrimp with lime juice in a large bowl. Let it soak for one hour.
Add the vegetables and cilantro and salt. Toss it all and let it sit again for about 10 minutes.
Serve immediately with tortilla chips or on tostadas.
Notes
Many people like to add avocado to the ceviche. I prefer my sliced avocado on the side.
Nutrition Information:
Yield:
4
Serving Size:
1
Amount Per Serving:
Calories:

151
Total Fat:

1g
Saturated Fat:

0g
Trans Fat:

0g
Unsaturated Fat:

0g
Cholesterol:

214mg
Sodium:

358mg
Carbohydrates:

11g
Fiber:

2g
Sugar:

4g
Protein:

29g