This Nutella Trifle is a dream dessert! An airy Nutella mousse layered with rich brownies and roasted hazelnuts, the trifle is perfect for dinner parties.
One of my favorite recipes with Nutella, this Nutella trifle is a good show stopper when having friends over for dinner. A variation on the traditional trifle, the Nutella trifle uses a Nutella mousse and chopped hazelnuts.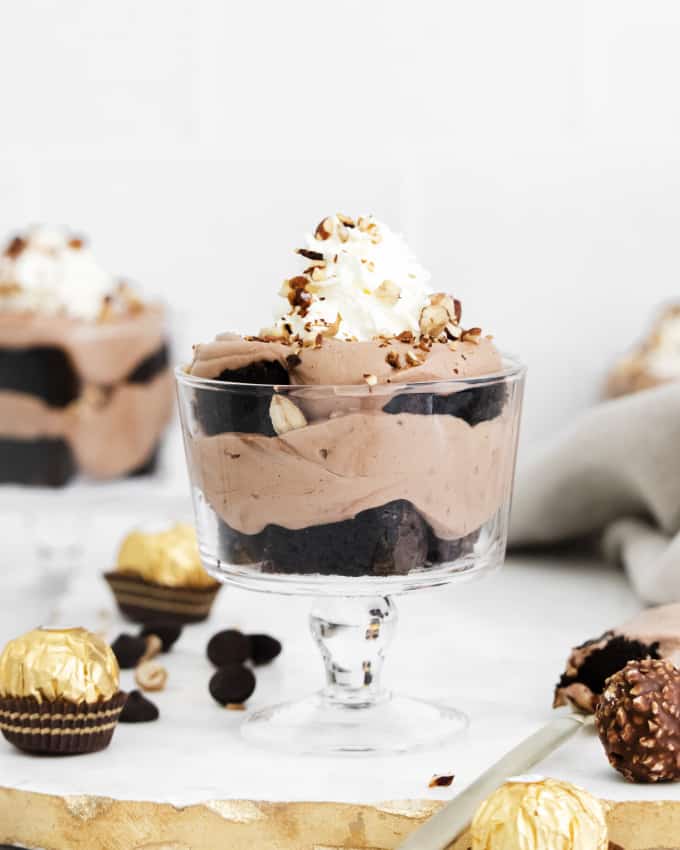 ---
Who Invented the Trifle?
The word 'trifle' is derived from the old French word 'trufle' which means whimsical because it was usually thrown together at the last minute. It's not certain who invented the trifle, but it was definitely someone English!
Originating centuries ago, the trifle was first mentioned in writing in 1585 in an English cookbook by Thomas Dawson called 'The Good Huswifes Jewell'. It was made using a thick cream, sugar, rosewater, and ginger syrup.
This trifle was similar to another English dessert called a 'fool' that was made by mixing gooseberries or other stewed fruit in a custard.
By the 17th century trifles also included dried cake, jelly, alcohol, fruit, and custard. English trifles were often referred to as Tipsy Parsons and included alcohol such as port, wine, curacao, or sherry. Scottish trifles included whiskey or Drambuie and were called tipsy laird.
In the mid-18th century, a version of the trifle that was popular in the Southern states of the US was the tipsy cake. This version included biscuits or cake soaked in brandy or sherry.
The modern version of the trifle has many variations, but the sponge fingers, sherry or wine, fruit, and custard as the main ingredients. Some trifles skip the fruit, some use whipped cream instead of custard, some use chocolate and other flavors.
Make this rich Nutella trifle if you're looking for the perfect Instagrammable dessert!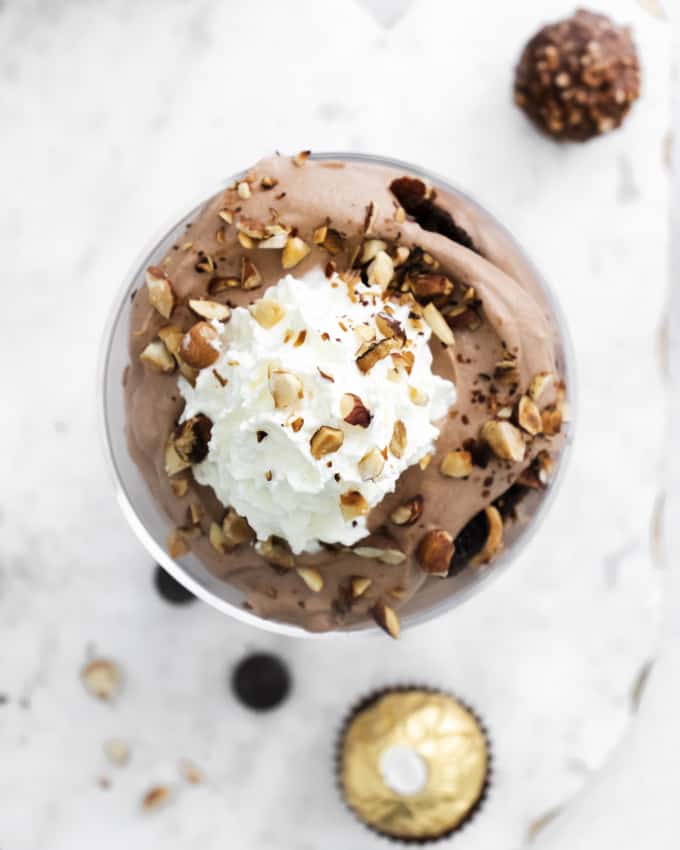 ---
Pointers For Nutella Mousse Recipe
I opted for a fudgy dark chocolate brownie but use any brownie you prefer!
For a boozy flavor, pour 1 tablespoon of Frangelico Hazelnut Liqueur or Kahlua over each brownie layer.
You can optionally make a batch of cream without Nutella and alternate between layers of Nutella cream and plain cream.
If having a large party, use shot glasses instead of large ice cream glasses or pudding glasses. You can also cut the brownies into smaller pieces.
To make it more decadent, add some crumbled Ferrero Rocher chocolates between each layer of the trifle and on top of the whipped cream.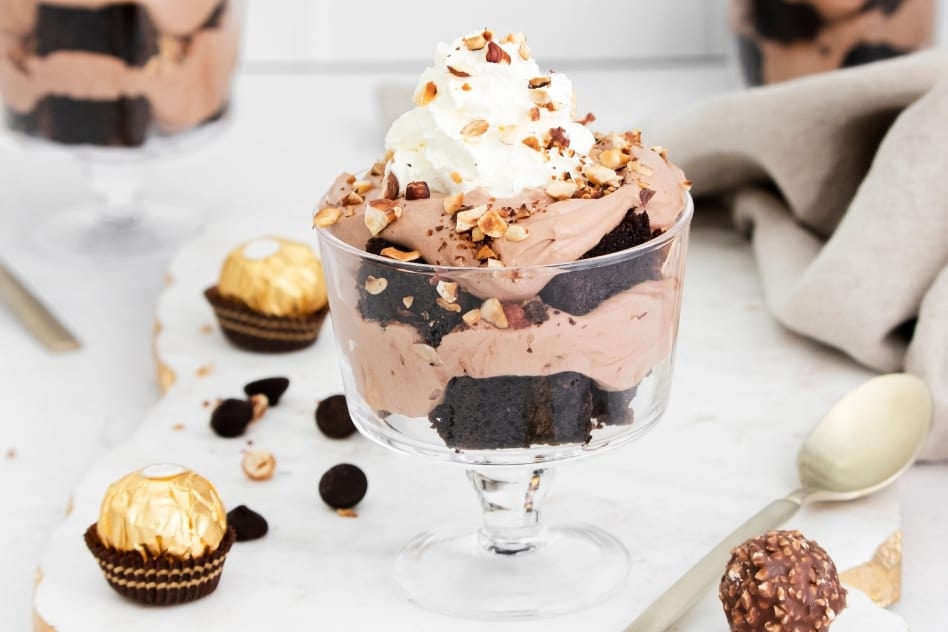 FAQs about Nutella & Ferrero Rocher Trifles
What is the difference between a trifle and a fool?
A fool was a traditional English dessert made using pureed fruit and custard; while a trifle is made using fruit, alcohol-soaked sponge fingers, custard, and other ingredients.
Can I make trifle earlier?
Yes, you can. Trifle tastes even better if it's made up to a day in advance because it allows all the flavors to marry well. Assemble all the layers, except for the whipped cream and final toppings; and refrigerate till ready to serve. Top with whipped cream and nuts just before serving.
Can I use hazelnuts without roasting them?
Yes, you can use plain hazelnuts in this recipe. However, if you roast the hazelnuts it enhances the flavor of the dessert.
Can I add more than 1 tbsp of liqueur between each layer?
Yes, of course. There's a reason the trifle was called the Tipsy Parson. According to legend, alcohol-filled trifles often got parsons too tipsy to deliver their Sunday sermons.
Adding more liqueur to the trifle takes it closer to the traditional version. And it's always a good boozy dessert to enjoy within limits.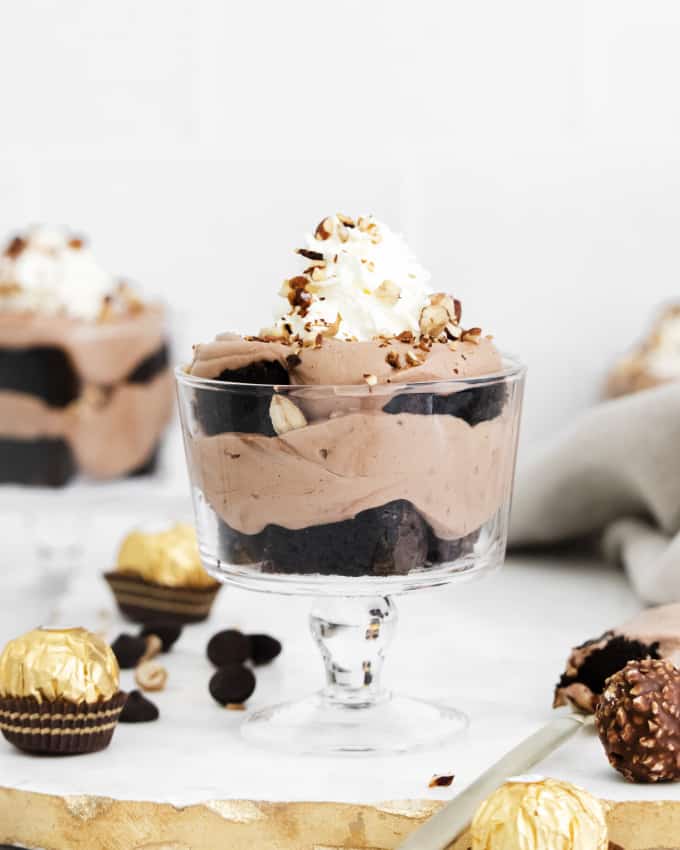 Yield: 4 Servings
Nutella Trifles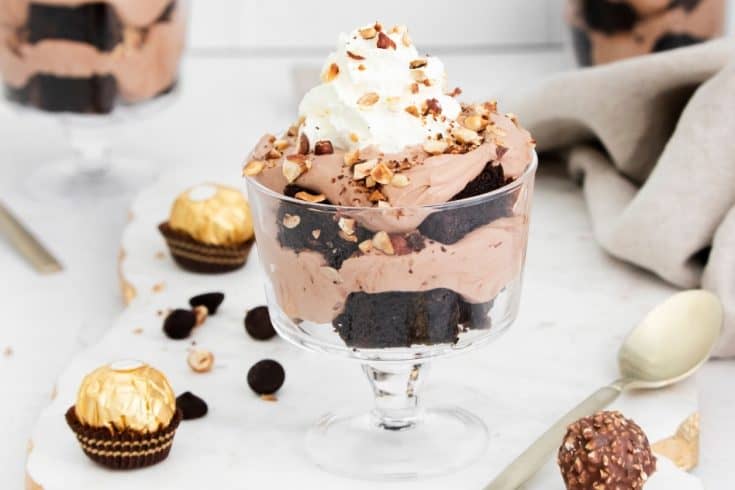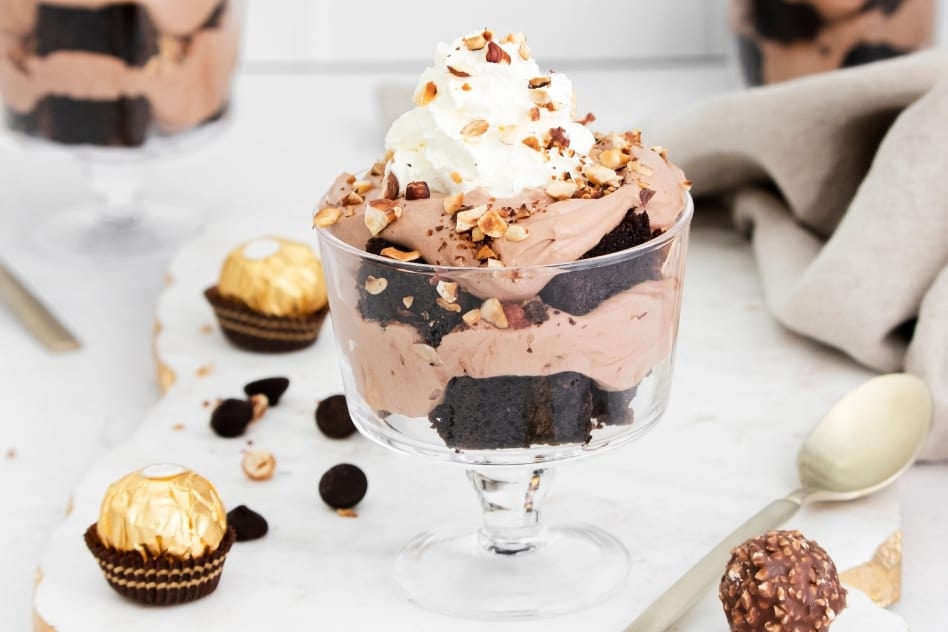 This Nutella Trifle is a dream dessert! An airy Nutella mousse layered with rich brownies and roasted hazelnuts, the trifle is perfect for dinner parties.
Ingredients
For the Nutella Whipped Cream
1 cup heavy cream
1/2 cup nutella
Other Ingredients
4 cups crumbled brownies (homemade, store bought, or from a box mix)
½ cup nutella
½ cup chopped roasted hazelnuts
1 cup whipped cream
Instructions
Make the Nutella Whipped Cream
Add the heavy cream to the bowl of a stand mixer fitted with the whisk
attachment. Beat on medium-high speed until stiff peaks form.
Add the nutella and whisk just until combined. Set aside.
Make the Trifles
Place the nutella in a small, microwave safe bowl. Microwave for 30
seconds, or until the nutella is warm and pourable.
Place ½ cup of crumbled brownie in the bottom of each glass.
Next, layer over ¼ cup of nutella whipped cream, followed by a drizzle of melted nutella, and 1 tablespoon of chopped hazelnuts.
Repeat each of the layers again.
Top with ¼ cup whipped cream.
Serve immediately.
Notes
I recommend making your own whipped cream for this recipe-- it's
easy and delicious-- but store-bought will work as well.
I opted for a fudgy dark chocolate brownie but use whatever you prefer!

4 cups of crumbled brownie is approximately 1 (9x9) sized baking dish.
For a boozy addition, pour 1 tablespoon of Frangelico Hazelnut Liqueur
over each brownie layer.
Nutrition Information:
Yield:
4
Serving Size:
1
Amount Per Serving:
Calories:

1705
Total Fat:

117g
Saturated Fat:

49g
Trans Fat:

1g
Unsaturated Fat:

62g
Cholesterol:

244mg
Sodium:

818mg
Carbohydrates:

155g
Fiber:

5g
Sugar:

34g
Protein:

22g